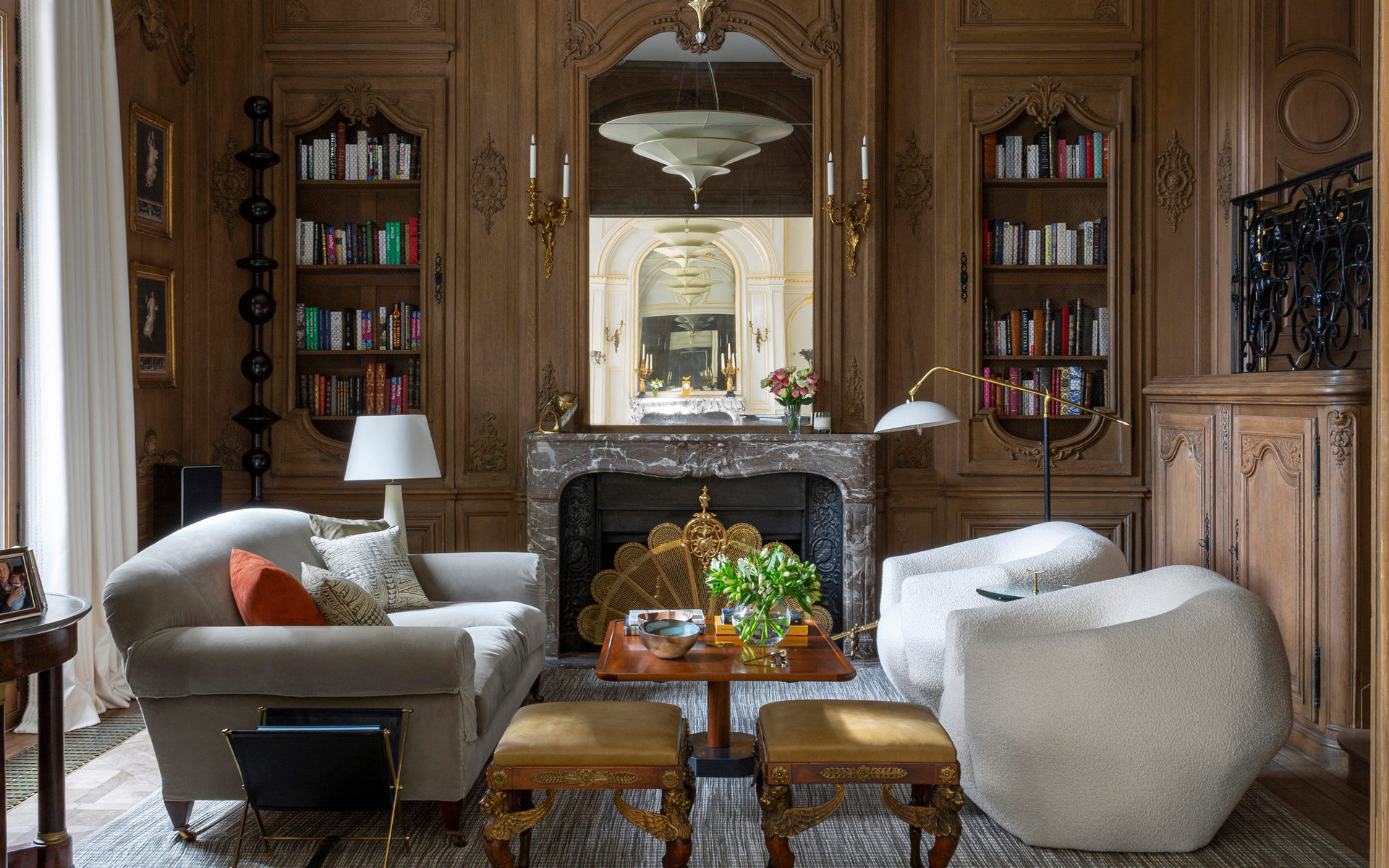 Tour Bryan O'Sullivan's Exquisite Transformation of a 100-Year-Old Paris Home
The designer blended bespoke furnishings and antique treasures to cultivate an interior that delivers old-world grandeur with a contemporary twist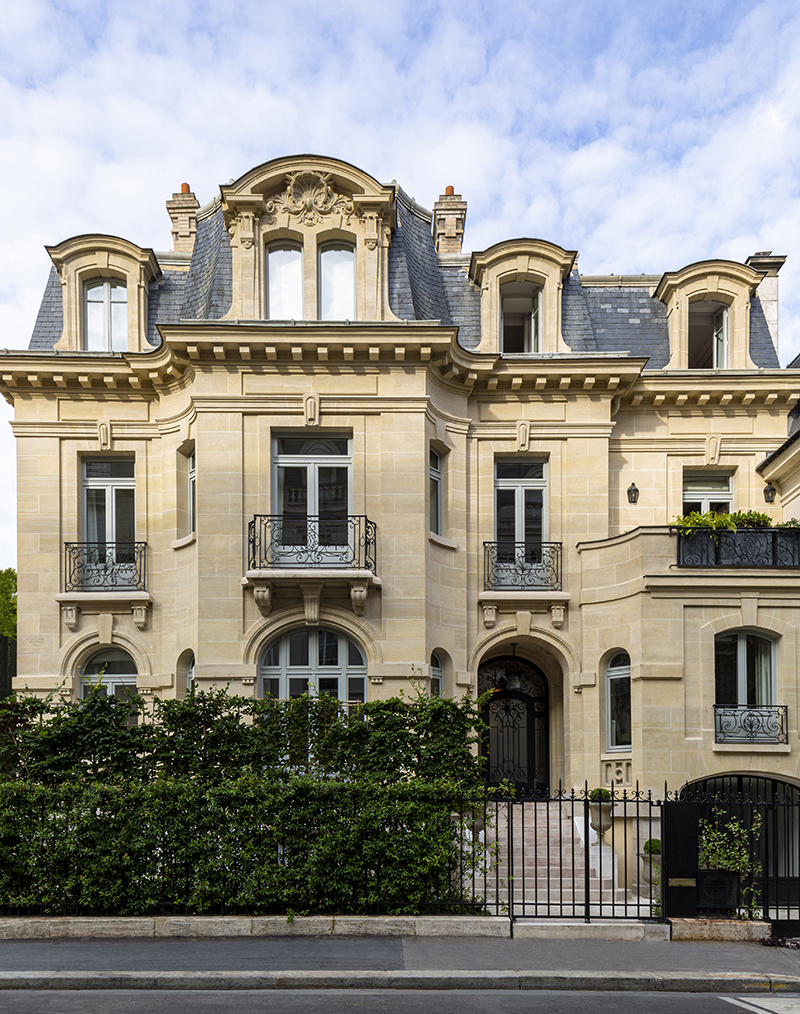 Built by the same architect that designed the Grand Palais, the iconic museum on Paris's famed Champs-Élysées, this historic home in the chic 16th arrondissement had many of the exquisite details that punctuate the neighborhood's bevy of eye-catching structures. But inside, the rooms hadn't been updated since the 1980s, and many of the desirable period details had been stripped away in previous renovations. "We had an amazing canvas to work with, but there was still a lot to be done," says designer Bryan O'Sullivan who was tasked with restoring the 1923 dwelling to its original glory for a jet-setting couple with multiple residences around the world.
The Irish designer did extensive research to help bring back elements that were previously removed, and he enlisted approximately 45 French artisans to restore plasterwork, millwork, and metalwork. "The clients wanted the architecture to be restored correctly and the bones to feel like what it was," says O'Sullivan, who salvaged limestone flooring and parquet de Versailles, to add authenticity to the renovation. "Things had been divided into smaller rooms and we put them back into their grand proportions. We wanted to keep the bones traditional and accurate to what it was, then put in a mixture of contemporary and antique."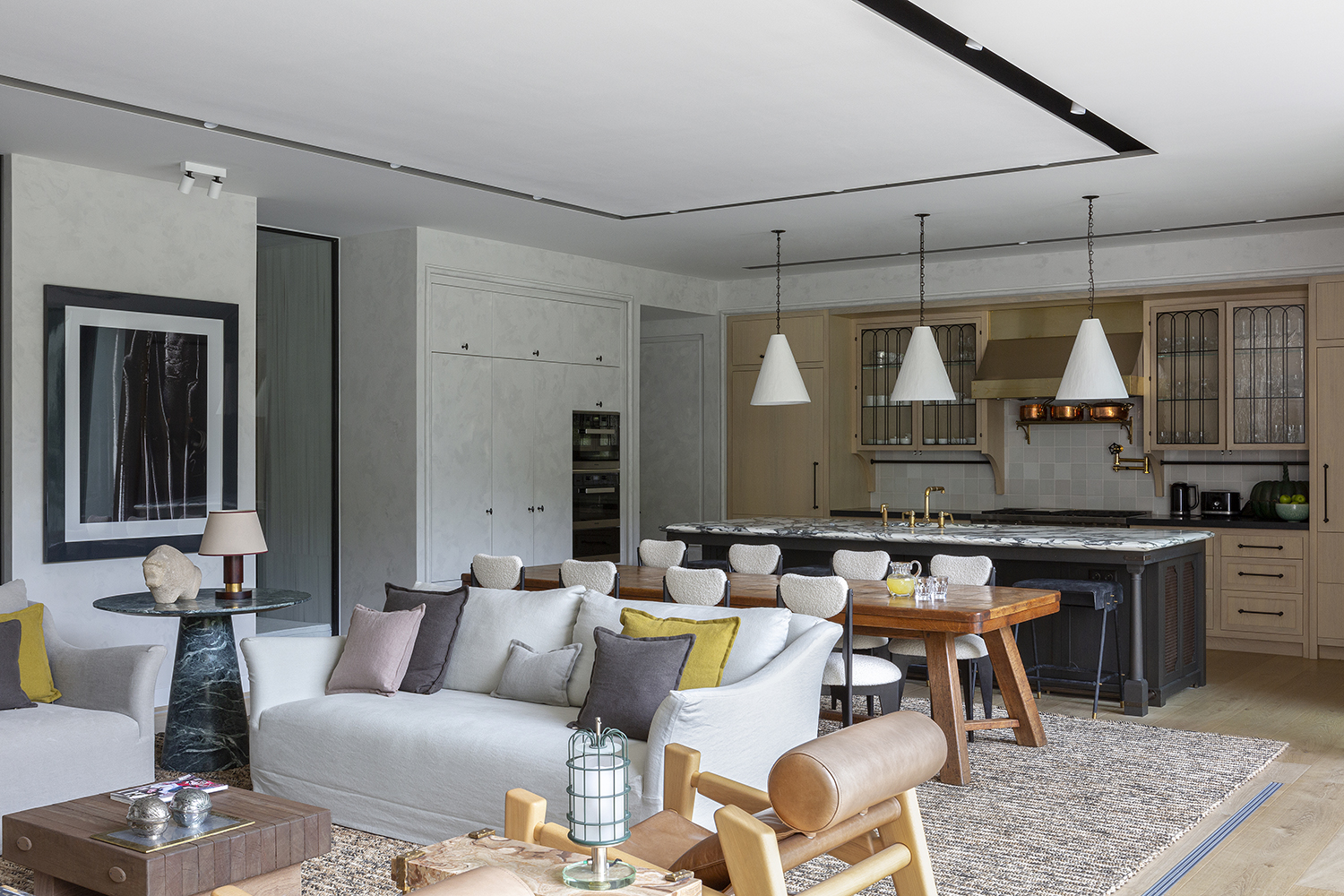 In the grand salon, the designer rebuilt a fireplace that had been taken out in an earlier remodel and went outside his comfort zone for the wall finish, collaborating with New York gilding studio Ateliers Gohard to recreate the room's original gold details. Creamy white Pierre Paulin sofas are now paired with structural travertine and lambskin armchairs by Stéphane Parmentier beneath a pair of Fortuny chandeliers. "The lower level was more contemporary but slightly Belgian inspired," says O'Sullivan. "We focused on clean lines mixed with texture and light feeling."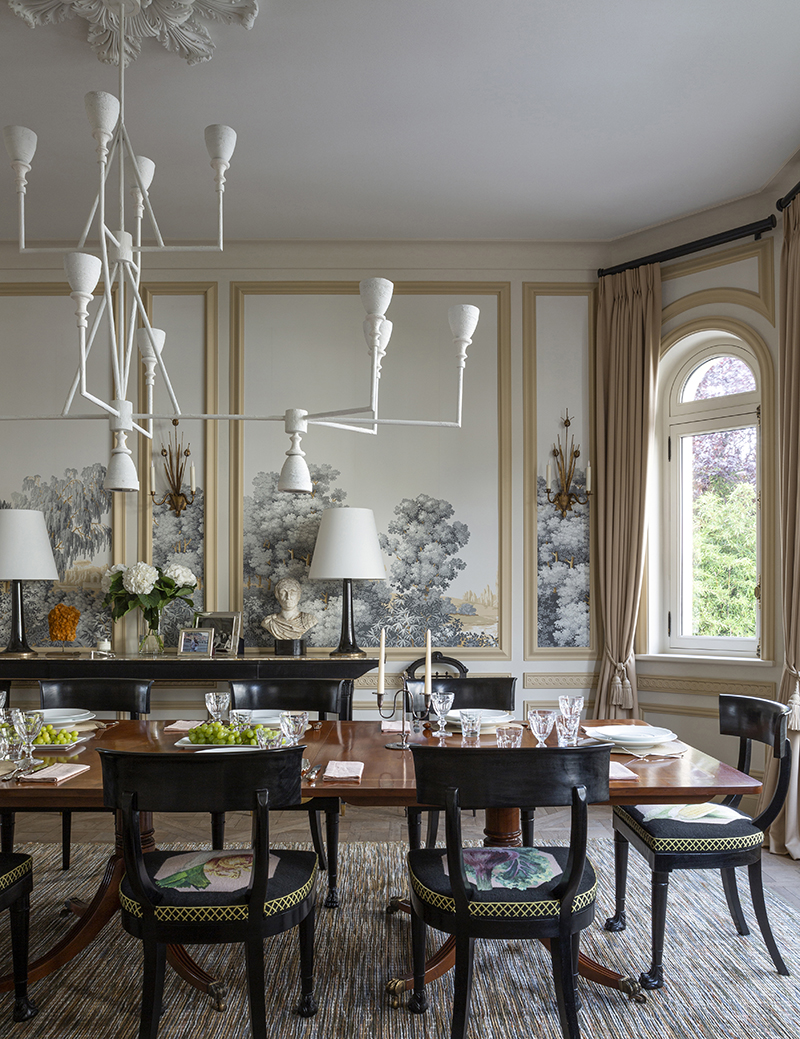 O'Sullivan was inspired by Alberto Giacometti for the dining room, which is enveloped in a grisaille wallpaper by Zuber that informed the color palette for the rest of the space, most notably in a leather-and-wool rug by Toyine Sellers. British furniture maker Jonathan Sainsbury crafted the seat cushions in the spirit of an antique design O'Sullivan had seen. Elsewhere, the designer selected pieces by Pierre Yovanovitch and Faye Toogood, which are placed in conversation with bespoke creations.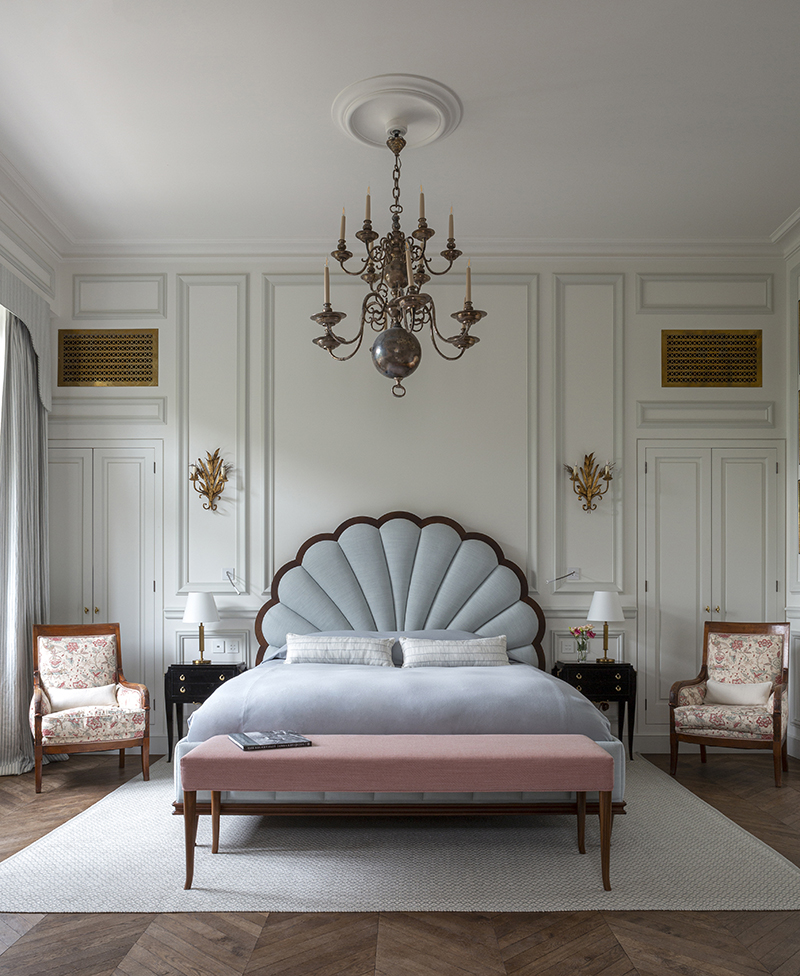 To give the entire project a consistency, O'Sullivan kept the palette neutral and serene, most notably in the bedroom suites. A light-filled guest room gets a pop of color in a plush upholstered headboard, while the main bedroom presented a modern-day design challenge. "They didn't want any visible televisions, so we had to incorporate a TV lift into the foot of the bed—it was a bit of an engineering feat," says the designer, who kept the retreat cozy with custom linens and cushions. "We try to keep bedrooms as calm spaces in our projects. There will be pops of color from time to time, but it should be an oasis."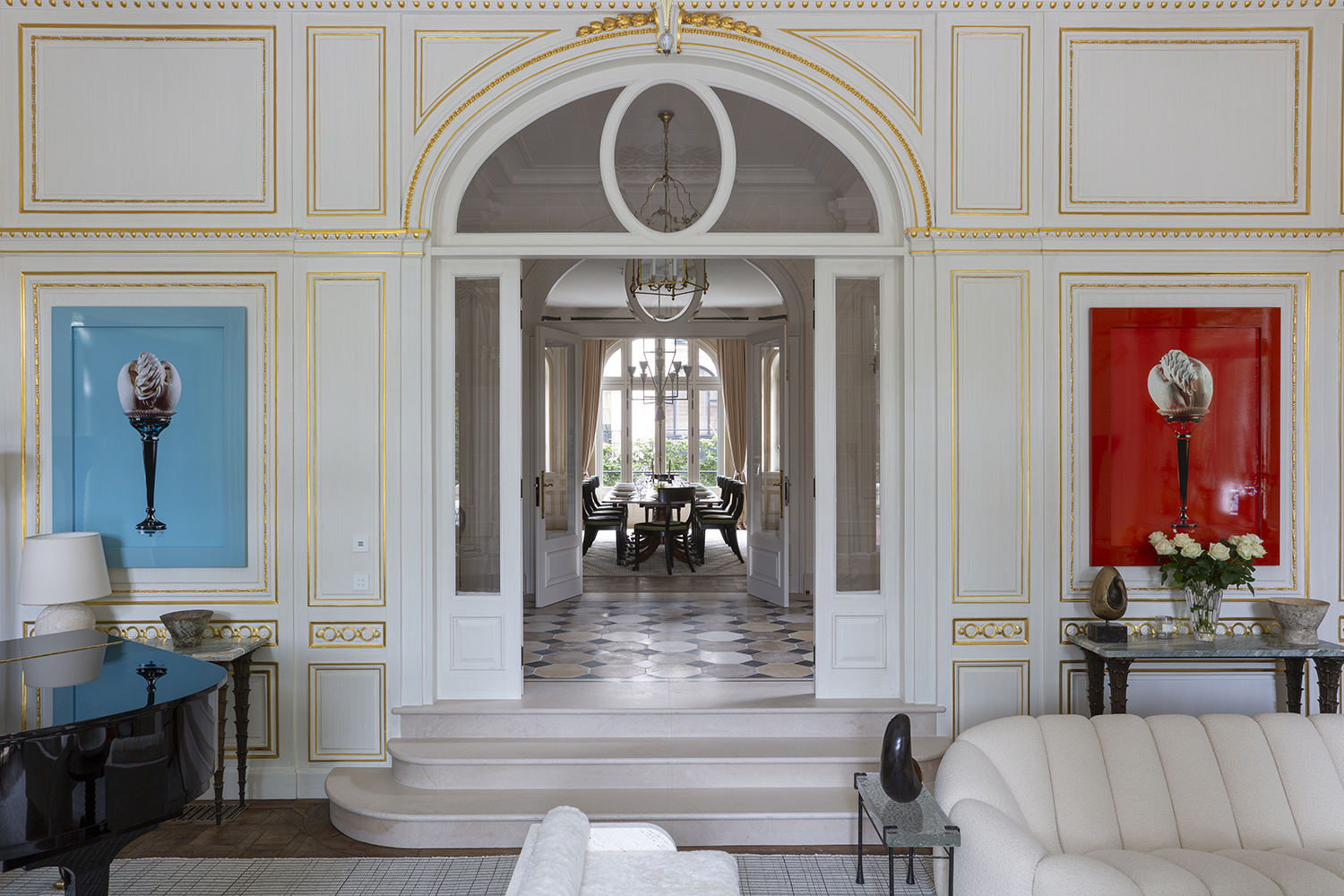 Even though much of the art was purchased for the project, the designers specifically bought contemporary and old-world pieces to make the collection feel as if it had been curated over time. Among the acquisitions were a number of bold abstract photographs by Irish artist Abigail O'Brien and a series of Karen Swami vases that are displayed on a sculptural table by Faye Toogood.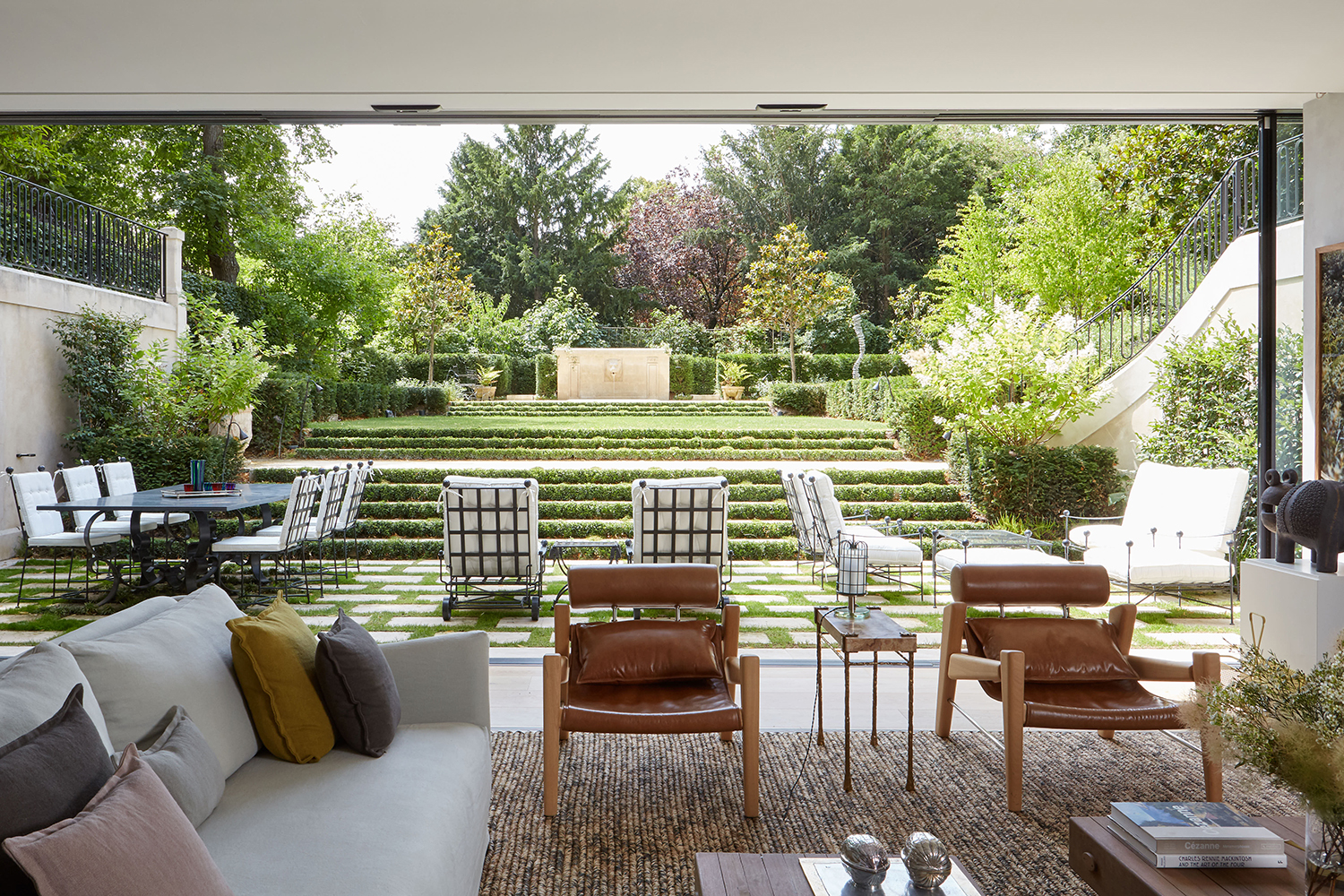 Outside, the designer wanted to maximize the residence's location adjacent to a park, which provides a particularly majestic view from the terrace. The team relocated the pool to allow for direct garden access from the kitchen, while an overgrown mound was sculpted into a more traditional French-tiered design. "We were super fortunate to be entrusted with this project," says O'Sullivan, who spent more than four years on the home's restoration. "Residential projects depends a lot on the client and we have some really good ones. We can bring them out of their comfort zone, but the end result is somewhere they're happy to live."
Next Post