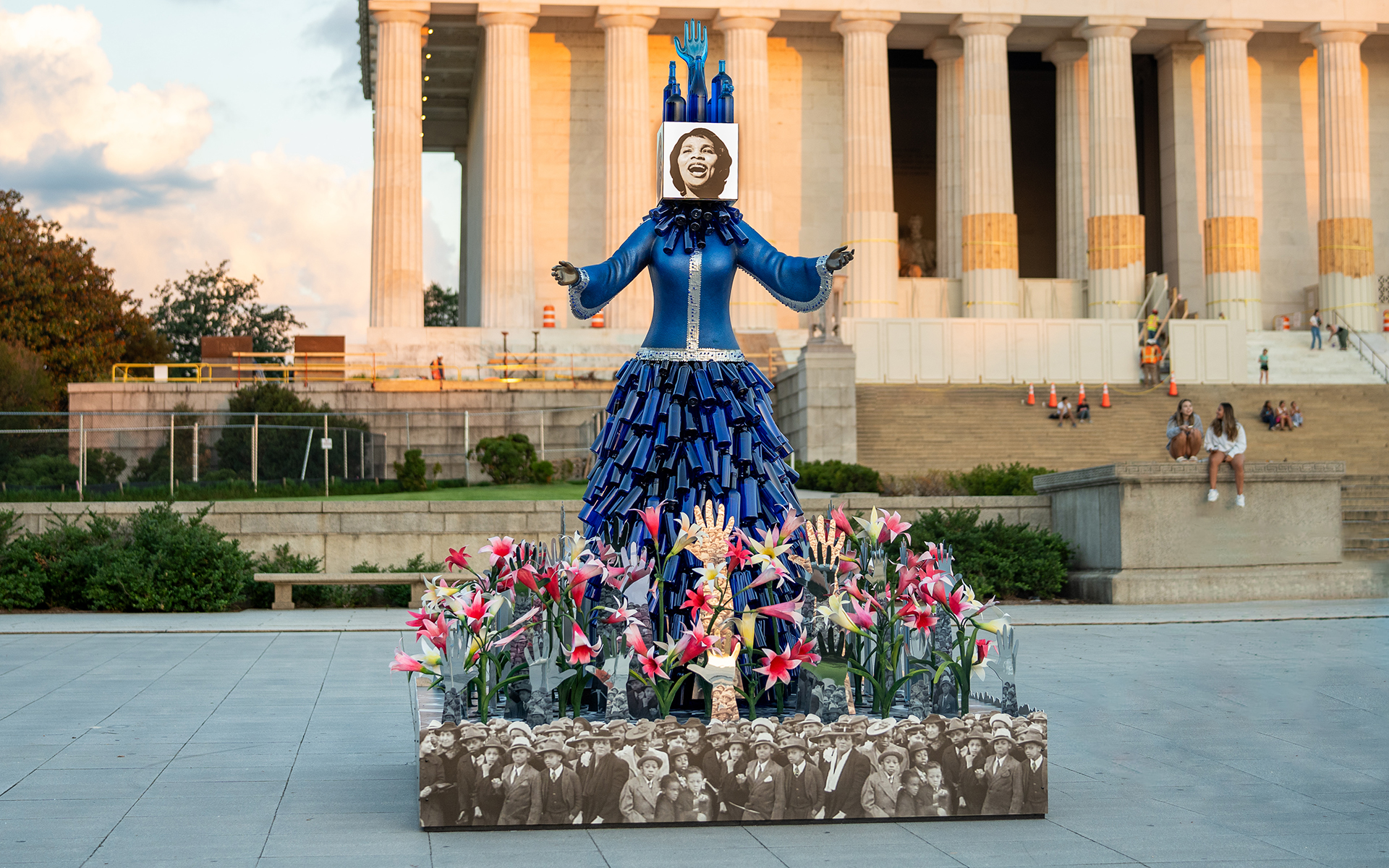 6 Artists Transform the National Mall in D.C. into a Thought-Provoking Outdoor Exhibition
Made in collaboration with Monument Lab, this showcase marks the first curated open-air installation in the history of the iconic park
A world-wide travel destination for tourists and the setting for some of the United States' most compelling moments of activism, Washington D.C.'s National Mall has been transformed into a one-of-a-kind outdoor exhibition courtesy of some heavyweight talents and notable institutions.
Running through September 18, "Beyond Granite: Pulling Together" features large-scale installations by the likes of artists Derrick Adams, Wendy Red Star, Tiffany Chung, Ashon T. Crawley, Paul Ramirez Jonas, and Galerie Creative Mind vanessa german, who were tasked with reimagining what a monument looks like and their roles in storytelling. "We really wanted to tap the energy that was already at the National Mall and look to artists who would help bring forth these so called prototype monuments and artworks that help us think about different monumental stories, approaches, and modes of participation," co-curator and Monument Lab founder, Dr. Paul Farber, tells Galerie.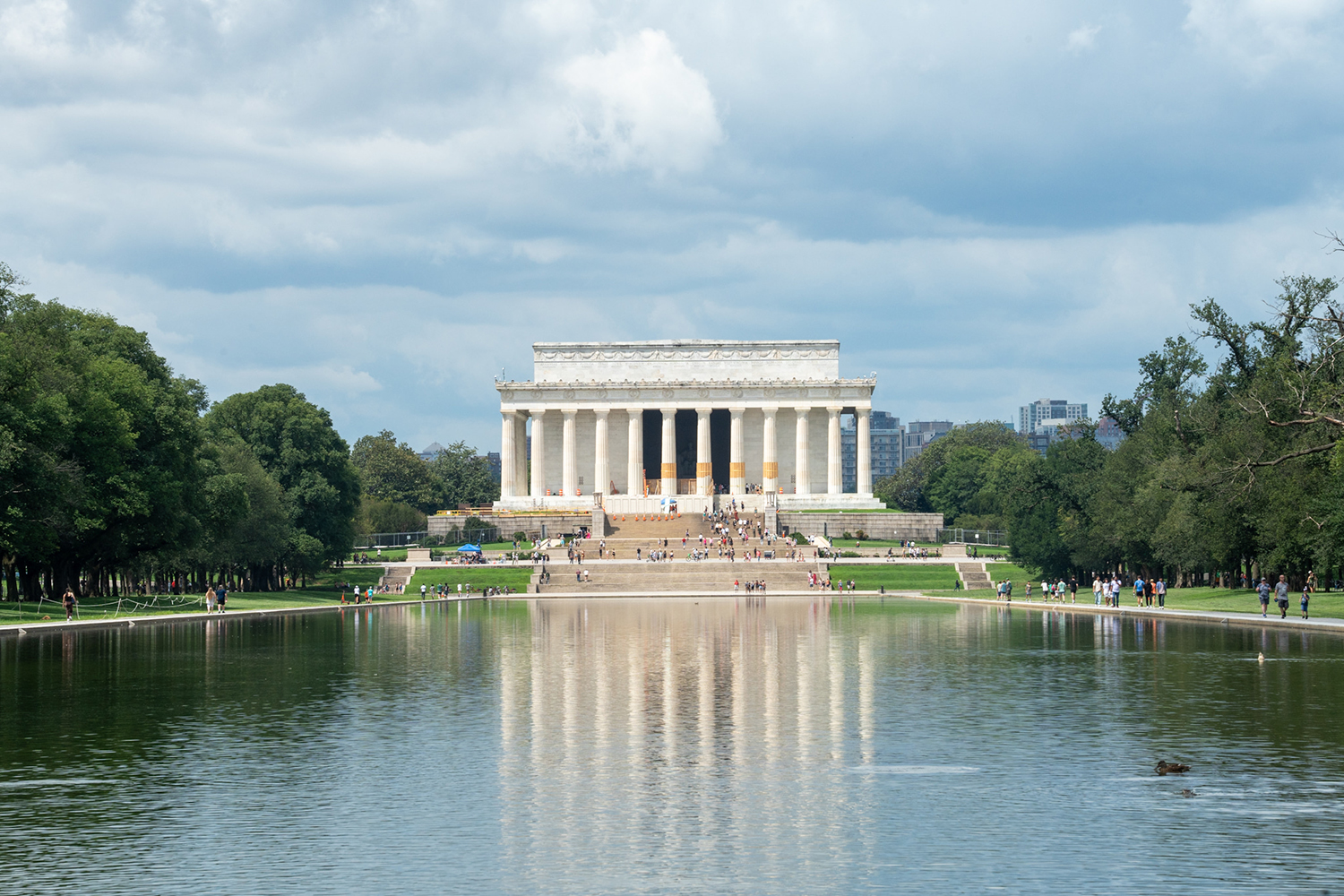 Early stages of this landmark showcase began in September of last year, when the Trust for the National Mall approached Monument Lab to spearhead this project. With funding from the Mellon Foundation and help from the National Park Service, both Farber and co-curator Salamishah Tillet immediately began researching the landmark's history and selecting the artists to be featured.
"We wanted to work with artists who had experience doing public artwork and whose work thinks through questions around history, identity, democracy, and plurality, many of the things or ideas or concepts that the mall already reflects and invokes in the public imagination," Tillet tells Galerie. "Artists who are quite innovative in their socially engaged practice as well. So we're really fortunate to have six really wonderful artists who were willing to experiment alongside us."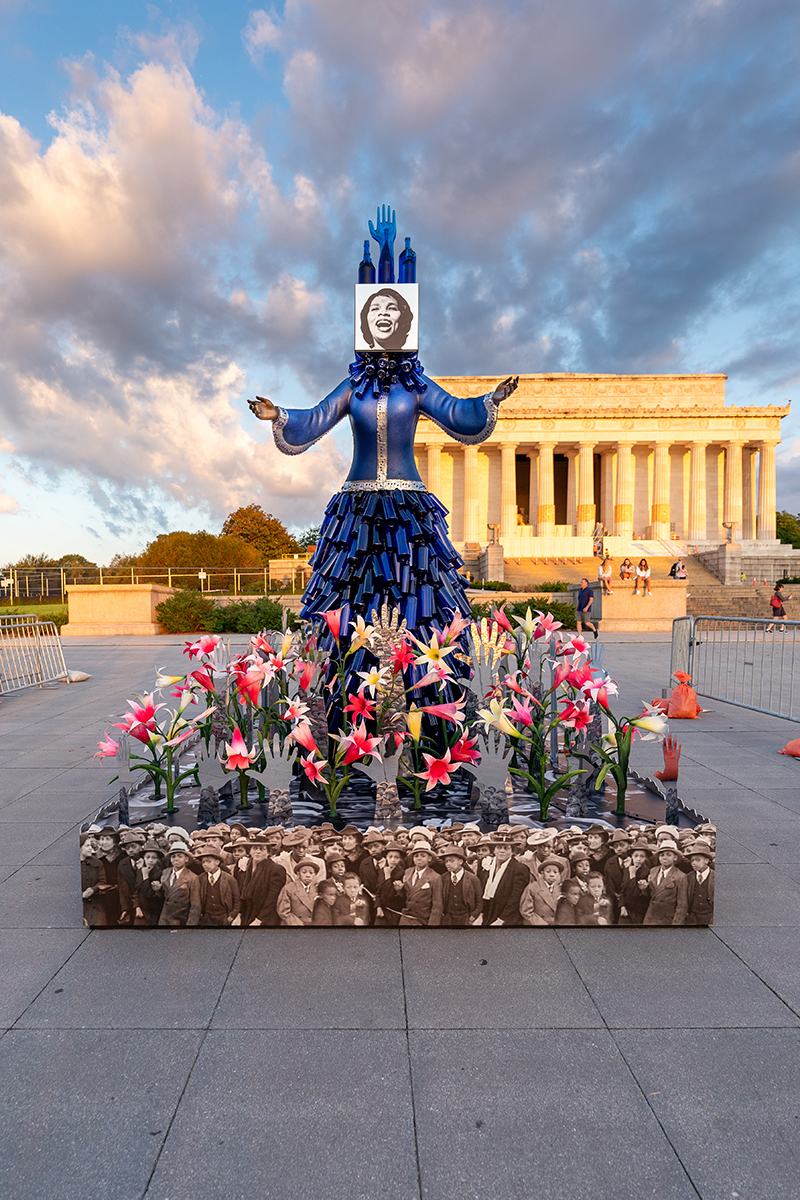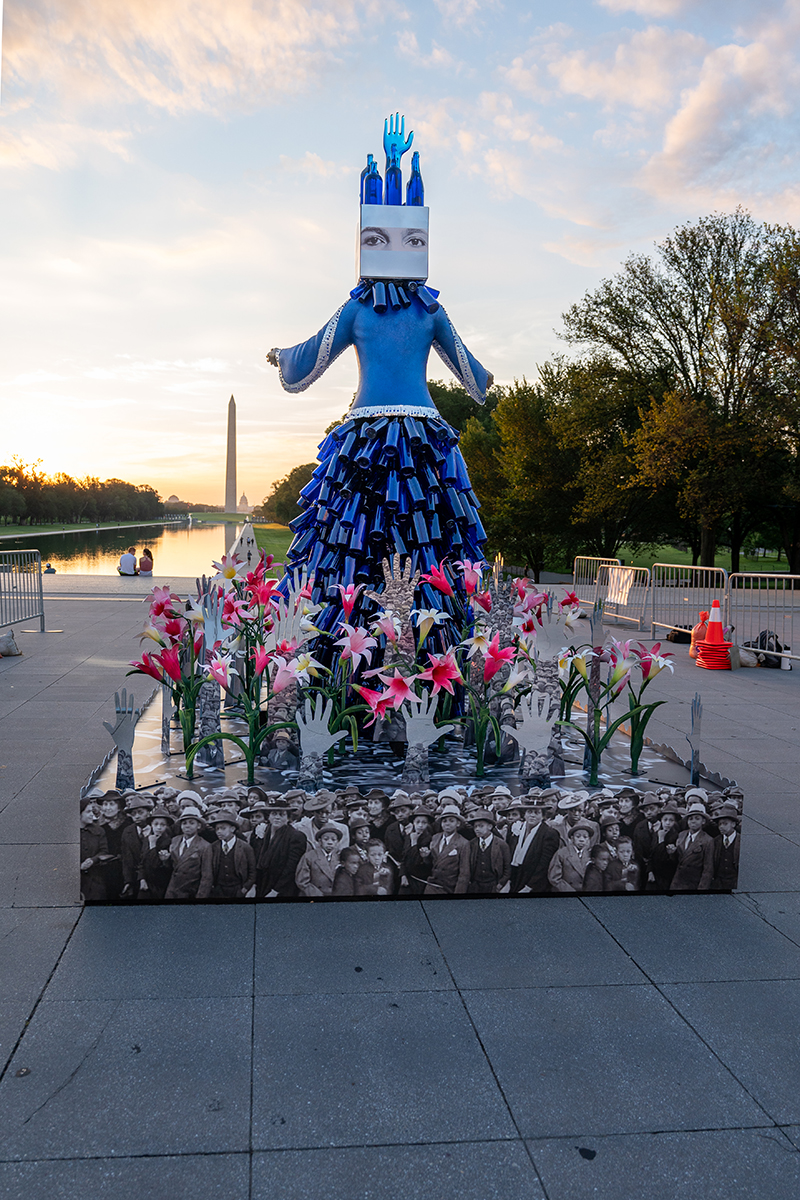 With just one year to turn this concept a reality, the artists immediately got to work reimagining their personal idea of what a monument looks like as well as showcase important, yet overlooked, moments of history. For vanessa german, she found inspiration in the source of the exhibition's title "Pulling Together," which references Lincoln Memorial's 1939 Easter Sunday performance by renowned Black opera singer Marian Anderson, who was prohibited from performing at Constitution Hall due to segregation.
For her mixed-media sculpture Of Thee We Sing, photos of Anderson are placed on each side of a mirror cube where the acclaimed singer's gaze reaches across the National Mall, while just her eyes gaze at Lincoln Memorial. Below, a bold cobalt blue meant to represent spirituality and cleansing envelops both the body form and bottles make the skirt. Finally, on the bottom, sculptures of hands reaching towards Anderson are mixed with representations of the Namibia's famed Sandhof Lily. "I really wanted to make a monument to the human heart, to the power of our emotional spiritual, the place of light, the place where our individual genius as human beings gets its engine," german tells Galerie. "So with this piece, I think that also really goes into the theme of the entire exhibition, which is history is not linear. There's not just one history."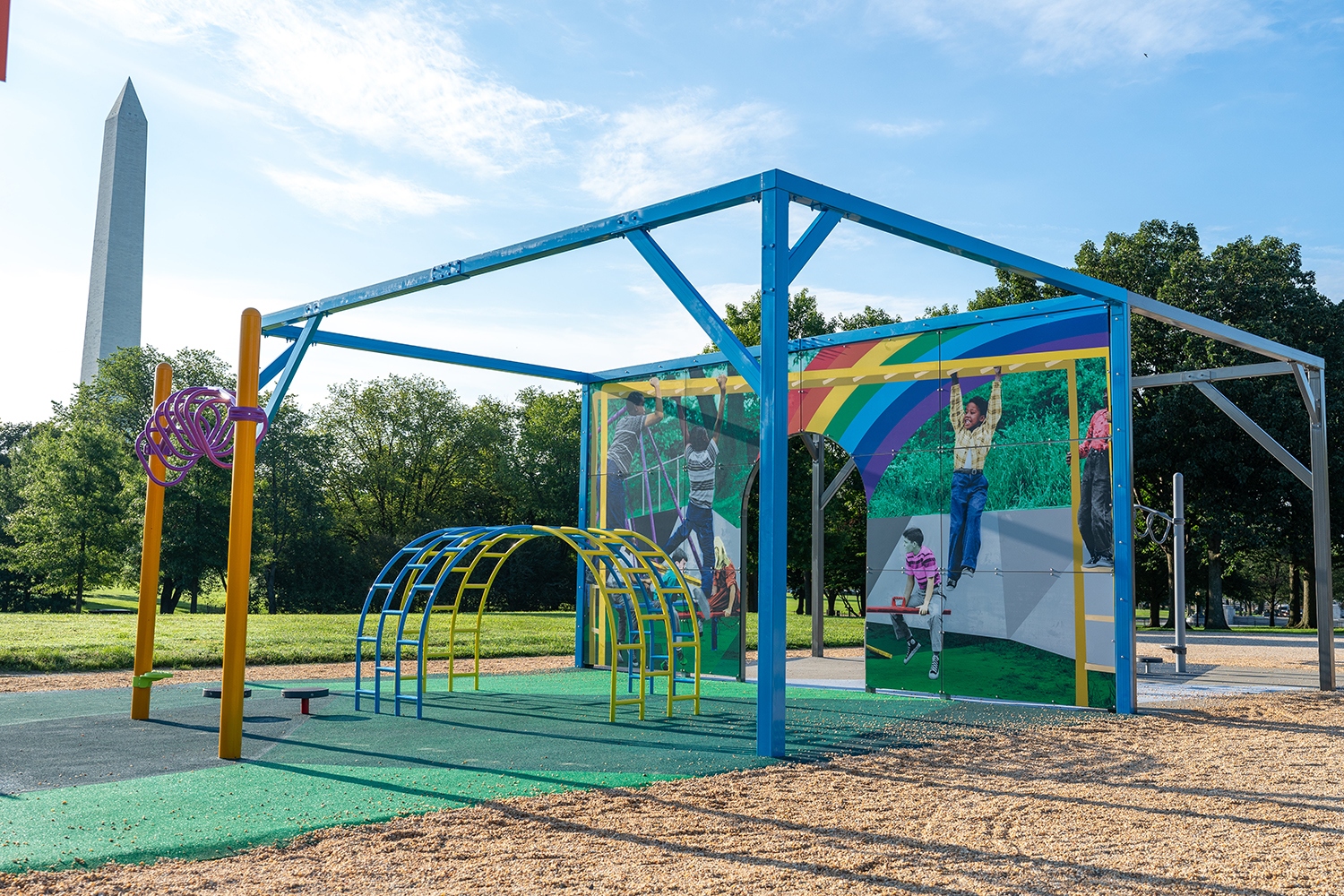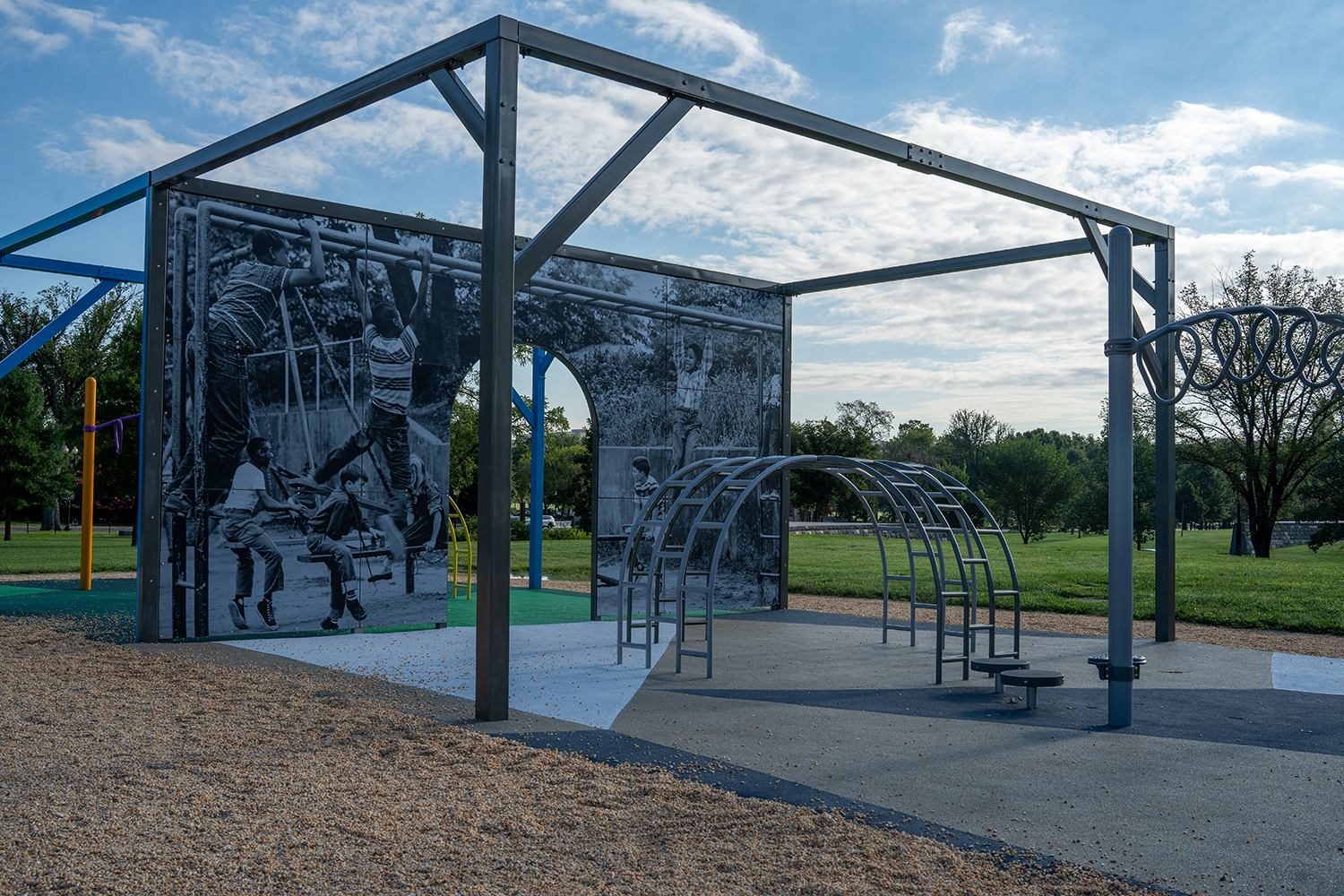 Also speaking on themes of segregation is Brooklyn-based artist Derrick Adam's large-scale piece America's Playground: D.C. Known for addressing themes of Black experiences through public spaces, Adams constructed an operational playground which tells the story of segregated spaces in D.C. On one side, bright colors adorn the metal bars and turf  while the opposite features a muted color palette of grey. Separating the sides is a billboard-sized archival image of children playing in Edgewood Park just days before the 1954 Supreme Court ruling Bolling v. Sharpe, which segregated D.C. public spaces.
"Similar to the Wizard of Oz in certain ways," Adams tells Galerie. "That's kind of what I've been thinking about with this particular piece. Like the idea of transformation, using color to amplify certain feelings of community and joy, different things that I think are very compelling."
Throughout the entire length of the National Mall, visitors will take in artworks among the landmark's greenery. On the grass next to the Vietnam Veterans Memorial, Tiffany Chung's work For the Living is a sprawling rope map which traces the global routes used by Southeast Asian immigrants Vietnam war refugees. Different colored rope intersect to represent the different methods these travelers used (boat, land, and air). In Constitution Gardens, Wendy Red Star has erected a large thumbprint sculpture which features the names of chiefs from Apsáalooke (Crow) Nation, Star's own tribe, who signed treaties with the U.S. government. These names are inscribed in a bold red to represent the blood and dust of past ancestors. "I think of my blood and my DNA," Star tells Galerie. "All these leaders contributed directly to my experience that I live today as a Crow Indian, from their efforts to help maintain our culture and community. I thought red was a really good signifier for blood and then also representing the land and the importance of the land that currently discussed."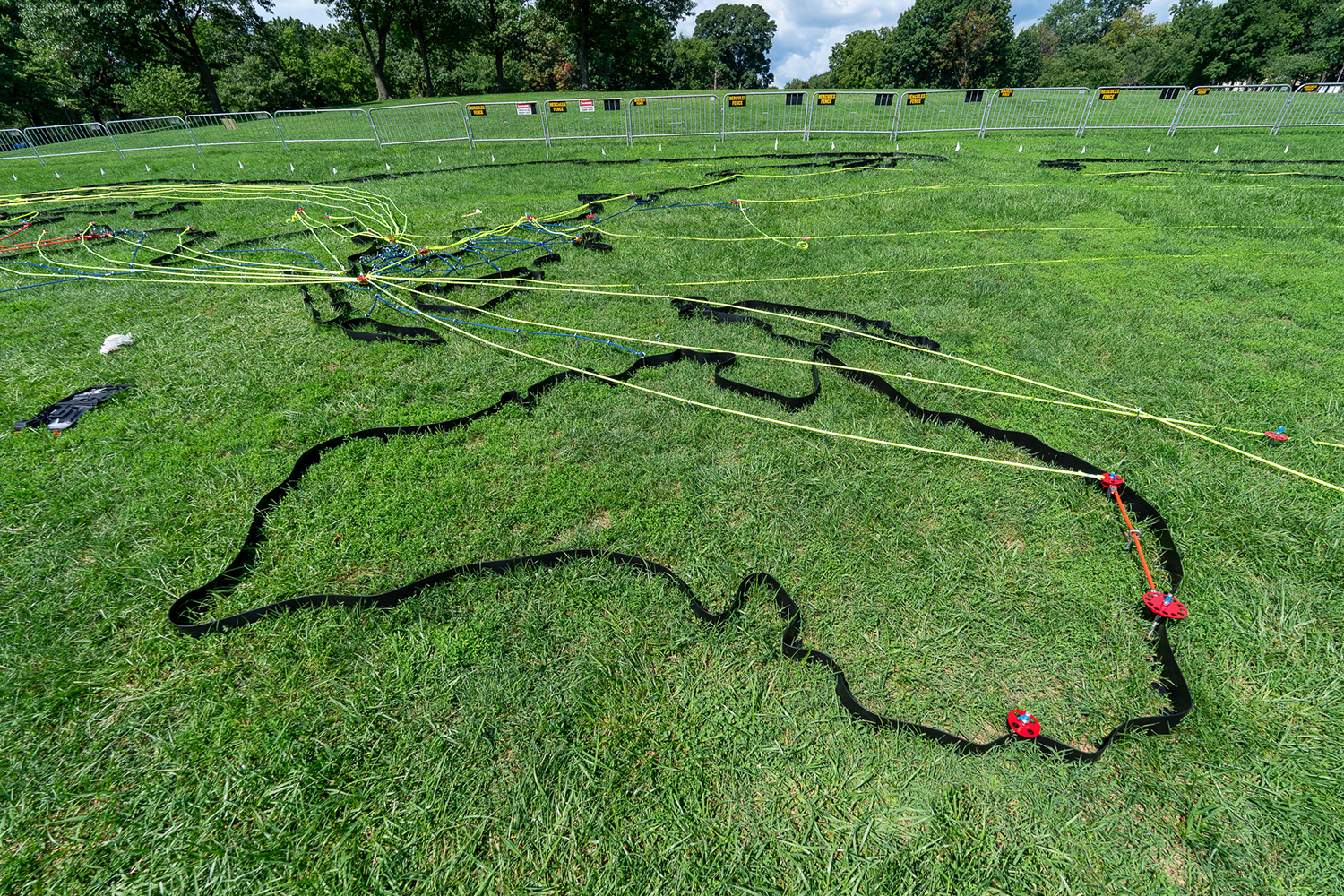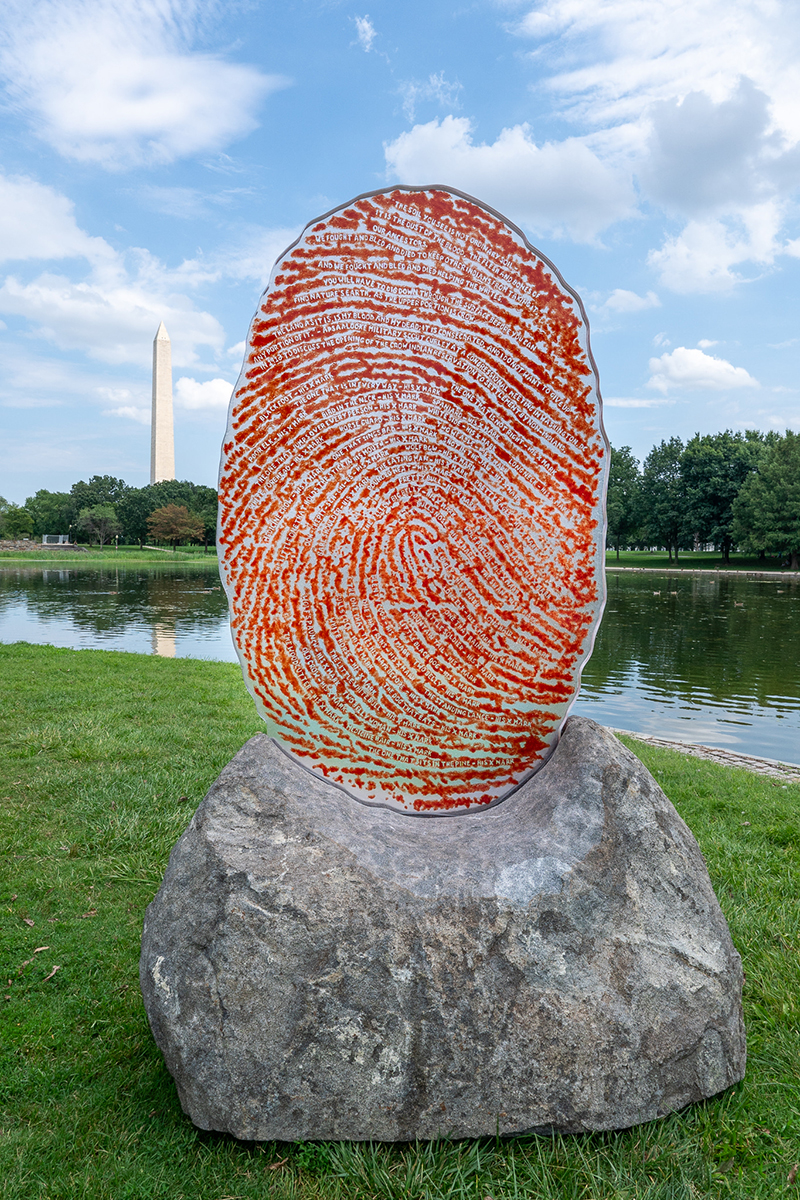 In addition to a number of large-scale installations featured in the exhibition, interactive works made by artists Ashon T. Crawley and Paul Ramirez Jonas will also be on display. Spotlighting his background in music, Crawley has crafted an encompassing stage which will serve as an audiovisual memorial speaking to the AIDS crisis and feature performances from choir singers and directors echoing around the space. Under the same umbrella of performance, Ramirez Jonas worked with local bell makers to construct an interactive tower that visitors can ring to complete an unfinished version of My Country 'Tis of Thee.
During the exhibition run, a number of public performances conceptualized by each artist will take place through August and September. For more information, visit Beyond Granite's events page.
Next Post