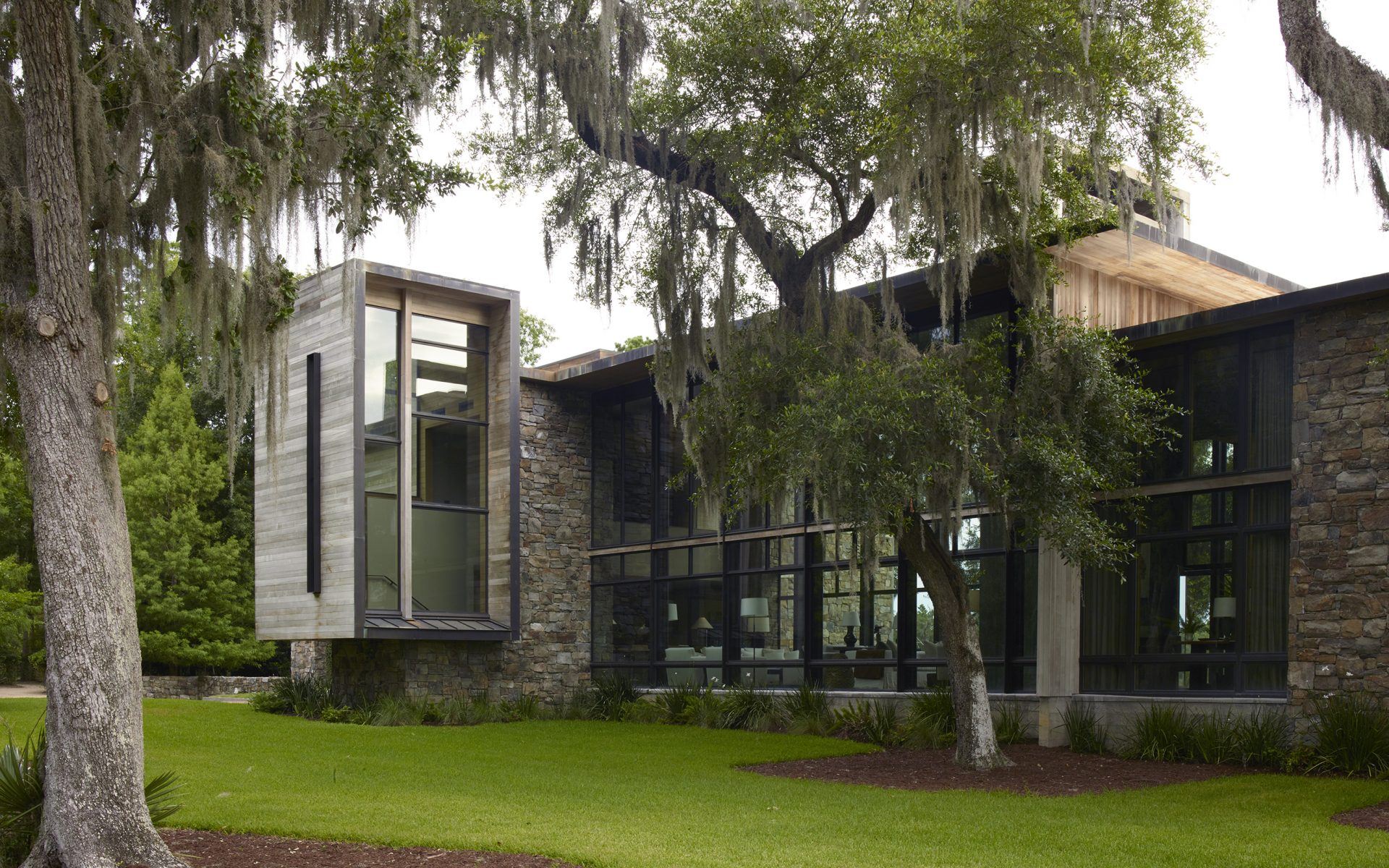 Why Designer Beth Webb Loves Her South Carolina Retreat More Than Ever
The Atlanta-based talent shares her Brays Island getaway and the inspiration behind her new collection for Arteriors
Interior designer Beth Webb is all about that perfect mix—comfort and romance, ease and elegance, polish and patina. She began her career as an art dealer after earning a master's degree from Sotheby's in London, but she turned her critical eye and sense of proportion to interiors when she founded her namesake firm 20 years ago in Atlanta. Since then, Webb has designed homes across the country for clients, who trust she'll capture exactly the way they dream of living.
This spring, Webb was set to launch her new 34-piece collection of lighting, accessories, and accent furniture with Arteriors at the High Point Furniture Market, yet the global pandemic changed her path, and she's been sheltering in place at the home she shares with her husband on Brays Island, South Carolina. Here, she shares what she loves about her retreat on the grounds of a former rice plantation more than ever and how the home was the inspiration for many of the Arteriors pieces, which are now available.
Welcome to Brays Island, where it's alligator-mating season. That's right—no need to watch Tiger King here, we've got Wild Kingdom out the wazoo. Alligators are bellowing, and my husband has the binoculars to watch them as they creep across the marsh. 
My husband, Chuck Hanavich, and I live in a glass house on this island that's about an hour from Charleston and near Savannah. It's quite remote and 30 minutes to the nearest grocery. It was originally a rice plantation that was converted to this residential entity with about 8,000 acres. There will never have more than 325 homes here, so our house is very sparsely situated with landscape being a huge part of the experience.
The architect James Choate of Surber Barber Choate + Hertlein Architects designed the house, and he did a brilliant job of siting it—with spectacular views from every room. We can see the deer come through and all kinds of birds—egrets, wood storks, wood ducks, and pink spoonbills. We have cypress and a lot of live oak covered in Spanish moss as well as some marsh grasses and creeping fig on the house. I joke that we're Whole Foods for deer.
My husband built the original portion of the house starting in 2006 through '08. It was originally designed as a one-bedroom house with a loft configuration. Then he turned the porch into an office and then added another master. It's now a two-bedroom, 5,000-square-foot house with an open floor plan, and we use every single space.
Recommended: Why Up-and-Coming Parisian Architect Nathan Litera Loves His Home More Than Ever
My husband was very minimal, so when I arrived it needed some warmth and layering. He actually thought he was a decorator until he met me. So I layered it up and gave everything a good edit. Now we have four children and four grandchildren, so it's really a houseful. I divided the open space into two seating areas and dramatically increased the seating to comfortably entertain. He only had two sofas!
Usually the whole house is conducive to entertaining, but right now we have crime tape down the center. My husband has the loft as his office, and he does calls on the deck. And I've taken over his office as my ground zero.
We're very remote. We have seen virtually no one. We have fresh-picked vegetables. We have someone picking up groceries and delivering them from Charleston. I've been cooking three meals a day for nine weeks. I love to cook, but with running the office remotely there's a time crunch. At first it was glamorous to cook, but now I have work to do. The kitchen gets a workout still, but it already does at Christmas and Thanksgiving. It's truly a workhorse of a kitchen. There's everything—three refrigerator drawers and five freezer drawers. But I've decided we do need an extra dishwasher.
We also have an outdoor grill area with two fire pits and an oyster roaster. Right now, it's glorious weather. It's been the most spectacular spring. There are few bugs so we can eat outside, so I really want to add an outdoor dining area, especially for when the kids are here and there are 17 of us altogether. We're hoping that will happen one day again—especially since we haven't met our new grandchild yet. We really can't wait to be with everyone again.
This spring, the other big debut was my collection launch with Arteriors on March 25. They were so fascinating to work with, and the soulful message of the line has really been well received, and it's available now, although we didn't get to have the big reveal we planned. We will show it at High Point in October instead of April. 
For my collection with Arteriors, I really wanted something a little softer and gentler. What I designed was really more feminine than their usual collections. I designed so much of it here in this house, and the connections are clear—like the lighting with soft waxed blackened steel. The home's palette dictated what's in the collection—those elements of raw wood, cedar, oak, poured concrete. And then there's bringing the outside in with the greens, tans, and wickers.
Next Post