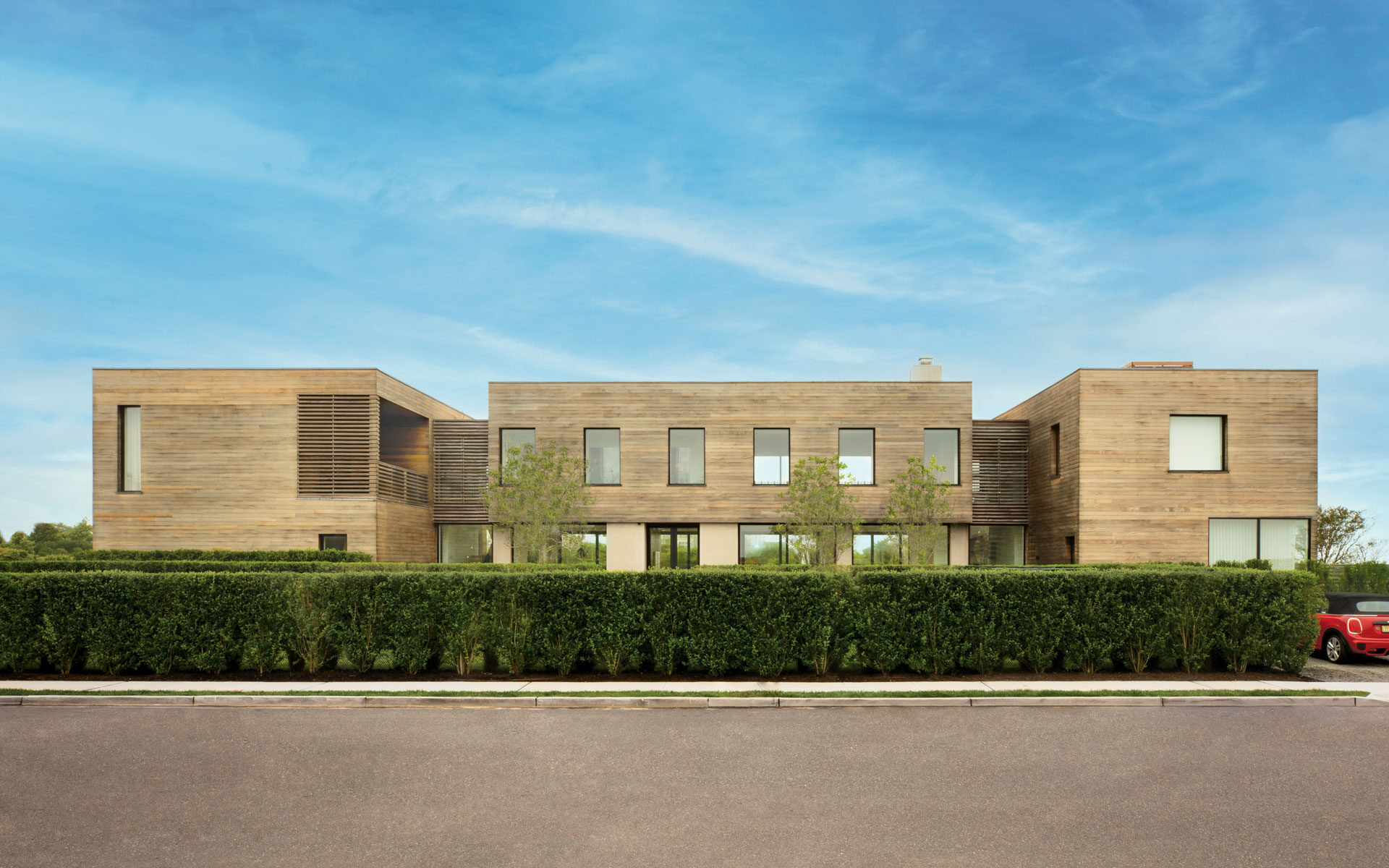 Ashe Leandro Conceives a Modernist Retreat Punctuated with a Captivating Curation of Collectible Design
Working alongside adviser Raquel Cayre, Ariel Ashe and Reinaldo Leandro create a big impact with a minimalist, mahogany-clad family beach house in New Jersey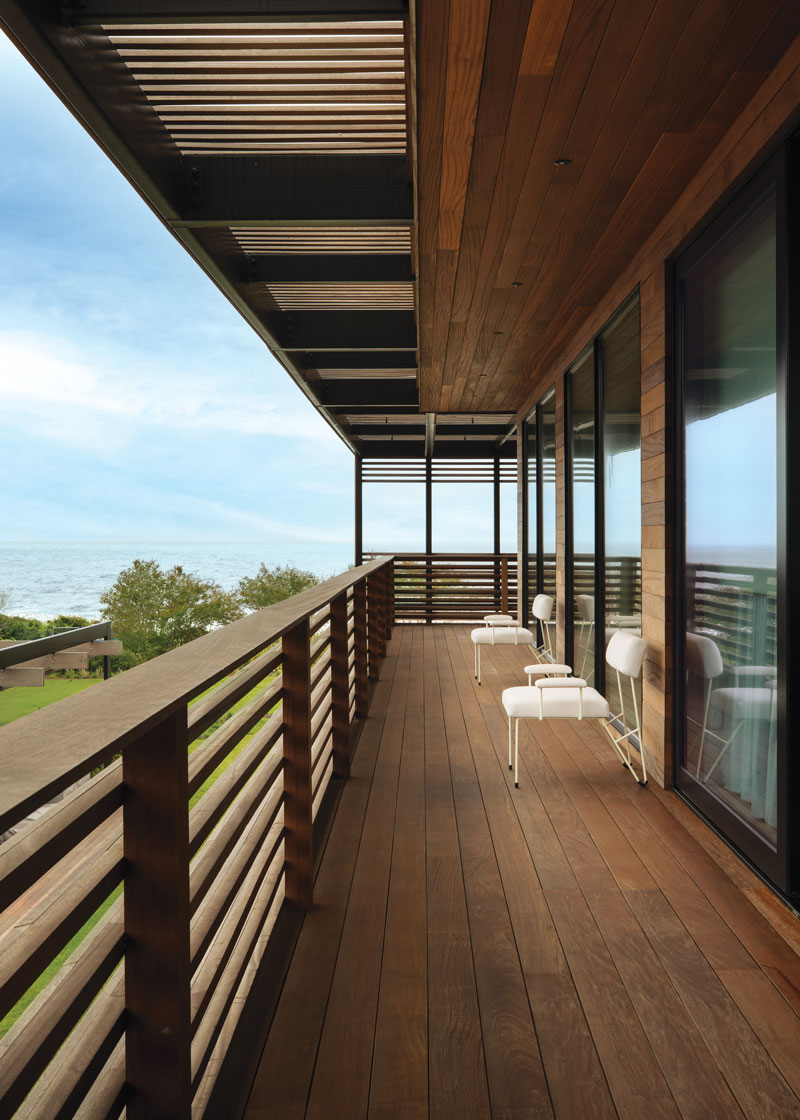 Just about everyone dreams of having a beach house. But not everyone's dream looks the same, to be sure. When a couple with two young children set out to build an 8,000-square-foot waterfront home near Deal, New Jersey, they were determined to avoid predictable choices like shingle siding and nautical-themed clichés. To create something unexpected, the couple turned to designers Ariel Ashe and Reinaldo Leandro. "The clients wanted something that felt relaxed and beachy but not like anything formal you'd see in the Hamptons," says Leandro of the five-bedroom house completed during the pandemic. "They wanted to take a boogie board, go down to the beach, and not be precious about it."
Although their firm, Ashe Leandro, is best known for doing pared-back, inviting, midcentury-inspired interiors for clients such as Seth Meyers and Liev Schreiber, the duo has a growing portfolio of homes they've designed from the ground up, including this one. For these projects, they mastermind all aspects of the architecture and interiors, from basement to balcony, drawing on Leandro's training as an architect, while Ashe handles most of the furnishings.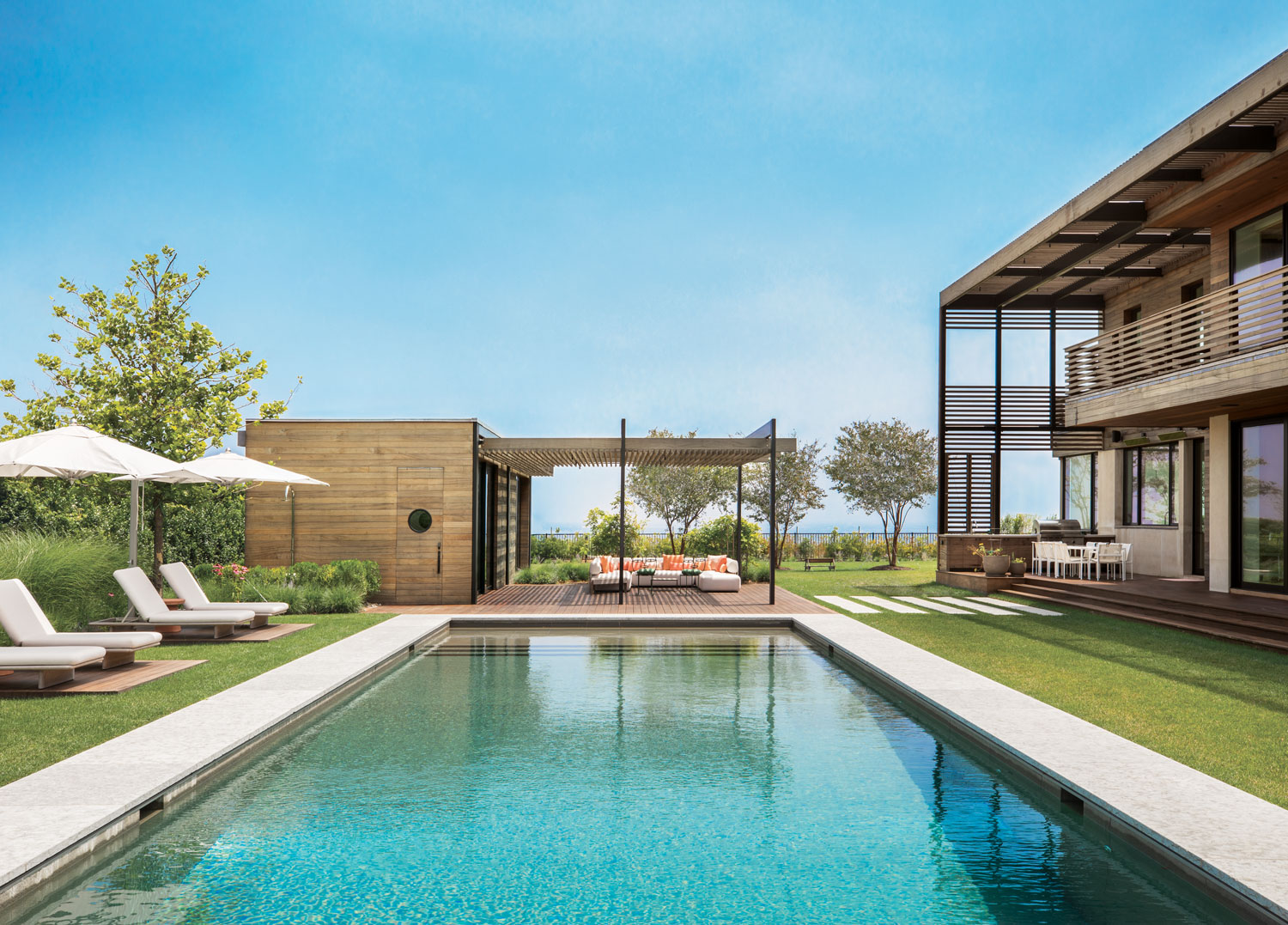 The beach house they created on the Jersey Shore is set in an area that, unlike some seaside communities, doesn't have a consistent architectural vernacular—though it does have height and setback rules. The result is a minimal, contemporary design with sophisticated mahogany siding and windows strategically positioned to frame views. The firm's signature strategy is to divide a home into separate, interconnected structures—in this case, three rectilinear volumes, plus a freestanding pool house—breaking up the sense of scale and creating more intimate spaces that enable greater privacy. There are multiple balconies and terraces wrapped in slatted brise-soleils that not only generate shade but also visually connect the different parts of the home. "It gives you a relaxed Caribbean style but in a Northeast environment," Leandro says.
"The clients wanted something that felt relaxed and beachy. They wanted to take a boogie board, go down to the beach, and not be precious about it"

Reinaldo Leandro
Stepping inside the front door, visitors are greeted by a double-height living area to one side and a dining room on the other. In between, the designers inserted two pill-shaped, wood-paneled, floor-to-ceiling dividers that form a kind of open hallway while also providing storage.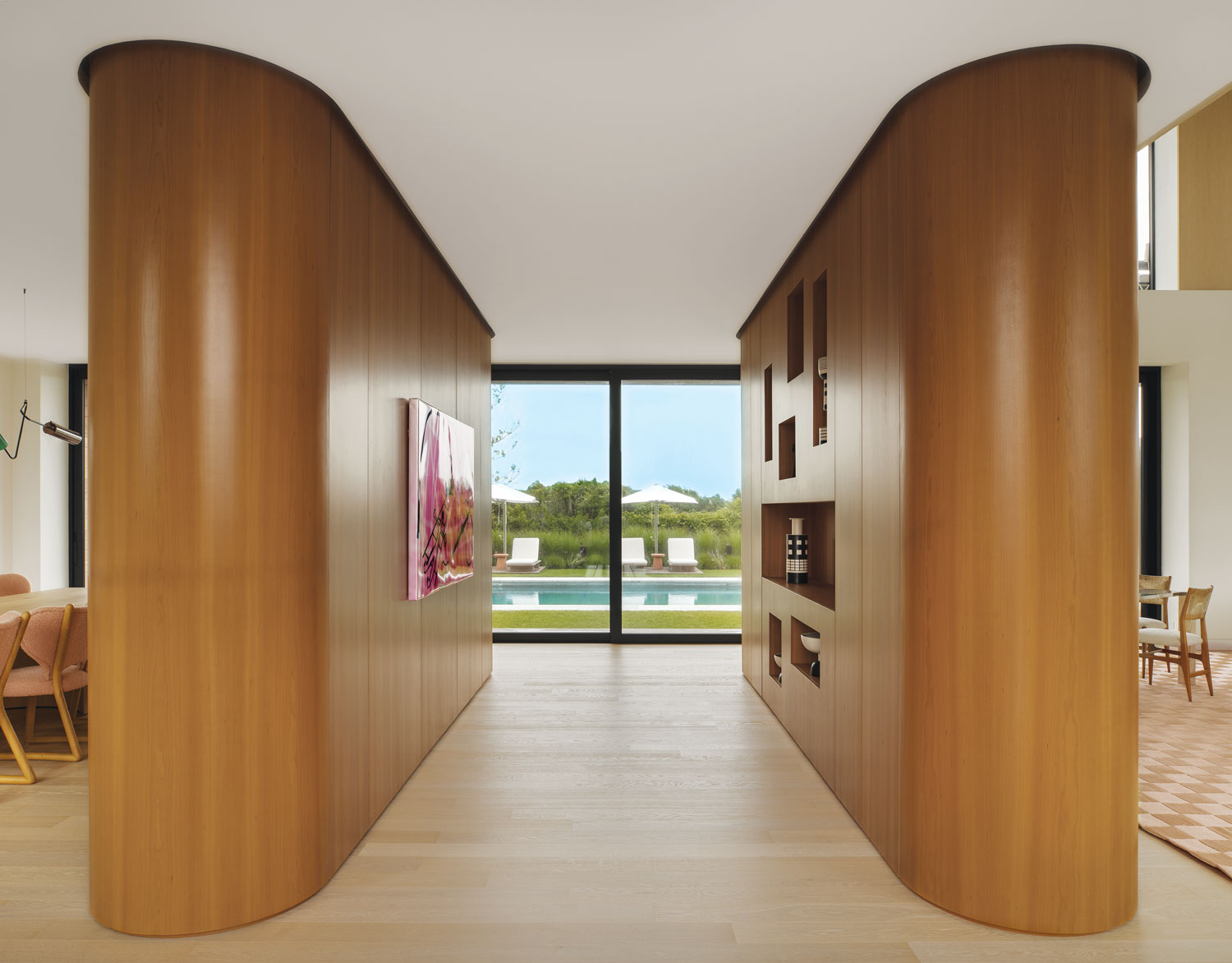 Beyond the living area to the right are the kitchen and family room and the primary bedroom above; to the left there's the garage with the children's rooms and guest rooms above. A mezzanine overlooking the living area affords a bird's-eye view of a singular design signature that is an Ashe and Leandro favorite: a snaking modular de Sede sofa from the 1970s that acts as a room divider, statement piece, and seating solution for the entire family and then some. The sofa is one of a few dozen vintage and contemporary collectible design elements sourced by the clients' adviser, Raquel Cayre, working in consultation with Ashe and Leandro. "It's an iconic piece of furniture that's airy and the kids can run around it," says Cayre, who made a name for herself cultivating the @ettoresottsass Instagram account and curating projects like "Raquel's Dream House," a 2018 exhibition inside a Manhattan townhouse that included the de Sede sofa. Although advisers can sometimes clash with designers and architects, in this case "everything was natural and nothing was forced," Cayre says.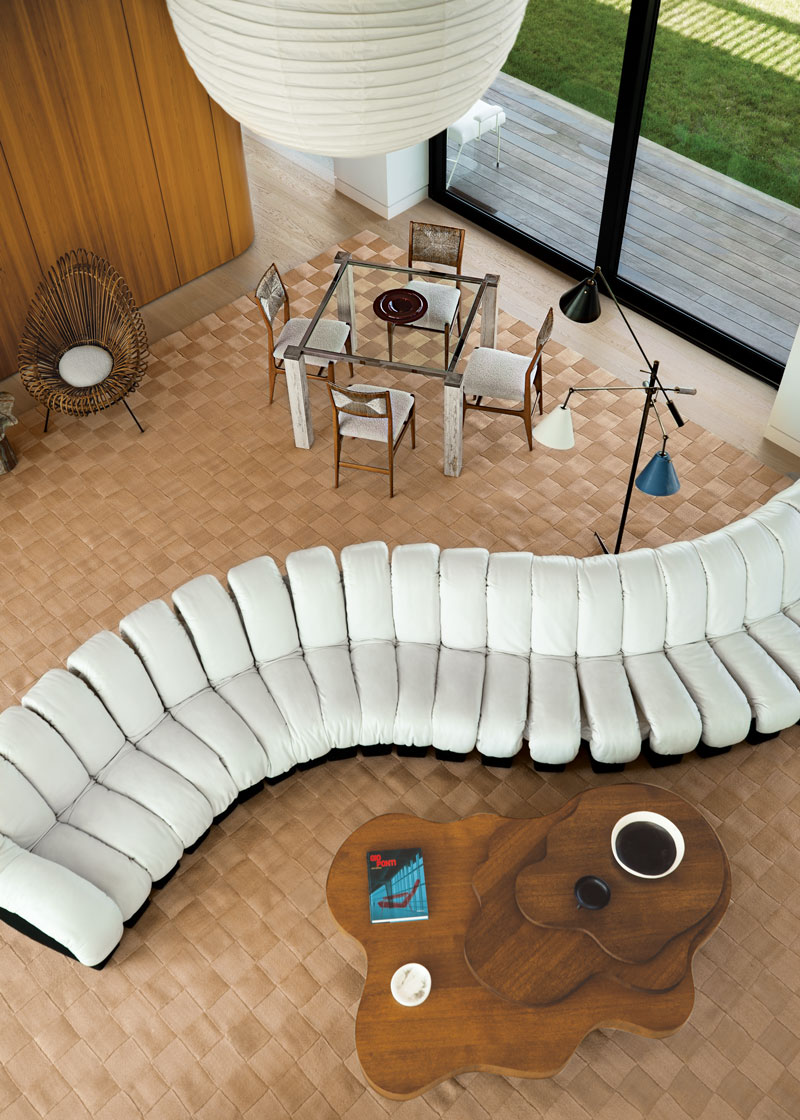 If there was any pushback when it came to the interiors, it was from Ashe and Leandro, who sought to temper the clients' enthusiasm for the kind of exuberant palette found in their primary residence. "They kept saying, 'More color!' and we'd reply, 'Less color!' " recalls Ashe, who worried that offbeat color choices could quickly feel dated. She and Leandro focused on natural materials and organic tones. "I like vacation homes to feel like somewhere far away," she says, noting the importance of sculptural shapes and "resisting the urge to overstuff a room."
The designers did indulge select chromatic bursts. In the kitchen, where most of the oak cabinetry has a pale, natural finish, Ashe and Leandro painted the upper cabinets in blocks of yellow and red and the island in pistachio green. Color also pops up in other spaces: The upstairs guest kitchen is head-to-toe canary yellow, a shower is covered in mossy green tile, and the home theater is completely saturated in crimson paint and upholstery. While most of these hits are monochromatic, a rainbow appeal can be found in the multicolored basement playroom, which is connected to the theater and laundry room via striped blue-and-yellow tiled floors.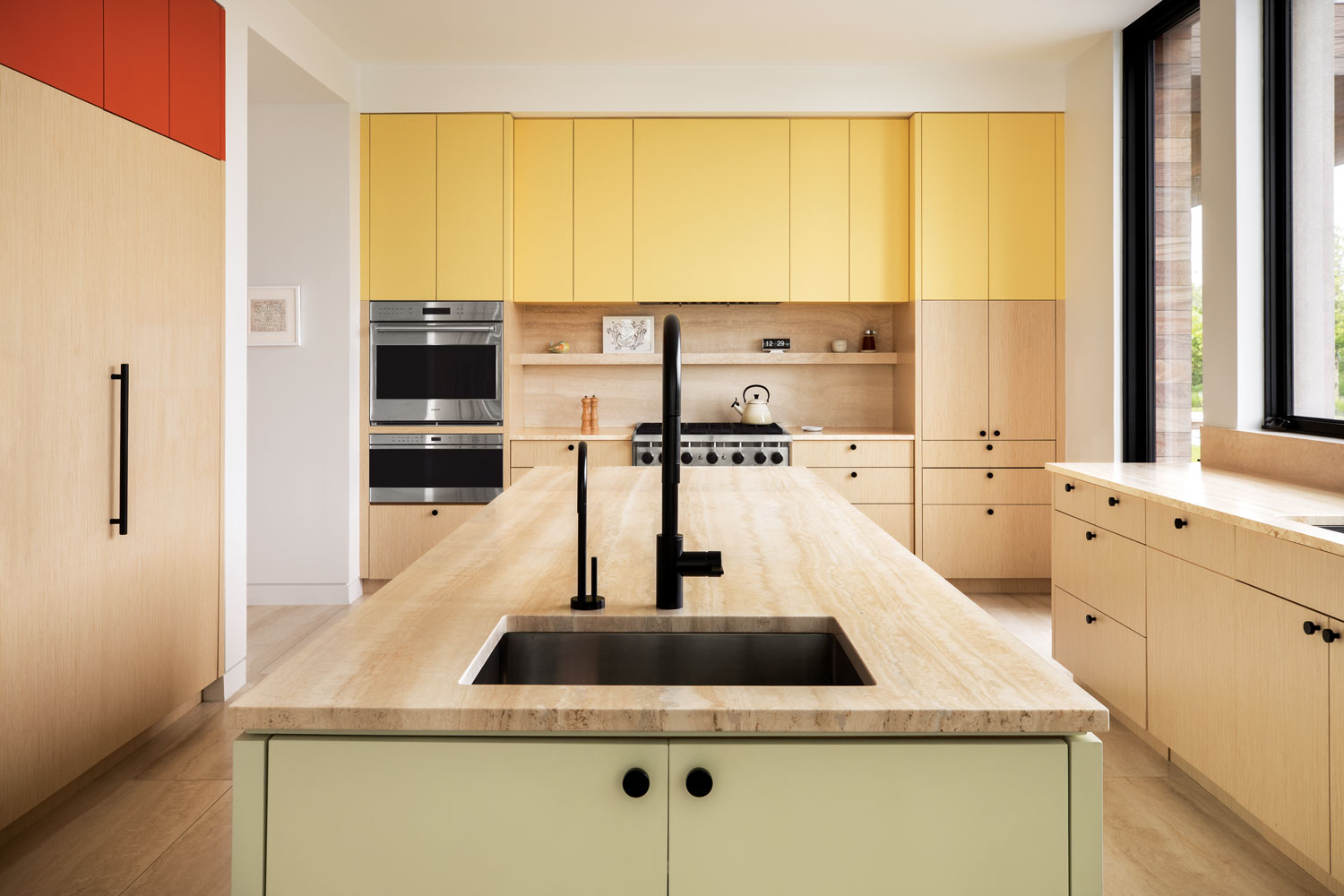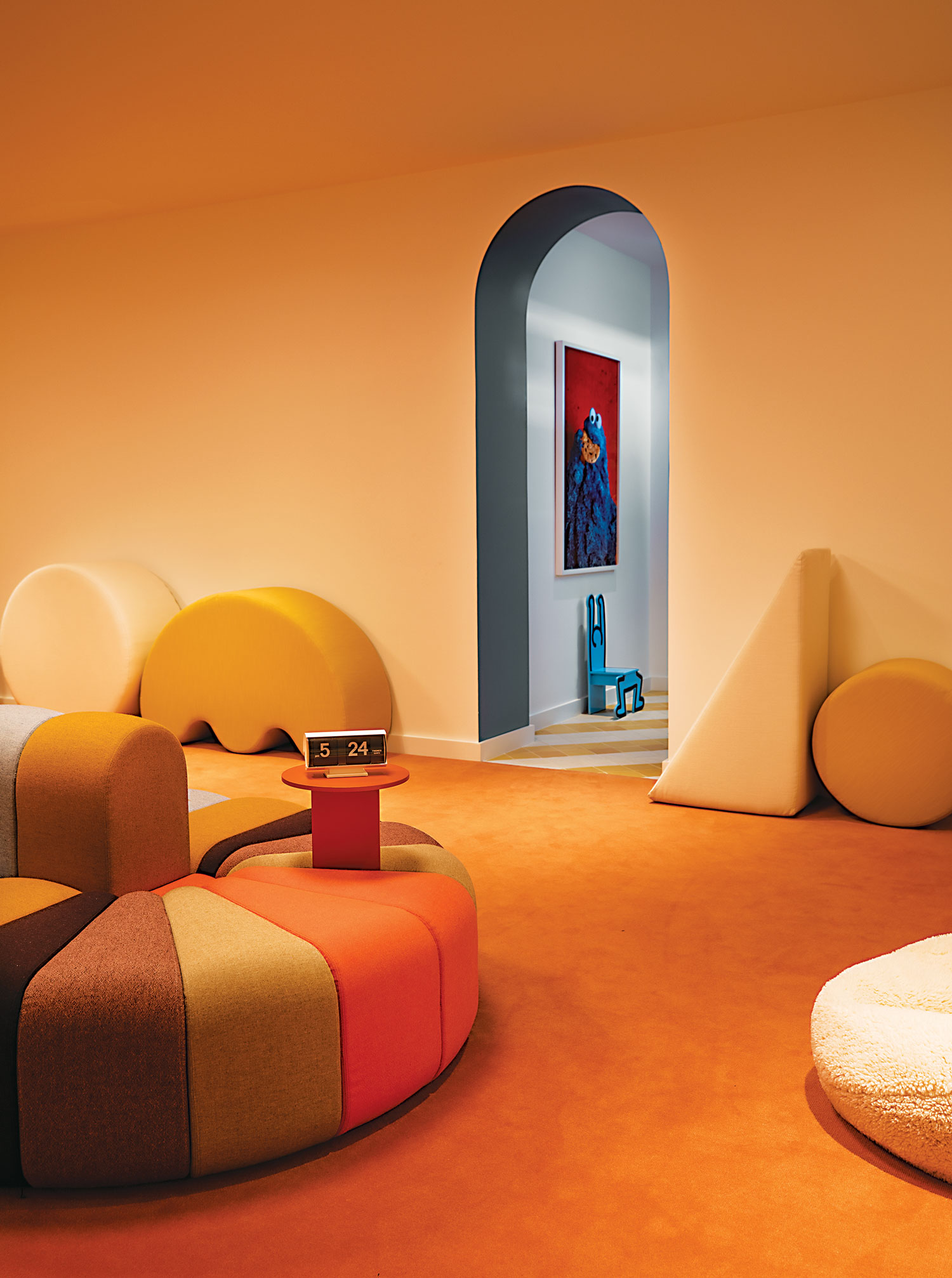 "These ground-up homes are my favorite projects," says Leandro. "It feels like a natural progression for us." The designing pair has several such assignments in the works, including four townhouses in New York City, all with a similar design language. "My youth in Latin America comes through: private on the outside, open on the inside," he adds. "It always seems to come back to that."
A version of this article first appeared in print in our 2022 Summer Issue under the headline "Turning Up the Volume." Subscribe to the magazine.
Next Post