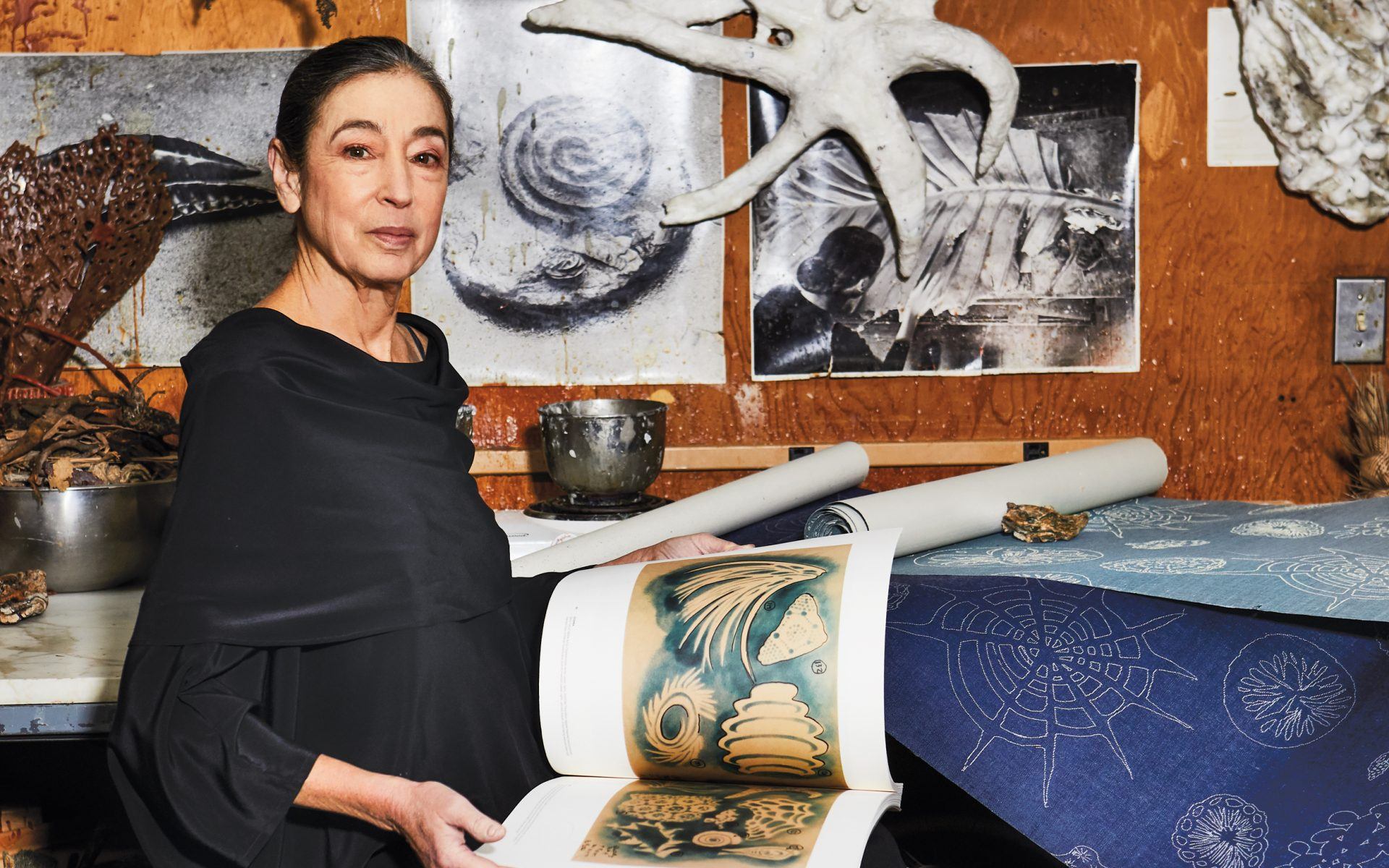 7 Major Artists Collaborate on a New Wallpaper Collection
Kravet and Paperscape's new series of wall coverings features original designs by Judy Chicago, Michele Oka Doner, Fred Simon, and others
To have a work by Judy Chicago, Michele Oka Doner, or Fred Simon on display in your home is an honor reserved for a select few. However, a new collaboration of Kravet and Paperscape will offer art connoisseurs another opportunity to curate a space around their creative aesthetic without ever visiting a gallery.    
Chicago, who is known for her groundbreaking feminist installation The Dinner Party (1974–79), was selected along with six other established and emerging artists to collaborate on the Artist Series by Paperscape, Kravet's ingenious collection of artfully detailed wallpaper that reflects themes focusing on both the man-made and natural worlds.
"I used a spray technique that I learned in auto body school in the 1960s to apply layers of paint to canvas," says Chicago about her signature ombré effect that's realized in the pattern Morning/Evening in two colorways, AMSKY and PMSKY. "The design and color are inspired by the vibrant skies in New Mexico, where I live."
New Yorker Michele Oka Doner found inspiration in her birthplace, Miami Beach, for Telescopic, which incorporates hand-drawn shells, seaweed, and algae. "I know the beach like the back of my hand," says Doner of the design, which is available in four colors and on grass cloth in two.
Recommended: Judy Chicago Creates an Immersive Set Design for Dior's Upcoming Haute Couture Show
To select this tightly edited debut of Kravet Couture commissions, the textile company, which is over a century old, worked in partnership with Paperscape to visit studios and network with artists, seeking talents that excel in painting, printmaking, drawing, and collage, such as Miami native Evan Robarts, whose Rearrangements pattern embraces brushstrokes that are "transformed into a wave or water or a gust of wind."
Nature is also emphasized in Falling Gingko, a series of abstract botanicals by Rhode Island painter and printmaker Michael Rich. Textile designer Gaspar Saldanha, the grandson of modernist muralist Paulo Werneck, produced Orquidea, a tropical design in four colorways that evokes his home in Rio de Janeiro.
Fellow Brazilian artist Eli Sudbrack—who along with Parisian Christophe Hamaide-Pierson makes up the duo Assume Vivid Astro Focus—departed from his signature digital imaginings to focus on First Draft, a pattern with a handmade sensibility. Urban Planning by Fred Simon draws a fictional city grid reminiscent of his art that uses color pencils and oil pastels and is offered in three different colors.
With so many inspiring designs, the new collection is likely to generate the same problem many art collectors face—not enough wall space.
A version of this article first appeared in print in our 2020 Spring Issue under the headline "Gallery Wall." Subscribe to the magazine.
Next Post