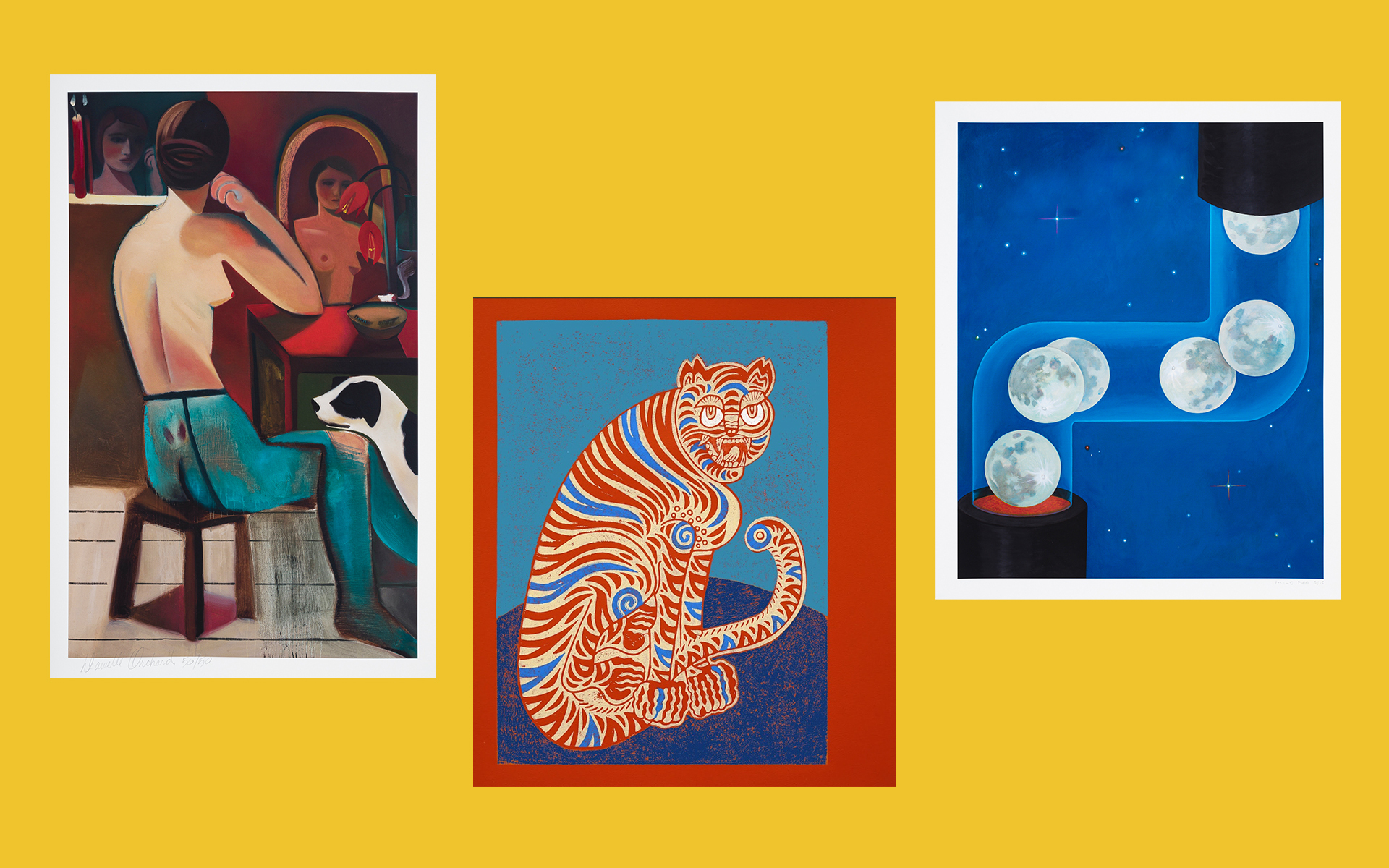 Galerie x Art for Change
Available for purchase, this special collaboration showcases the inspiring work of ten visionaries featured in Galerie past and present who are blazing new paths forward
Since its inception in 2016, Galerie magazine has been committed to shining a light on the most promising emerging artists around the world. Art for Change connects socially conscious art collectors with in-demand contemporary artists and their work. A platform for discovery, the organization offers a curated selection of museum-quality prints and original pieces. Available for purchase, this special collaboration showcases the inspiring work of ten visionaries featured in Galerie past and present who are blazing new paths forward. For every work sold, ten trees will be planted to support global reforestation. As in all series, artists will receive 50 percent of the net proceeds of print sales.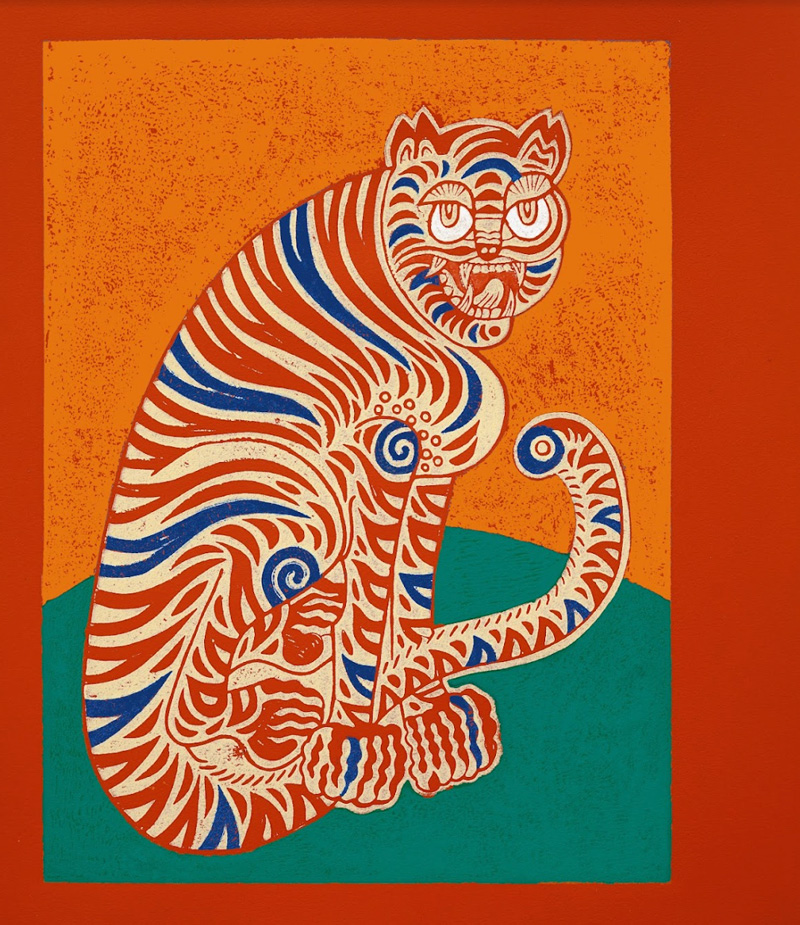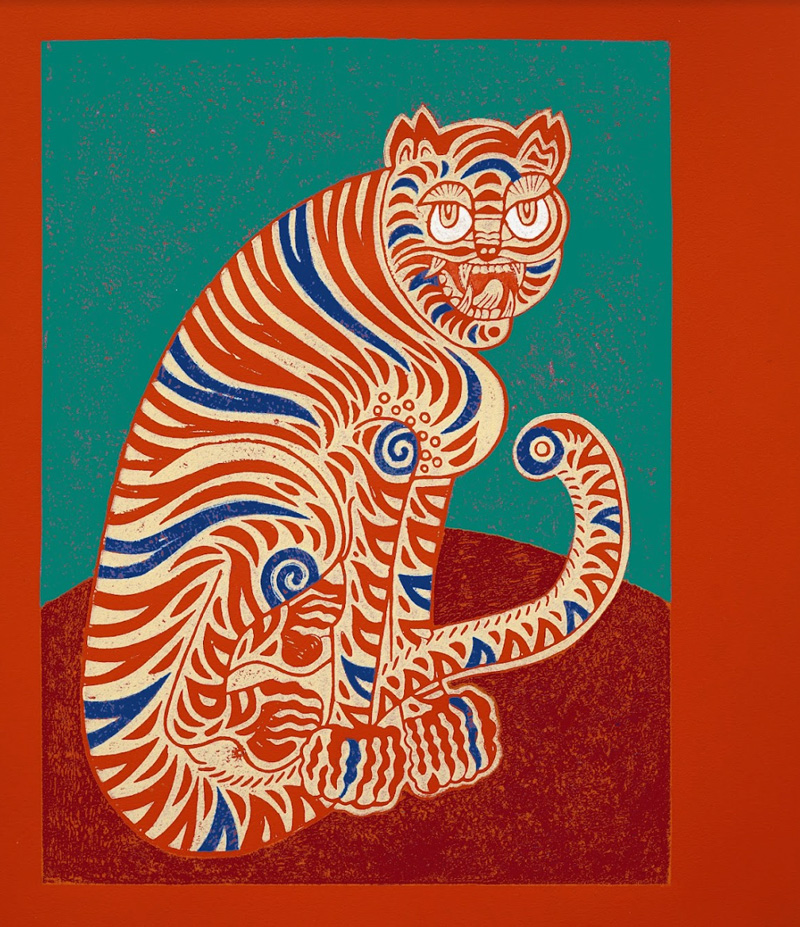 Kour Pour 

"Coy Tiger" Series (2022)  
Kour Pour is a British-Iranian artist based in Los Angeles investigating his experience of living between cultures. Pour's visually complex paintings, prints, sculptures, and collages draw upon non-Western craft and decorative traditions in a meditation on global exchange, identity and migration. Persian rug motifs and patterns frequently populate the artist's work in a nod to the displacement and transitions experienced by migrant communities throughout the western world.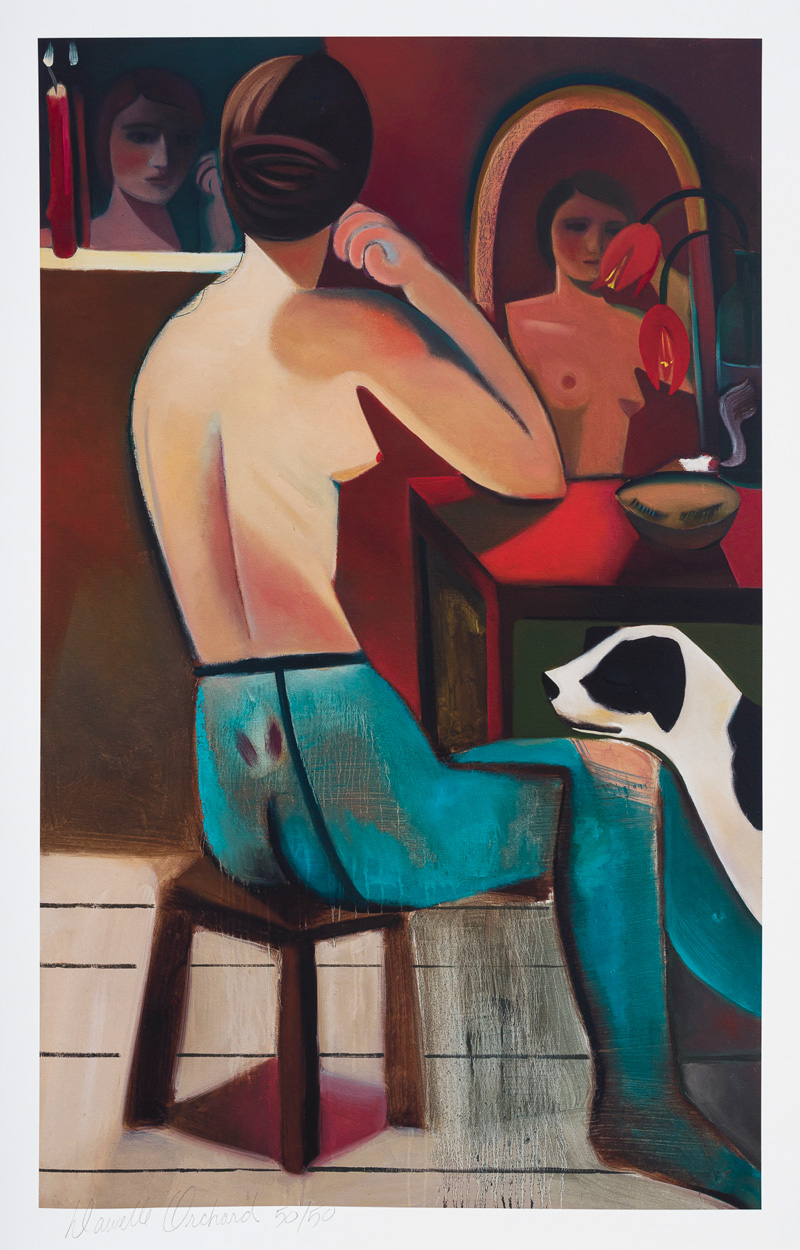 Danielle Orchard
Earthly Demands, 2022 
Danielle Orchard is a Brooklyn-based artist exploring feminine corporeal realities and narrative forms through quiet, architectural compositions. Orchard subverts female nudes in an analytic, cubist style equal parts contemporary and classical—engaging with the visual language of modernist masters like Picasso and Matisse.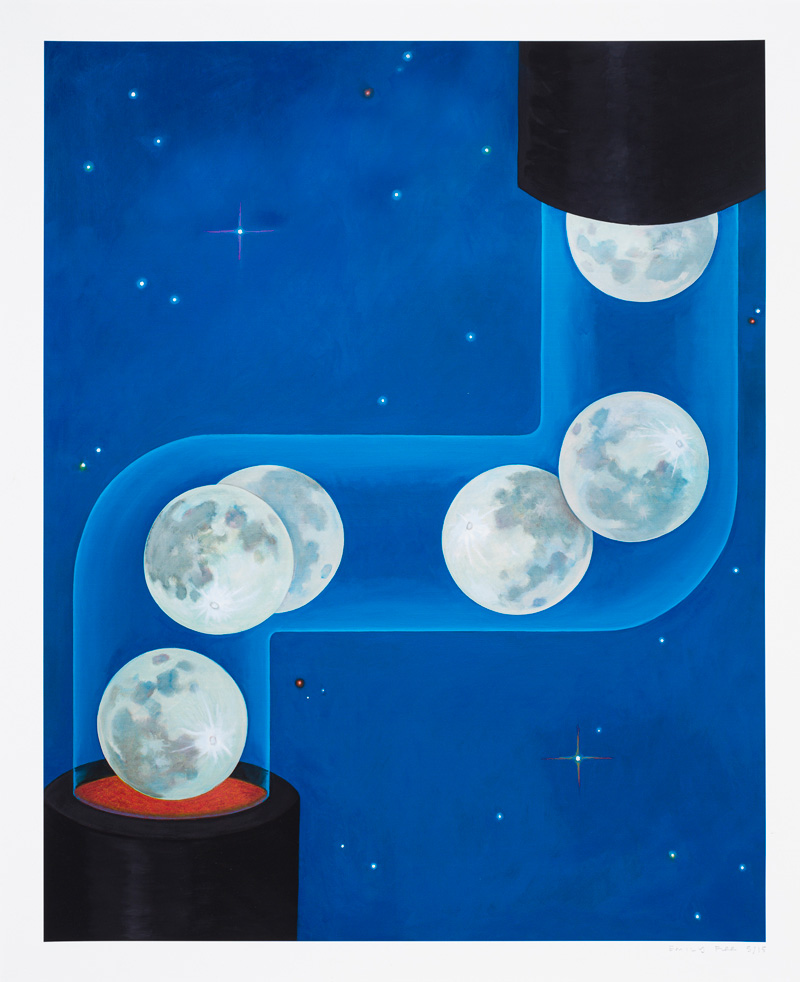 Emily Furr
Moon Chute, 2022 
Emily Furr is a New York-based visual artist who received her MFA from Hunter College, NY in 2018. She has exhibited with Sargent's Daughters in New York, Rebecca Camacho Presents inSan Francisco, Office Baroque  in Antwerp and Galerie Hussenot in Paris. In February of 2021, Furr opened her first museum solo exhibition at the SCAD Museum in Savannah, Georgia, curated by Ariella Wolens.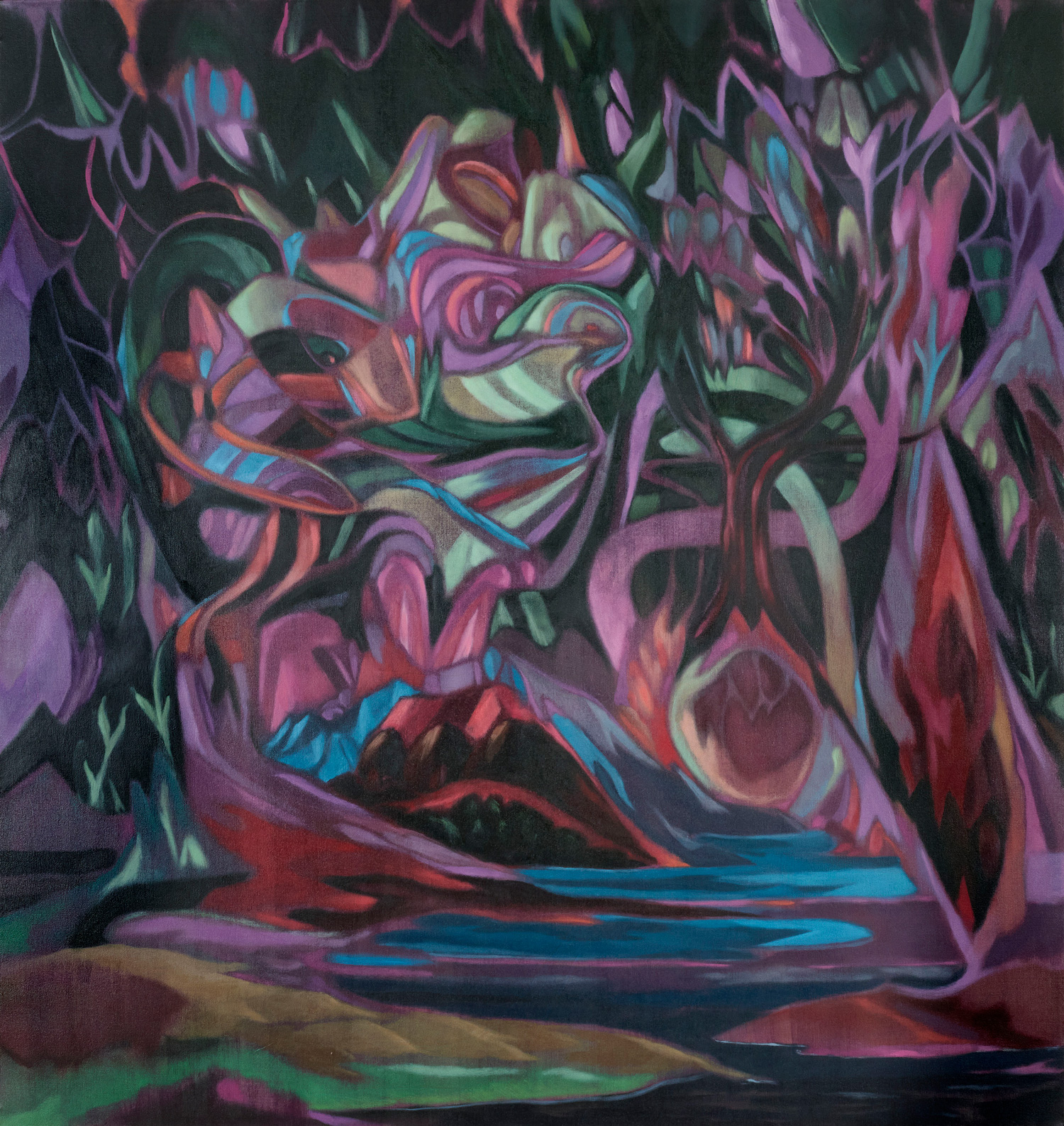 Emilio Perez
Life of Illusion, 2022, 
When I See You, 2022 
Back from Nowhere, 2022 
Golden Ours, 2022 
Emilio Perez is a Cuban-American Brooklyn-based artist whose dynamic landscapes and figuration investigates memory and narrative construction through color and perspective. The artist's paintings have been exhibited in "Critical Gestures" at PAMM in Miami and at the 12th Havana Biennial and has had solo exhibitions with Galerie Lelong in both New York and Paris.
These works are available via private sale only. Please email hello@artforchange.com to inquire regarding availability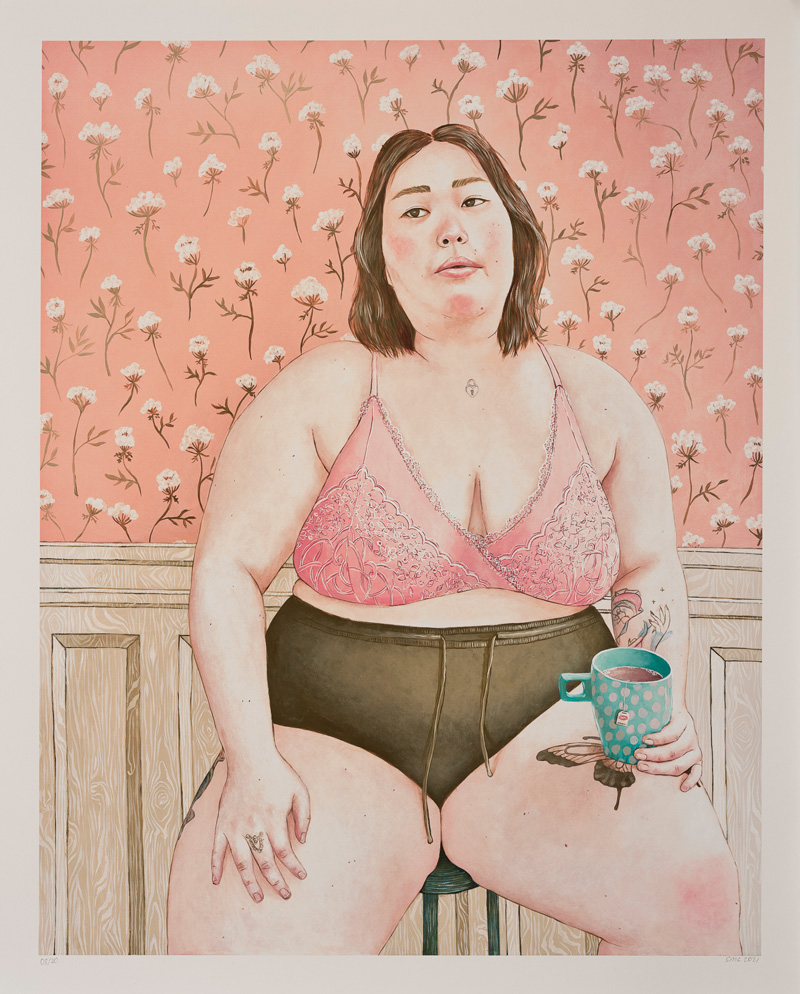 Shona McAndrew
Kaguya, 2021
Born in Paris and now based in Philadelphia, Shona McAndrew is known for paintings and sculptures that depict women in their personal spaces. Drawing from a variety of historical and personal references, she renders fleeting yet intimate moments of vulnerability in the daily lives of women seldom portrayed in art history.
To purchase, visit Artforchange.com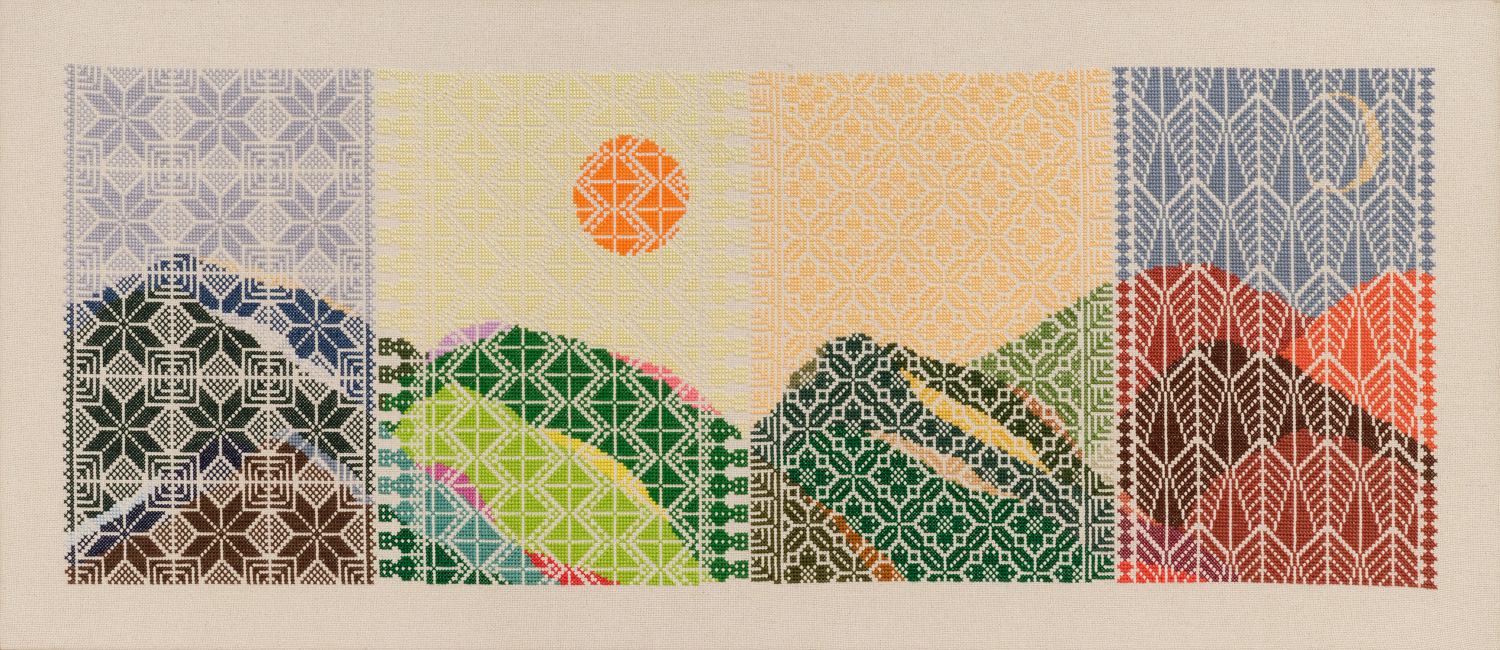 Jordan Nassar
Four Seasons, 2021
New York-based artist Jordan Nassar hand-stitches colorful threads onto cotton fabric, to create vibrant landscapes that evoke the Palestinian diaspora's longing for an ancestral land. His medium derives from tatreez, a centuries-old embroidery tradition in Palestine that has been passed down typically from one generation of women to the next. At times working collaboratively with artisans located throughout the region, Nassar transforms classical patterns into abstracted figurations that frequently depict rising or setting suns above undulating hills.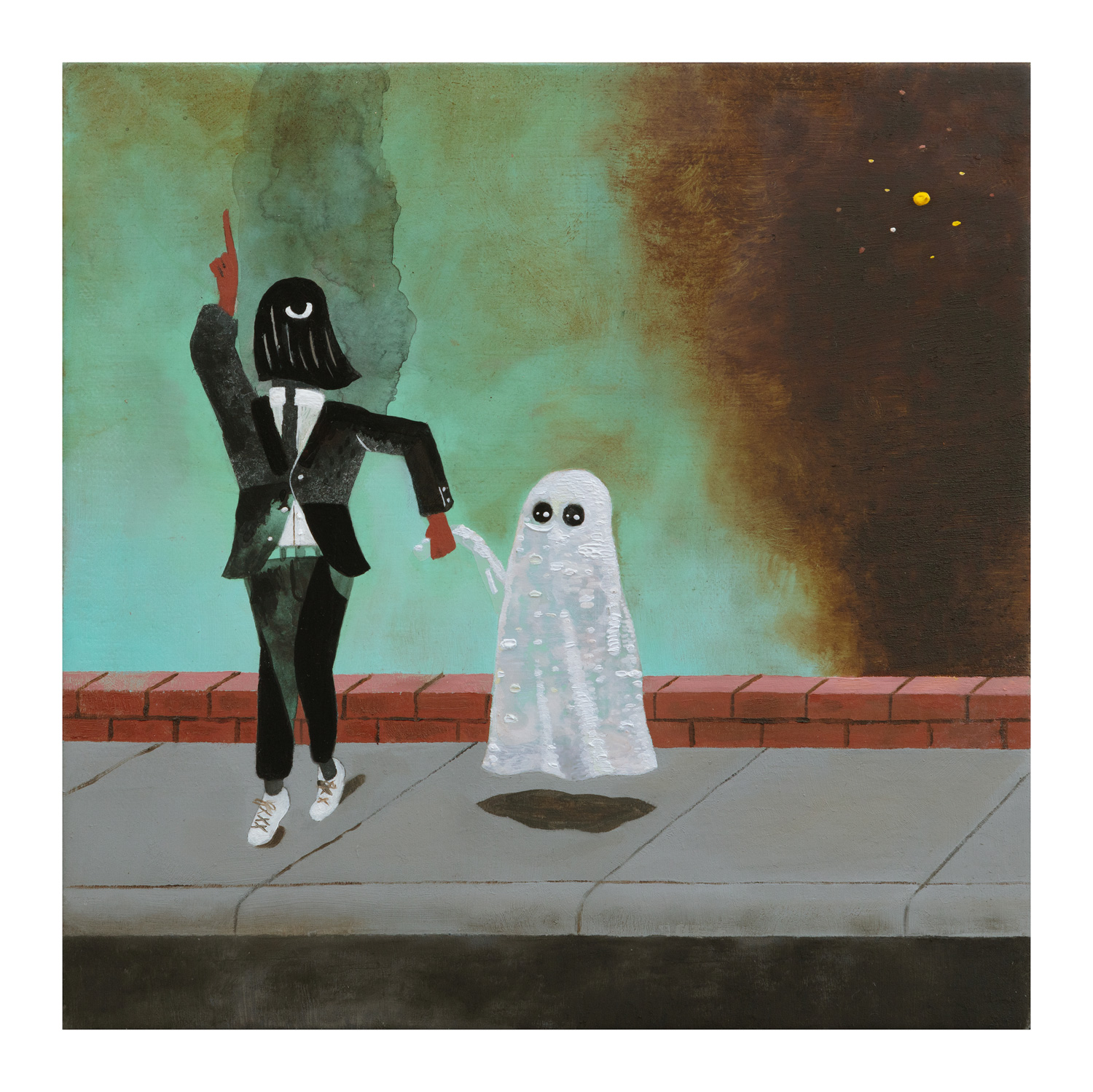 Kenny Rivero
Walk Wit Me, 2021
Kenny Rivero's paintings, collages, drawings and sculptures explore the complexity of identity through narrative images, language, and symbolism. Born and raised in Manhattan's Washington Heights neighborhood, Rivero's creative process deconstructs and reimagines what he perceives as the broken narrative of Dominican-American identity, socio-geographic solidarity, familial expectations, race, and gender roles.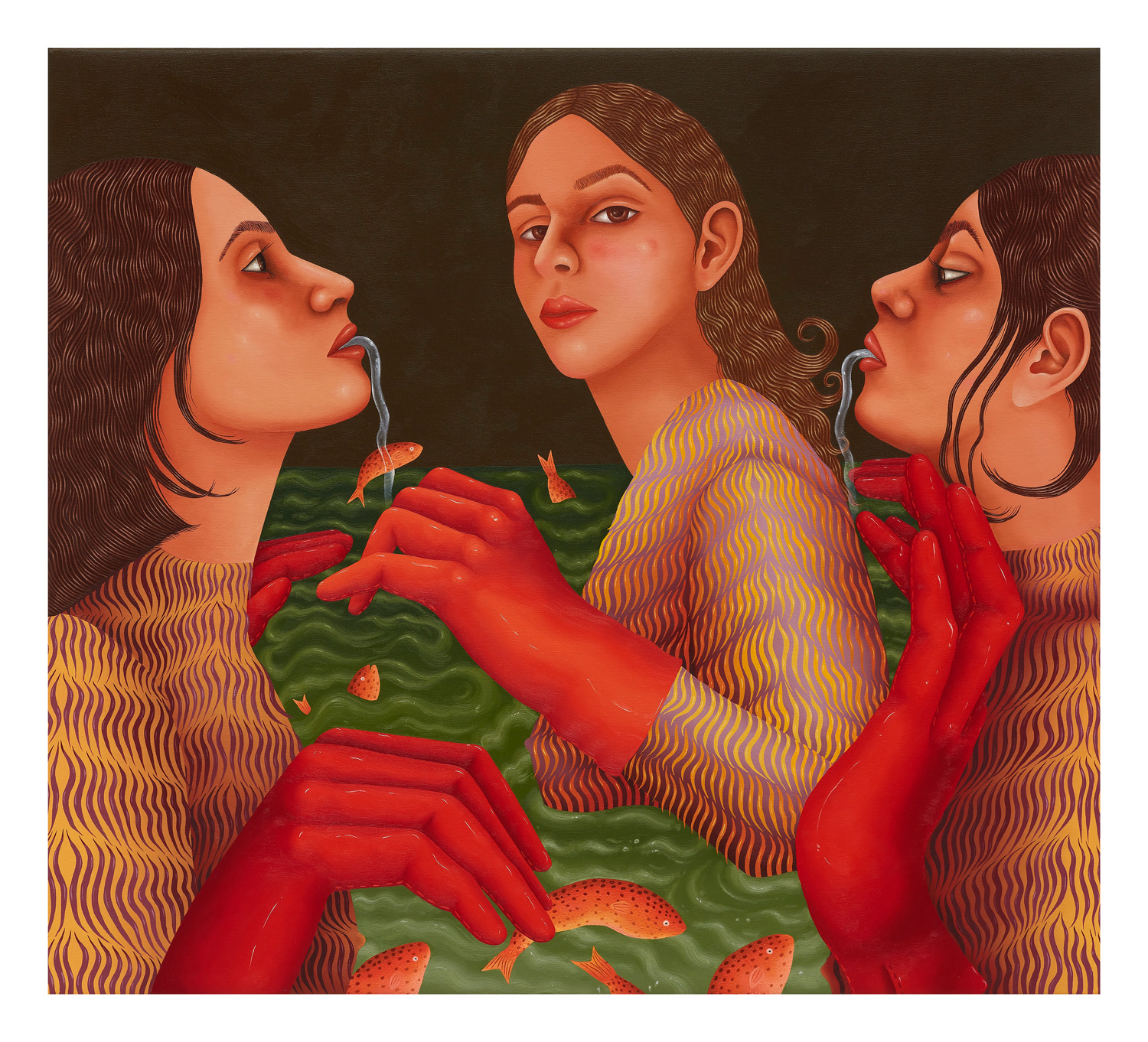 María Fragoso
Augurio, 2021
María Fragoso creates intimate narratives that gravitate between the real and the otherworldly. Charged with symbolism, the artist's paintings and drawings center on the portrayed subjects' instincts, fears and desires, as a way of exploring issues such as gender, sexuality, human relationships and national belonging. Based in Mexico City, Fragoso received her BFA from the Maryland Institute College of Art, and has exhibited works at 1969 Gallery, New York; The Hole, New York; and the Taubman Museum of Art, Roanoke; among others.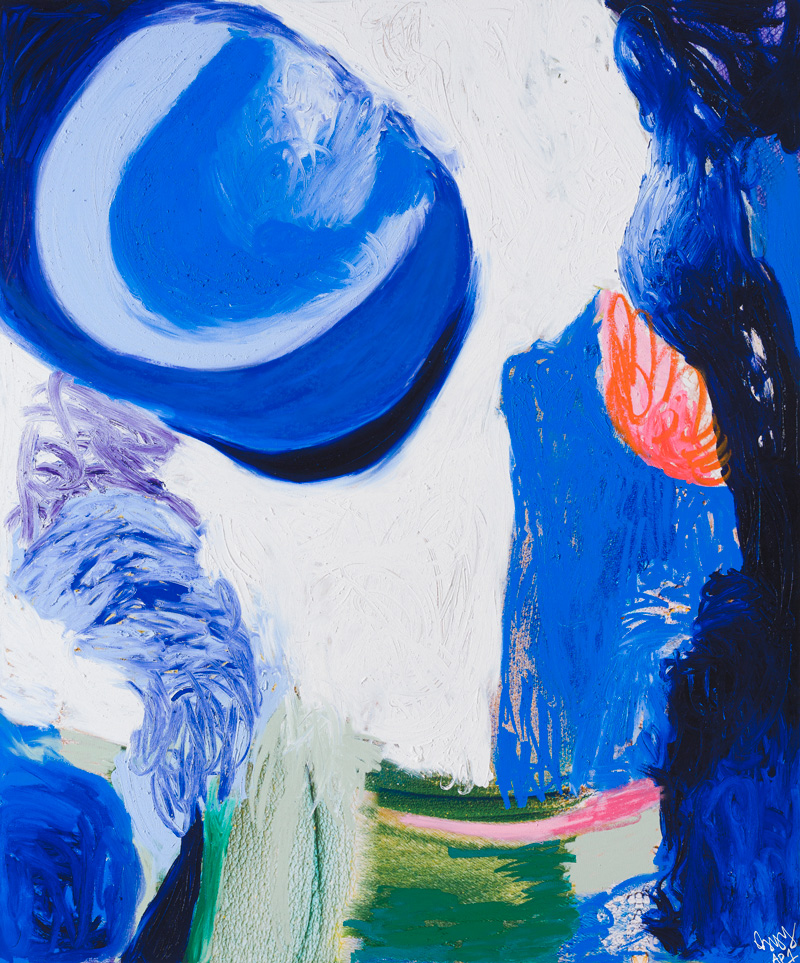 Donna Huanca
KARITA DE DIOSA, 2022 
Donna Huanca is a Bolivian-America multidisciplinary artist living and working in Berlin. She studied at Städelschule, Frankfurt, the Skowhegan School of Painting and Sculpture, and earned a Bachelor of Fine Arts Painting from the University of Houston. Huanca's work spans painting, sculpture, and immersive performance in a rich practice thematizing the elemental via different landscapes and ecological systems. Exploring an interest in the natural cycles of birth, death, and time across mediums, her practice reintegrates previous works into the new—obscuring and expanding the lifespan of her paintings, sculptures and performances.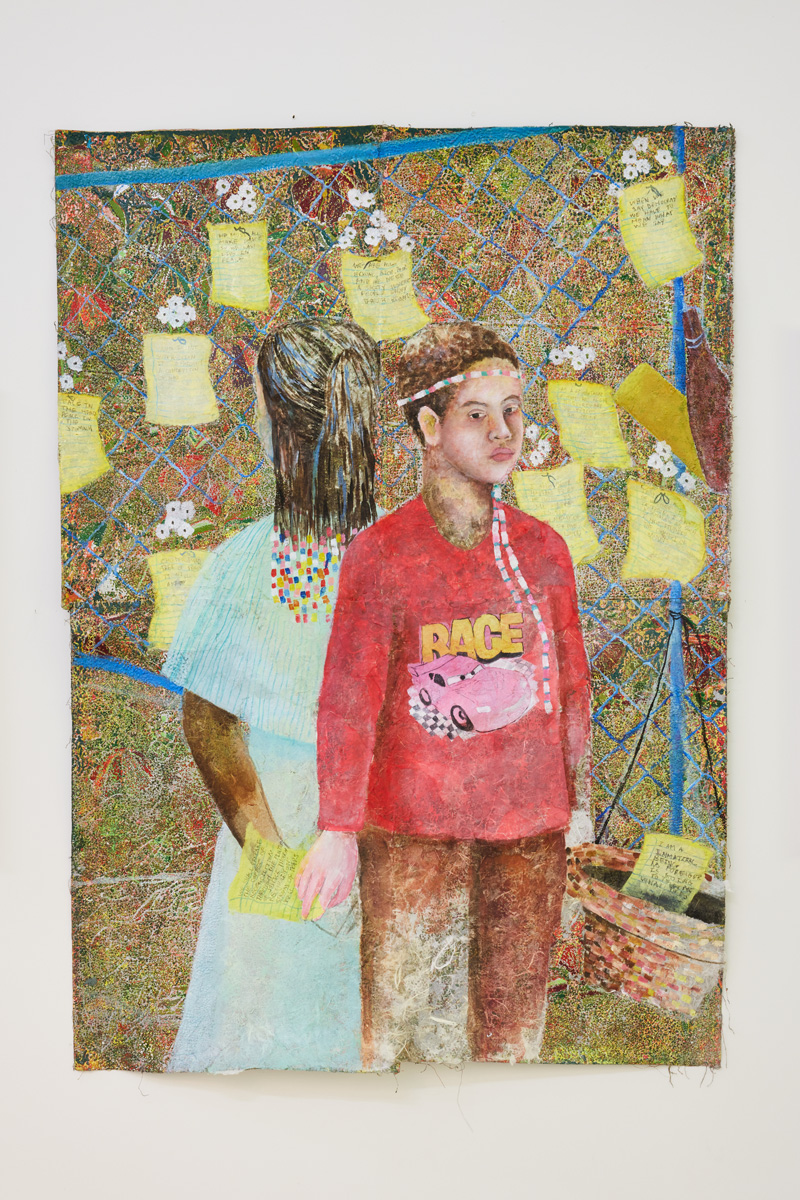 Kathia St. Hilaire
Untitled, 2022
Kathis St. Hilaire is a multidisciplinary artist using found materials from beauty products to industrial metals and fabrics, with printmaking and textile techniques to investigate Haitian history and its influences on diasporic cultures as seen in South Florida. The artist has a forthcoming solo exhibition at Perrotin gallery in Paris and her show Immaterial Beings at the NSU Art Museum in Fort Lauderdale is on view from November 20, 2022 through April 23, 2023. Her newest and first-ever institutional solo exhibition, curated by Ariela Wollens, Immaterial Being, is currently on view at Wolfsonian-Florida International University Art Museum through April 23, 2023.
To purchase, email hello@artforchange.com 
Next Post