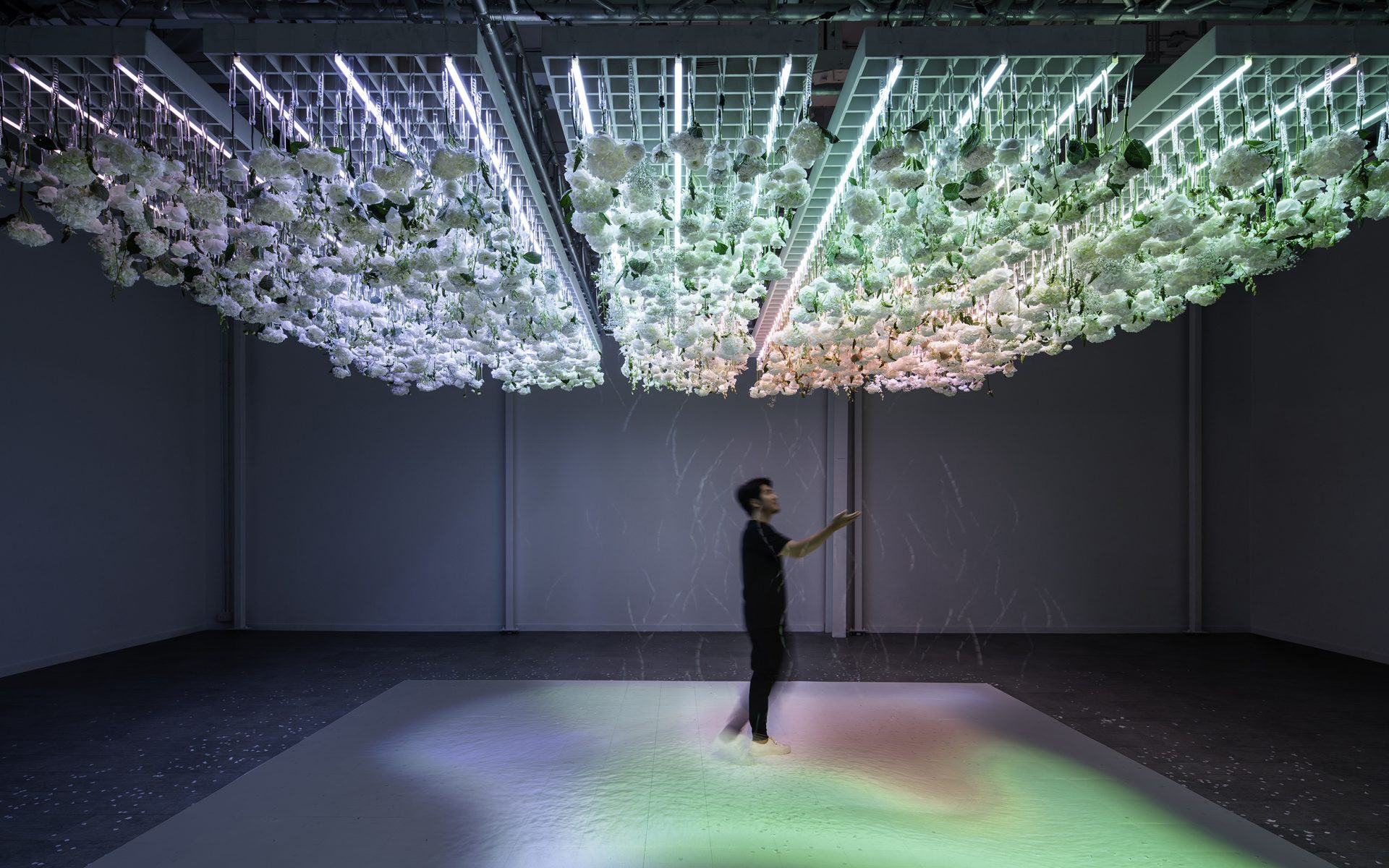 A Stunning Interactive Floral Installation Just Opened in Los Angeles
"The Art of Bloom" is a multisensory installation that includes a room that changes color with body temperature
Human beings have long had a deep relationship with flowers. We grow them, adorn our homes with them, and offer them as tokens of love and condolences. We revel in their myriad forms and colors, and savor their fragrance.
Now a new immersive and interactive experience explores that relationship. "The Art of Bloom," which runs through September 29 at the Edison Theatre in Long Beach, California, is a collaboration between the creative agency Intertrend and Daigo Daikoku of Daikoku Design Institute, a Tokyo- and Los Angeles–based design firm.
Recommended: 7 Incredible Florists to Follow on Instagram
In the exhibition's first room, a canopy of white flowers hovers overhead, while sensors read a visitor's body temperature, causing lights in the floor and ceiling to change color and send white vellum petals—a simulation of the actual flowers above—drifting downward. "The flowers are real," Daikoku explains, "and the floor colors are more virtual. The petals are a conduit between the virtual space and the real space."
Julia Huang, Intertrend's CEO, adds, "It's very important that the experience is holistic, incorporating sight, touch, sound, and scent." To cultivate the multisensory environment, Intertrend and Daikoku worked with Yosh Han, a scent expert; Zac Layman of b1n4ry, an immersive and interactive design practice; Erik Bruner-Yang, a James Beard Award–winning chef; and Lizbeth Molina, the creative director and head floral artist of Rawfinery Florals.
The exhibition also includes an "AR nature room" with seven kiosks offering the experiences of wind, air, light, shadow, water, space, and time. A retail shop sells custom scents as well as candles, apparel, and other items designed by Daikoku Design Institute, and a scent hall leads to the exit. Related programming includes scented dinners, scentmaking and fragrance workshops, a yoga class, and botanical-inspired happy hours.
"The Art of Bloom" is on view through September 29 at the Edison Theatre, 213 East Broadway, Long Beach, California. 
Next Post