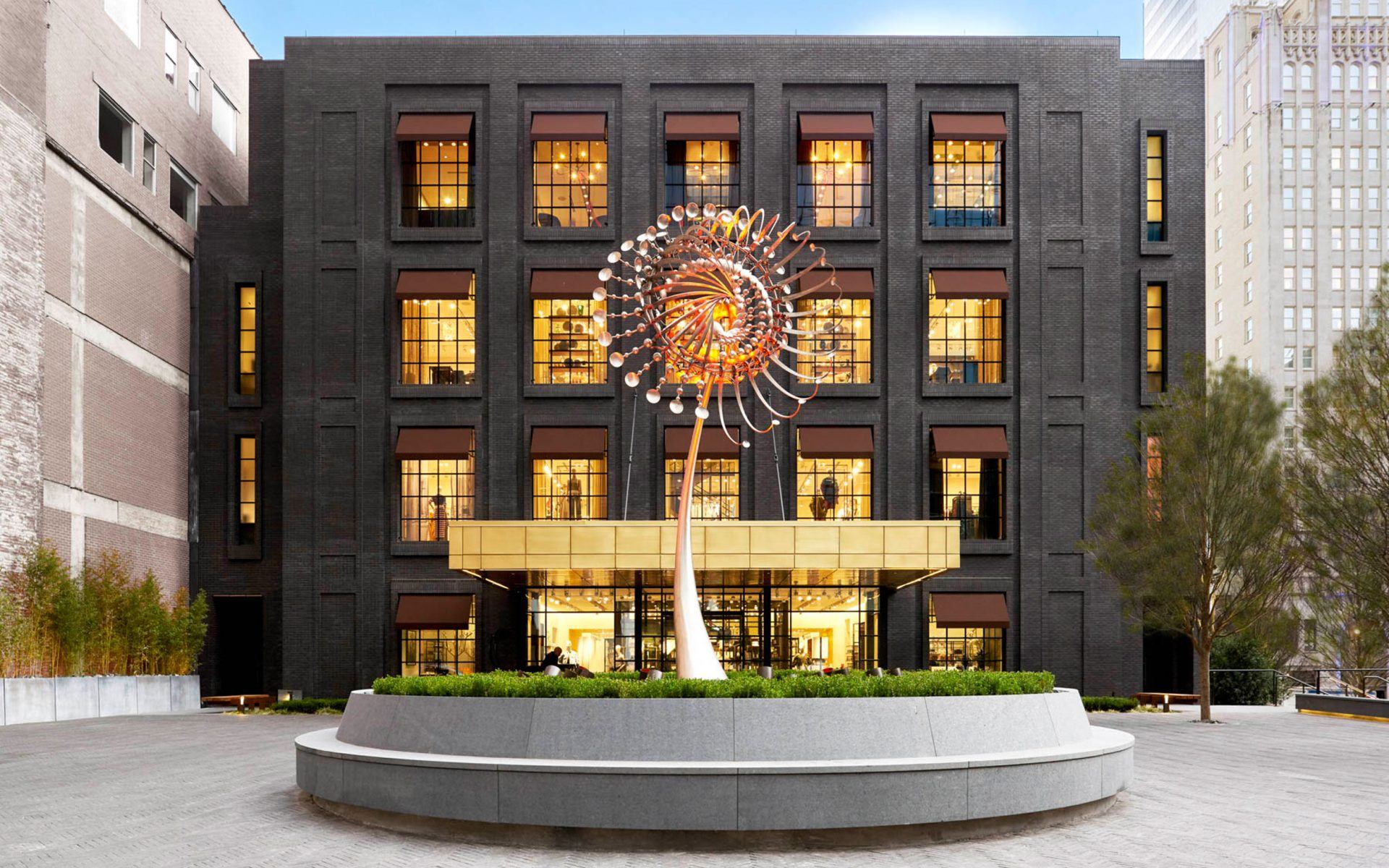 The Ultimate Art Lovers' Guide to Dallas
In Dallas, culture is bigger than ever with exciting museum shows, dynamic galleries, and art-centric shopping
It's not Texas-style boasting to call Dallas one of the more interesting arts cities in America. Thanks in no small part to an uncommonly civic-minded community of collectors and patrons, Dallas is home to a vibrant mix of world-class museums, influential private-collection spaces, an ascendant art fair and performing arts festival, and a growing gallery scene.
"So many people have this generalized idea of Dallas being cowboys and queso," says Kristen Cole, president and chief creative officer of Forty Five Ten, an upscale boutique that offers a curated mix of established and emerging fashion with rotating installations of contemporary art. "People I know who are in the fashion community come in from New York, L.A., Paris, or Milan, and they are always surprised by how much the city has to offer. And the generous and hospitable spirit of people here makes an impression."
In the Arts District—where you'll find the Dallas Museum of Art (DMA), the Nasher Sculpture Center, and the Crow Museum of Asian Art—new high-rises are bringing in residents, workers, and tourists eager to be culture adjacent. The Hall Arts Hotel just opened across from the Meyerson Symphony Center and is a five-minute walk from the neighborhood's museums. The hotel's developer, collector Craig Hall, has filled it with art, tapping into a formula pioneered by the city's decade-old, popular-as-ever Joule hotel, created by another collector-developer, Tim Headington.
"The goal is to make the Arts District an active community where people live, work, and play all week long," says Kelly Cornell, director of the Dallas Art Fair, which takes place in the neighborhood's Fashion Industry Gallery building every April. It's Dallas's biggest art event of the year, rivaled only by the charity auction Two x Two for AIDS and Art, hosted each October by mega-collectors Cindy and Howard Rachofsky in their spectacular Richard Meier–designed home. Launched almost a dozen years ago with around 30 exhibitors, the fair now features close to 100 galleries from 30 cities across the globe, serving as an anchor for Dallas Arts Month and complementing the Soluna festival, whose offerings include opera, theater, dance, and crossover productions with artists.
What's driving out-of-town galleries' interest in Dallas is, of course, its collectors. The example set by local luminaries like the Rachofskys and the Nashers—whose holdings are found not only at the Nasher Sculpture Center but also throughout the family's famous NorthPark Center shopping mall—has proved encouraging to a new generation. "We've met so many passionate, engaged collectors," says Cole, who moved to Dallas a year ago with her husband, Joe, a creative consultant for Headington Cos. "It has inspired us to take our own collecting more seriously."
Younger collectors are also embracing the city's robust culture of philanthropy. "What distinguishes Dallas from other places with tremendous collectors is that people are cooperative and not competitive," says Deedie Rose, a doyenne of the city's arts community who made a game-changing joint commitment with the Rachofskys and Marguerite Hoffman to donate their collections to the DMA, establishing it as a top museum for modern and contemporary art.
Recommended: A Dazzling Design Exhibition for All the Senses Opens at the Dallas Art Museum
For now the Rachofskys present rotating displays from their holdings at the Warehouse, a gallery space that is open to the public once a month. Other notable private art spaces include Janelle and Alden Pinnell's Power Station, the Goss-Michael Foundation, and the Karpidas Collection—the latter two in the up-and-coming Design District.
The Design District is, as you would expect, where you find some of the city's top shops and showrooms, from Sputnik Modern and B&B Italia to Michelle Nussbaumer's Ceylon et Cie. But the area also has the adventurous Dallas Contemporary art space and a burgeoning gallery scene that includes Galerie Frank Elbaz, Conduit, And Now, Erin Cluley, 12.26, and Site131. A handful of these are clustered together in the new River Bend complex, spearheaded by developer John Sughrue, cofounder of the Dallas Art Fair. The fair opened its own space there, 214 Projects, as a way to have a year-round presence and to offer exhibitors more opportunities to show their artists in Dallas. "You don't have a robust arts community without a local gallery scene," says Cornell, "and the Design District is definitely the center of where the activity is happening."
The neighborhood recently welcomed a splashy Virgin Hotel with a rooftop pool and multiple bars and restaurants. That means more options in an area that has some of the city's buzziest dining, such as the Italian spots Sassetta (casual) and The Charles (glam) as well as the steak house Town Hearth, known for over-the-top decor (64 crystal chandeliers, a yellow submarine in a fish tank) and "steaks bigger than the plates," says Cornell, adding, "It's a Dallas experience." Just one of many in this city on the rise. 
A version of this article first appeared in print in our 2019 Winter Issue under the headline "Heart of Texas." Subscribe to the magazine.
Next Post