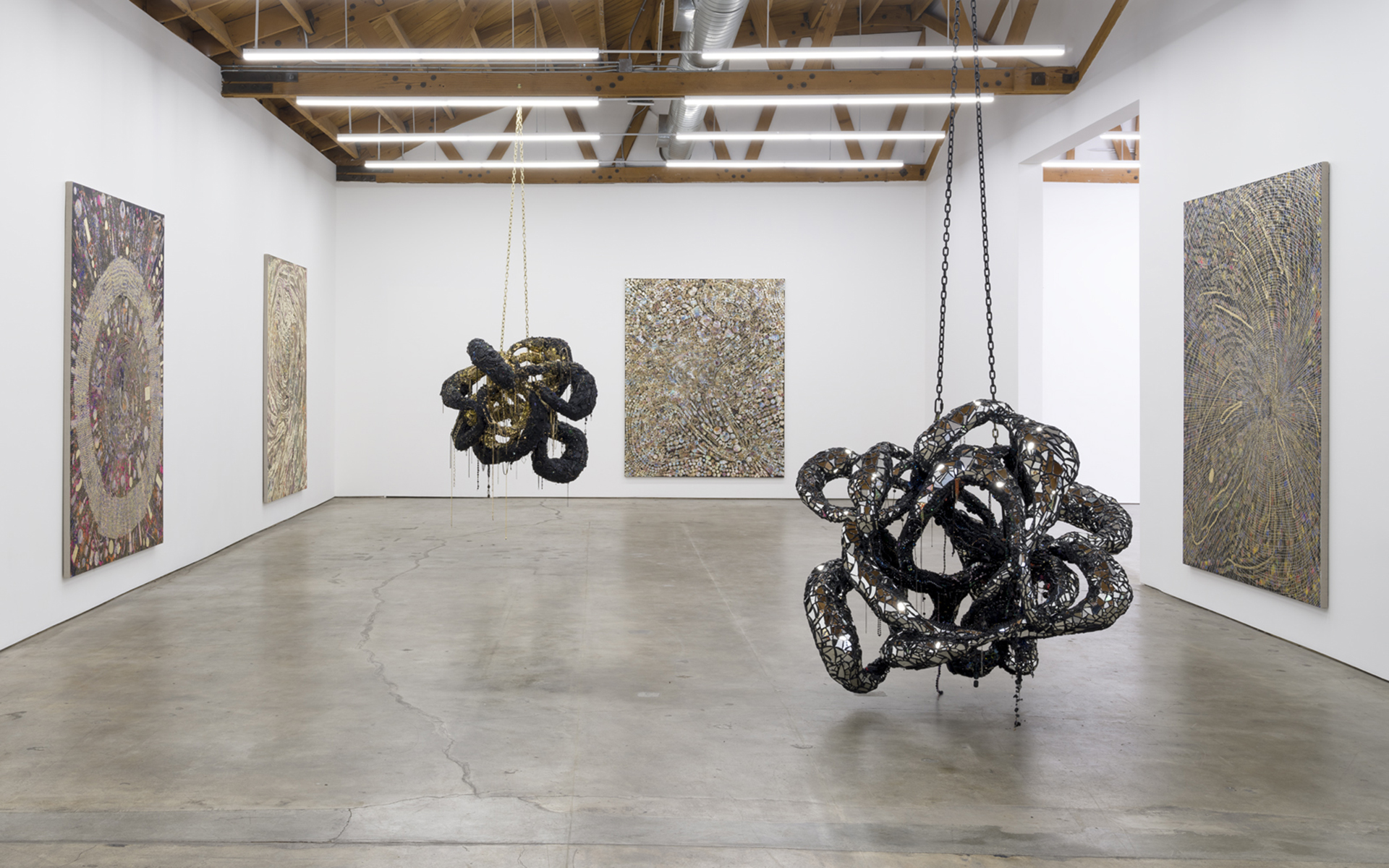 From Coast to Coast, 8 Must-See Solo Gallery Shows in April
From Gerhard Richter's debut at David Zwirner in New York to goth works of art by Mindy Shapero at Nino Mier Gallery in Los Angeles
Combing the country for the most interesting gallery shows in America each month, Galerie journeyed from New York, where Kennedy Yanko is showing her hybrid artworks with Jeffrey Deitch and Gerhard Richter is making his solo debut at David Zwirner, to the West Coast, where Sam Falls is presenting artworks made from plant life and farm fences at San Francisco's Jessica Silverman and Mindy Shapero is displaying goth works of art made with mirrors and kitsch bric-a-brac at Nino Mier Gallery in Los Angeles.
These are the top one-person exhibitions at U.S. galleries in April.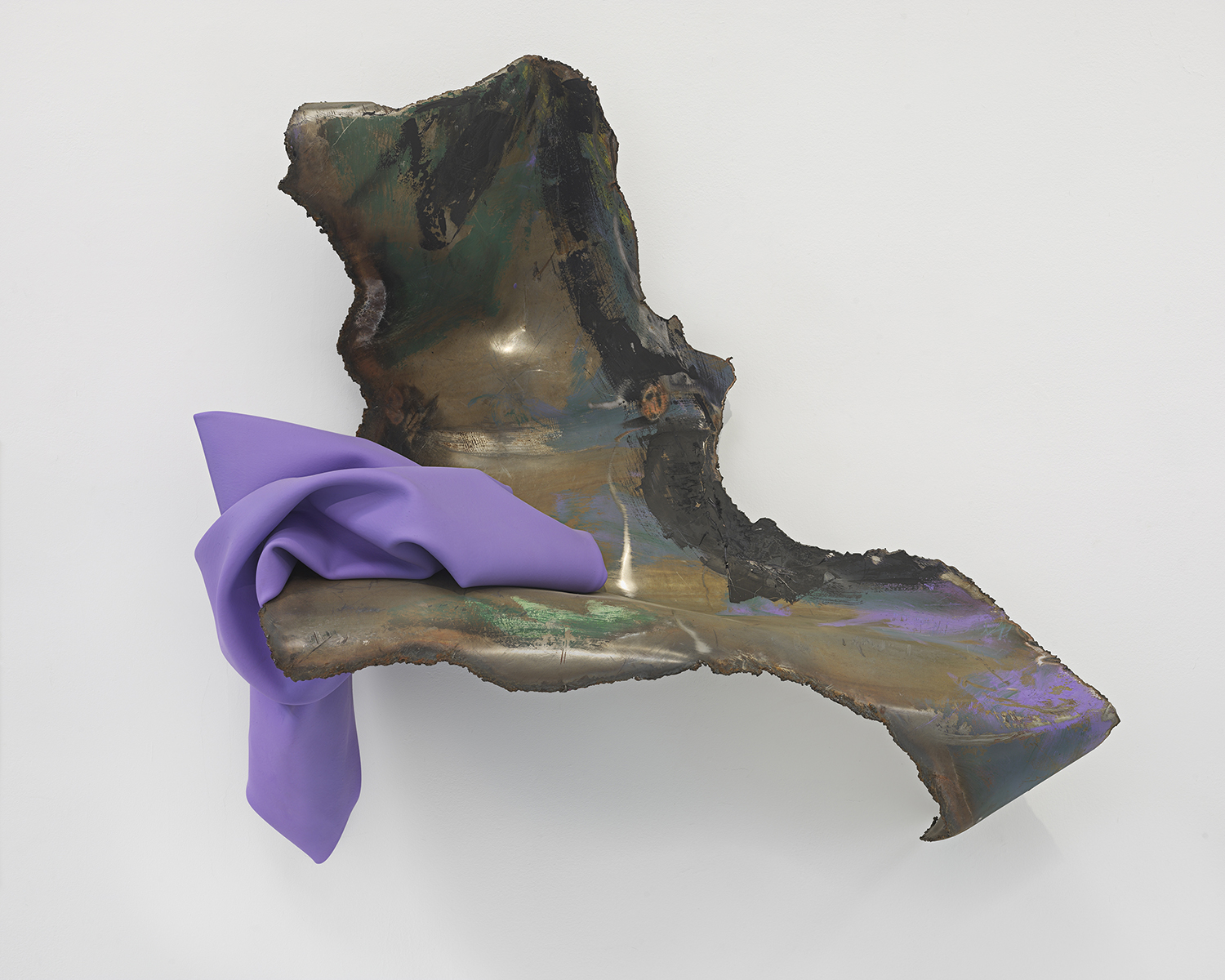 1. Kennedy Yanko at Jeffrey Deitch, New York
A rising star on the American art scene for the past several years, Kennedy Yanko has had solo shows at the Kavi Gupta in Chicago, Vielmetter in Los Angeles, and the Rubell Museum in Miami, where she was an artist in residence in 2021, but her current "Humming on Life" exhibition at Jeffrey Deitch is arguably her best one yet. Blurring the boundary between painting and sculpture, the 30-something artist salvages distressed scrap metal, which she beautifully manipulates and modifies before draping it with large monochromatic swathes of poured dried paint.
Cutting, crushing, and selectively underpainting large sheets of scarred and rusted metal, Yanko embraces the sculptural component in the marriage of the two mediums with a compellingly colored material of solidly pure paint. In the wall-work A persistence of memory, the artist matches a lavender blanket of paint, seductively draped on a bent chunk of metal, with sprays of the same color and other harmonizing hues, while her standing piece Breath of the earth presents a twisted swath of rust-red paint connecting contorted slices of metal with both complementary and contrasting patinas. Strikingly installed, each of the ten works in the show has something else to say.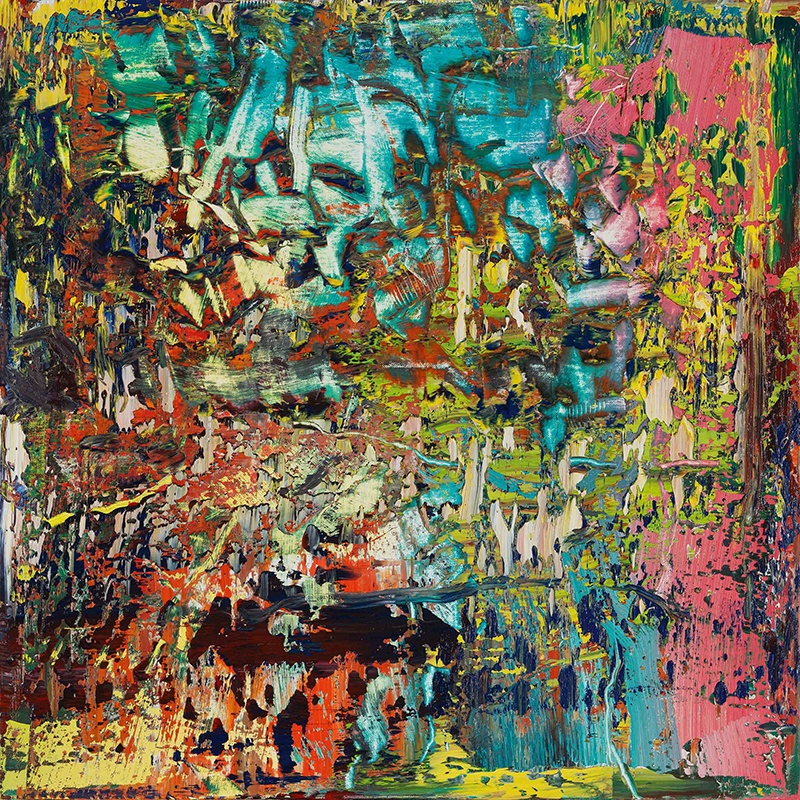 2. Gerhard Richter at David Zwirner, New York
One of the biggest art world stories of the year has been Gerhard Richter leaving his prestigious New York and Paris gallery, Marian Goodman, for David Zwirner. And now, the show that everyone has been waiting to see is finally here. Featuring the German artist's last series of abstract canvases, some recent non-objective drawings and prints, and a new glass and steel sculptural installation, it shows one side of Richter's practice that his audience knows well—his ongoing Abstraktes Bild (Abstract Painting) series—and another side of his work (his drawings, prints, and sculpture) that's seldom seen.
Deploying an inventive yet simple squeegee technique, the artist's subtractive process allows smears of paint to be thinly layered over and over again until windows (or openings) within the layers reveal combinations of marks and colors that would be otherwise impossible to achieve. Fourteen such canvases, in a variety of sizes, command the first gallery, while dozens of drawn black-and-white abstractions of an intimate size and a series of colorfully expressive inkjet prints attentively hold the walls of the final three galleries, with the sculpture constructed from giant panes of transparent yet reflective glass in a steel box frame strangely at the center of one of them.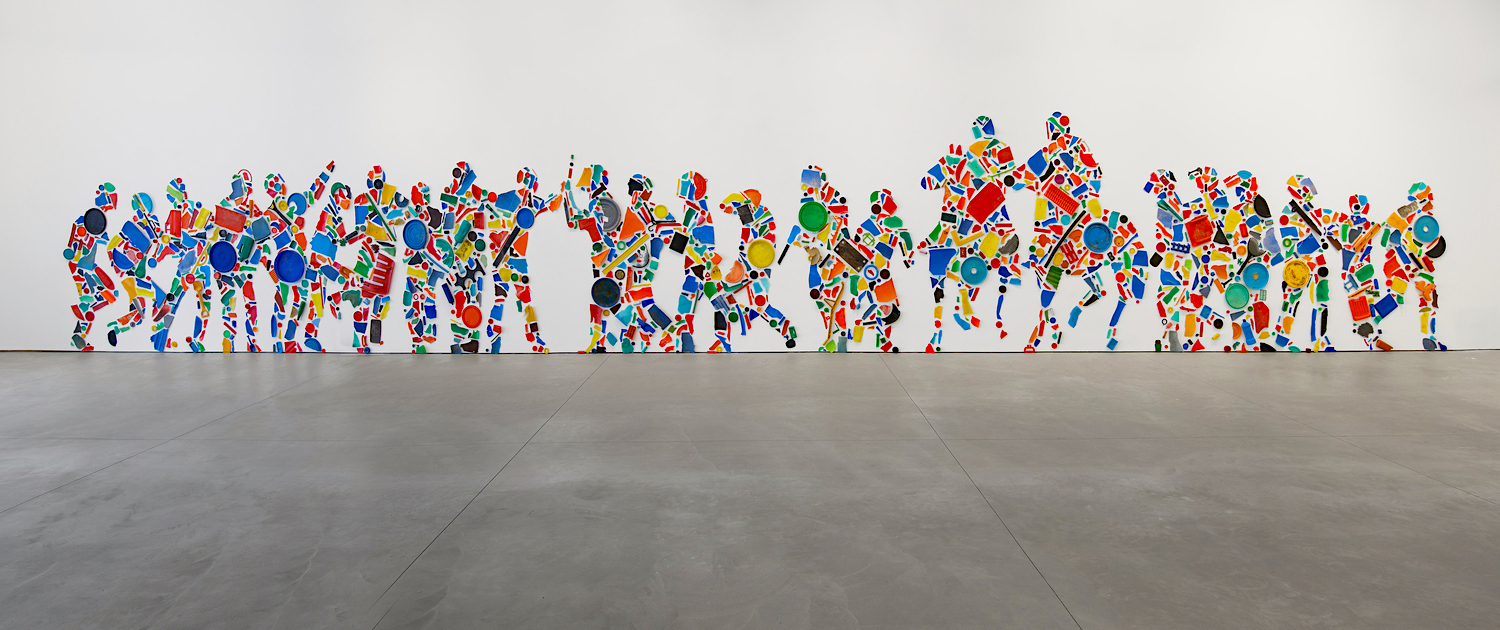 3. Tony Cragg at Lisson Gallery, New York
Bringing visual truth to the statement "One man's trash is another man's treasure," British sculptor Tony Cragg first made a name for himself and his art by assembling wall-reliefs with discarded plastic objects. A pivotal piece in his extensive body of work, his gigantic 1987 relief Riot captures the militarized state power of Margaret Thatcher's political regime in the U.K. during the 1980s via a collage of colorful trash.
Created the year before Cragg won the Turner Prize, the 50-foot-wide mural made from mosaicked plastic pieces depicts a barricade of police officers wearing protective gear confronting a group of protesters. Meticulously crafted—particularly the two cops on horseback—the procession of figures is visually connected by the policemen's circular shields. Accompanying the massive mural are a pair of major monochromatic pieces from 1981. Policeman, which portrays the misuse of power through the colossal size of the giant blue officer towering over the viewer, and Leaf, depicting a pair of green leaves (one big and one small) to show the impact of plastic waste on a fragile environment—another '80s social concern that has even more momentum today.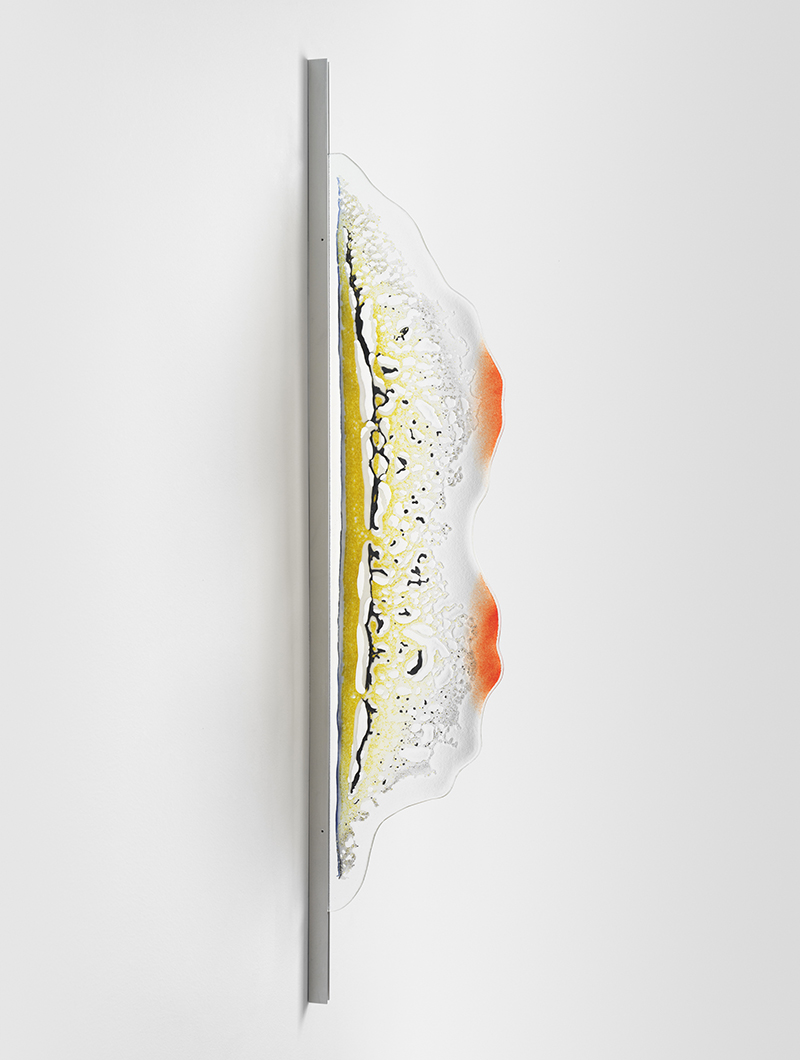 4. Tauba Auerbach at Paula Cooper Gallery, New York
A multidisciplinary artist whose work is often rooted in math and physics, Tauba Auerbach's unique body of work doesn't fit any cookie-cutter molds. A creator of paintings, artists books, sculpture, weavings, glassworks and photos, the artist utilizes structures, patterns, and gestures to question how we perceptually explore space, shapes and forms.
Inspired by lectures on free will by mathematician John Conway, inventor of The Game of Life, a deterministic game using cellular mechanisms, the works in the "Free Will" exhibition visually investigate fleeting moments of order. The paintings are based on photographs of foam taken through a microscope and rendered through a pointillist painting technique. Displayed on low-level metal tabletops, her extraordinarily shaped sculptures are intricately woven with monochromatic glass beads. In another section of the gallery, kiln-formed glass presented in aluminum armatures comprises works that Auerbach has whimsically titled Spontaneous Lace—a form of free will that the materials have achieved, with a little help from a cognitive artist.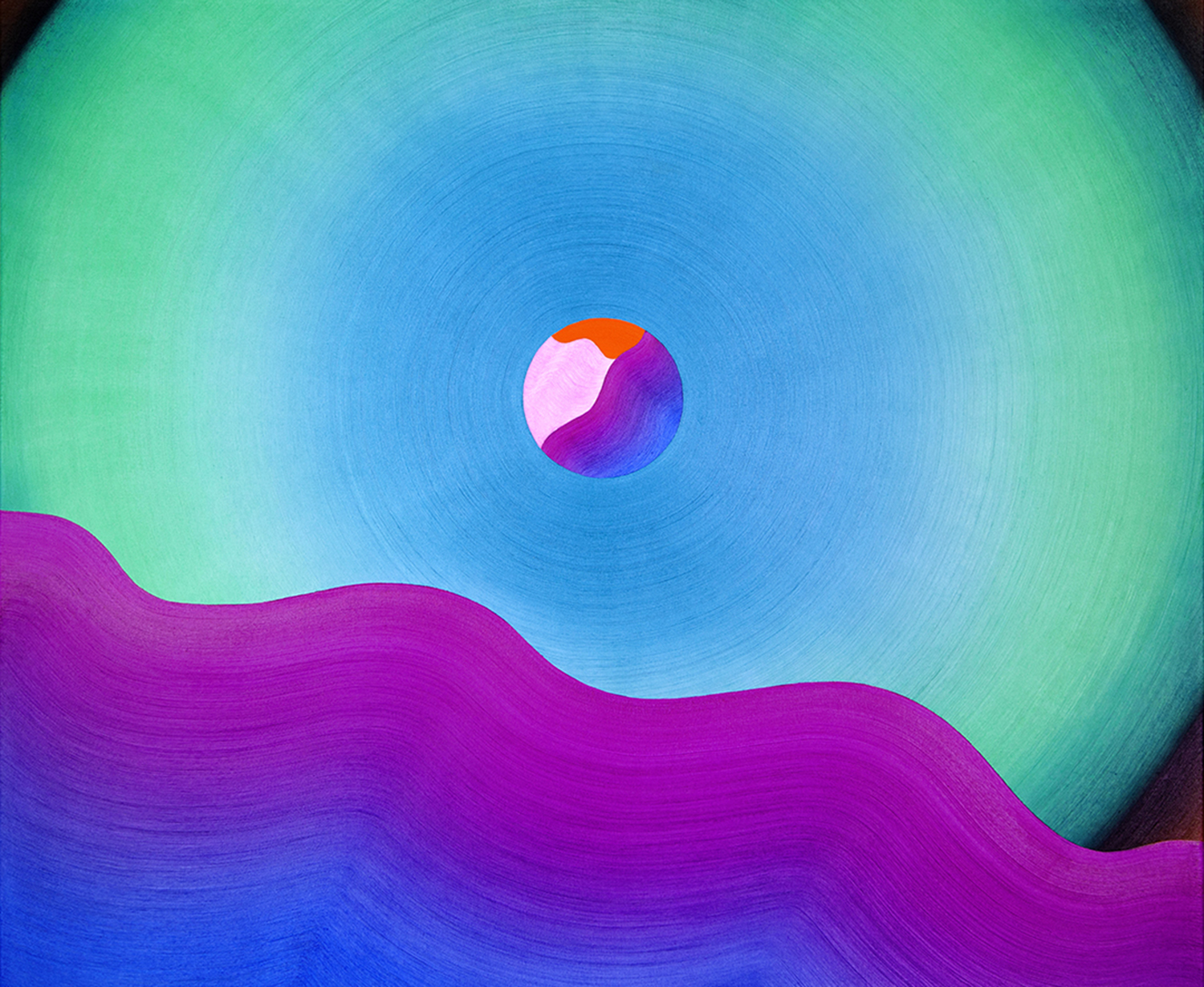 5. Osamu Kobayashi at Mindy Solomon Gallery, Miami
An abstract artist who makes minimalist, meditative paintings, Osamu Kobayashi's new canvases in his "Foreign Relations" exhibition, his second solo show with Mindy Solomon Gallery, pictorially evoke parts of the human body, such as long and flowing hair, as well as distant landscapes. "My work is a metaphor for how I see the world," states the New York artist. "The strokes I make, however, are not mechanical. It's my hand making them, and its organic movement points to its humanness."
Making sketches with variations of the same shape to find the one with the right energy, Kobayashi pencils the outlines of the strokes on the canvas and applies dozens of layers of transparent paint. Employing wide brushes constructed by screwing a sequence of paint brushes to a strip of molding, he uses his whole body to make his large, wavy strokes. Contorting his body like a dancer, his measured movements repeatedly rake the layers of colorful paint onto the surface of the canvas until he achieves a sublime effect—one that strikingly impacts both our eyes and our minds.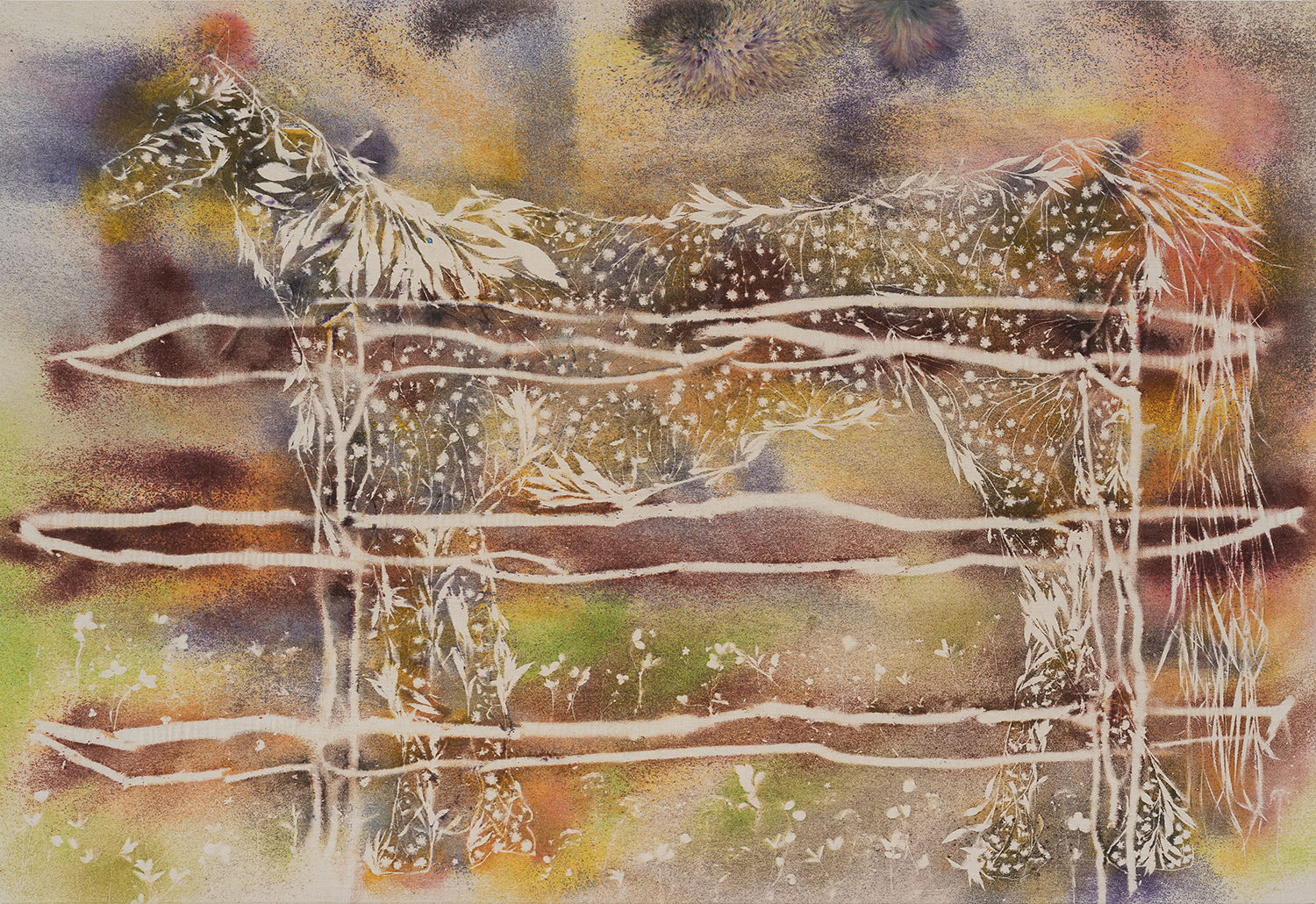 6. Sam Falls at Jessica Silverman, San Francisco
Harnessing the Earth's elements, Sam Falls is best known for his large-scale nature paintings, made by sprinkling pigment around plant life that he exposes to atmospheric moisture. In his first solo show with the gallery, the seasoned artist presents a selection of paintings, wall-mounted ceramics, and colorful cast-glass sculptures that reference his home in Upstate New York.
Contributing to the history of landscape paintings in the Hudson Valley, Falls's new canvases capture flowers in fields, horses, and fences on his family's farm, as well as playful skeletons. Defined by the pigments surrounding collected vegetation, Falls carefully arranges the flora to create ghostly forms. His colorful ceramics begin with plants being pressed into circular slabs of clay and then burned out in the firing process and filled with melted glass. He uses vibrantly tinted glass again, when he beautifully recreates the railings of the fences that define his farm. By probing humanity's impulse to shape and impose boundaries on nature through his art, Falls makes personal work that has universal appeal.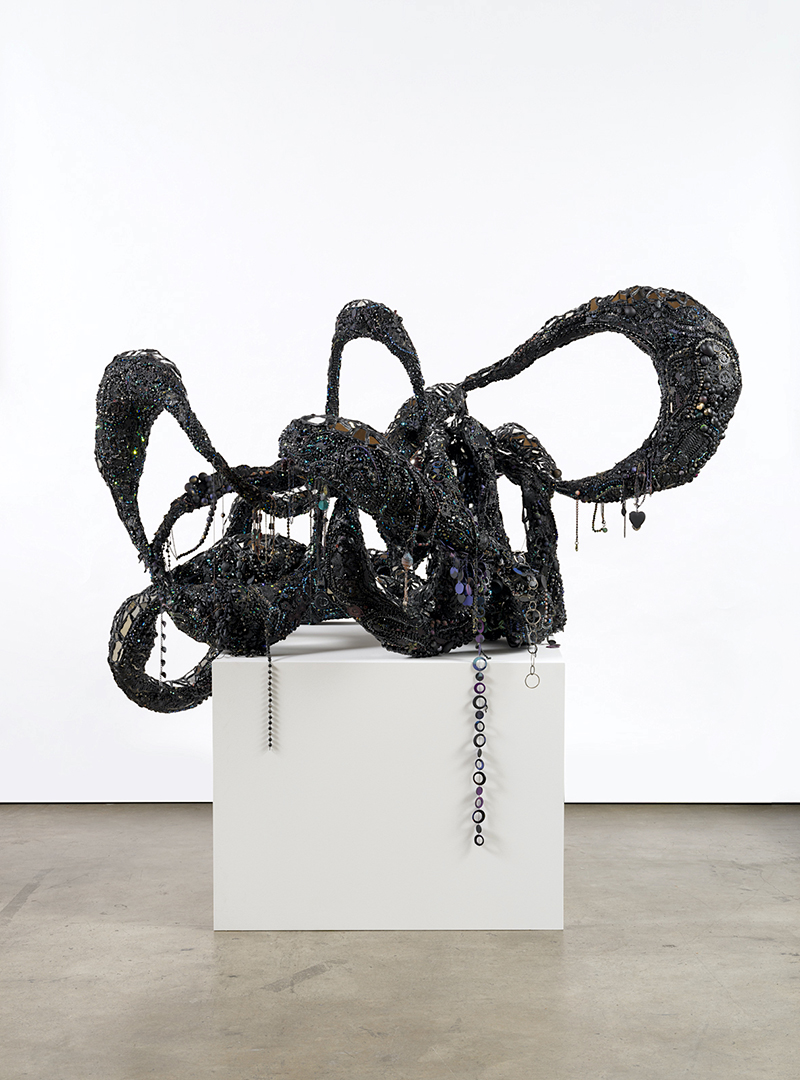 7. Mindy Shapero at Nino Mier Gallery, Los Angeles
In her third solo show with the gallery—mysteriously titled "Cracked; loosely thru the night visions"—Mindy Shapero explores the material relationship between her enigmatic paintings and goth-like sculptures. Creating what she calls "scribbles in space," the Los Angeles–based artist's bricolage sculptures are constructed by bending long rods adorned with broken mirrors and scores of painted found objects into snaking, twisted forms that she either hangs from the ceiling with chains or plops on a plinth.
The materials from Shapero's spirited sculptures become the stencils for creating her process-oriented, abstract paintings. The beads, junk jewelry, fragments of broken toys and other found materials are spray-painted and recomposed many times to make outlines throughout the canvases that are then painted with glue and filled with silver and gold leaf. Inspired by kitsch, grunge, and religious iconography, the artist's multilayered picture planes glow with an otherworldly aura, seemingly informed by the limitless detritus in eternal orbit around us.
8. Asuka Anastacia Ogawa at Blum & Poe, Los Angeles
A figurative painter employing folkloric imagery with androgynous characters engaged in ritualistic activities, Asuka Anastacia Ogawa draws upon her mixed Japanese and Brazilian heritage for her charming, pseudo-naïve style works. Born in Japan to a Japanese father and Brazilian mother, the artist was raised in Brazil and Sweden and educated in London, before finally splitting her time between New York and Los Angeles. Mining her migratory experiences in her narrative works, she references cultural myths and spiritual practices of the places she has lived.
The dozen paintings, which range from small to very large, in her "pedra" exhibition are informed by the artist's studies of Ikebana, the Japanese art of flower arrangement, and the polytheist and animist practices of the local religions in both Japan and Brazil. Flatly-painted characters practice healing rituals, make spiritual offerings and perform ceremonial dances. Her mystical painting open shows a shaman and believer in a spiritual realm, while other canvases in the show convey holistic forms of sacred enlightenment and restorative therapies—ways of the world that Ogawa wants to share through her art.
Next Post