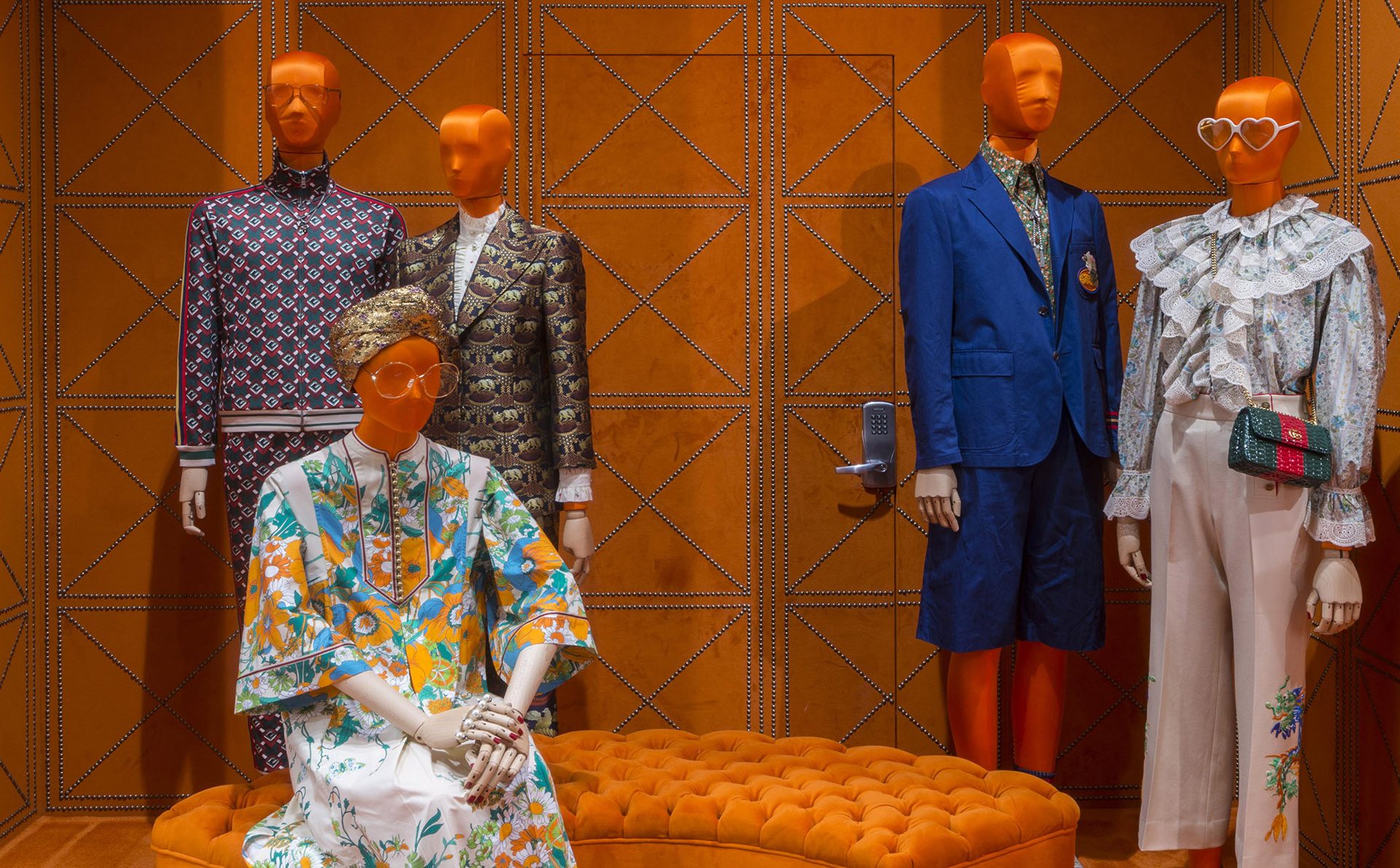 Editors' Picks: 7 Great Art and Design Events This Week
Urs Fischer claims Gagosian; Dover Street Market unveils new collections; RH debuts an incredible new showroom
The transition between seasons means more than just a farewell to "summer hours" for art galleries across the city. Thursday kicks off New York Fashion Week, with fresh design talent hitting the runway, as well as a slew of exciting exhibitions opening from Chelsea to Brooklyn. Friday will herald the grand opening of Restoration Hardware's  incredible new, 90,000-square-foot showroom in the Meatpacking District while Dover Street Market New York unveils eight floors of unforgettable fashion installations.
Read on for our complete curated list of the best events in NYC this week.
1. Intimite Infinite: Imagine a Journey
Lévy Gorvy
Inspired by William Blake's "Auguries of Innocence," Lévy Gorvy cofounder Brett Gorvy's first exhibition for the gallery calls upon a prestigious roster of artists in contemplation of the infinite and the sublime. The three-floor exhibition includes some 100 artworks, juxtaposing Robert Ryman with Cy Twombly; Lee Bontecou with Jasper Johns; and Yves Tanguy with René Magritte, among others.
Where: Lévy Gorvy, 909 Madison Avenue
When: September 6–October 24. Gallery hours: Monday–Saturday, 10 a.m.–6 p.m.
Recommended: Art Dealer Brett Gorvy Shares His Instagram Tips
2. Urs Fischer: Play
Gagosian (Chelsea)
The hugely influential multimedia artist's latest project at Gagosian in Chelsea is purposefully mysterious. All we know is that it will incorporate choreography by New York–based performance artist Madeline Hollander and that viewers will be encouraged to interact with nine office chairs "that seem to have lives of their own," the gallery teased in a statement. Fischer, of course, is no stranger to the performative and the unexpected. Take, for example, his survey show at the Geffen Contemporary at MOCA, where visitors were encouraged to join in making clay figures, or his iconic life-size figures rendered in candle wax that burned during the show's duration. Hollander, meanwhile, is known for her dynamic studies of human movement. She caused a stir recently with her "Lunar Intervals," a group dance series that premiered at New York's Swiss Institute in June, and "ARENA," part of the Rockaways' Beach Sessions Dance series.
Where: Gagosian, 522 West 21st Street
When: September 6–October 13. Gallery hours: Monday–Saturday, 10 a.m.–6 p.m.
3. Panel Discussion and Opening Reception—Robert Irwin: Site Determined
Pratt Institute School of Architecture
Pratt will host a conversation to herald the opening of "Robert Irwin: Site Determined," an upcoming retrospective of the pioneering Light and Space installation artist whose works were definitive of the American postwar generation. National Gallery curator Lynne Cooke, artist Agnieszka Kurant, UT Austin professor Ann Reynolds, and on-the-rise Mexican architect Frida Escobedo (who recently designed the Serpentine Pavilion in London) will participate in the discussion, with opening remarks by curator Matthew Simms. The exhibition itself, on view through November 28, has traveled across the country from Long Beach, California, the city of Irwin's birth, and will probe the intricacies of Irwin's working process over four decades of his career.
Where: Hazel and Robert H. Siegel Gallery, Pratt Institute School of Architecture, Higgins Hall, 61 Saint James Place, Brooklyn
When: Discussion occurs Thursday, September 6 at 6 p.m.; exhibition opens at 8 p.m. and is on view through November 28.
4. Generation 7 Runway Show
Presented by Parsons MFA Fashion Design & Society
Spring Studios, Gallery II
In conjunction with New York Fashion Week, Parsons will host a runway show featuring works by students in its world-class MFA program. The program is fairly new to the acclaimed fashion institute and highly selective; only 10 percent of applicants are admitted. The school's dean of fashion, Burak Cakmak, described the MFA degree to Vogue as being "about increasing the students' worldliness, helping them to create a message that everyone will understand, whether they're in New York or Africa. It's more progressive and big picture than a regular fashion degree." It's bound to be a star-studded event: Last year, Solange Knowles wore a stunning deconstructed black ensemble created by 2017 Parsons graduate Shanel Campbell to the school's benefit gala.
Where: Spring Studios, Gallery II, 50 Varick Street, floor 5
When: Friday, September 7, at 9 a.m.
5. Dover Street Market Launches New Brands and Artist Collaborations
Dover Street Market New York
The experimental, multibrand store led by Adrian Joffe and his wife, Rei Kawakubo, will be unveiling new brands, products, and spaces to align with New York Fashion Week, from exclusive launches to installations created in collaboration with blue-chip artists. Highlights include a collaboration between New York gallerist David Zwirner and Japanese superstar Yayoi Kusama, and Jim Britt with Isabella Burley exploring the untold story behind Comme des Garçons's groundbreaking 1988 "Sisters" campaign in a new book. The store itself will function, as always, like an interactive exhibition space.
Where: 160 Lexington Avenue, entrance on 30th Street
When: Open house on Thursday, September, 6 from 6–8 p.m.
6. Grand Opening: Restoration Hardware
Meatpacking District 
The luxury furniture manufacturer will unveil its brand-new, 90,000-square-foot gallery, designed by James Gillam of Backen, Gillam & Kroeger Architects, which, according to a company statement, "will serve as a global destination for the most comprehensive collection of luxury home furnishings in the world." Spanning six floors, the new location will have entire floors dedicated to RH Interiors, Modern, Outdoor, Baby & Child, TEEN, and an RH Interior Design Studio & Atelier. To top things off—literally—a rooftop park and restaurant will feature a bar, outdoor wine terrace, and a major art installation by the Los Angeles artist Alison Berger, who uses age-old glassblowing techniques to create incredible glass forms.
Where: Ninth Avenue, Little West 12th Street, and Gansevoort Street intersection
When: Opens September 7
Recommended: RETNA Takes Over the New Restoration Hardware in Palm Beach
7. Julianne Swartz: 'Practicing Joy' Installation Opening and Artist Talk
Grace Farms
The multisensory artist, who frequently incorporates concepts of sound and space into her works, reveals the latest installation in her "Practicing" series, which she started in 2015 with the mission of exploring "empathy, awe, silence, and joy." The installation takes over the art space's distinct rooms—the Sanctuary, Corridor, and Library—to be followed by an artist talk by Swartz and finally a reception.
Where: Grace Farms River building, 365 Lukes Wood Road, New Canaan, CT
When: Saturday, September 8. Installation opens at 11 a.m.; artist talk begins at 3 p.m.; reception at 4 p.m.
Next Post