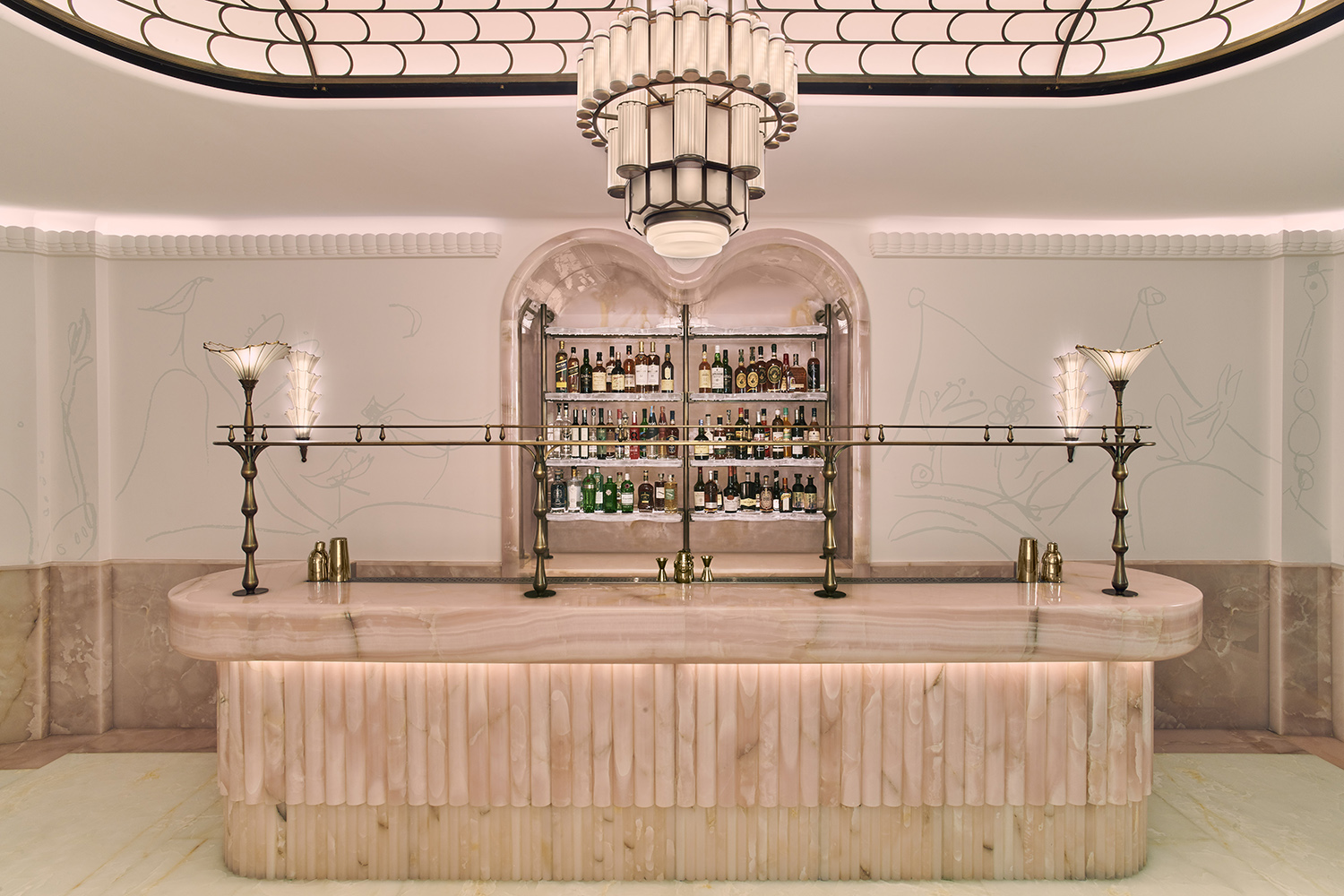 Anatomy of a Room: The Painter's Room at Claridge's in London
Designer Bryan O'Sullivan conceived the blush-colored cocktail bar around a playful Annie Morris mural that envelops the Art Deco space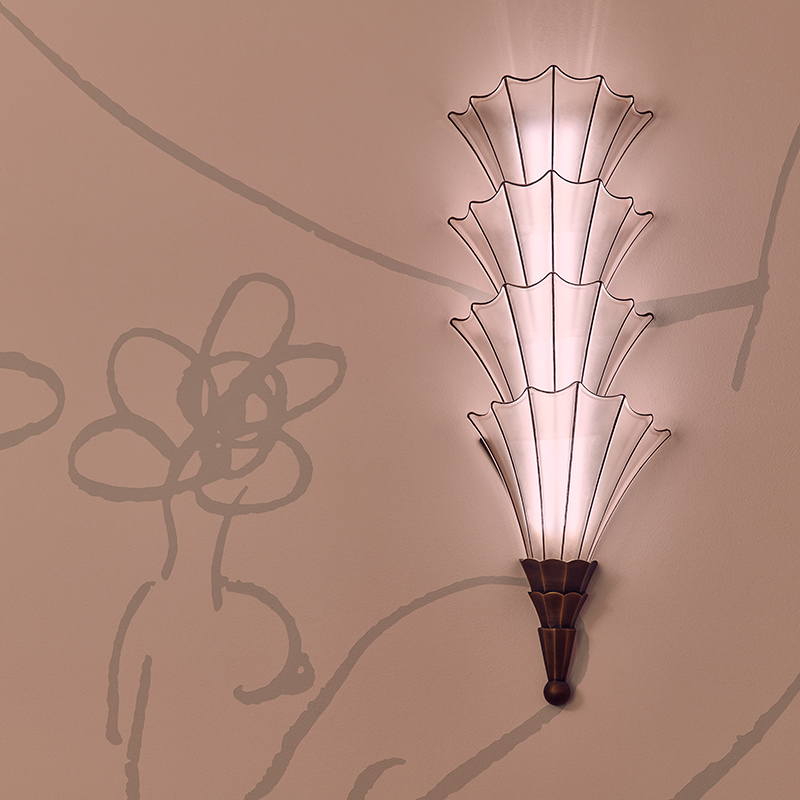 Mixologists have steadily been elevating drink making to an art form, and hoteliers in London are responding in turn by crafting settings with collections to match. At Claridge's, Bryan O'Sullivan enveloped the Painter's Room in shades of pink and an Annie Morris wall mural, that adds a playful tone to the sophisticated Art Deco interior. 
"The room was always here historically, but it had these painted murals of trees that that sort of wrapped around the room," says O'Sullivan, who was tasked with restoring the bar that had fallen into a state of disuse. "Annie pulled from the Art Deco period of Claridge's for her inspiration for her murals, so there are little men in top hats. It's quite fun and quite playful."
To create the fanciful destination adjacent to the hotel's ballroom, the designer took inspiration from old black-and-white photos discovered in Claridge's archives and recreated the room's damaged cornice. The rest is pure fantasy, melding historical references with contemporary design to a create a romantic hideaway, perfect for a nightcap or two.
The Art
Bryan O'Sullivan's iteration of the Painter's Room pays homage to the original bar of the same name that featured murals by Mary Lea when it was conceived in the 1930s. For his contemporary update, the designer looked to British artist Annie Morris to custom create a wall mural that would cover the entire space; her whimsical line drawings nod to the doodles people tend to leave behind on cocktail napkins. Her sketched characters also dance across menus and adorn the bar staff's blazers, that are inspired by traditional painters' jackets, made in a sartorial blue honoring American fashion photographer Bill Cunningham.
Additionally, Morris constructed her first-ever stained glass piece, a watercolor-like scene that breaks up the room's washes of rose with a bold moment of jewel tones. "We wanted the bar to feel like it had always been there, but at the same time, still feel current and cutting edge," O'Sullivan tells Galerie. "The mural really helps soften the space as well and adds another layer of playfulness and Annie's childlike scribbles are incredible."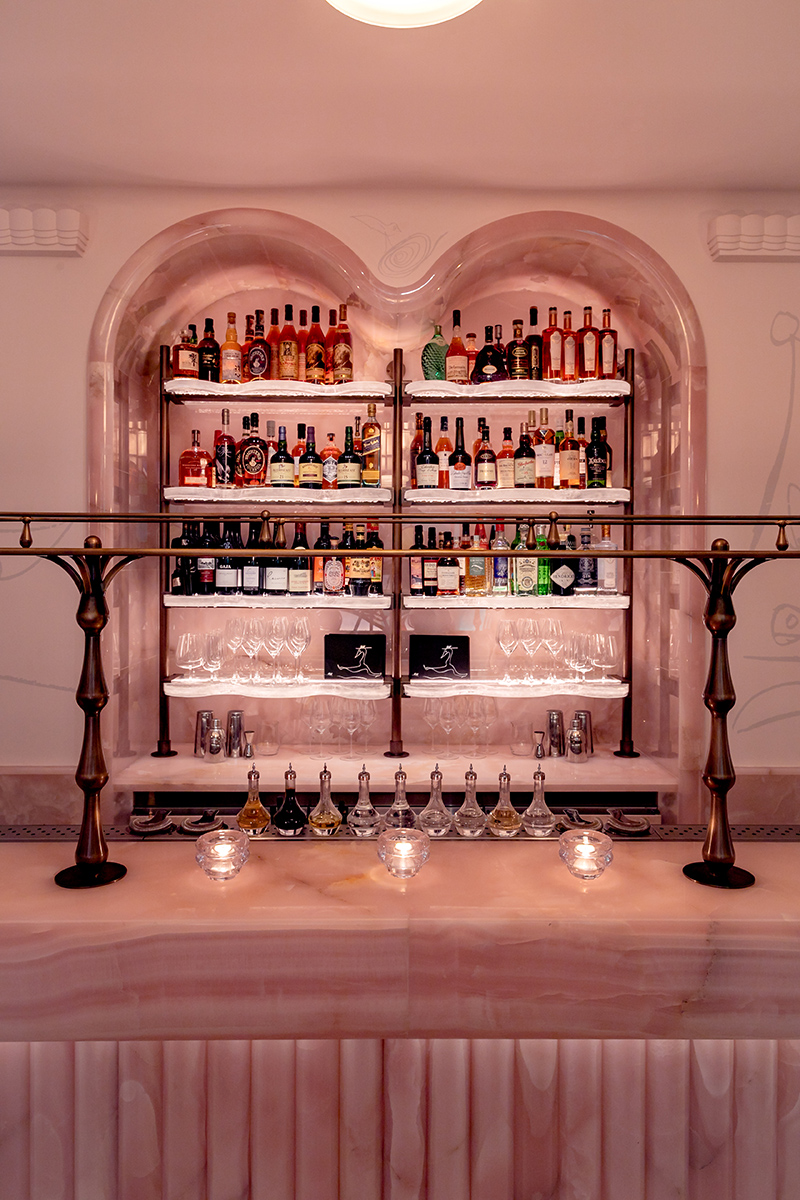 The Bar
Overseen by the hotel's new Director of Mixology, Nathan McCarley O'Neill, the bar is made from a rich pink-onyx stone from Iran that reflects back into the room, washing the space in its romantic blush hue. "We had this idea of this  monolithic carved marble bar, and then what we tried to do was to pull as much inspiration from old Claridge's as we could," says the designer. "It ended up being more pink than we thought it was going to be but it was a happy outcome because everyone does look better in pink. It feels kind of glamorous; it also feels soft and uplifting, which is nice for these types of spaces."
Overhanging the bar is an Art Deco inspired bespoke gantry, while behind it, carved niches in pink onyx display spirits on wavy custom glass shelves. "We tried to keep it quite playful and and fun," he says. "I think these touches make it feel a little bit warmer and softer and kind of more welcoming."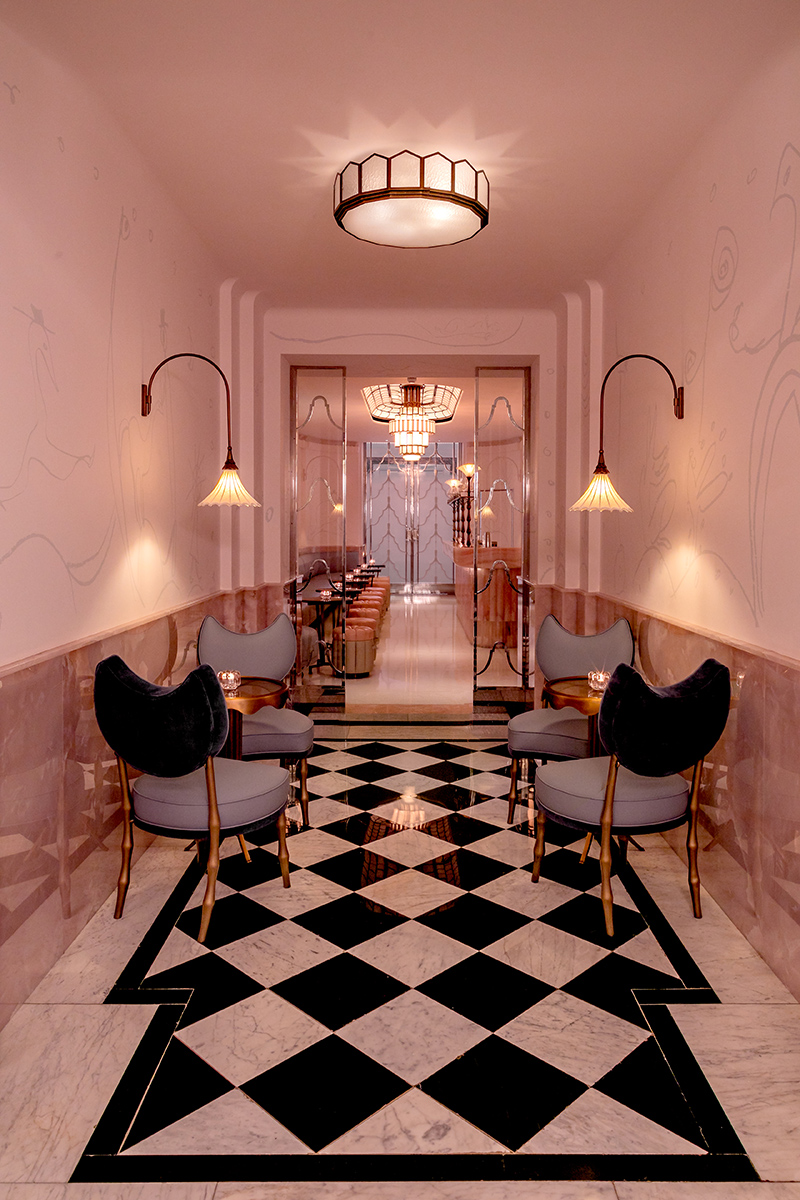 The Furniture & Lighting
All of the furniture in the room was custom designed for the project, including the massive chandelier that hangs down from a blush-colored dome with black Art Deco detailing that connects to the beautiful shapes that cover the front door of the hotel. "I think there are a lot of elements that you need to get right for a bar. This was a tricky space because it was long and narrow and we had to work with that shape," O'Sullivan states. "The shape of the bar was influenced by that, the shape of the skylight, and then everything else kind of slides into place after that. But it's about making people feel comfortable and not too exposed."
In the vestibule, arched lighting fixtures adhere to the Art Deco influence and a series of two-seat tables offer a prelude to the main event inside the Painter's Room. "Paddy McKillen wants it to feel inspired by Claridge's, but to be definitely 21st-century Claridge's," O'Sullivan says of the hotelier's vision. "It's a little bit looking back, but it's definitely looking forward."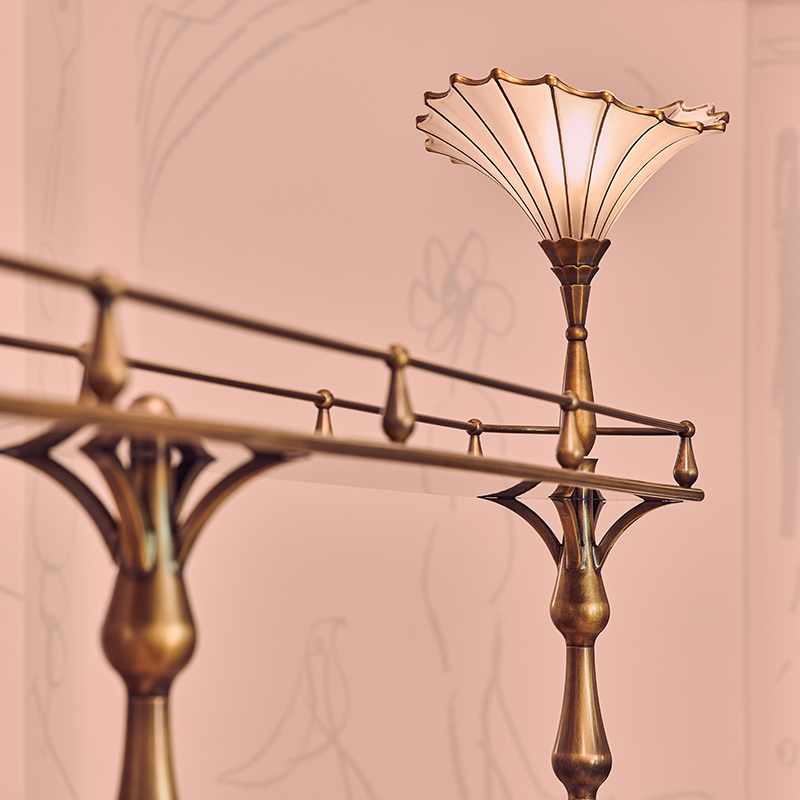 Next Post