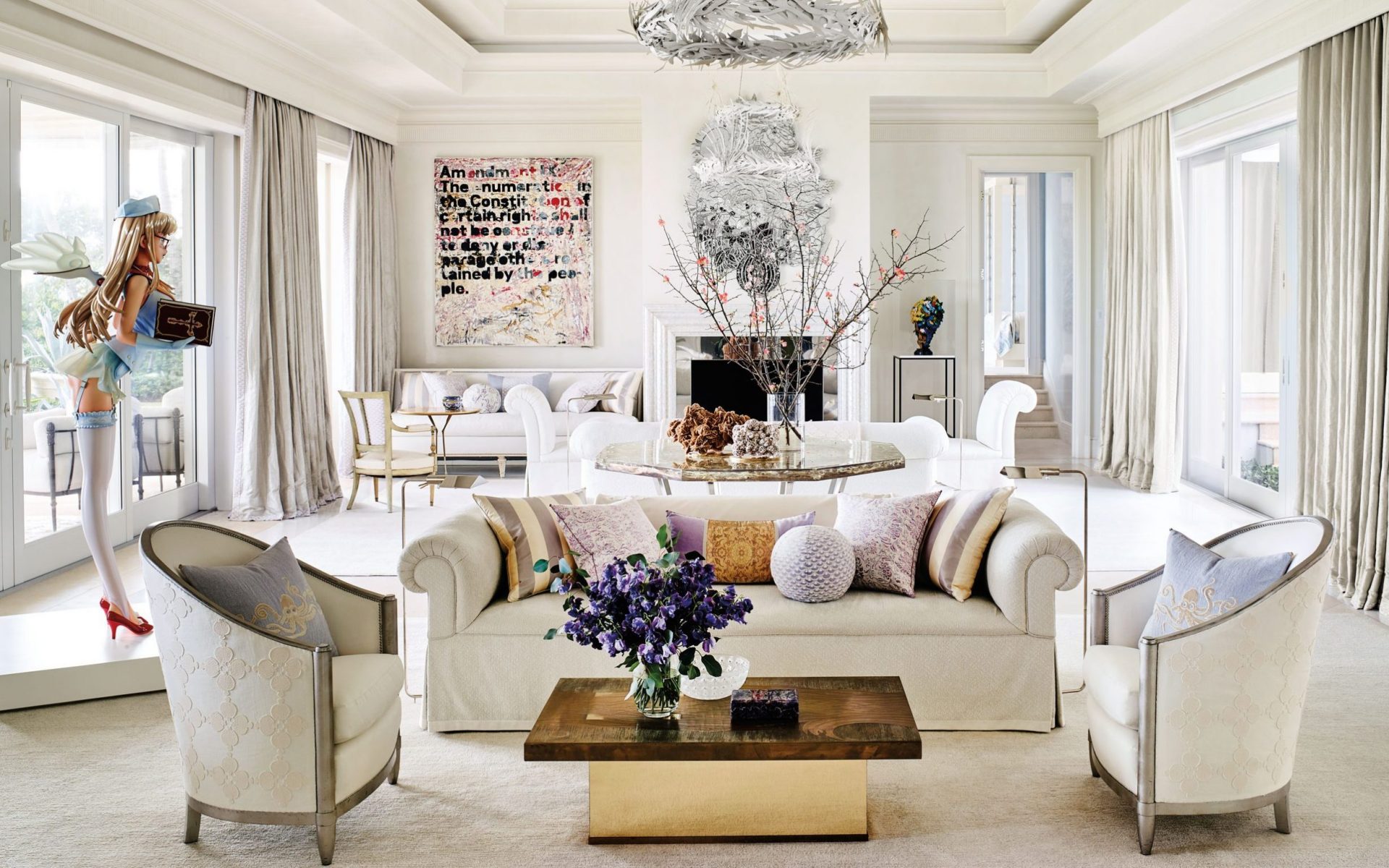 Aman & Meeks Revive an Art-Filled Manor in Palm Beach
The Bermuda-style house now boasts major artworks by Jeff Koons, Frank Stella, and Anselm Kiefer
Collectors of contemporary art often elect to display their works in settings that echo the galleries they buy from: minimalist, colorless spaces devised to amplify the exalted objects without distraction. But the last thing a New York couple wanted for their new Palm Beach retreat was an antiseptic white cube to showcase their wildly eclectic, world-class collection. They had no real wish to mess with the exterior grandeur of their Bermuda-style house, designed by the renowned Palm Beach architect John Volk, whose opulent mansions line the resort town's storied waterfront boulevards. Yet the Tuscany-inspired, jewel-tone interiors, which had a 1980s sensibility, weren't the right vibe either. 
"We wanted to pay homage to the original architecture but make it fresh and new," says the wife. "We needed more light and wall space for the art, yet we wanted a real family home, not a gallery."
The couple, who have two sons, belong to a new generation of collectors making a beeline to the New York office of Aman & Meeks, a firm with a well-deserved reputation for crafting luxurious, curated interiors. The debonair principals, Jim Aman and John Meeks, have handled everything from fashion retail (Ralph Lauren) and furnishings emporiums (Newel Antiques) to Park Avenue showplaces and country estates, and they proved the ideal collaborators to channel the family's needs for reviving this Palm Beach manor. 
"I wouldn't say our palette is neutral, by any means," remarks Aman. "We do a glamorous serenity. You could change out the artwork, and the rooms would still look great." And in this house, which features major works by the likes of George Condo, Jeff Koons, Takashi Murakami, and Mark Bradford, comings and goings are routine as pieces are lent to museum exhibitions and new works are acquired.
To better tailor the rooms for the artworks—some of which are quite large—the interior designers undertook a gut renovation, raising ceilings, removing windows to add wall space, and stripping out crown moldings for a look that's crisp but hardly austere. Then the two went to work on the finishing touches that set the home's stylish tone. "She likes things very clean, with clear colors, and while her taste is streamlined, she's also traditional," Aman says of the wife, who worked closely with the designers. Even though she is as passionate about contemporary design and architecture as she is about art, the wife admits, with a laugh, "We are relatively conservative people—the art definitely stands out more than we do."
Walls finished in classic Venetian plaster add instant patina. A powder room's inset stripes of mother-of-pearl catch the Florida light. Other surfaces are splashed in a suite of blues, the wife's favorite color. A rich lacquer enlivens the library's original mahogany millwork, while a barely-there hue on the master bedroom walls evokes the morning sky. "We wanted to create understated backdrops that could hold the room, no matter how our clients integrated the art within," Meeks says. 
Blue accents were further employed on some of the eye-catching kitchen cabinetry, on the upholstery in the husband's study, and in the master bedroom's linens and pillows, custom embroidered with lively maritime motifs. "The color palette was all used in harmony," Aman says. "Every room has something that relates to each other." 
Particular attention was paid to the ceilings, which, like the singular lighting throughout (most of the fixtures were specially commissioned), help to define the various spaces, adding character and complexity. Silver tea paper softly shimmers above the living and dining rooms, while gilded cork paper draws the eye skyward in the library. "You shouldn't be able to walk in a room and figure things out right away," Aman says. "It should be subtle." 
Antique and vintage furnishings add to the mix, playing off the gutsy art. Two 18th-century consoles with carved-wood dolphins look thoroughly modern after many coats of pale blue-gray lacquer, sharing space with an iconic Frank Stella T-shaped canvas in the signature stripes of his early works. Frances Elkins's loop dining chairs playfully echo the dancing squiggles of a Brice Marden painting. "Part of the fun of mixing eras is that good lines stand out on their own and work together with other pieces," Meeks says. 
"I didn't want period rooms, contemporary or traditional," the wife says. "I think those are boring. And it's not how we want to live." For all their ostensibly conservative leanings, when it comes to their homes, this collecting couple now have exhilarating interiors that are the equal of their daring taste in art.
Click here to view more photos of the home.
Next Post