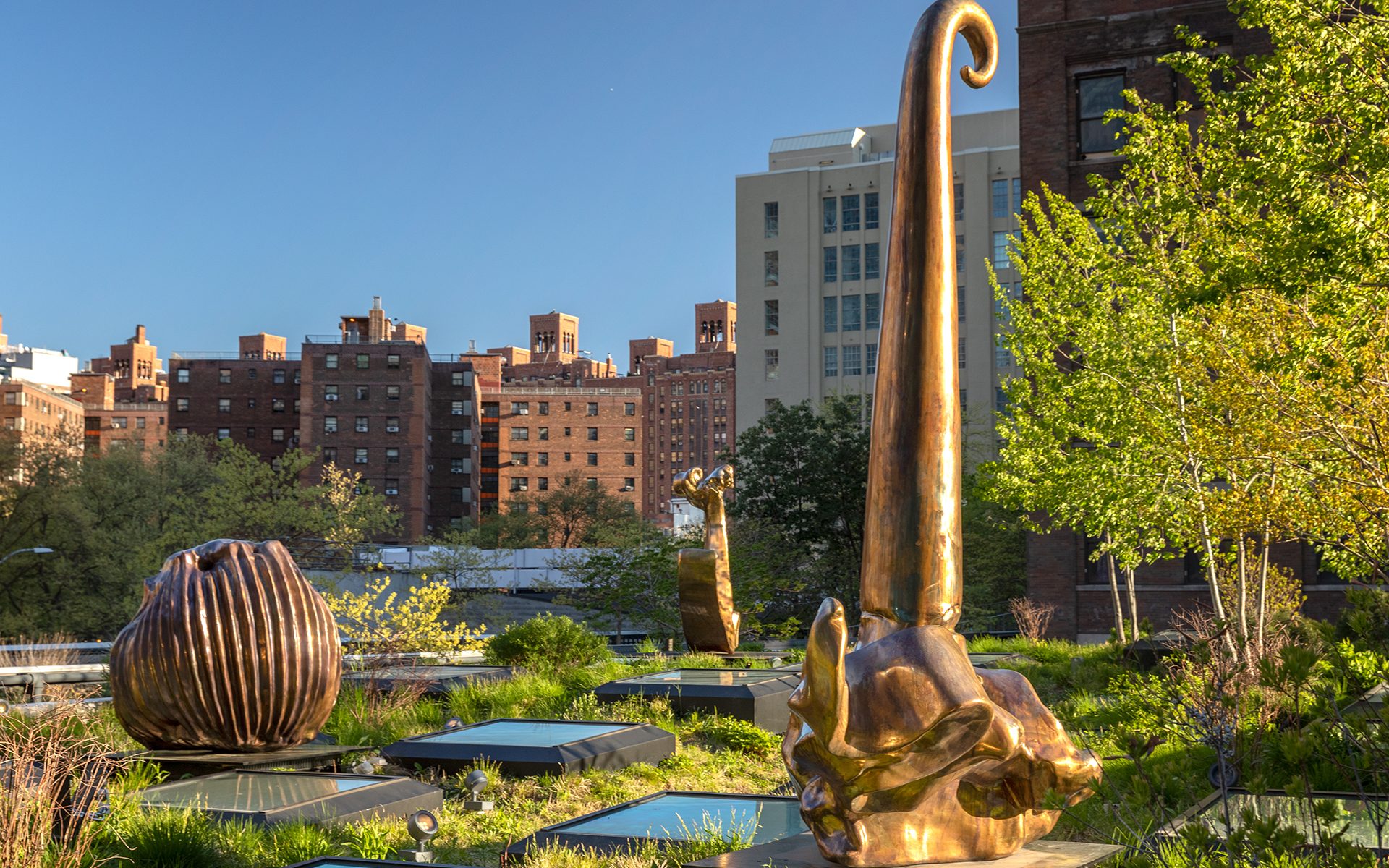 Alma Allen's Dazzling Sculptures Transform the High Line in New York
This must-see exhibition is the first-ever dedicated to the artist's large-scale outdoor sculptures, which were all created in his studio in Tepoztlán, Mexico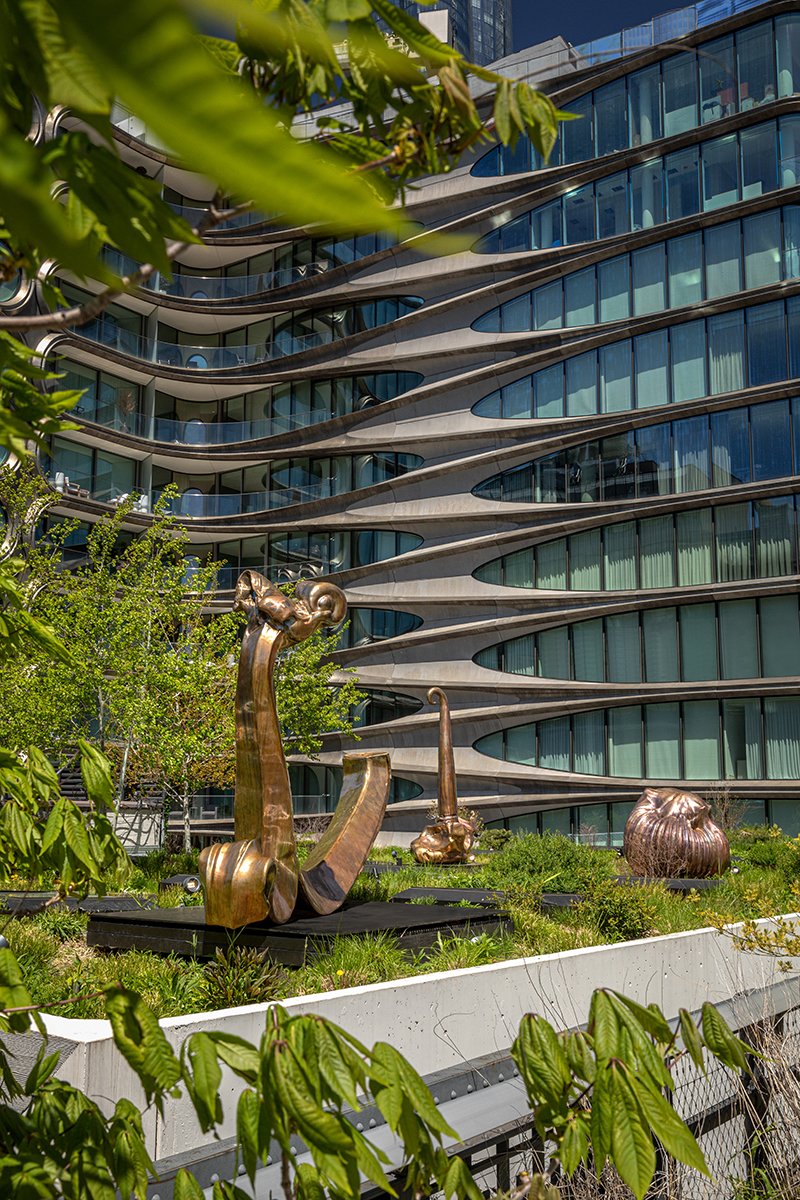 At a glance, the whimsical, organic sculptures currently installed on the roof garden of Kasmin gallery seem to have sprouted from the surrounding verdant landscape along the High Line. Visible to all who pass on New York City's wildly popular pedestrian thoroughfare, the trio of bronzes are the latest works by American artist Alma Allen, and the exhibition is the first-ever dedicated to his large-scale outdoor sculptures, all made in his studio in the hills of Tepoztlán, Mexico, about an hour south of Mexico City.
Kasmin's representation of the 50-year-old, famously shy artist, who once sold his pieces from an ironing board he set up on the streets of SoHo, began in 2019; managing director Nick Olney says he and Allen have been plotting this exhibition ever since. "The timing is perfect with the re-opening of the High Line and the garden's transformation towards a perpetual meadow, creating an ideal dialogue with Allen's biomorphic bronzes," Olney tells Galerie.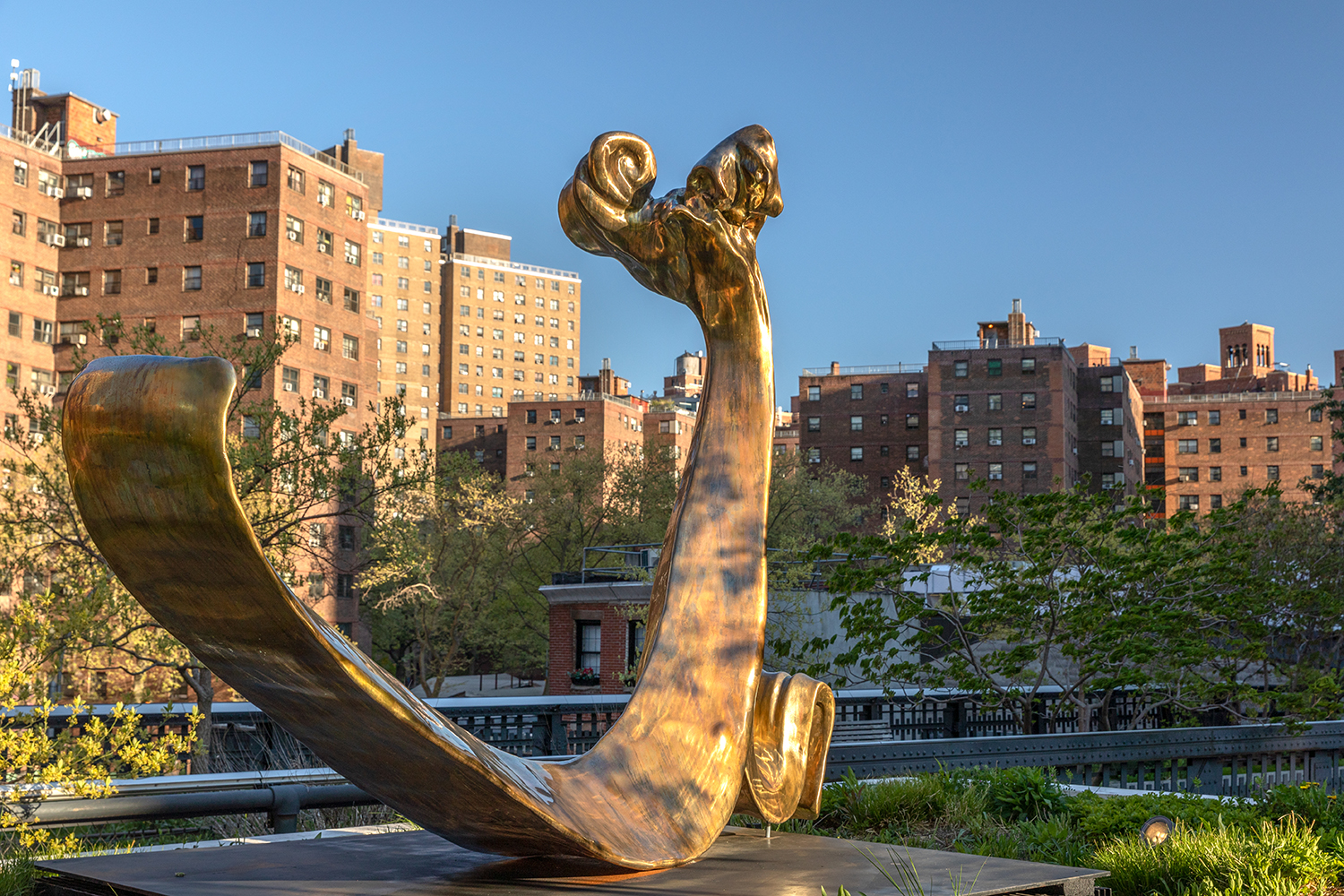 The act of craning the pieces onto the rooftop space was in itself quite a performance—a suspenseful dance for those in the area who watched the sculptures land in front of the futuristic Zaha Hadid building, a seemingly incongruous yet surprisingly synergistic backdrop. Olney described it as "a wonderfully surreal moment to see them flying above the cityscape as they were craned into place—like migratory creatures dropping into the city for the season, pollinating the landscape before continuing off on their journey."
Nestled amongst the Quaking aspens and native grasses like bristle leaf sedge and dwarf tufted hair grass, Allen's sculptures allow for multiple readings outside of the white cube gallery space. "For a long time, I didn't want people to see my work in a context, I wanted them to discover it in relation to nature…so they would be more free to imagine what it was," says the artist. Preferring the works to speak for themselves, Allen says: "I never really want the sculptures to be too much of a specific thing. I want them to come across as a funny little moment that you are not sure what is happening. It's not literal, and that becomes its own discomfort. I don't want them to become a psychological examination of me."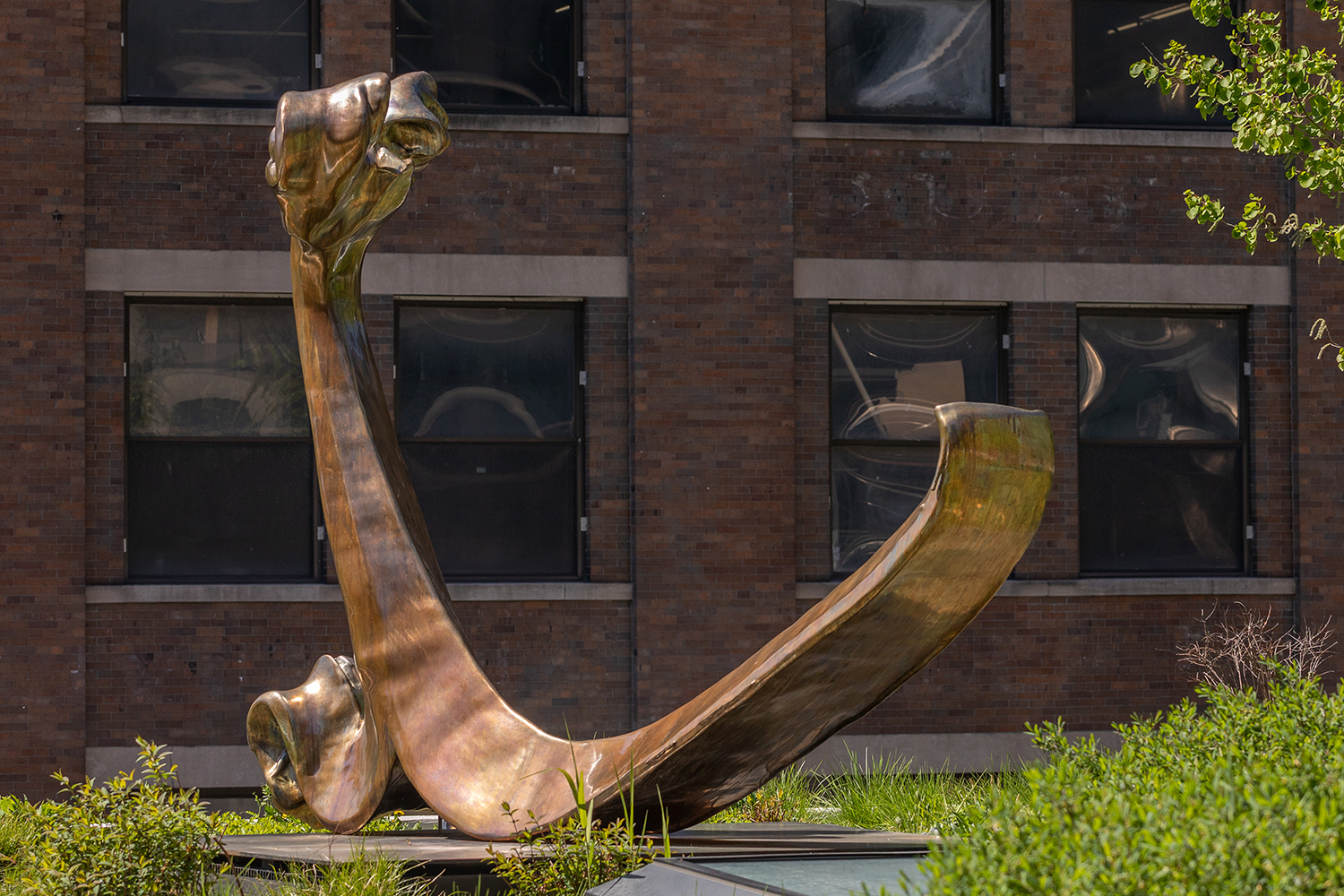 The self-taught artist completed each work in a bronze foundry constructed in his studio in Tepoztlán, Mexico, where he has been based for the past few years. "It's a very old place, with a long history of habitation," he says of the location. "It's been continuously habited since the time of the Olmecs, which is the oldest of anything in the new world, the first civilization, and I find that very fascinating. I'm not into myths that much, but I find it interesting to walk the same ground as people who had a different understanding of what life meant, that you walk in the same places as other people that might not have had the same perception of existence." Before Tepoztlán, Allen lived and worked on a compound in Joshua Tree, a similarly remote location in the California desert. "I don't understand other people," he admits. "I have a large capacity for being alone. Most other people don't seem as able to be alone, generally. I'm ready to be a mountain hermit. I'm going to live in Tlapacoya next if I can figure out where it is."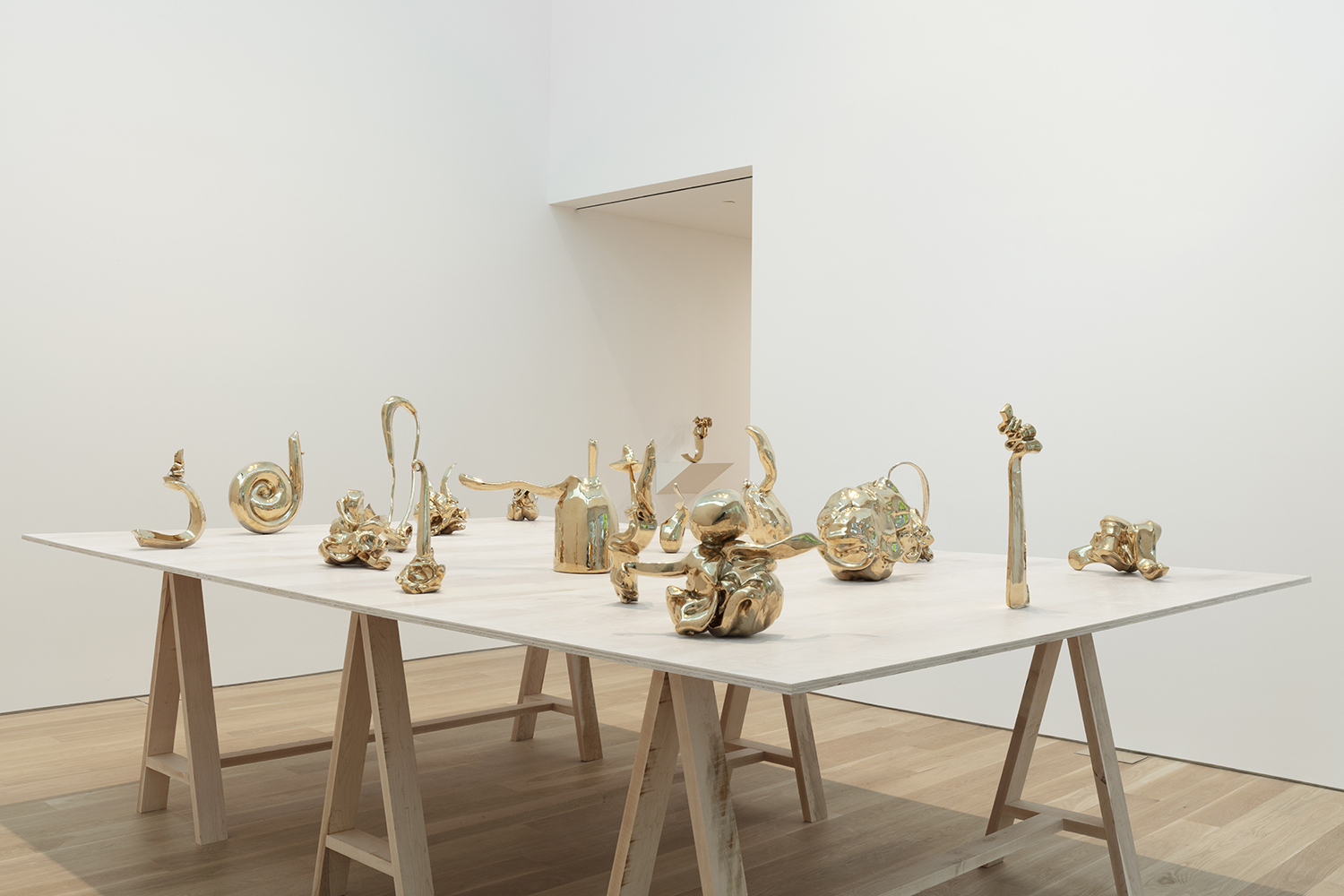 In the introduction to Allen's monograph, published by Rizzoli last year, the curator, author, and historian Glenn Adamson noted that "For all their impressive resolution and monumentality, Allen's sculptures have the open-ended quality of living things," a spot-on observation that could also be applied to the artist's twenty-plus small-scale bronzes concurrently on exhibit in Kasmin's (indoor) 27th Street space. The large and small works were created during the pandemic and, true to form, are all named Not Yet Titled.
Allen's description of how he approached works during what for many was a challenging year seemed unchanged, perhaps due to his admittedly solitary nature. "I like to capture things in between, that they are still progressing beyond the moment I make them, I'm interested in that split second," he tells Galerie. "They are a moment in the life of something rather than a symbol for something, they are more a symbol for an idea or feeling."
Both installations remain on view through August 13 at Kasmin Sculpture Garden and Kasmin gallery, 509 W. 27th Street. 
Next Post