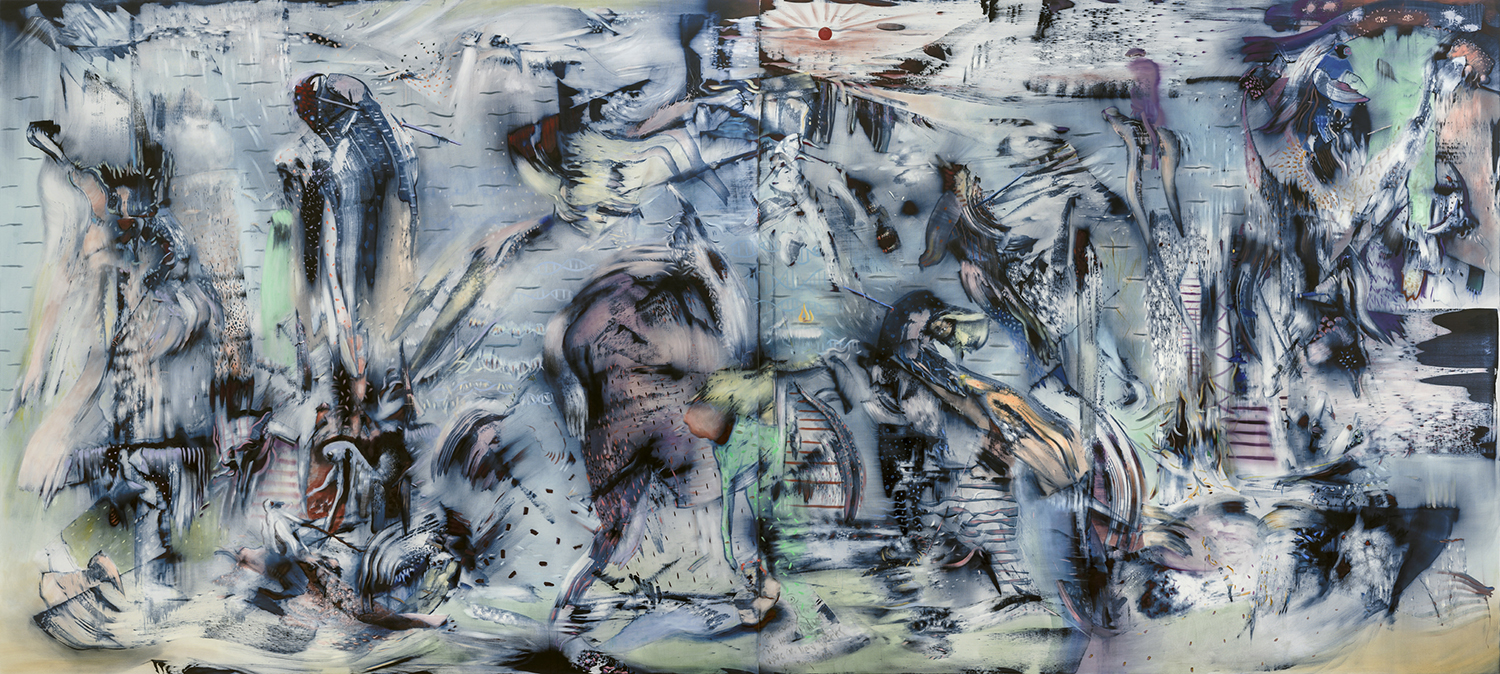 Ali Banisadr's Vibrant Paintings Created During the Pandemic Debut at Kasmin
With a highly distinctive visual language, the Iran-born New York-based artist draws on an encyclopedic knowledge of art history to respond to the world around him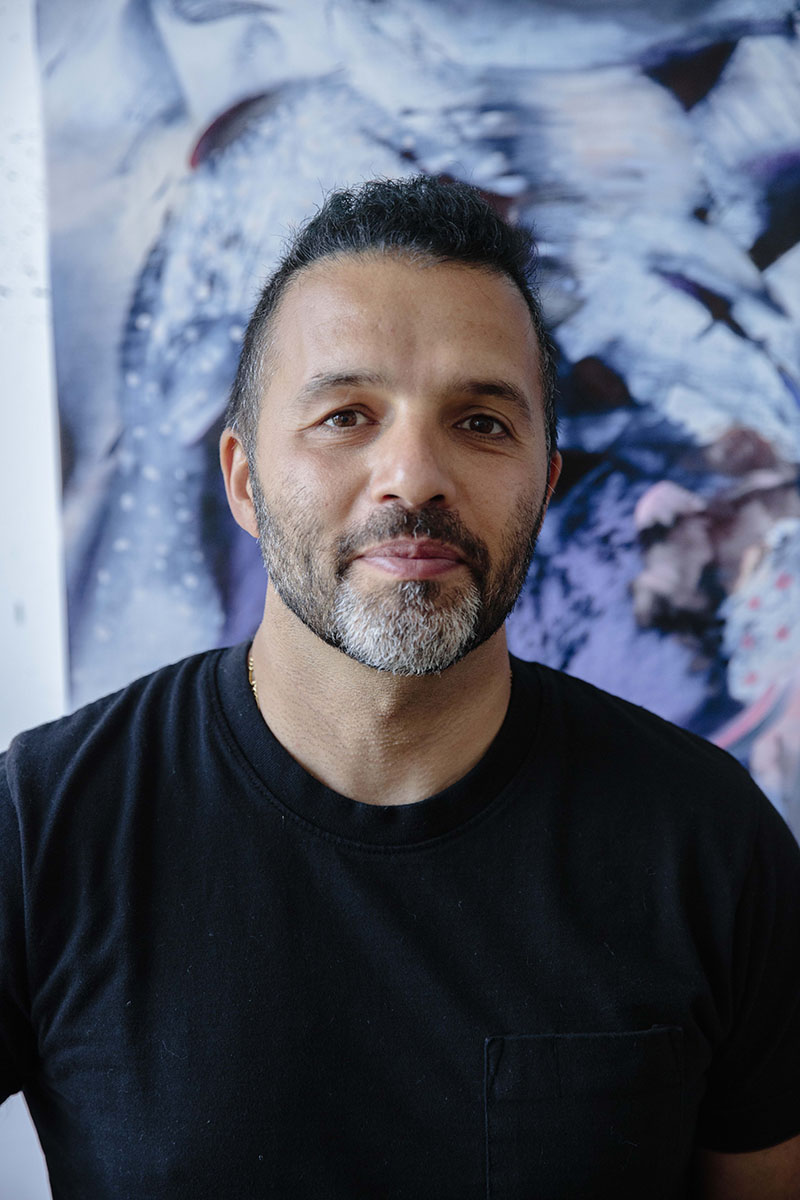 For some artists, inspiration can come from the most unexpected places. In the case of Ali Banisadr, it was his COVID-19 vaccine shot that helped him overcome a plateau he had reached with a painting that was due to be the centerpiece of his debut exhibition at Kasmin Gallery in New York.
"After having my second shot, I slept the entire day and was experiencing these intense dreams," the artist tells Galerie. "The next day, I woke up and I had this sudden urge to paint—a burst of symbols in my head. I headed straight to my studio and I painted non-stop until night and finally finished the piece."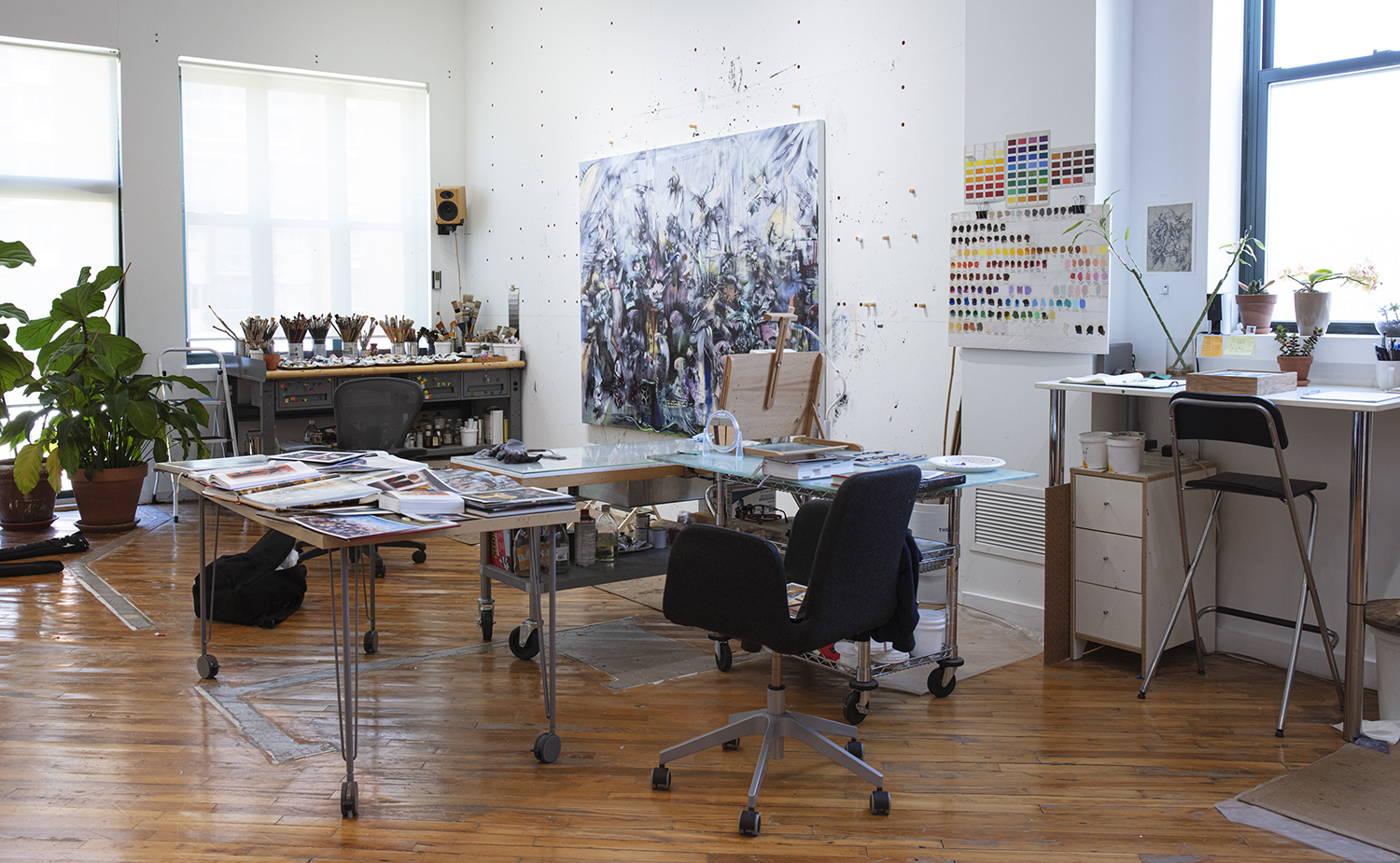 Created in his signature abstract style, the piece, titled The Messenger, is a densely populated 13-foot-wide painting in two parts. It depicts a flurry of intense movement and gestural floating figures pierced by sharp needle-like lines. "I had been reading so much about mRNA technology and what it means," Banisadr says. "I've also been fascinated by this idea of gene editing and all this new technology from the last year. Somehow that symbolism worked its way into the painting."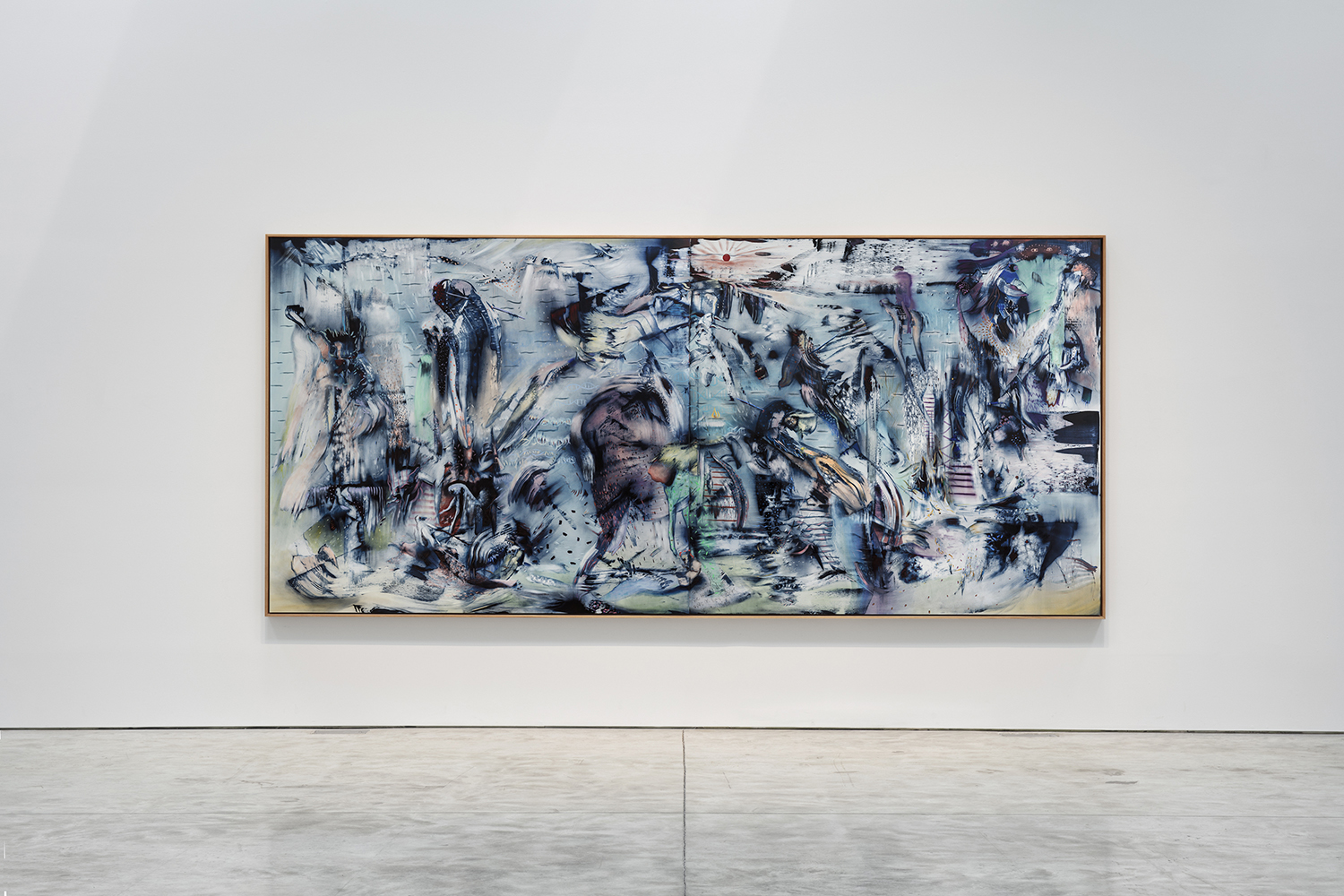 On view through June 26, the exhibition is titled "These Specks of Dust," in homage to Francisco Goya's 1799 etching from the Los Caprichos series. It features nine recent paintings, several of which were included in the artist's presentation at the Wadsworth Atheneum Museum of Art in Hartford, Connecticut. Banisadr, who was born in Tehran and is now based in Brooklyn, is highly receptive to the world around him thanks in part  to his experiences of synesthesia. A condition shared with the likes of Wassily Kandinsky, it allows one to see sound and hear color—a curious intermingling of the senses that can be felt in his vibrant paintings. Capturing Banisadr's deeply personal inner visions as well as a collective recording of our turbulent times, the works on display essentially track the trajectory of 2020. "The symbols kept presenting themselves to me. It had to do with everything that was happening."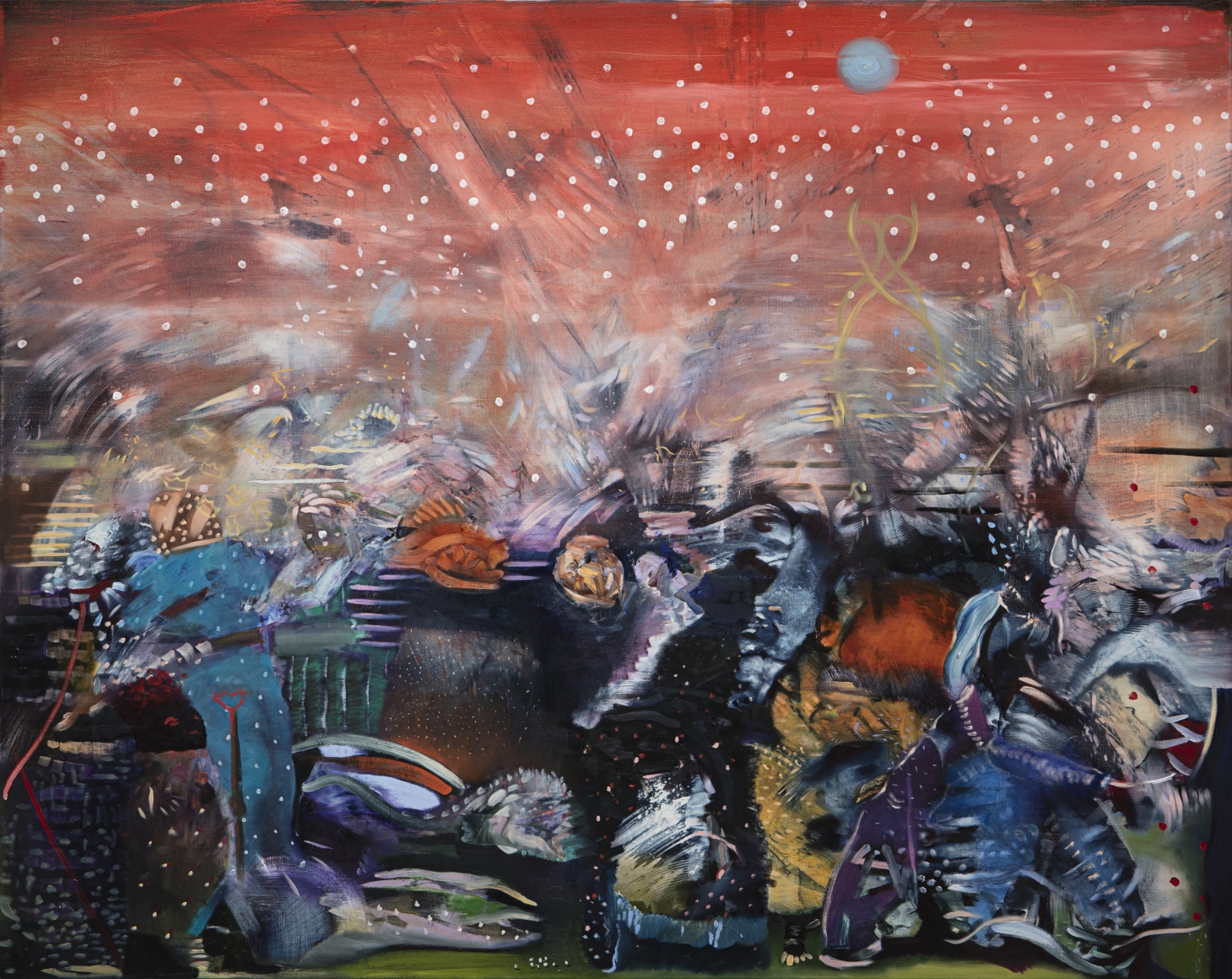 The earliest painting in the exhibition, Red, created in March 2020 at the outset of the pandemic, is perhaps the most ominous. With an icy blue moon atop a blood-red sky, it is an apocalyptic vision of what was to come. "Something was in the air and I was attune to it before the pandemic had really begun," he says. Small white dots are sprinkled across the surface, recalling stars but also droplets of a virus spreading through the air. Caravan (2020), meanwhile, depicts the feeling of helplessness and lack of mobility as a pair of legs are caught in the spokes of a turning wheel. "I wanted to capture this energetic movement of the figures and then the sensation of being stuck. Everything was suddenly on pause."
Last summer, Banisadr created Only Breath, a small but powerful painting, around the time of the Black Lives Matter protests and the nightly fireworks in Brooklyn. "It reminded me of being a child in Iran during the Iran-Iraq war and waking up in the middle of the night and feeling those vibrations," he recalls. "There was a palpable nervous energy."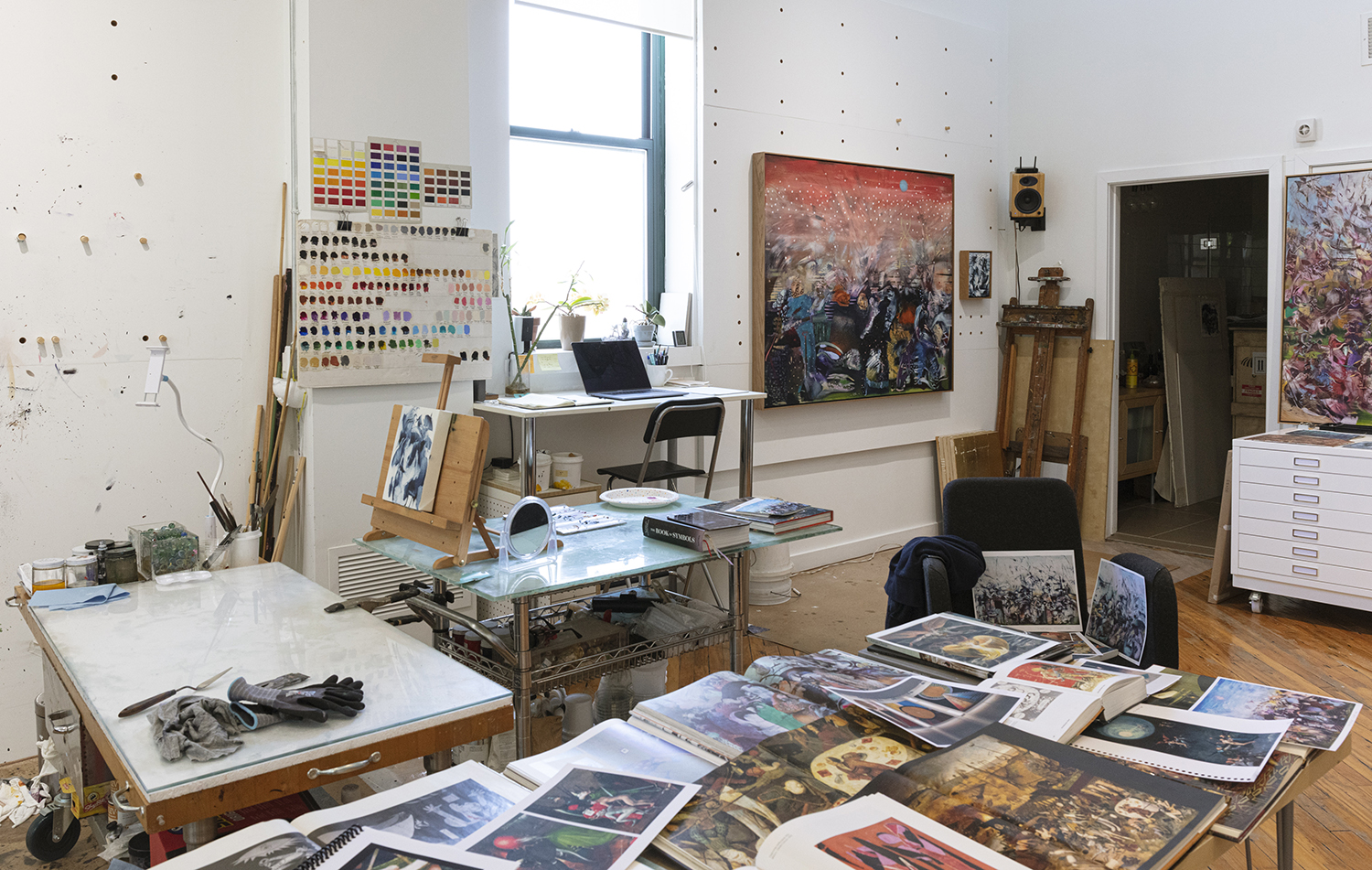 Driving Banisadr's practice is an encyclopedic knowledge of art history, literature, and philosophy, references of which can be read in each work. His sprawling, light-filled studio, is filled with books and research material. Lining floor-to-ceiling bookshelves are tomes on everything from miniature painting to Bruegel and the Renaissance painter Hieronymus Bosch, who has always been a huge influence, as well as Dante Alighieri, Rumi, and Andrei Tarkovsky. "I have a group that I circle around and I always go back to," Banisadr says. "For example, Dante's Inferno or Homer's Odyssey. I could keep reading and rereading these epic poems. To me they are so full of visual things."
His reading has informed this latest exhibition, which proves that great art is often created during troubling times. "Dostoevsky said that if there was a perfect world you wouldn't need art," states Banisadr. "I think that's true. I think the most interesting art is always art that is trying to address struggle. Art is like a beautiful lie. It can transcend and communicate with you in such a way that it lays out the facts but penetrates you with poetry."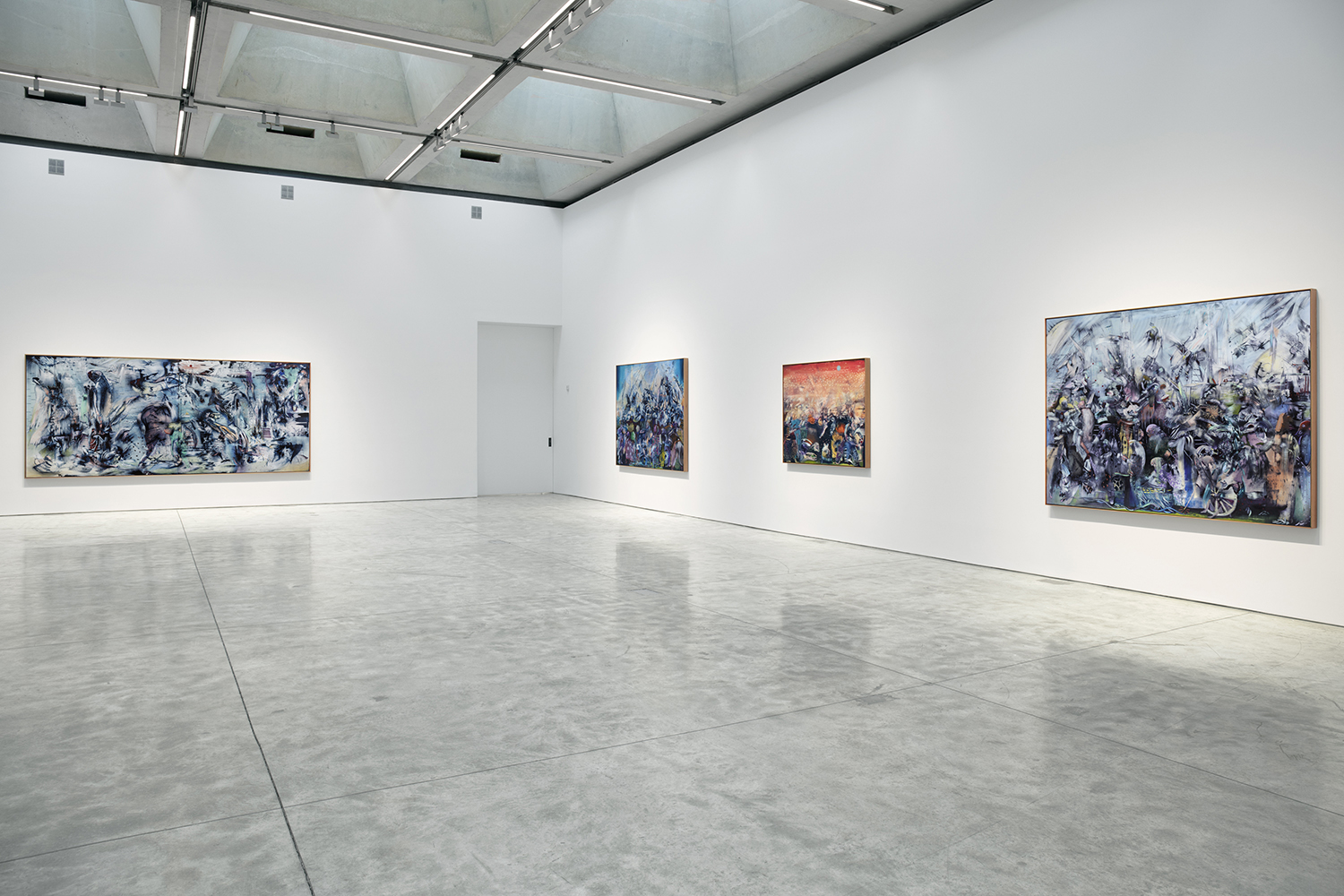 Banisadr begins each day with a morning ritual of drawing and reading the New Yorker with his two young children at home. "I steal their ideas," he laughs. "They say we are all born artists but then we forget. They have a level of freedom that I wish I had." He then heads to his studio for the day, and divides his time between reading, contemplating, researching, and painting itself. "I usually spend about an hour looking at what I did the day before then hopefully some part of the painting will say something to me."
The paintings soon take control and direct him to further sources. "They always dictate what I need to read or research. Visual symbols communicate with me in a very strong way," Banisadr tells Galerie. "It suddenly presents something and I'm like 'whoa.' It sends me off to find what that is. It's like I am making a painting about things to come. You look at Guernica, for example, and you don't just think about Picasso. It's a symbol of human suffering in war. In history, things will always reoccur."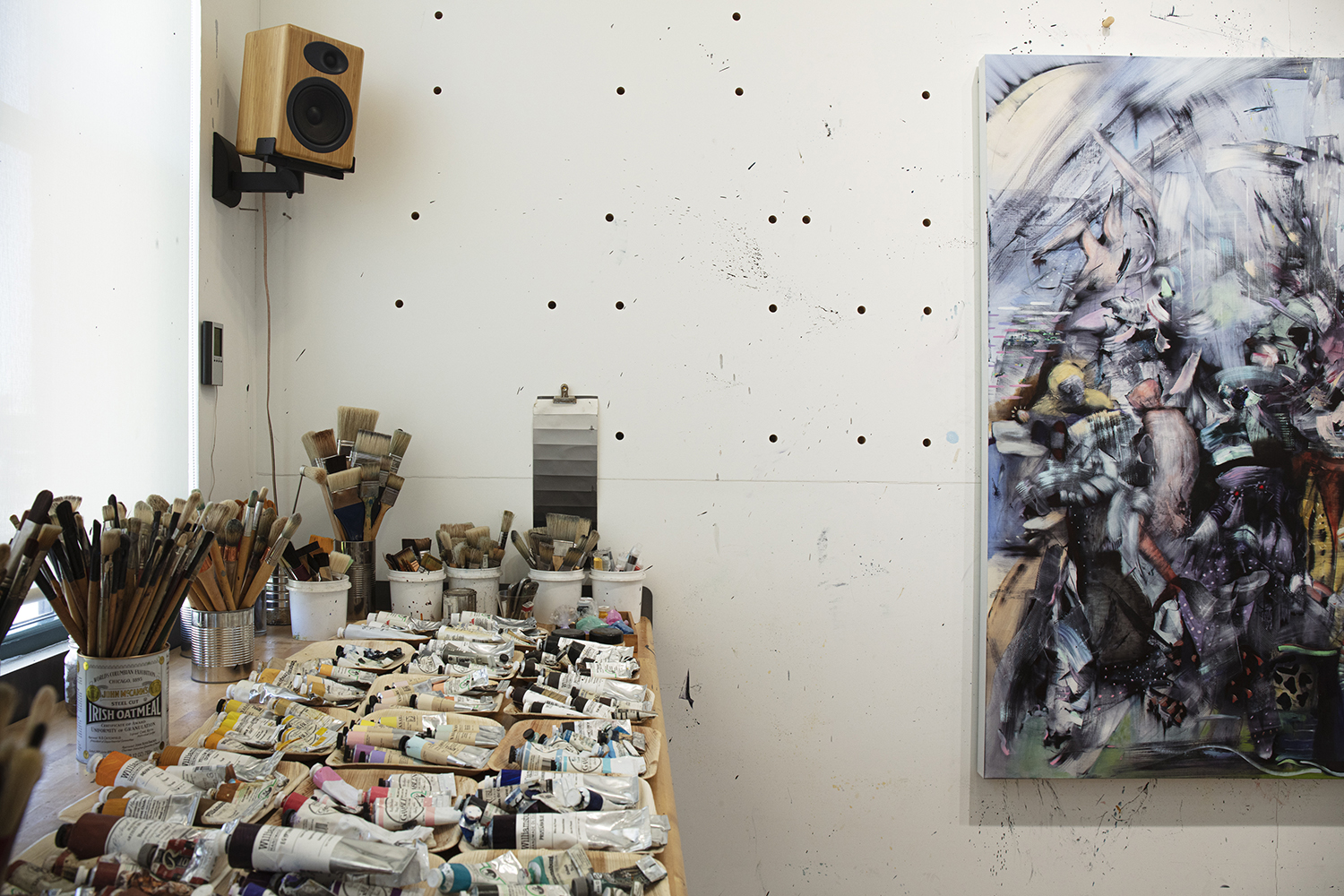 The sounds and vibrations are also crucial in composing the work. "It is like a guiding force," he says. "When I start to paint, I hear a note, and then another note, and another. At first, it's like all these different sounds at the same time and I have to try and harmonize them and have them make sense together. It's a symphony. With each painting, I go through this agony phase, where I feel I can't make these elements work. Then something clicks. The air begins to flow. When that happens, the painting becomes an activated thing, a whole, like an engine or a motherboard of a computer, with all the parts working perfectly in unison together."
 "These Specks of Dust" is on view at Kasmin Gallery through June 26. 
Next Post