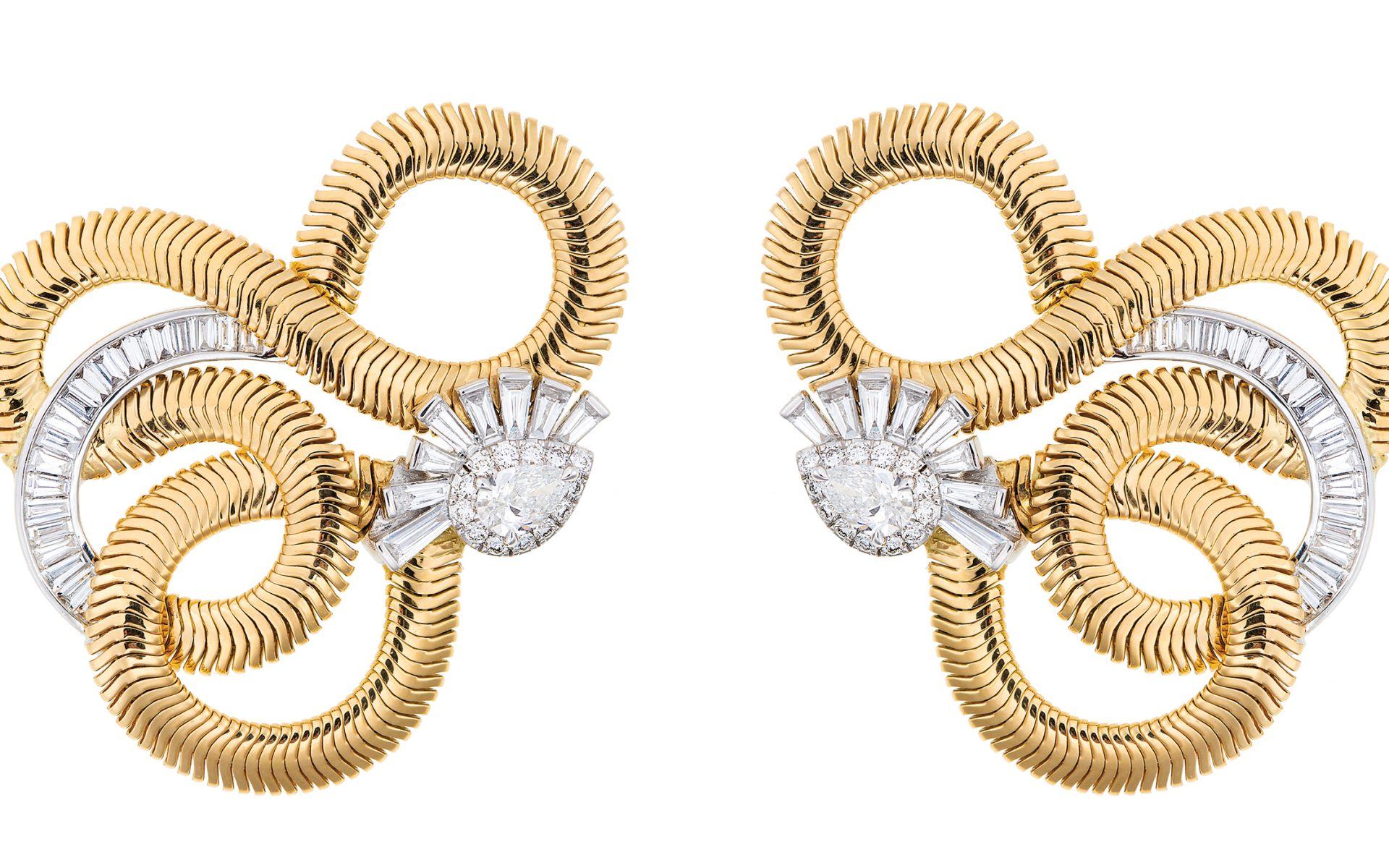 7 Glorious Gold Pieces of Jewelry Perfect for Fall
Glimmering adornments in unexpected shapes and textures make an artful statement
Designer Nikos Koulis's latest collection, Feelings, masterfully juxtaposes diamonds with slinky yellow-gold snake chains. Using an age-old goldsmithing technique popular in his native Greece, Koulis created long necklaces, dazzling chandelier earrings, and openwork bracelets that offer a fresh, understated take on the traditional metal. "I'm always intrigued by taking a classic pillar from the past and redefining it," he says. "The main craftsmanship challenge was interweaving soft and hard elements, making the intricate knots yet keeping the forms' fluidity." These earrings, featuring pear-shaped, baguette, and pavé diamonds set in 18K gold, won the award for Best in Gold at the recent Couture Design Awards in Las Vegas.
Part of the first collection under Marina B's new creative director, Guy Bedarida, the Trisolina cuff is handcrafted in Italy with rows of coiled 18K yellow gold and pavé diamonds.
Echoing an iconic design from the 1970s, the bold hexagonal motif of Bulgari's Serpenti necklace in 18K pink gold and pavé diamonds recalls the sublimation of a snake's scales.
Capturing the fluid softness of fur, this innovative bracelet, designed by Michal Kadar of Cadar, features diamond-tipped gold coils that shake and shimmer.
Recommended: How Melanie Georgacopoulos Is Reinventing Pearl Jewelry
A stack of intricate Princess rings in 18K yellow gold with diamonds celebrates Roberto Coin's flair for romance and craftsmanship.
These Lalaounis Epirus earrings in satin-finish, 18K gold with brilliant-cut diamonds are inspired by Greek national costumes and decorative objects.
Hand hammered by master artisans in David Webb's Manhattan workshop, this sculptural 18K-gold Scroll cuff evokes the ancient world but with a decidedly modern edge. 
A version of this article first appeared in print in our 2019 Fall issue under the headline "Gold Rush." Subscribe to the magazine.
Next Post