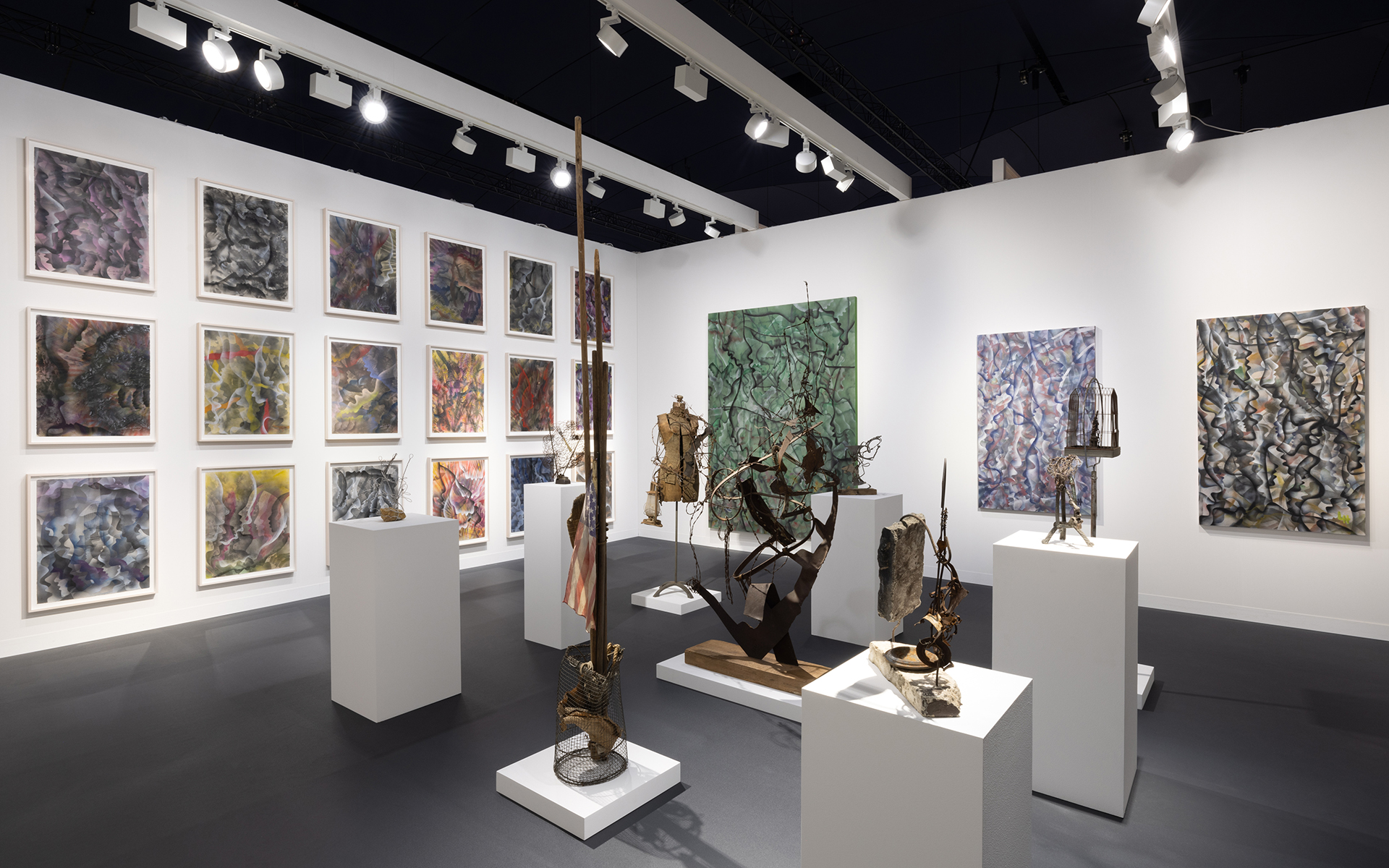 6 Standout Booths at Paris+ par Art Basel
Returning to the City of Light for its second edition, Paris+ par Art Basel featured 154 leading galleries
Returning to the City of Light for its second edition, Paris+ par Art Basel opened to a large crowd of critics, curators, collectors and international VIPs on October 18th at the Grand Palais Éphémère. On view to the public through October 22, 2023, this year's fair features 154 leading galleries from 33 countries and territories—including 60 with an exhibition space in France.
"From its vibrant gallery community to trailblazing artists and world-class institutions and foundations, Paris truly stands today not just as one of the world's proudest cultural capitals but it's home to one of the most vibrant contemporary art scenes anywhere," Art Basel CEO Noah Horowitz shared with Galerie at the fair's press conference. "Singularly blending an incomparable history and heritage with an ever-strengthening local arts ecosystem, I don't think it's an exaggeration to say that there is arguably no other city worldwide that captures the minds and imagination of artists and lovers of art more than Paris."
Wandering the aisles of the T-shaped Grand Palais Éphémère, Galerie was on the lookout for the best booth presentations at 2023 edition of the stellar fair and found a fascinating mix of artists and artworks. Ranging from one-person exhibitions by such celebrated self-taught artists as Lonnie Holley at BLUM and Anna Zemakova at christian berst art brut and solo show presentations of lesser-known discoveries like Roberto Gil de Montes at Mendes Wood and Francis Upritchard at Anton Kern Gallery to a clever pairing of Rirkrit Tiravanija and Vivien Zhang at Pilar Corrias and an engaging group exhibition of artists responding to the masterworks of Mark Rothko, these are our favorite booths at the fair.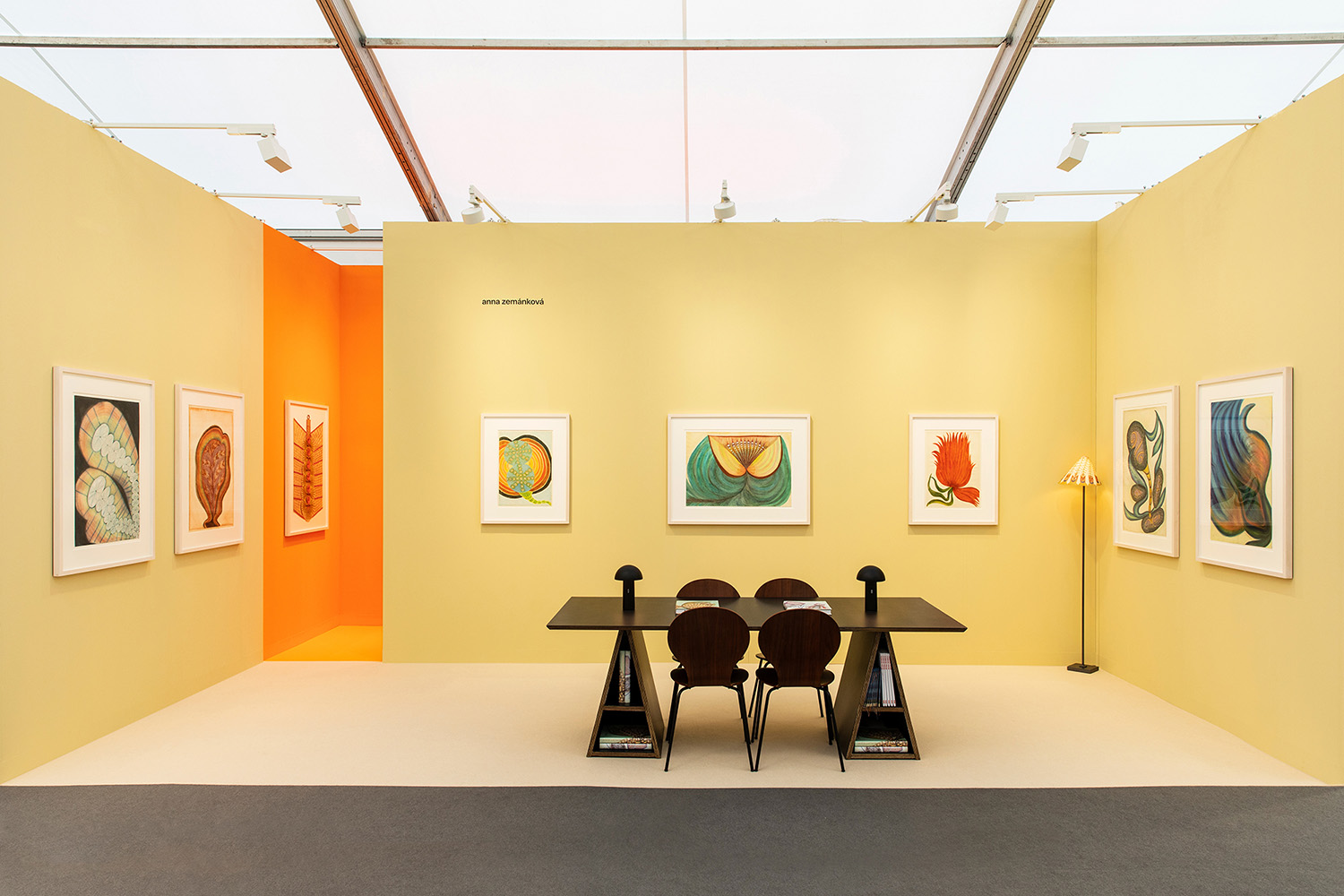 1. Anna Zemánková at christian berst art brut
A critically acclaimed artist in the 2013 Venice Biennale, where 18 of her works on paper were on view, Anna Zemánková is one of the most famous European "art brut" painters—having had numerous gallery solo shows and museum presentations around the world. A former dentist who painted landscapes in her spare time, the Czech artist gave up painting to raise her children, but was later encouraged by her sons to return to painting as a form of art therapy to fight depression brought on from diabetes and the amputation of her legs. Exhibiting while still alive, her visionary work was acquired by Jean Dubuffet for his celebrated Collection de l'Art Brut Lausanne in 1964, which gave her instant recognition.
At the fair, christian berst art brut has a sensational selection of abstract still lives of plant-inspired paintings on paper from the 1960s and 1970s. Treasured works that the family is finally releasing from its trust, her large pastels with textile collage, embossing, watercolor, ink and paper cutouts present a unique vision of garden life, wonderfully filtered through a surreal view of the world that she inhabited. Presenting images of nature that could only exist in the mind of a fantasist, she drew and painted compulsively until passing at age 77 in 1986, but her art lives on so that we can share the extraordinary beauty that she saw in her environment, even in the most difficult of times.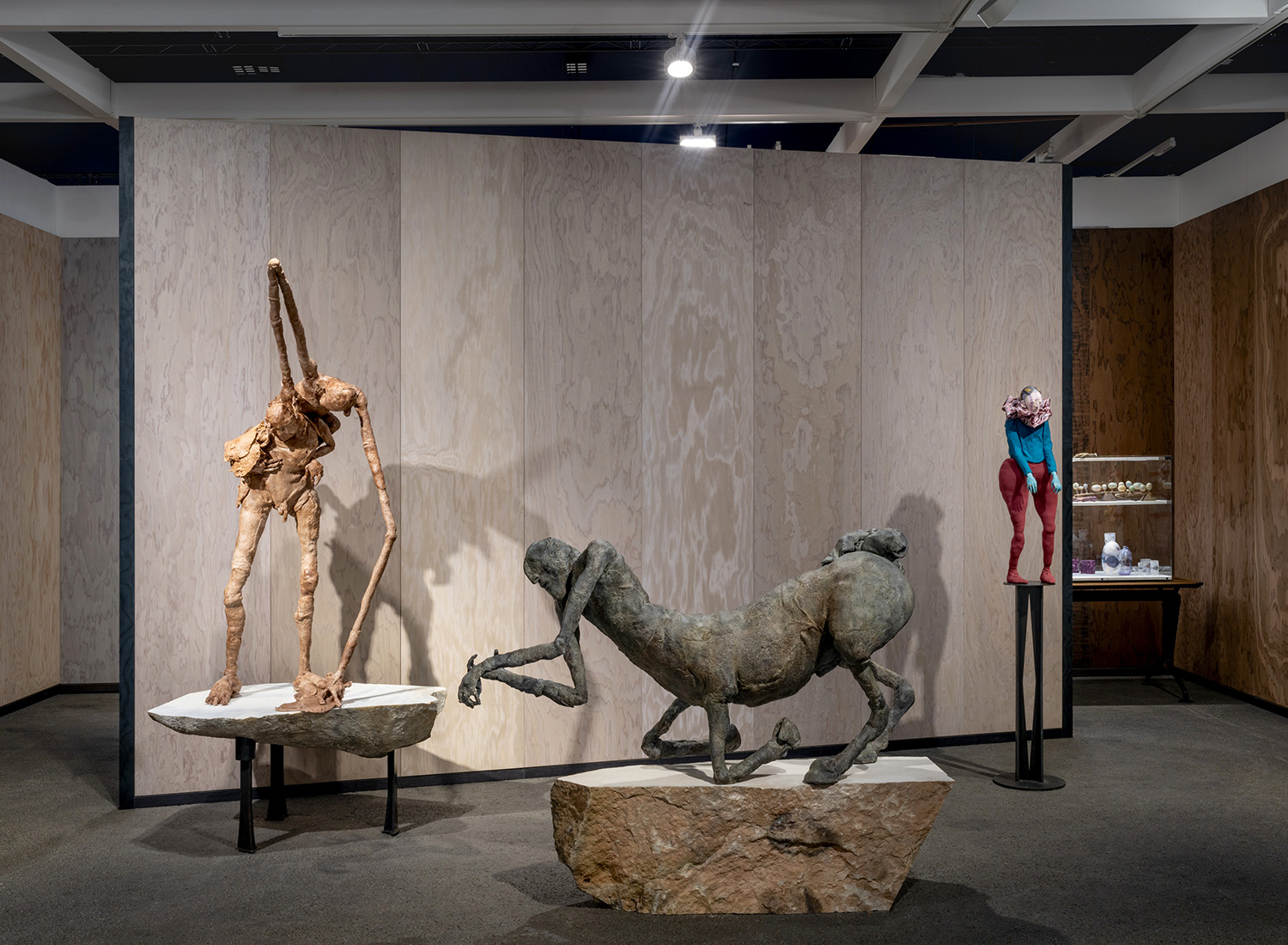 2. Francis Upritchard at Anton Kern Gallery
A London-based, New Zealand-born artist who represented her homeland in the 2009 Venice Biennale, Francis Upritchard makes strange figurative creatures in a variety of media and materials, which she amusingly presents in a marvelous, museological way. Merging elements of mermaids, centaurs, dinosaurs and fishermen into imaginary beings, the inventive artist constructs a sort of museum of unnatural history, where her odd characters are displayed on rock pedestals, under glass bell jars and in vitrines. Presented like the remains of an ancient civilization in a wood paneled room that totally transforms the gallery's booth, the works draw inspiration from literature, ancient sculptures, burial grounds, science fiction, folklore, miniatures and frescoes, while giving the viewer something that's completely new.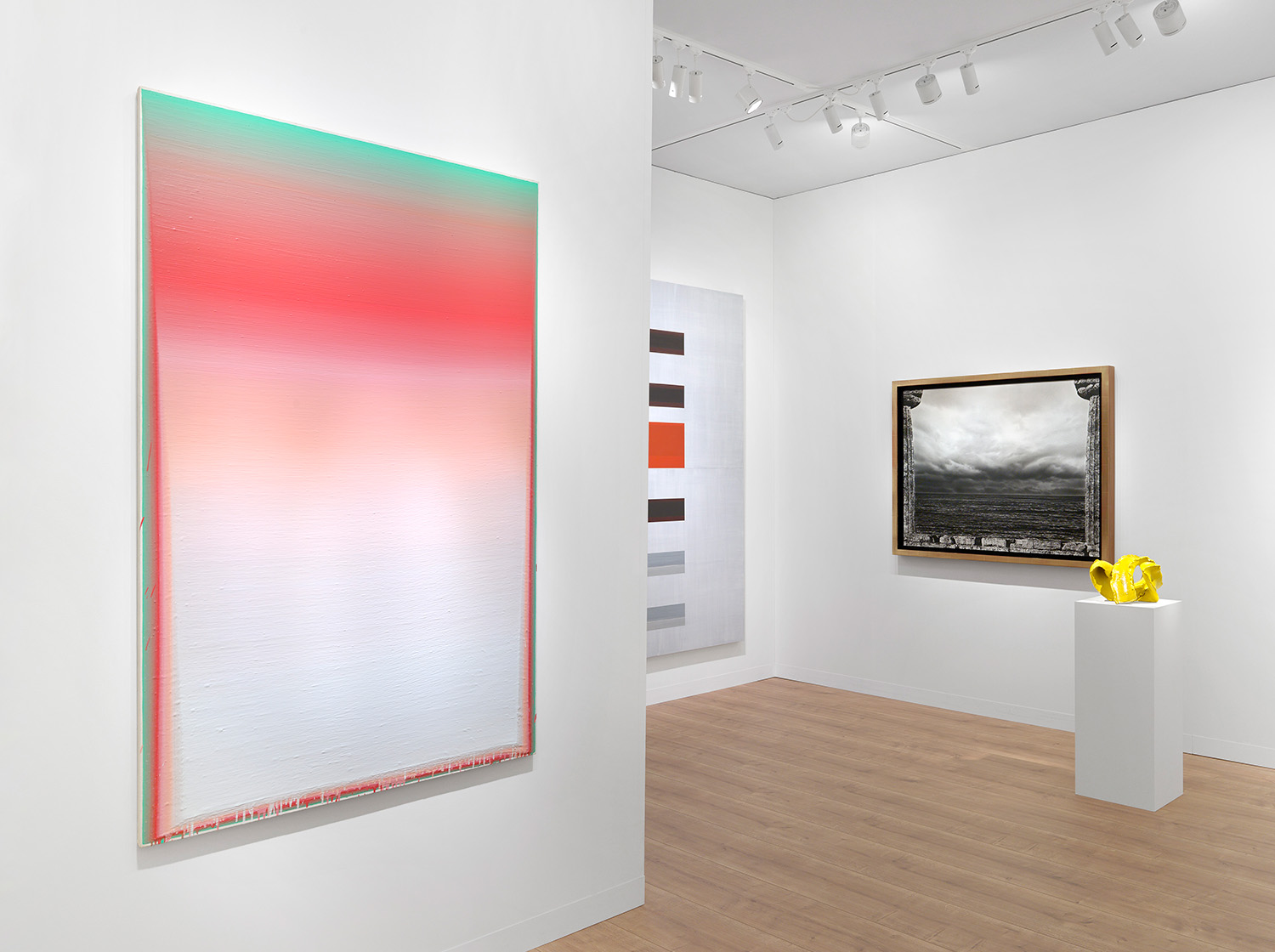 3. Pace Artists Respond to Rothko at Pace Gallery
Coinciding with a major Mark Rothko retrospective at the Fondation Louis Vuitton in Paris, the gallery is presenting a group exhibition of works by represented artists who have been inspired by the celebrated abstract artist or who make works in a similar artistic vein. Having represented the estate of Mark Rothko since 1978, the gallery directors have an understanding of the modernist master's work that exceeds many scholars and the attention to paid to the relationship of each particular work on view reveals the depth of that knowledge.
Earlier works, like Agnes Martin's painting with ethereal bands of ivory and sky-blue hues and Antoni Tàpies' black marble dust abstraction, which simulates a closed door, explore Rothko's influence on his contemporaries, while such recently commissioned works as Adam Pendleton's silkscreened panels in red and black and Loie Hollowell's pulsating red oval foam with a black hole at the center reveal Rothko's impact on their practices. Other works in the show have been specifically made in homage to Rothko, including a blue glazed ceramic sculpture by Arlene Shechet that highlights his and her experimentations with color and a light work by Leo Villareal, who takes Rothko's concepts of color into the digital realm with a wall-mounted sculpture that incorporates LEDs and custom software to investigate time, space and perception in a new, 21st century way.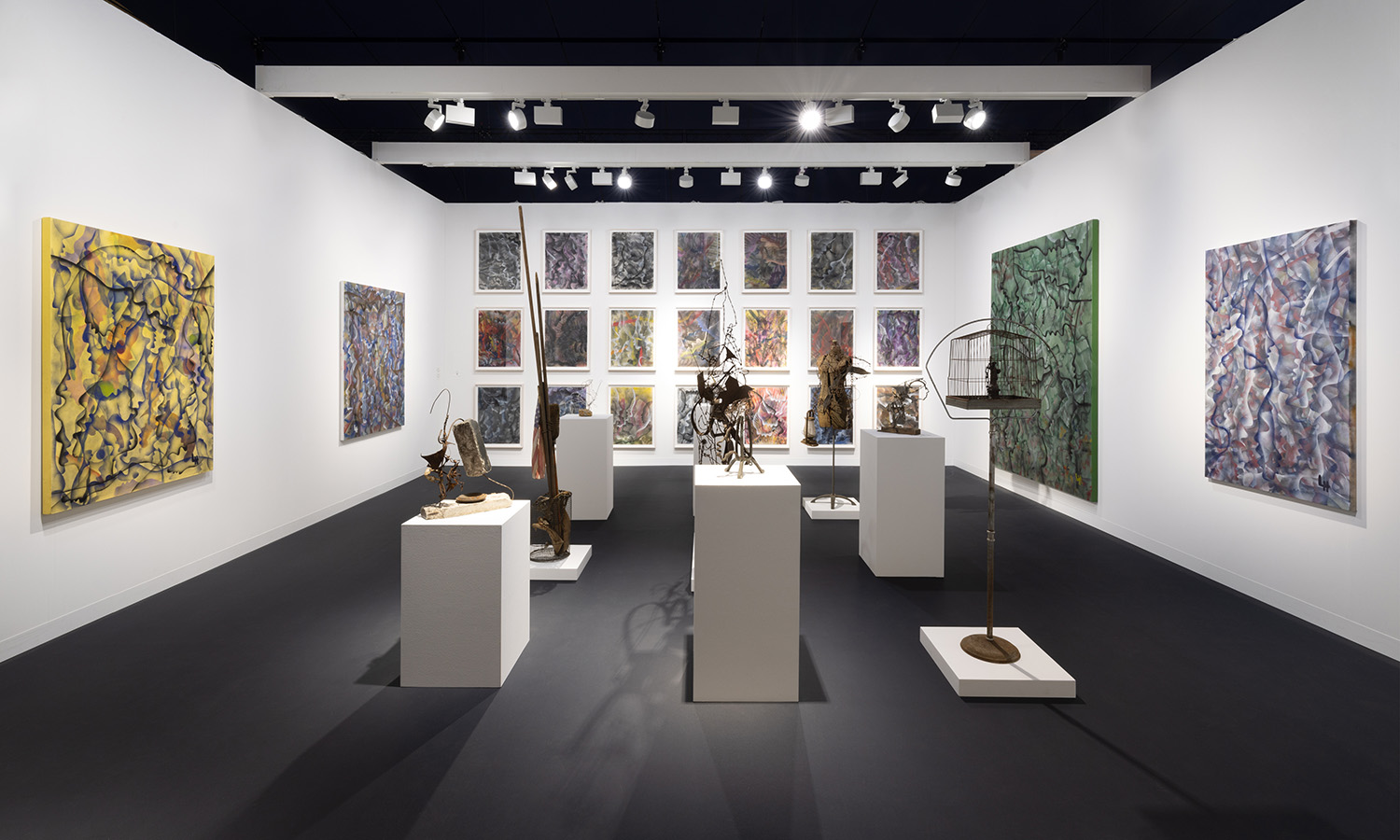 4. Lonnie Holley at BLUM
The seventh of twenty-seven children, Lonnie Holley was born in Alabama in 1950 and raised in America's Jim Crow-era South, where violent racism made his life a continuous struggle for existence. When two of his sister's children perished in a fire in 1979, the family couldn't afford tombstones, so Holley carved memorial markers from sandstones. Motivated to make more creative things, he took his artworks to the Birmingham Museum of Art, where the director recognized his self-taught talent and recommended him for a traveling Smithsonian Museum exhibition. Lonnie Holley, the artist, was on his way and the journey hasn't stopped.
Transcending the Outsider artist label, Holley has more recently been embraced by the fine art world as a creative original who can intuitively turn found objects into absorbing sculptural assemblages and layer images with paint, stencils, sprays and brushes to create highly persuasive paintings—precisely the kind of works on view in his solo booth at the fair. Mixing sculptural objects made from rusting metal and displayed on pristine white pedestals with surrounding paintings that layer facial profiles on paper and canvas, the artist transforms the gallery's booth into a delightful Holley-land, where people and things that have crossed his path come together to create a harmonious display of art.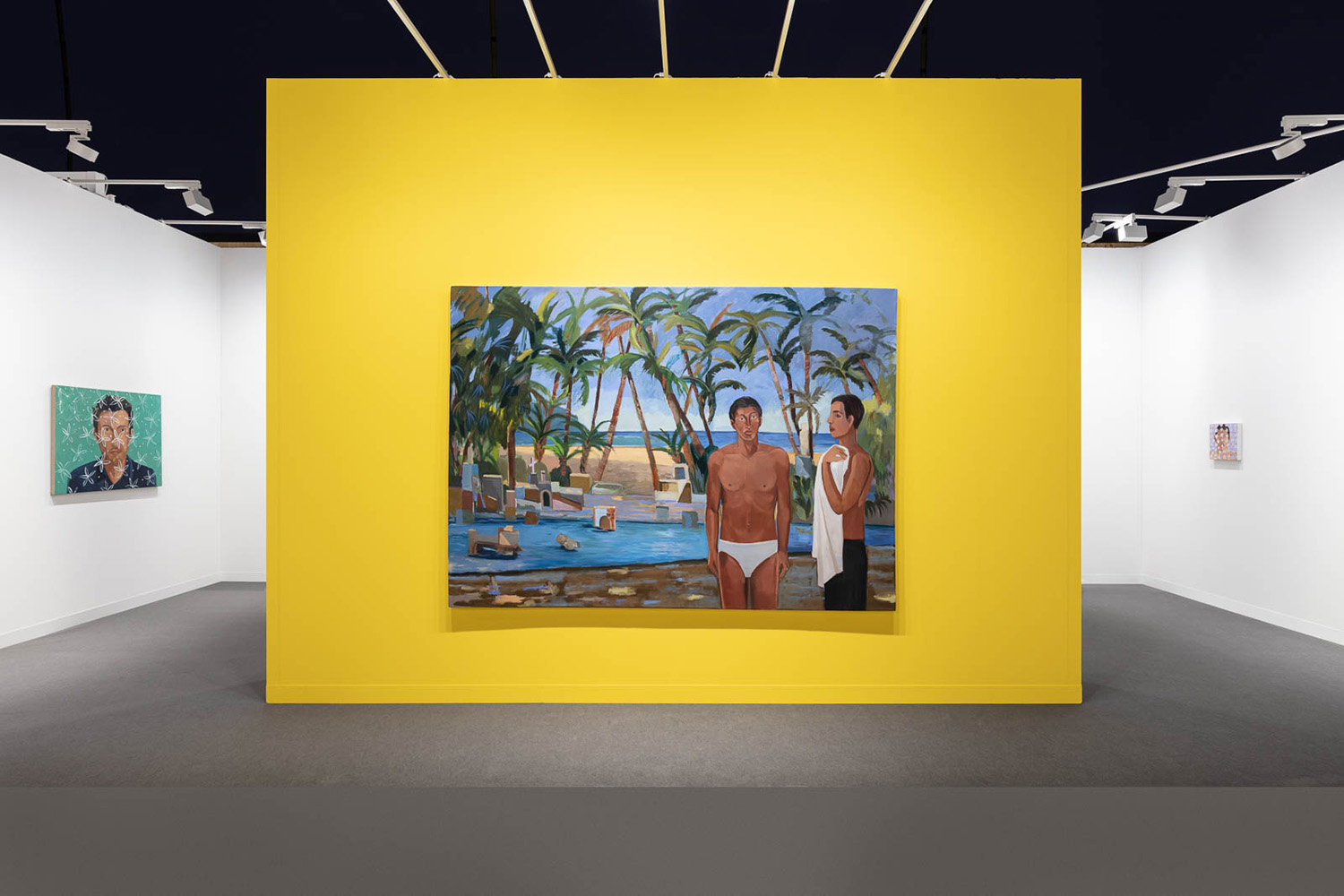 5. Roberto Gil de Montes at Kurimanzutto
A Mexican-American painter who migrated to Los Angeles as a teenager and became part of the city's Chicano art scene in the 1970s, Roberto Gil de Montes drifted into obscurity when his Los Angeles gallery closed in 2007. Moving back to Mexico with his partner, he settled in a small coastal town near Puerto Vallarta and continued to paint daily, making surreal portraits of everyday people that he would newly encounter or remember. Introduced by a friend during the pandemic to Kurimanzutto, one of Mexico's premier galleries, his work found a new audience and when the gallery brought his paintings to Frieze London he found a new champion, Cecilia Alemani, curator of the 2022 Venice Biennale exhibition "The Milk of Dreams."
Presented in a one-person exhibition at the gallery's booth, the 73-year-old artist has a mix of playful portrait paintings in a variety of sizes. A large recent painting on the outer wall, Boca Chica, captures two male swimmers on a beach with palm trees and odd sculptures of traditional buildings and ruins in a naïve style, while a 1995 painting composed from five connected canvases more formally depicts the heads of four swimmers in a pool. One of the quirkiest canvases on view, however, is the 2021 painting Welcome Home Party, which portrays a group of nude and costumed figures, including a devil and a Klansman, standing together like an assembly of misfits. Poetic in appearance, de Montes' paintings tell stories with hidden meanings, which makes deeply observing them while unraveling their mysteries doubly enjoyable.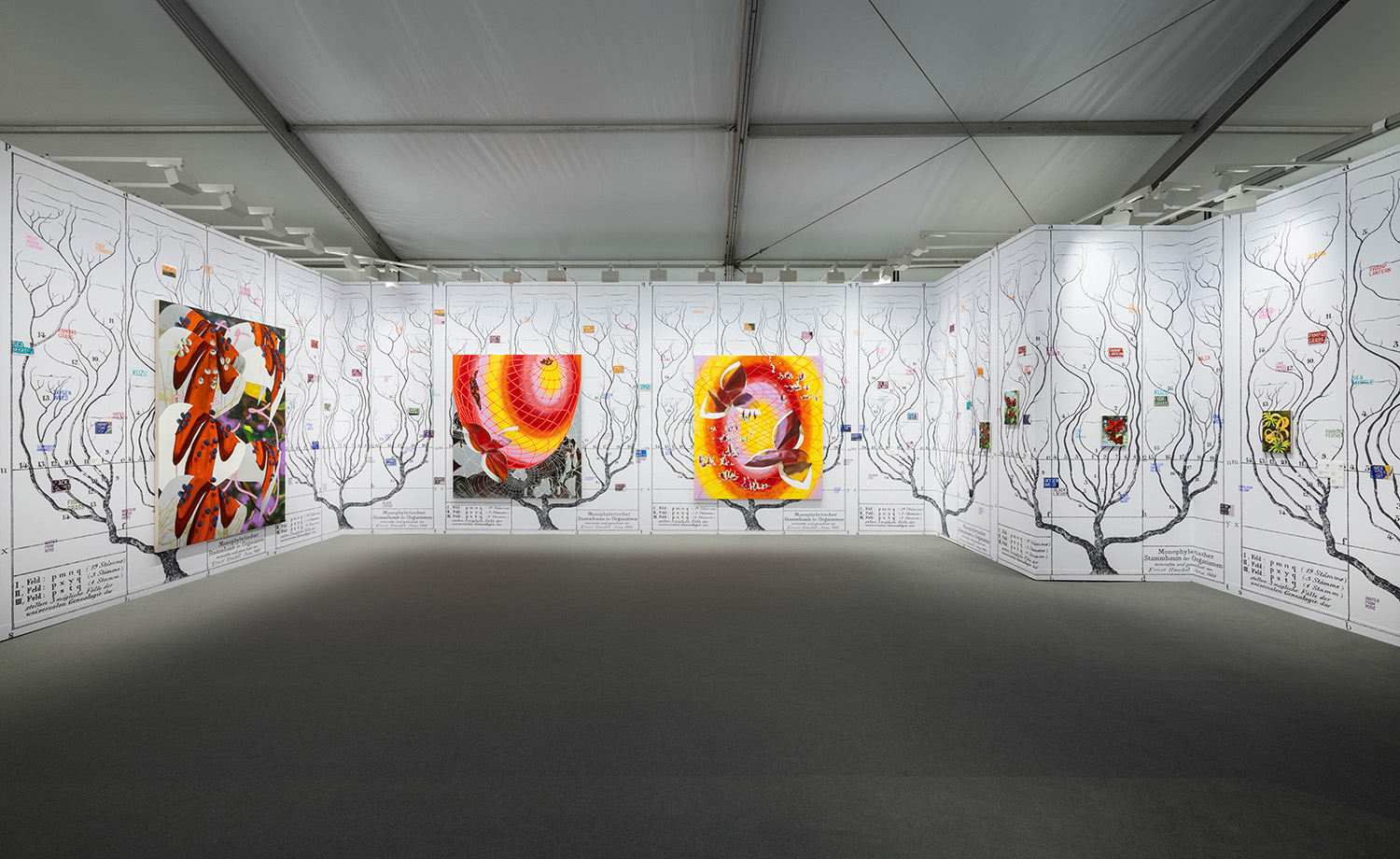 6. Rirkrit Tiravanija and Vivien Zhang at Pilar Corrias
Combining Rirkrit Tiravanija's site-specific wallpaper installation that reproduces the tree of life from the German naturalist Ernst Haeckel's General Morphology of Organisms and the artist's stencils of the names of invasive plant species with Vivien Zhang's large- and small-scale paintings based on ocean-orientated map projections, the gallery creates a sort of "gesumkunstwerk," or total work of art, with the conceptually oriented work of these multi-generational artists. Beautifully planned and totally in-sync, the colorful canvases by the Beijing-born, London-based Zhang look like fruit growing on the Buenos Aires-born, Thai artist's trees. Together, the two artists work cause us to pause and consider environmental concerns, even as they deliver plenty of aesthetic pleasure.
Next Post