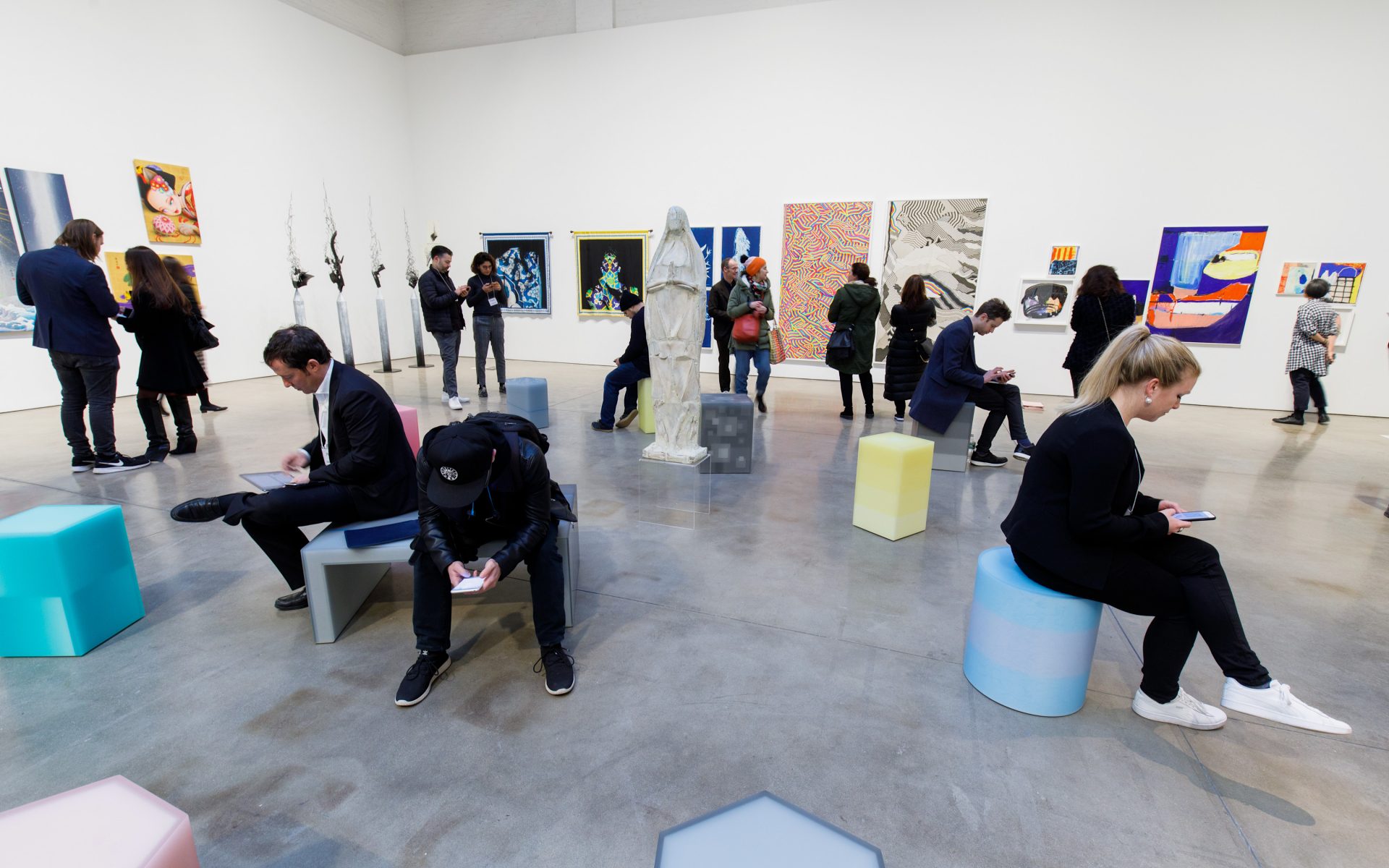 6 Artists to Discover at the Pop-Up Fair Plan B
After Volta was canceled, collector Peter Hort organized a backup fair in Chelsea
When art collector Peter Hort heard that New York's Volta art fair had been canceled just 11 days before it was due to open, he took the unfortunate news as a call to action. Speaking to Volta director Amanda Coulson, NADA director Heather Hubbs, and Independent cofounder Elizabeth Dee, Hort decided to turn lemons into lemonade with the pop-up exhibition Plan B.
Soliciting the help of his parents—contemporary art collectors Susan and Michael Hort, who have a good relationship with mega-gallerist David Zwirner—Hort was able to secure space from Zwirner at 525 West 19 Street and from a developer at 534 West 21 Street, the unoccupied edifice of Paula Cooper Gallery, which has temporarily relocated to 524 West 26 Street during construction of a bordering building.
Presenting the work of 33 artists in a variety of mediums from 32 international galleries, Plan B provides each gallery with 11 linear feet of exhibition space, which dealers are using inventively. The design companies KiiK Create and Facture Studio contributed furniture. By Wednesday, March 6, the new miniature art fair, which runs through Saturday March 9, was open for business.
"The art community has really come together in a way that makes us all proud," Peter Hort tells Galerie. "We've tried to adapt the spaces to the dealers who are participating, and they're making sales, which makes us equally happy."
Below, Galerie highlights six artists to discover at Plan B.
1. Frodo Mikkelsen
SFA Projects 
Playfully exploring the cycle of life, Frodo Mikkelsen makes magical sculptures that present the world we inhabit atop what we'll all become in death. Adding miniature environments to the crown of a cast skull, the Danish artist silver-plates his spirited creations to transform them into stirring works of art. Visually constructing tales that are both personal and traditional, Mikkelsen produces poetic pieces that are priced at $6,900—with each shiny object being one-of-a-kind.
2. Alan Butler
Green on Red Gallery
Born out of virtual space, Irish artist Alan Butler's prints and abstractions are inspired by the imaginary landscapes found in computer games and screen savers. Presenting cyanotype prints ($2,300) of plant life from computer games, where Butler takes virtual walks rather than competing, and abstract paintings ($12,000) that reinterpret rocky ridges from a digital screen saver, the conceptual works reference the early photography of British botanist Anna Atkins and the 19th-century American landscapes of the German-born painter Albert Bierstadt.
Recommended: 10 Standout Booths from the 2019 Armory Show
3. Oleksiy Sai
Voloshyn Gallery
Mining Microsoft Excel's digital software for its artistic potential, Oleksiy Sai remixes the complex content of the document's orderly boxes to make painterly prints that ironically reference office work. Both figurative and abstract, the Ukrainian artist's compositions digitally collage words and numbers from appropriated documents into colorful PDFs, which he then prints and mounts on aluminum. The prints, priced at $1,500 to 4,500, are displayed salon-style above a collection of hand-painted toy metal people, which Sai envisions as microscopic office workers ($3,000 for the lot) related to organisms under examination, grouped on a pedestal like growing mold.
4. Viktorie Langer
Zahorian & Van Espen
Blurring the boundary between figuration and abstraction in a painterly way, Viktorie Langer employs a variety of artistic techniques—ranging from brushing and spraying to pouring and painting—to colorfully surreal results. Playing with puns in her titles, the Czech artist places a loafer among her abstract markmaking in Pebble in the Shoe, onions in the abstracted Lions Cry (both priced at $12,000), and a pair of skeletal fingers in the painterly realm of Tired Hands, which is priced at $4,500.
5. Sam Jackson
Charlie Smith London
Inspired by a cross-section of history that includes literature, theater, music, and film, Sam Jackson paints imaginary pictures of sophisticated women, which he then expressively alters with graffiti, words, and images. Revealing a bit of a punk sensibility, the abused portraits bring to mind Francis Picabia's grotesque depictions of people in his celebrated series of "Monster" paintings from the 1920s and Dr. Lakra's tattoo embellishments of figures in found imagery, which he continues to make. Priced at $3,500—and selling quickly—the small-scale paintings are paired with Alex Jay Morrison's canvases of cartoonish beasts, which are also rooted in portraiture.
6. Borinquen Gallo
Burning in Water
Motivated by her cross-cultural, multinational upbringing, Borinquen Gallo—born to a Puerto Rican mother and an Italian father in Rome—makes work that references her growing up in the Bronx while holding on to memories of her early childhood in Italy. Utilizing police caution tape, web construction tarps, plastic bags, and tablecloths from neighborhood bodegas, the New York artist makes vine-like wall hangings ($12,000 each) and installations that comment strikingly on urban culture. Likewise, Gallo's hubcap sculptures ($1,500 each, $7,000 for the set of eight on view) use found materials—discarded aluminum auto rims and architectural molds filled with Bondo—which she assembles and spray-paints silver to turn one man's trash into another's treasure.
Next Post