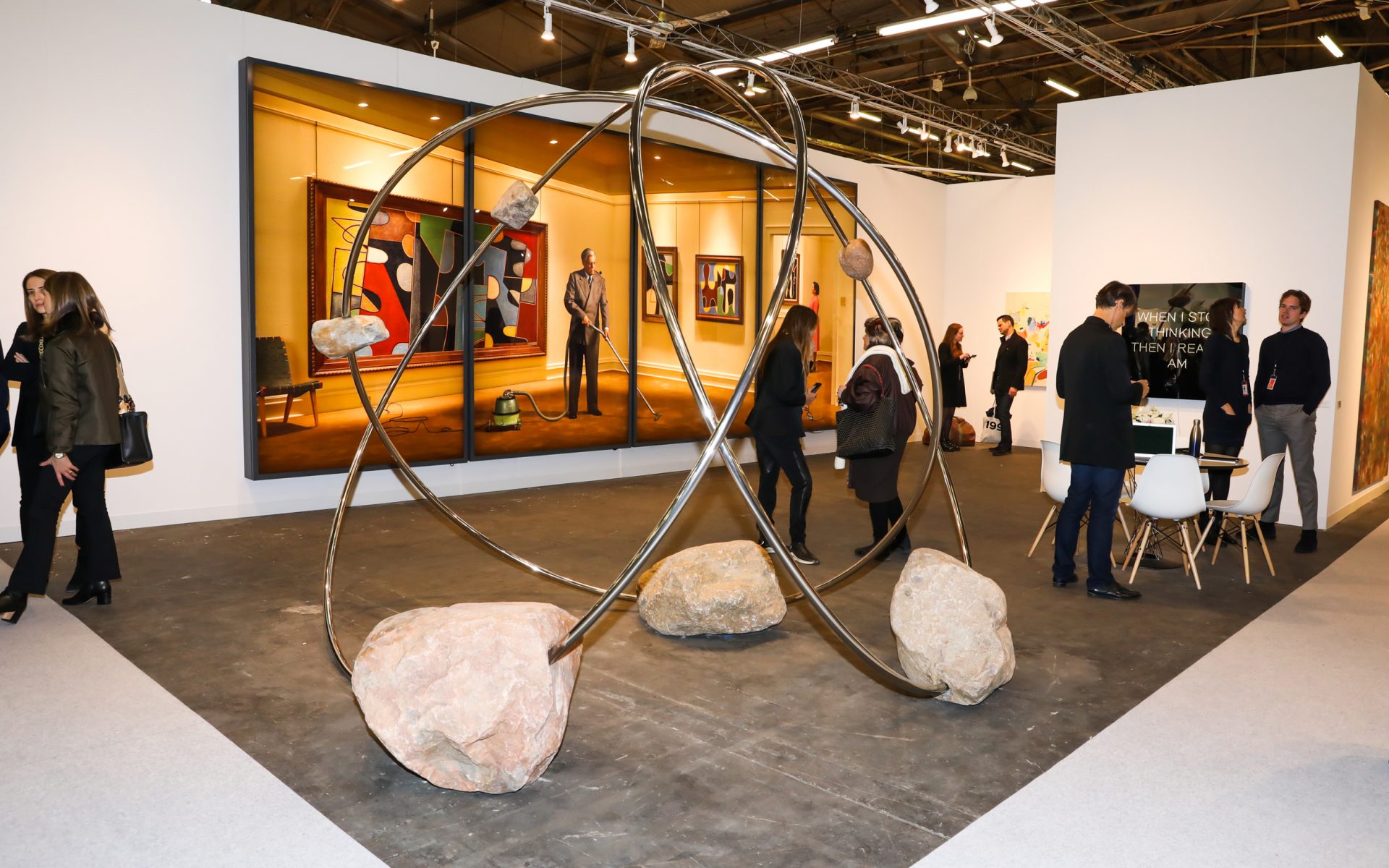 10 Standout Booths from the 2019 Armory Show
The fair's 25th edition stands out with solo booths and thoughtfully curated sections
On a particularly chilly yet sunny morning, swarms of collectors flocked to the Armory Show, signaling the start of the New York art calendar. The 2019 edition of the storied fair brings together 197 galleries hailing from 33 countries, including several that are participating for the first time. This year also marks the 25th anniversary of the fair, which began in 1994 as a scrappy affair with a group of now established dealers like Matthew Marks and Tanya Bonakdar selling works in the rooms of the Gramercy Park Hotel. "I sold my first works on paper by Luc Tuymans to MoMA on the hotel bed," Belgian dealer Frank Demaegd of Zeno X tells Galerie at the preview. His was one of the galleries at the inaugural Armory Show, and this is its first presentation at the fair since.
"We have been working really hard to create programming that relates to that moment," says Armory executive director Nicole Berry. To honor the fair's beginnings, the Gramercy International Prize was introduced to support young and pioneering New York galleries by awarding a free booth. This year, the prize went to Ramiken. Elsewhere, artist Mark Dion re-created his famous lemonade stand from the original fair. "All these projects give the fair context and look back to its roots," says Berry.
The fair looks slightly different this year in other ways, too. Just a week before opening, organizers were told that parts of Pier 92, where half the show traditionally takes place, were structurally unsafe. As a result, one-third of the exhibitors were relocated to Pier 90, the location of the sister fair Volta, causing it to be abruptly canceled. While Volta galleries scrambled to score booths at the satellite fairs such as Art on Paper, many signed on to Plan B, a pop-up event organized by mega-dealer David Zwirner and collector Peter Hort, which opened March 6.
Despite the controversy, the mood at the fair on opening day was buoyant and a number of big-name collectors, curators, and art-world players were spotted, including the New Museum's Massimiliano Gioni; Serpentine Galleries curator Hans Ulrich Obrist; artists Ryan Gander, Bosco Sodi, and Mark Manders; and celebrities such as Sofia Coppola.
Along with the usual mix of 20th- and 21st-century works presented at the galleries, what stood out was the tightly curated special sections, which gave the viewers more of a museum experience and the chance to momentarily step away from the commercial aspect of the fair.
Sally Tallant, for example, who was formerly the Liverpool Biennale curator and now a curator at the Queens Museum, organized the Platform section using the 1939 World Fair as the model. "It was a time when there was a lot of despair and artists were looking for hope and resilience," Berry tells Galerie. One standout—and instant Instagram attraction—was African artist Pacale Marthine Tayou's work Plastic Bags, which was suspended in the middle of Pier 94. "It's a very discrete piece," says his effervescent dealer, Richard Taittanger, with a laugh. "It's a statement about the state of the world today, a comment on consumerism and globalization and pollution."
Meanwhile, at Pier 90, the Focus section was presented as a mini–museum exhibition, curated by the talented Lauren Haynes from the Crystal Bridges Museum. There, visitors were presented with a selection of emerging and historic works, with a focus on women and minority artists grappling with questions of identity.
Read on to discover Galerie's picks of the standout booths across both piers.
Leo Villareal at Pace
The 75-foot Star Ceiling by the celebrated light artist Leo Villareal illuminates the passageway between Piers 92 and 94, creating the sensation of walking under a night sky or through a magical cosmic realm. The largest digital-media artwork ever presented by the fair was created in collaboration with Pace, which dedicated its booth to a series of smaller works by Villareal from his new  series "Instance," half of which sold for $48,000 on the opening day. "I want everyone to experience Leo Villareal's sky ceiling," Berry tells Galerie. "It was created especially for the fair, and it's such an amazing immersive experience."
"Soul of a Nation" artists at Michael Rosenfeld Gallery
Michael Rosenfeld presents an ambitious booth inspired by the important exhibition "Soul of a Nation: Art in the Age of Black Power," which was recently on view at the Tate and the Brooklyn Museum. On view was a group of 16 abstract and figurative African-American artists from the 1960s and '70s, 14 of which are represented by the gallery. Standouts include an early painting by Bob Thompson rendered in his highly personal, expressive style, on offer for $850,000, and a contemporary-looking painting in soft pink pastel by Alma Thomas. The gallery also sold a beautiful red canvas by Frank Bowling for approximately $500,000 in the first few hours.
Florine Démosthène at Mariane Ibrahim Gallery
Mariane Ibrahim, who is in the process of moving her gallery from Seattle to Chicago, presents a vibrant emerald green booth housing a solo presentation by Haitian-born, U.S.-based artist Florine Démosthène. The exquisite collages using materials such as ink, mylar, and glitter each sold for $7,000 in the opening hours. "Florine uses her body to reflect on questions of identity and displacement and also gender and notions of superheroism," says Ibrahim. It's the third solo presentation of an artist presented at the Armory by Ibrahim, who caused a stir with her booth last year featuring Lina Iris Viktor. "The presentation is meant to enhance the experience of looking at her work, and it was totally designed by her."
Eric Croes at Sorry We're Closed
A series of whimsical, colored ceramic sculptures and totems by Belgian artist Eric Croes are found at the entrance of the Focus section at Pier 90. "Croes often uses exquisite corpses to create his works," says gallery director Emilie Pischedda, referring to the game in which each body part is drawn by a different member. "He is also inspired by many different cultural motifs, from tribal masks to snowmen." On the opening morning, many were sold to private collectors at prices ranging from $4,000 to $25,000.
Liliana Porter at Carrie Secrist
The 78-year-old Argentinean artist shows no signs of slowing down with a playful new group of work at the Chicago dealer Carrie Secrist mixed with more historic pieces. Among the new works created for the fair is a group of figurines, Them with Traveler, on offer for $50,000. "Liliana was here installing and curating the booth," gallery founder Secrist tells Galerie. "What it reveals is that she's as sharp a talent as ever, and following a series of important museum exhibitions such as the El Museo Barrio, she's having a major resurgence."
Ajarb Bernard Ategwa at Jack Bell London 
First-time exhibitor Jack Bell presents an eye-catching booth by the emerging artist Ajarb Bernard Ategwa. The bustling, colorful metropolis of the artist's hometown in Douala, Camaroon, is what inspires his vibrant paintings. Depicting everything from taxi stands to roadside markets with a Pop Art aesthetic, the paintings convey a sense of both camaraderie and chaos.
Carla Accardi at Massimo Minini
The revered Italian dealer showcases a striking booth of late works by the artist Carla Accardi, who was associated with the Arte Informel and Arte Povera movements and a founding member of the Italian art groups Forma and Continuità. "She was one of the great pioneers of Italian art," Serpentine Galleries artistic director Hans Ulrich Obrist tells Galerie, who was spotted admiring her works at the booth. "She was one of the great pioneers of Italian art, not only in painting but installation. She has always been a great heroine of younger artists such as the legendary Franz West. She is an artist's artist. She deserves to be well-known."
Federico García Lorca at Galería Max Estrella
Three charming works on paper by one of the most important Spanish poets and dramatists of the 20th century sold within minutes of the fair opening, two for $150,000 and the final for $250,000. "While best known for his writing, he was a talented artist," Gregorio Camarra tells Galerie. A friend of Dalí and the Surrealists, Lorca produced imaginative drawings that are most often found in black and white, making these colored versions particularly sought after. Also on view is an experimental projection by José Val del Omar, another groundbreaking artist inspired by the Surrealists.
Von Bartha
The Swiss gallery presents a mix of modern and contemporary artists, including a group of striking pieces by Imi Knoebel, paintings by Landon Mertz, and three exquisite hand-thrown glass vessels in various shades by London-based artist Anna Dickinson, who has been showing with the gallery for 25 years. A bold carpet by Karim Nourdelin finishes the space.
Brie Ruais at Albertz Benda 
Ceramics has arguably achieved peak popularity in contemporary art, evident at many of the booths at this year's fair, and the young Brooklyn artist Brie Ruias is certainly shaping the future of the medium. In a highly performative manner, she literally pushes, scrapes, and kneads the clay with her body before firing the organic shapes with bold colors. The works, priced from $20,000 to $30,000, both recall topographical maps and allude to the trauma that humans have on the land.
The Armory Show is on view at Piers 90 and 94 through Sunday, March 9. 
Next Post