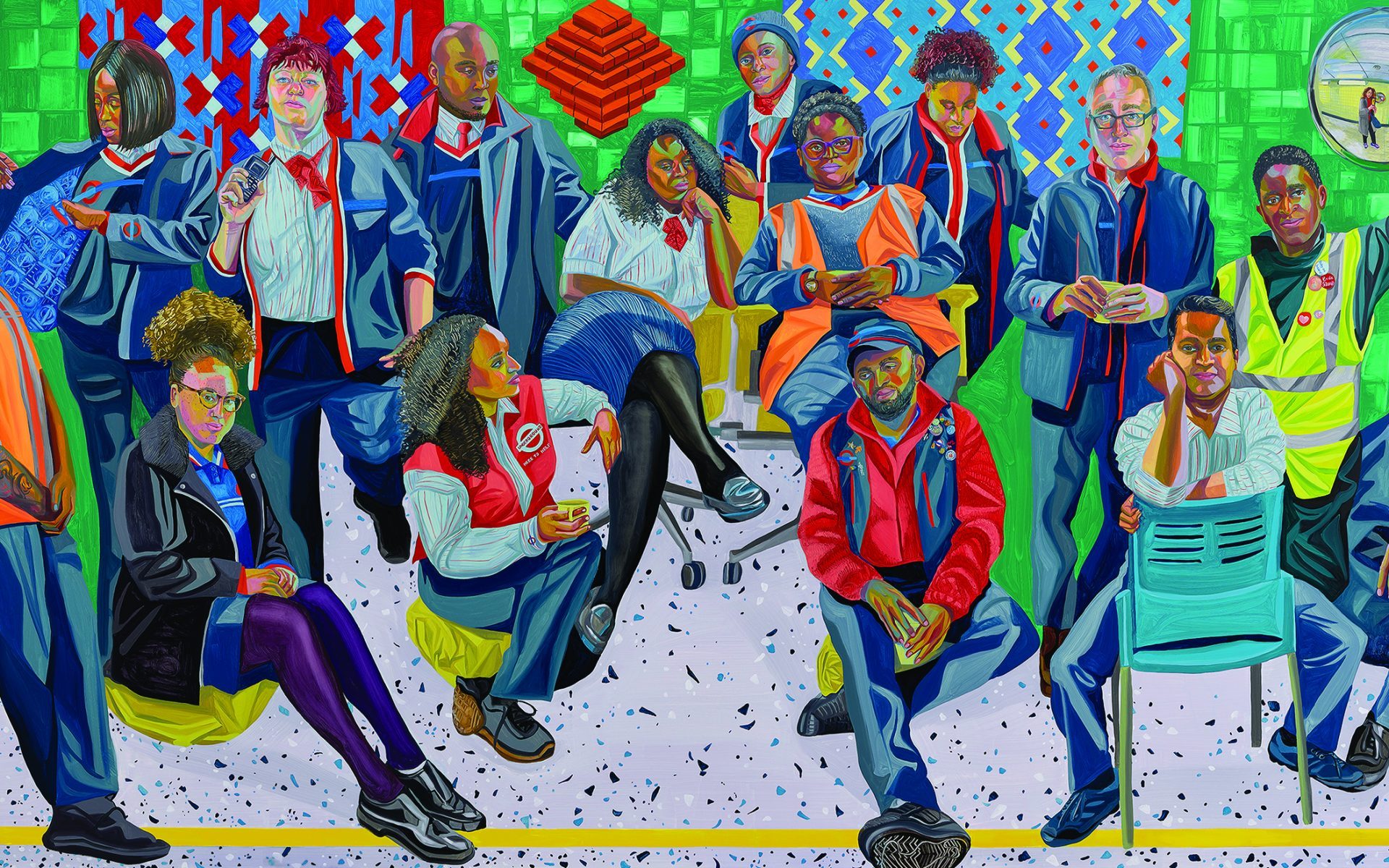 5 Must-See New York Shows by Women Artists
From Loie Hollowell at Pace to Amy Sherald at Hauser & Wirth, these exhibitions should be on everyone's list
From Chelsea to midtown, women artists are kicking off the fall season with some of the strongest art exhibitions in town. Ranging from Loie Hollowell's interpretations of motherhood with her abstract canvases at Pace to Sarah Sze's mixed-media installations that encompass the whole space at Tanya Bonakdar Gallery, we round up five must-see solo shows to add to your cultural calendar.
1. Loie Hollowell: Plumb Line
Pace
Through October 19
Following presentations at Pace's outposts in Hong Kong and London, Loie Hollowell makes her New York debut with the gallery on the second floor of its grand, new global headquarters in Chelsea. Offering nine abstract canvases, the exhibition is titled "Plumb Line" for the way the paintings present color-coordinated, geometric forms that symmetrically split each canvas. Abstracting the human figure, the works take the artist's recent plunge into motherhood as the point of departure—with paintings like Red Hole and Postpartum Plumb Line presenting the various stages of pregnancy and birth.
The painting Yellow Ovum features a pulsating ovular form overlaid with contrasting purple shapes that define the female figure. Capturing later aspects of human development, Birthing Dance in Green shows tiny fingers moving from darkness to light, while Milk Fountain shows little hands grasping at breasts for the vital life force. By skillfully employing such materials as paint, sawdust, and high-density foam, this rising star creates a completely abstract yet magnificent vision of maternity.
Recommended: Pace Gallery Debuts Its Massive Chelsea Flagship
2. Hayv Kahraman: Not Quite Human
Jack Shainman Gallery
Through October 26
An Iraqi refugee who fled her homeland as a child with her family during the first Gulf War, Hayv Kahraman grew up in Sweden and studied art in Italy before finally settling in the U. S. Referencing her wartime trauma and status as an immigrant who could never fully belong to a homogenous society, Kahraman uses the female figure as a metaphor for expressing her pain. Employing elements of calligraphy, Italian Renaissance painting, Japanese printmaking, and illuminated Arab manuscripts, she paints exotic women who are both submissive and fierce.
In her double show at Shainman's two Chelsea locations, the L.A.-based artist uses the repeated figures of performing contortionists in sheer, patterned outfits to represent the dehumanizing aspect of bending over backward in order to be accepted. The Contortionist 1 presents an exotic seductress with her body jackknifed over her head, while The Tower strangely captures five contorted women stacked on top of one another to create a disturbing centipede-like sculpture. The boundaries between drawing, painting, and sculpture are further blurred in a series of Persian miniatures with intertwined figures and painted metal air ducts, which are both physically frightening and erotically charged.
3. Amy Sherald: The Heart of the Matter…
Hauser & Wirth
Through October 26
Amy Sherald rose to international fame when she was commissioned by the National Portrait Gallery in 2016 to paint the portrait of Michelle Obama that now hangs in the Smithsonian Institution in Washington, D.C. Working from photographs she takes of anonymous African Americans that she often meets on the streets, Sherald paints her subjects with gray skin tones to uniquely represent them in a more universal way.
For her first one-person show since painting the now-famous portrait and her first solo outing in New York, the artist presents eight new portraits of primarily singular young people in patterned clothing, which she finds on eBay, against monochromatic grounds. The Girl Next Door features a robust woman with unusually bright red lips wearing a polka-dot dress against a turquoise background and A Single Man in Possession of a Good Fortune presents a handsome male against a beige field clad in a grid-patterned sweater with a cityscape on it. But she hits a new height with the jumbo canvas Precious Jewels by the Side, which strikingly portrays two couples playfully posing on a beach.
4. Sarah Sze
Tanya Bonakdar Gallery
Through October 19
After initially studying painting, Sarah Sze launched her career as a sculptor, but over the years she added photography, video, printmaking, painting, and installation art to her experimental process with an aim of bringing the studio directly into the gallery. A winner of the coveted MacArthur Genius Grant in 2003 and the United States's representative in the 2013 Venice Biennale, Sze comes back to her beginnings in this show of paintings and sculpture, which turn the two floors of the gallery into a gesamtkunstwerk, or total work of art.
Before getting to the paintings, however, Sze immerses viewers in some installations that begin on the façade of the gallery and continue into the reception area. Deconstructing her experimental process, she displays the materials that went into making the work. As viewers go deeper, Crescent presents a video and sculptural installation that mirrors the deluge of imagery that surrounds us in our mediated world, where everything is available at the swipe of a finger. And in a sense, it sets the stage for the re-creation of her painting studio and collaged canvases that follow in the back gallery and upper floor, where Sze shows us how art is spellbindingly generated from what already exists.
Recommended: Video: Frieze Sculpture Opens at Rockefeller Center in New York
5. Aliza Nisenbaum: Coreografías
Anton Kern Gallery
Through November 2
A standout in the 2017 Whitney Biennial, Aliza Nisenbaum paints portraits of people and communities in a colorfully realistic manner. Making her New York gallery debut, Nisenbaum expands upon the portraits of immigrant communities that she exhibited at the Whitney to include members of a New York salsa dancing group and British subway workers, whom she met while working on a recent Art of the Underground commission in London. Her engaging exhibition—titled "Coreografías," which is Spanish for choreographies—is inspired by a quote from poet Alice Walker: "Hard times require furious dancing."
The intimacy and joy of the dancers are visible in paintings like Ximena and Randy, Sunrise, and Mis Cuartro Gracias (Brendan, Camilo, Carlos, Jorge), which show a couple at the end of a night of dancing and a group of young men in the act of spinning one another around. The role-playing that she captures in the faces and poses of the dancers is also visible in the portraits of the London Underground employees, which culminates in the painting London Underground: Brixton Station and Victoria Line Staff. Nisenbaum complements these two bodies of work with an expansive portrait of the complete Anton Kern team and a series of life sketches that she made as studies for her enchanting canvases.
Next Post