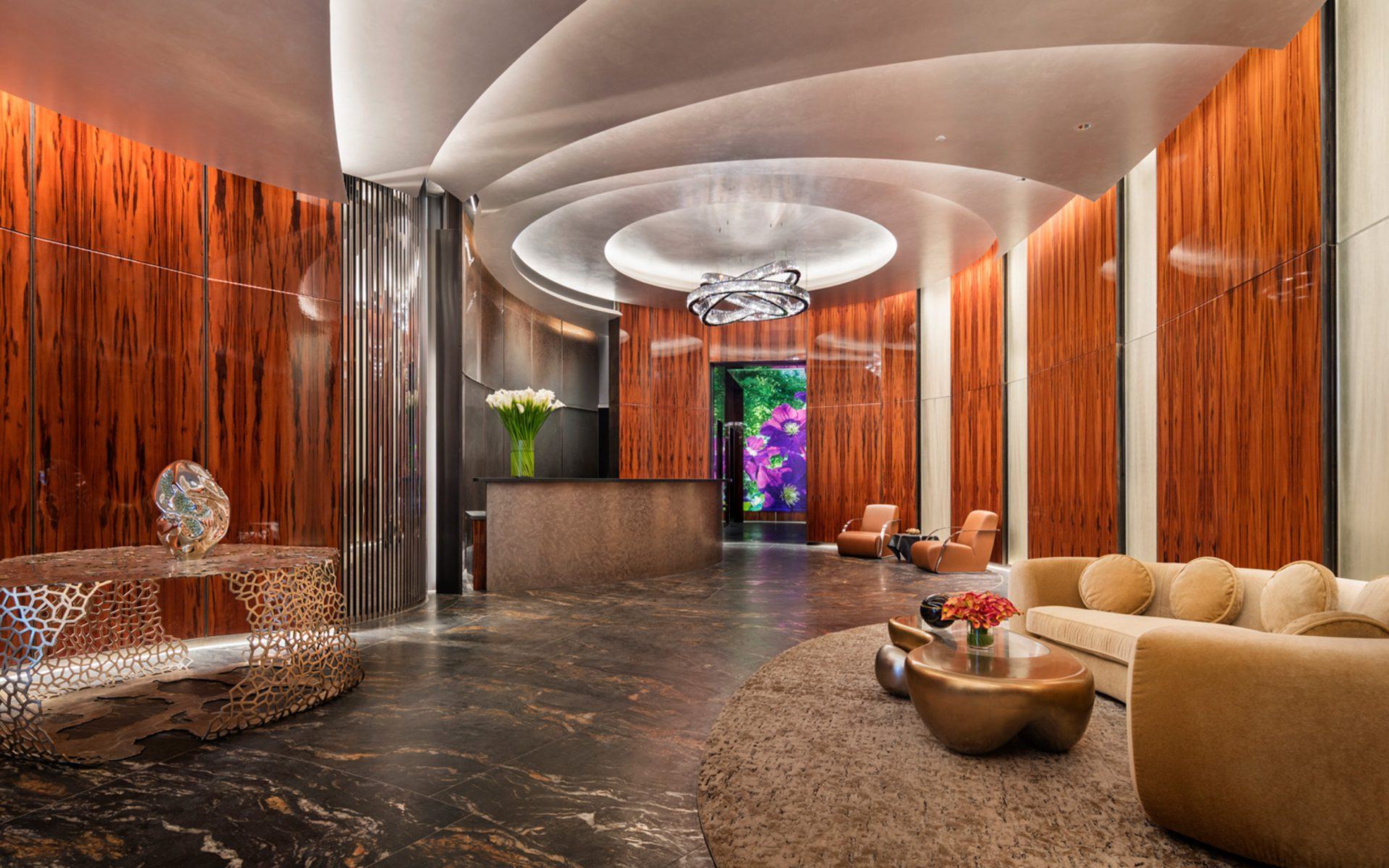 Why 35 Hudson Yards Is Manhattan's Most Luxurious New Address
The 92-story limestone beauty boasts custom artwork by Helena Hernmarck, interiors by Tony Ingrao, and Equinox Hotel amenities
Amid the glittering glass giants on Manhattan's west side stands 35 Hudson Yards, a tapered tower sheathed in limestone that gracefully emerges from an undulating base. Soaring 1,010 feet, the 92-story skyscraper is the tallest residential building in the surrounding Hudson Yards neighborhood, which was developed by Related Companies and Oxford Properties Group.
Described by its architect, David Childs of SOM, as a "beautiful señorita flamenco dancer," the 143-unit building has garnered raves for its dazzling Tony Ingrao–designed interiors and amenity spaces. (Among them are a residents-only fitness center equipped with a yoga studio and meditation room, a screening room with wet bar, a golf simulator, and a private terrace with catering services.) Paved with satin-finished French oak floors and featuring floor-to-ceiling windows, the residences are as plush as they come—so plush, in fact, that Related CEO Stephen Ross secured a sun-drenched penthouse for himself and his wife, jewelry designer Kara Ross, earlier this year.
Recommended: How Luxury Fashion Brands Are Creating Real Estate Gold
Nevertheless, there remain enticing options for those hoping to get a slice of the action: Another penthouse, this one occupying the entire 91st floor, recently hit the market for $59 million, listed with Corcoran. If it fetches anywhere near that price, the 10,000-square-foot aerie would be among the most expensive apartments ever sold south of 42nd Street.
In addition to the bevy of residents-only amenities, floors 24 to 38 of the building are home to the world's first Equinox Hotel, which debuted in July. Comprising 212 rooms, the flagship accommodation also boasts a 60,000-square-foot fitness center, a spa with cryotherapy chambers, and three pools—one of which is located on a terrace that overlooks Heatherwick Studio's copper-tinted Vessel.
There is also custom artwork made by Swedish textile artist Helena Hernmarck, who, in 2003, was commissioned to design a series of tapestries for Ross at the Time Warner Center in Columbus Circle. "I never dreamed that he would contact me again," says Hernmarck, who practices out of Ridgefield, Connecticut. "But in 2016 he invited me down to Hudson Yards and told me he wanted something no one else had for the lobby of his new building."
Recommended: 6 of New York's Most Beautiful New Restaurants
So Hernmarck got to work, conjuring a colorful 225-square-foot tapestry for the walls and ceiling of the residential elevator lobby. "It's the first time my work has been on a ceiling, so we built a full-scale model of the elevator lobby in my studio to figure out how it would be installed," reveals the artist, who insists on using wool from a rare breed of Swedish sheep for an ultra-glossy end product.
The idea for the floral motif came from Ross himself. "I always draw from the space, and in this case I knew it had to be seen from the front door. I wanted something on a big scale," she recalls. "Stephen suggested a big bunch of flowers on that wall, and I thought, Aha. The inspired moment came when I saw the elevator lobby as a cardboard box and that I could get a long and narrow composition by looking through it like that."
Vertical and horizontal bands of LED lights illuminate the tapestry, named Flowers, from side alcoves, giving the work a photorealistic quality when viewed from a distance—despite its abstract appearance up close. "Nothing is sharply defined," she says. "I work against the two-dimensionality of weaving to find the illusion of depth."
For its part, Related is thrilled with the commission. "Helena's vibrant, one-of-a-kind art piece is a perfect complement to Tony Ingrao's stunning interiors," said Sherry Tobak, senior vice president of sales at Related Companies. "It demands your gaze and takes you on a journey as soon as you enter the building with its deep and vibrant colors."
Next Post