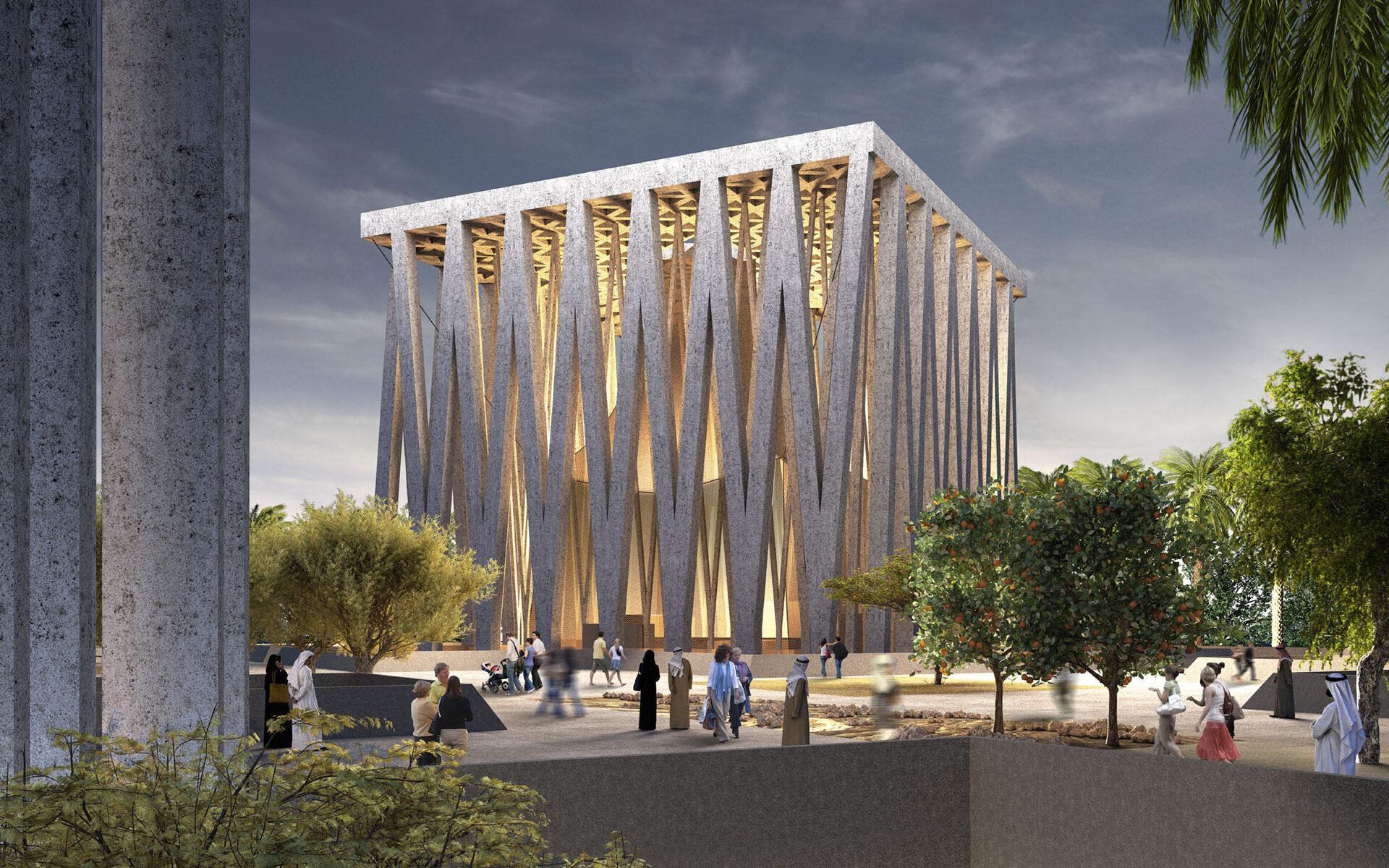 The 9 Most Anticipated Architecture Projects Opening in 2022
This year will bring a slew of innovative buildings designed by major architects including Bjarke Ingels, Jeanne Gang, and David Adjaye
Despite starting out with another pandemic wave, 2022 is shaping up to be a banner year in the architecture world, with a slew of major projects coming to fruition. The only building designed by late architect Zaha Hadid in her home country of Iraq will finally make its long-awaited debut, sprouting from the banks of the Tigris River like a desert palm. There are also new designs by other Pritzker-Prize winners—among them SANAA, Rem Koolhaas, and Thom Mayne—not to mention innovative structures by red-hot talents like Bjarke Ingels, Jeanne Gang, and David Adjaye. See below for the full list, which will take you from New York to Taipei and back again.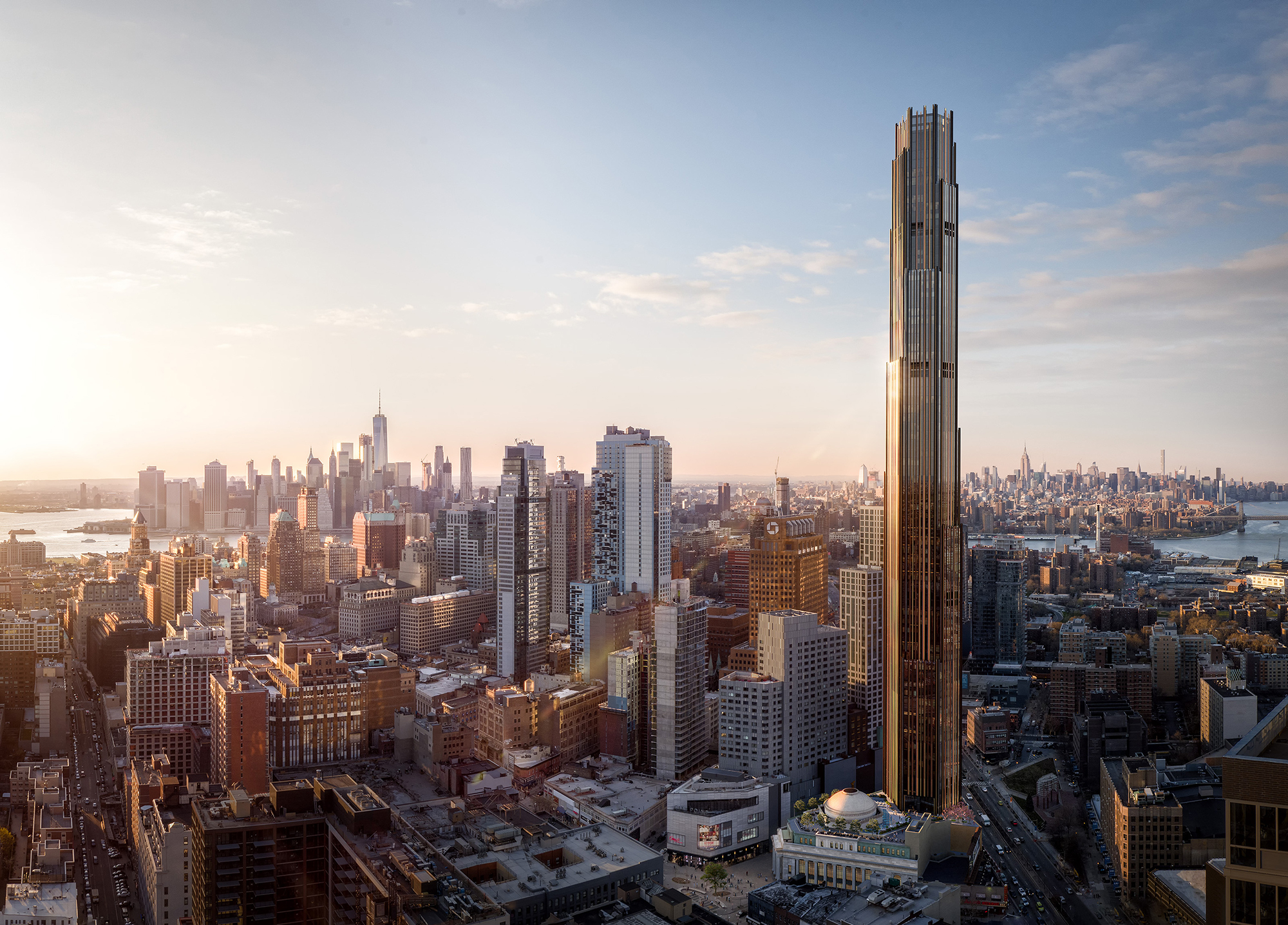 1. The Brooklyn Tower by SHoP Architects | New York
Soaring over 1,000 feet above downtown Brooklyn, this new residential tower by SHoP Architects is set to become the tallest in the borough when completed later this year. Clad in a striking mix of glass and bronze, the 93-story building will soon be home to 550 apartments (150 of which are condos) as well as 100,000 square feet of retail space. Developed by JDS, the complex will also incorporate the neighboring Dime Savings Bank, a 1908 Beaux-Arts landmark sheathed in marble with ionic colonnades and a central dome. Sales will reportedly launch early this year.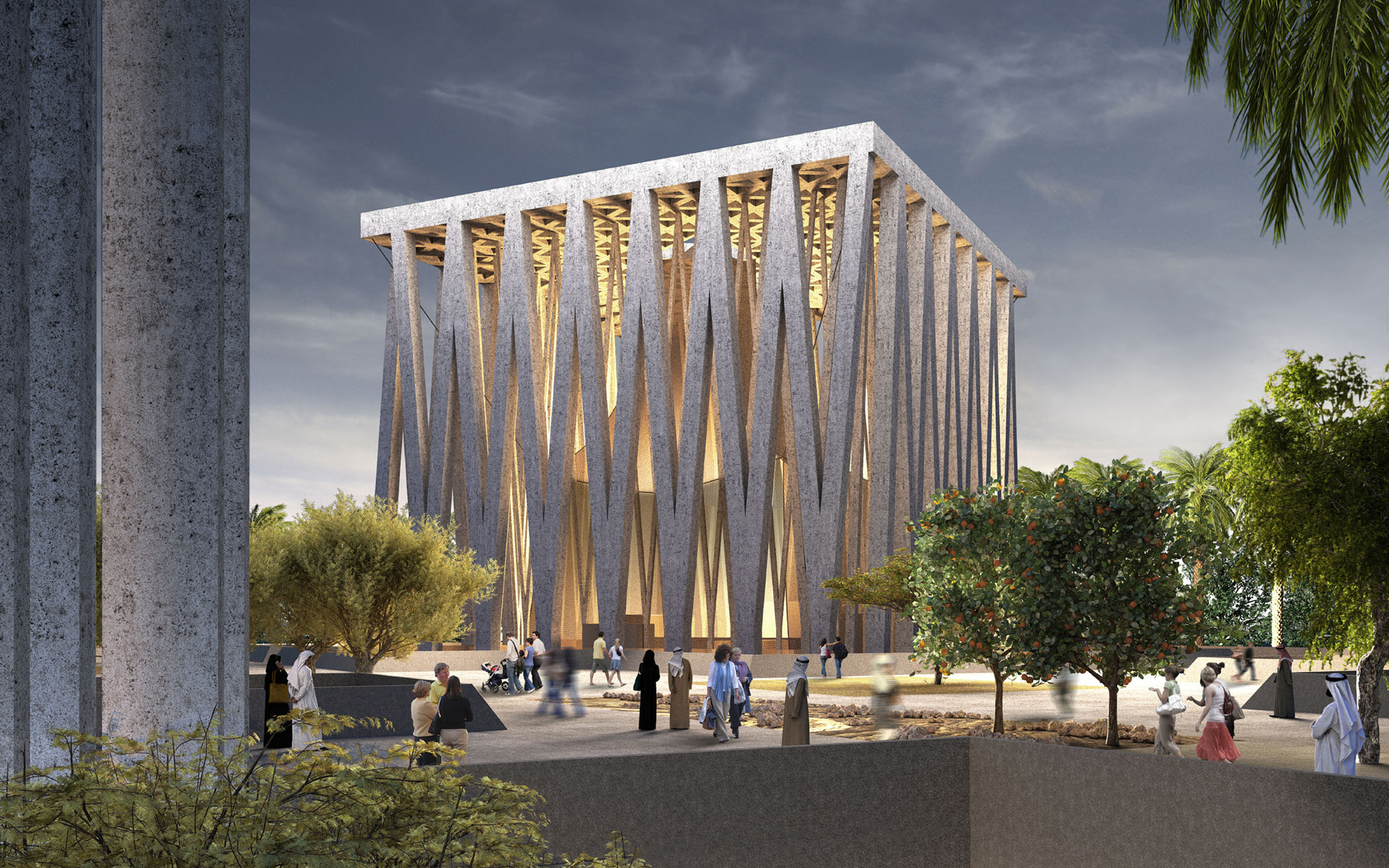 2. Abrahamic Family House by Adjaye Associates | Abu Dhabi
Ghanaian-British architect Sir David Adjaye, best known for designing the National Museum of African-American History and Culture in Washington D.C., masterminded this monumental interfaith complex on Abu Dhabi's Saadiyat Island, also home to the Louvre Abu Dhabi. Comprised of a mosque, a church, and a synagogue, the campus is the manifestation of the Document on Human Fraternity for World Peace and Living Together, an agreement signed in 2019 by Pope Francis, His Eminence Dr. Ahmed el-Tayeb, and the Grand Imam of Al Azhar. (The compound will also include a secular gathering space and shared garden.) Though unified through their cube-shaped silhouettes, each house of worship is distinguished with its own distinct curtain wall that evokes the tenets of the particular faith.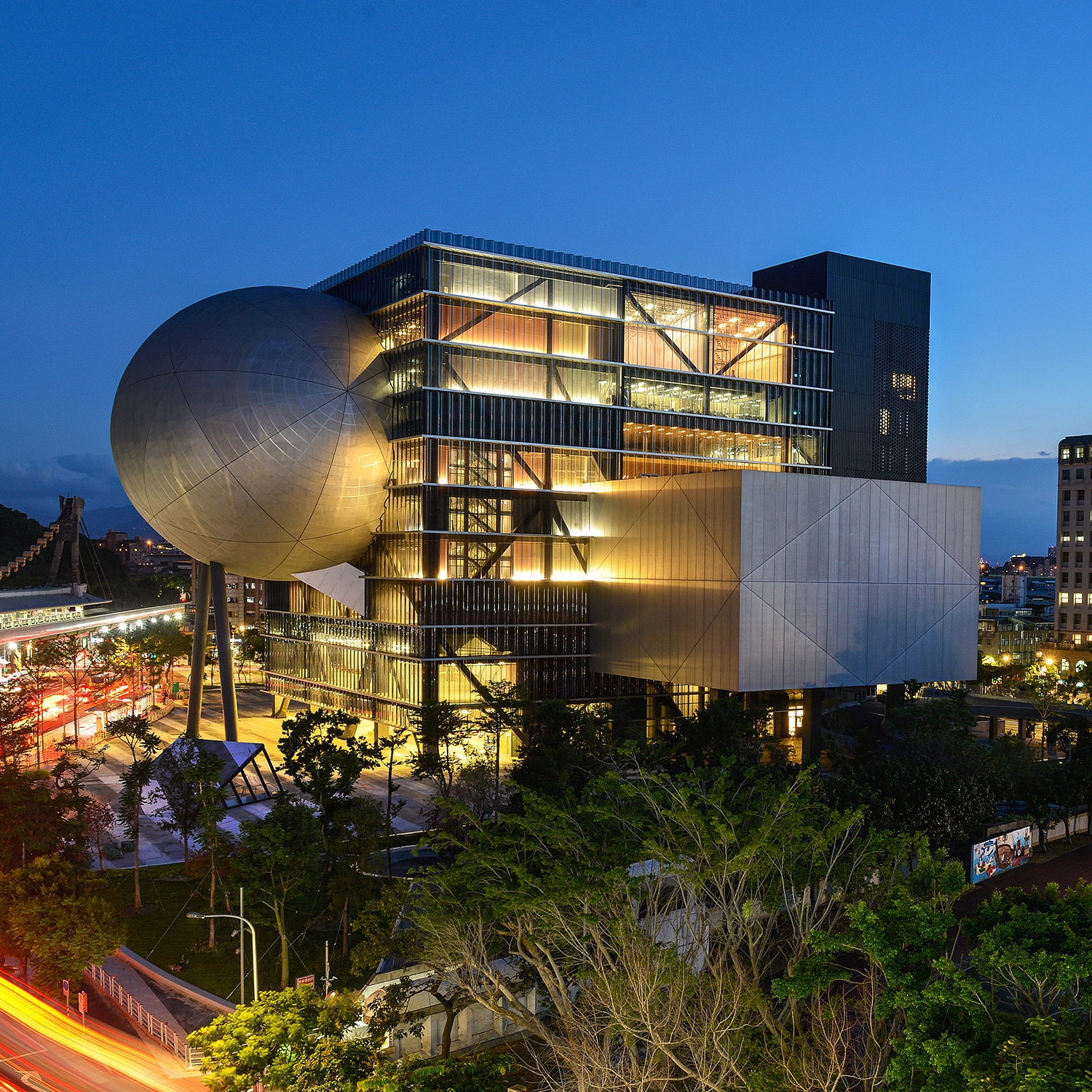 3. Taipei Performing Arts Center by OMA | Taipei, Taiwan
The Taiwanese capital will soon be home to the Taipei Performing Arts Center, a futuristic edifice crafted by OMA, the firm of Pritzker Prize-winning architect Rem Koolhaas, in collaboration with architecture studio KRIS YAO | ARTECH and engineering company Arup. Due to open this summer, the 635,000-square-foot complex is comprised of three theaters, each of which protrudes from a glazed central cube in a different way. (The aptly-named Globe Playhouse, for instance, has a moonlike quality.) Two of the performance spaces—the Blue Box and the Grand Theater—also combine to form one 2,300-seat facility.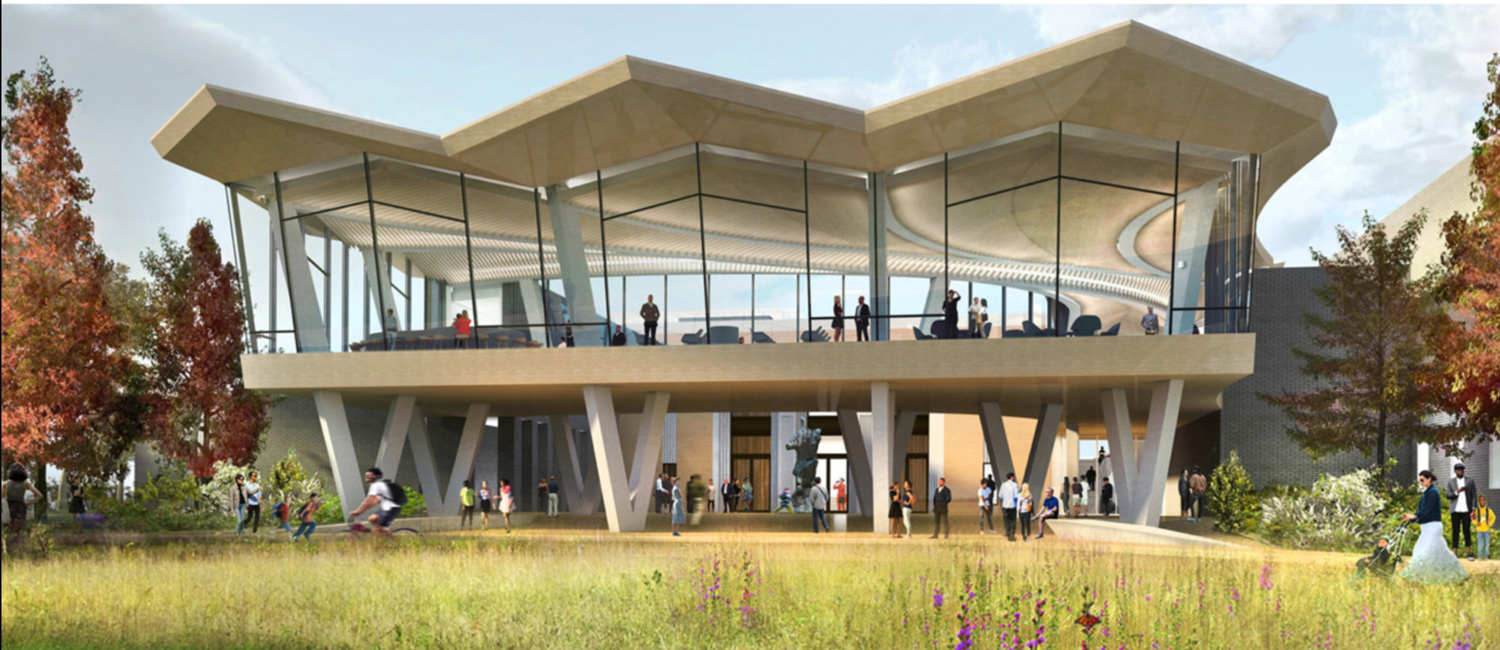 4. Arkansas Museum of Fine Arts by Studio Gang | Little Rock, Arkansas
Expected to debut this fall, the Arkansas Museum of Fine Arts adds architectural panache to the state capital of Little Rock. Conceived by Chicago-based Studio Gang with landscape architecture by SCAPE, the project aims to unify the 13-acre campus of what was previously known as the Arkansas Arts Center. Crowned by a folded concrete roof, the new 133,000-square-foot building features a series of curving pavilions that link the existing structures, some of which date to the 1930s and are being renovated. In addition to expanded art galleries, the edifice will house the Windgate Art School and flexible performance spaces.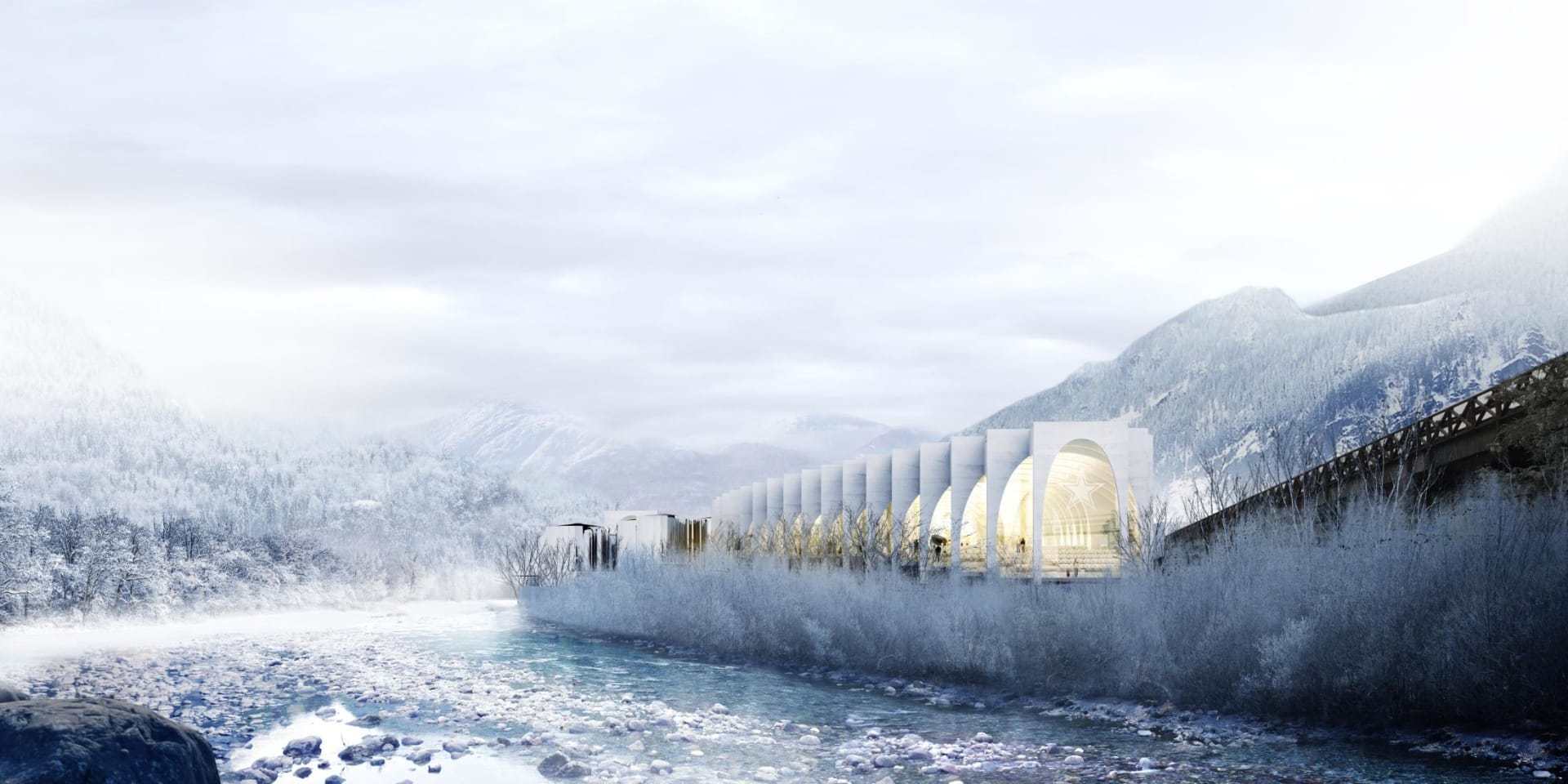 5. San Pellegrino Flagship Factory by BIG | Italy
Dubbed the "Factory of the Future," San Pellegrino's new headquarters and bottling plant in Northern Italy melds heritage with innovation thanks to a striking design by Danish architect Bjarke Ingels, who won the 2017 competition, besting other leading firms MVRDV, Snøhetta, and aMDL. The 180,000-square-foot complex features classic Italian architectural details, like arcades, porticos, and a piazza, and is organized around a 30-foot core sample of the earth that represents mineral water's route from mountainside to bottle.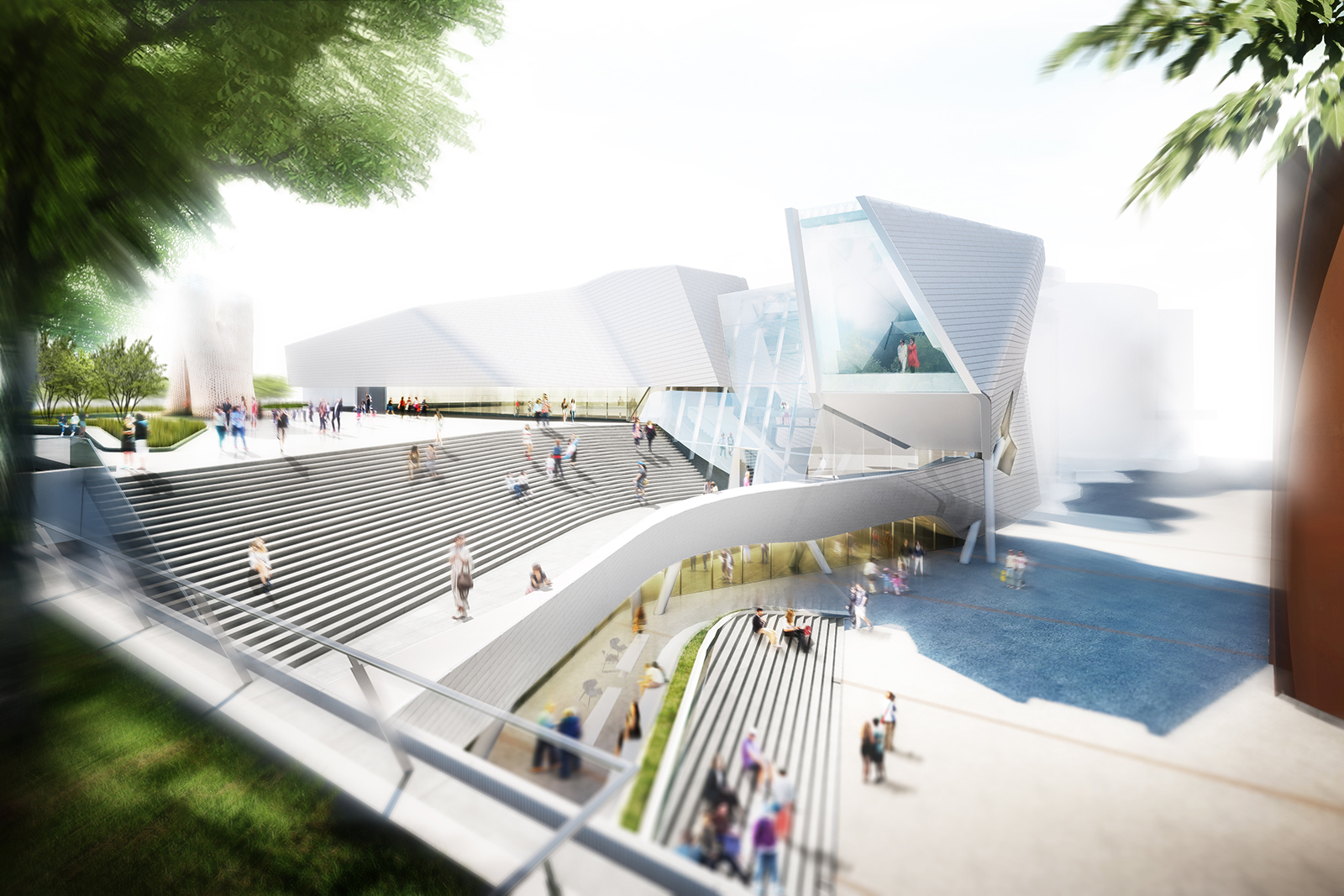 6. Orange County Museum of Art by Morphosis | Costa Mesa, California
This avant-garde museum by Pritzker Prize-winning architect Thom Mayne's firm, Morphosis, is slated to open its doors in early October. Located on the campus of the Segerstrom Center for the Arts, the new Orange County Museum of Art brings the idea of a grand public staircase (a la the Metropolitan Museum of Art) to Southern California. Encompassing 53,000 square feet, the white terra-cotta building features flexible gallery spaces, designed to be reconfigured to showcase a variety of media, and a rooftop terrace that covers nearly three-quarters of the structure's footprint, meant for a range of uses including a sculpture garden and film screenings.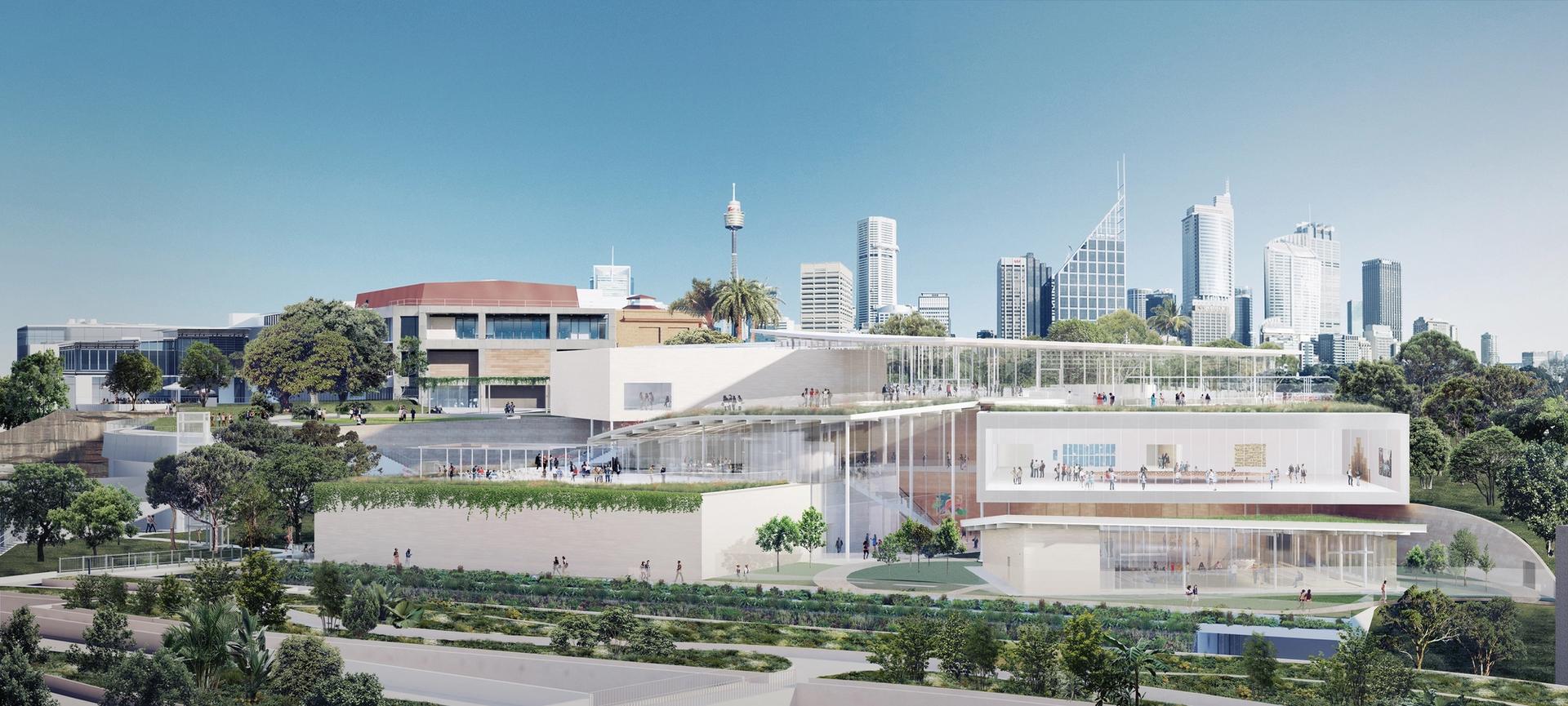 7. Sydney Modern Project, Art Gallery of NewSouth Wales by SANAA | Sydney
Innovative Japanese architecture firm SANAA, whose founders won the Pritzker Prize in 2010, crafted this glass-walled expansion to the Art Gallery of New South Wales, set to open at the end of the year. The $540 million project, which overlooks Sydney Harbor, provides a modern contrast to the institution's existing 19th-century Neoclassical home, as the new standalone structure—dubbed Sydney Modern—features a series of cascading pavilions crowned with green roofs, while a public art garden will link the past and future edifices.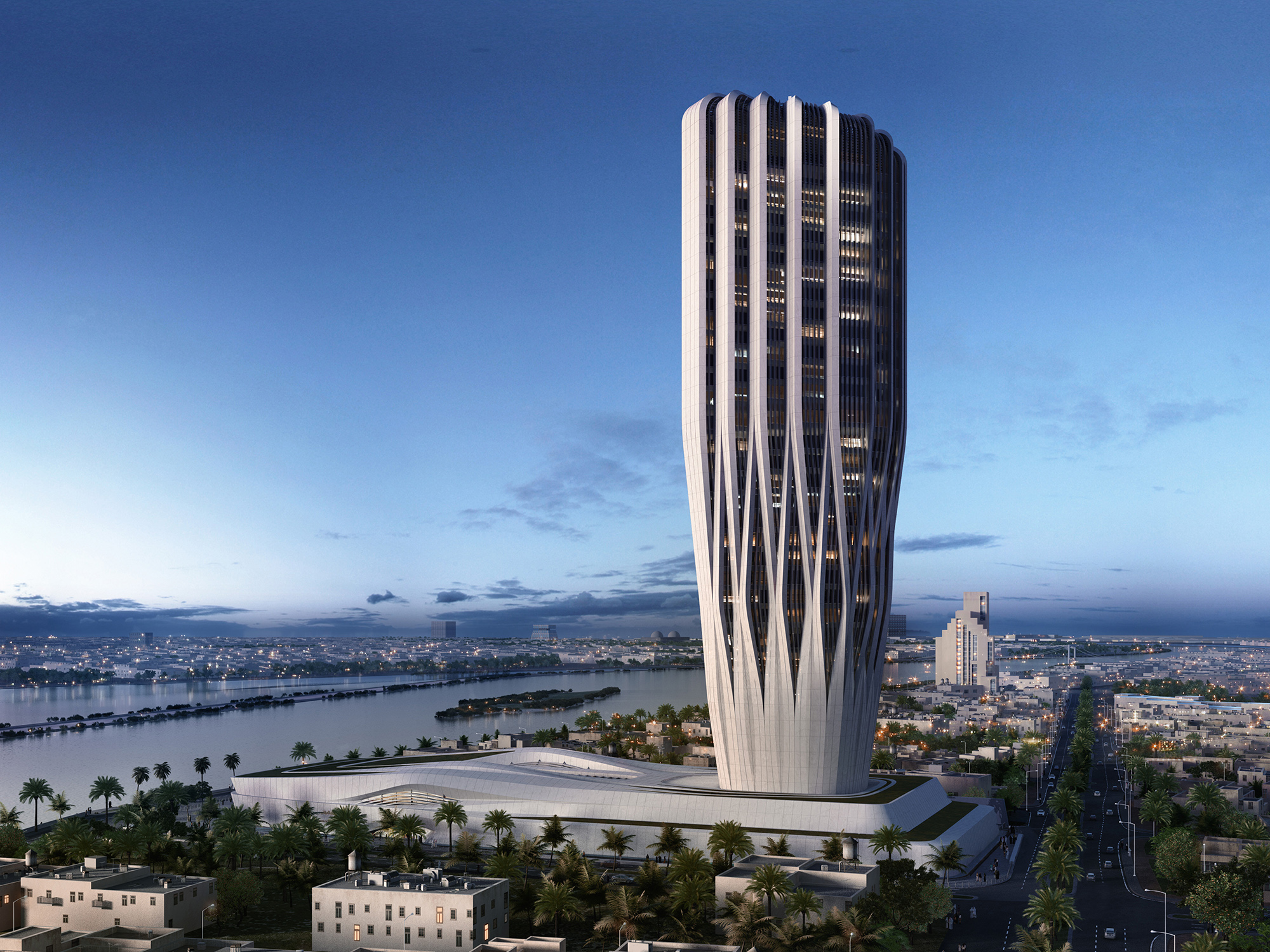 8. National Bank of Iraq by Zaha Hadid | Baghdad
The only building designed by late British-Iraqi architect Zaha Hadid in her home country, this 560-foot-tall tower is due to open this year on the banks of the Tigris River. Conceived to symbolize the "solidity, stability, and sustainability" of the financial institution and usher in a new era for the war-torn Middle Eastern country, the high-rise is composed of blast-resistant glass and reinforced concrete, but nevertheless maintains all of the grace and style associated with its famous creator.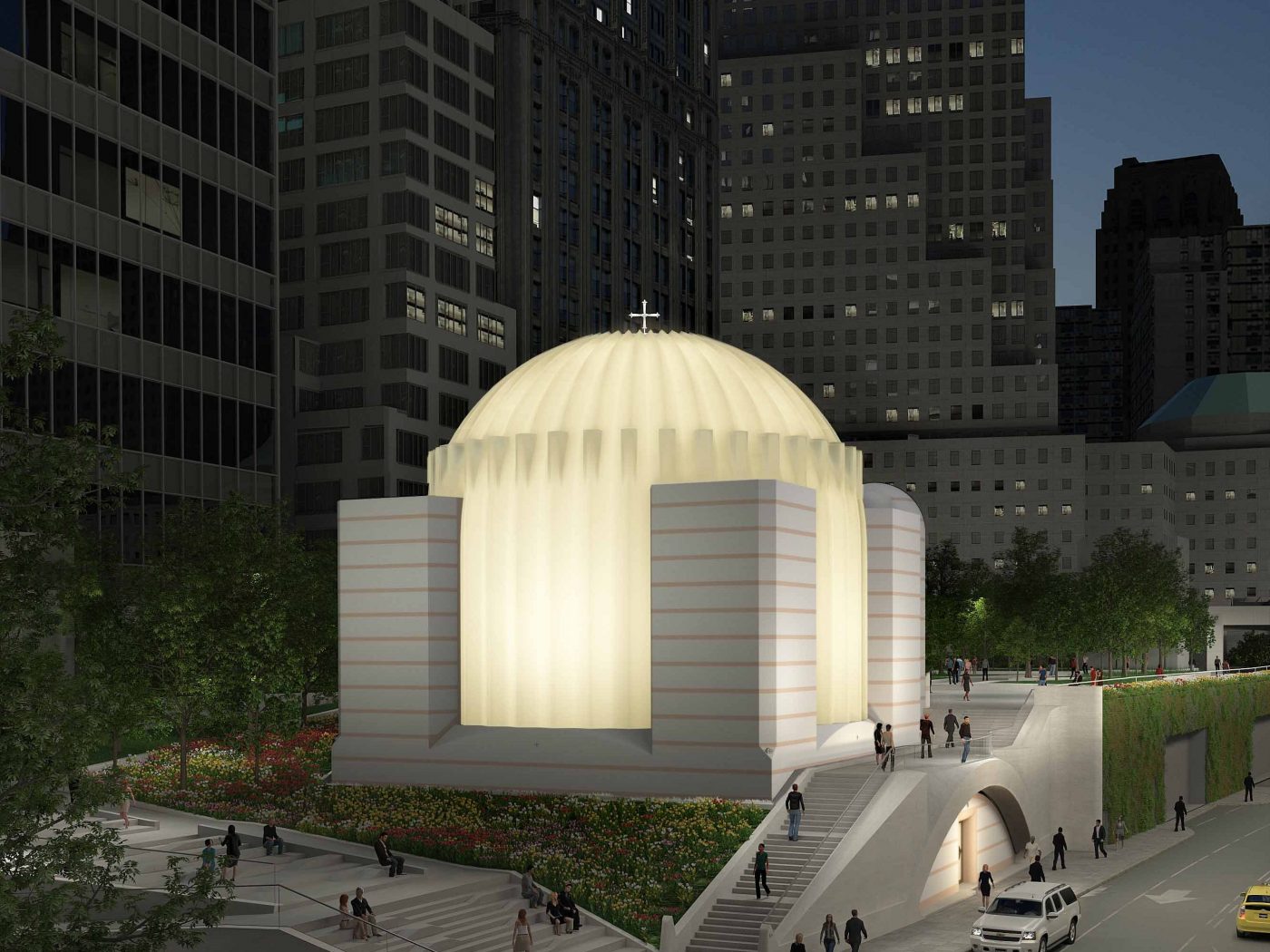 9. St. Nicholas Greek Orthodox Church by Santiago Calatrava | New York
Destroyed on September 11, the original St. Nicholas Greek Orthodox Church was a three-story row house dating to the 1830s, its humble stature dwarfed by the Twin Towers of the World Trade Center. In the aftermath of the terrorist attack, famed Spanish architect Santiago Calatrava was tapped to design not just the soaring mixed-use transit center—known as the Oculus—at the complex but also a replacement shrine for the congregation. Under construction since 2015, the new house of worship is sheathed in white Pentelic stone and features translucent cutouts that emit a hypnotic glow at night. The overall design was inspired by Byzantine churches, in particular Istanbul's Hagia Sophia, and Calatrava even matched the number of ribs in the Turkish landmark's dome with the ribs in St. Nicholas.
Next Post