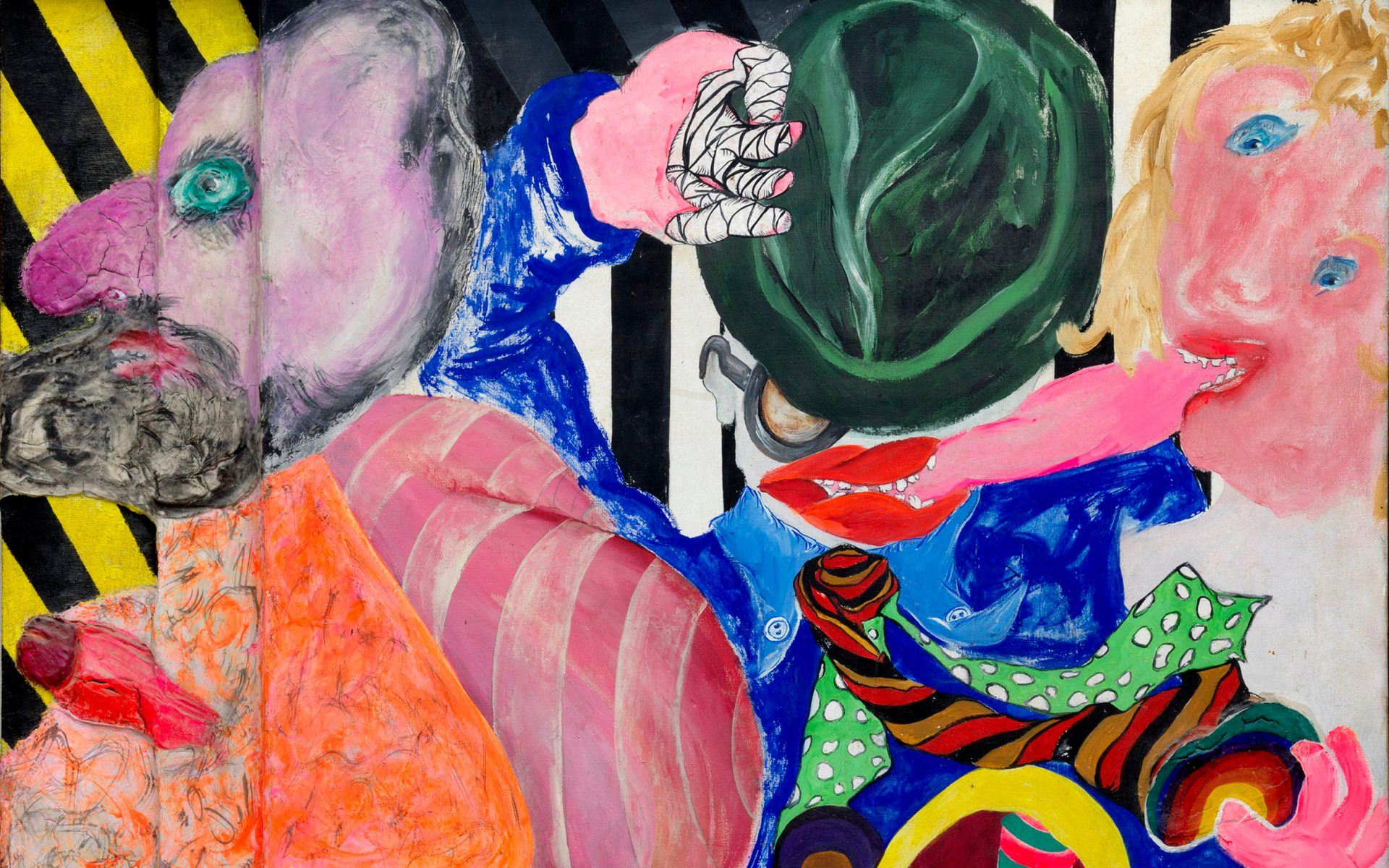 10 Artists to Rediscover in Spotlight at Frieze Masters in London
These overlooked 20th-century artists are ripe for rediscovery
The Spotlight section of Frieze Masters, which opens for previews in London on October 2 and to the public October 4, highlights the work of 24  artists from the 20th century who are ripe for rediscovery. This year, the solo presentations were selected by Laura Hoptman, executive director of the Drawing Center in New York.
Over the past five years, this highly anticipated section of Frieze Masters in London and Frieze New York has brought the work of overlooked artists to worldwide attention. Some notable names include Carol Rama, who was later celebrated with a New Museum survey in 2017; Carolee Schneemann, who gained a retrospective at MoMA PS1 last year; and Betye Saar, whom MoMA will survey with an in-depth solo exhibition in October.
"The Spotlight section brings together some of the most fascinating figures working in the mediums of painting, photography, sculpture, drawing, and conceptual art," Hoptman told Galerie in advance of the fair. "From photographers Gordon Parks and Ming Smith to German artist K. P. Brehmer to the radical Canadian collective General Idea, this edition offers both revelations and confirmations of the depth and richness of art history of the last century."
Among the many mediums and variety of works that will be on view, we have picked ten exceptional artists that are being "spotlighted" for the first time at the fair. Read on for our top picks below.
Maruja Mallo at Ortuzar Projects
Maruja Mallo (1902–95) was one of the few women in an avant-garde alliance of interdisciplinary artists that included such talents as Salvador Dalí, Federico García Lorca, and Luis Buñuel. In the 1920s, the Spanish artist worked as an illustrator for the magazine Revista de Occidente, which was founded and edited by José Ortega y Gasset, and it was there that she also first exhibited her work. A politically active artist, when the Spanish Civil War broke out, Mallo was exiled to Argentina, where she established herself as a painter of mythical female figures, surreal still lifes, and sensuous nudes. At the fair, Ortuzar Projects offers an overview of these types of works, along with a detailed series of nature studies that she created in the 1940s.
Jean Conner at Anglim Gilbert Gallery
A collage artist for more than 50 years, Jean Conner (b. 1933) was a member of the artist collective Rat Bastard Protective Association, which was active in California in the 1950s and '60s and included her husband, Bruce Conner; George Herms; Jay DeFeo; and other Beat Generation artists. Inhabiting a building together in the Fillmore neighborhood of San Francisco, they created works that explored memory, sex, and social protest. These ideas are clearly visible in the surreal collages that she compiled from large-format magazines, including Life, Look, and The Saturday Evening Post—the leading publications on contemporary American life in their time. Although she is best known for the collages, which she continued to make into the 1980s, the gallery will also present a selection of abstract drawings, pastels, and other works on paper.
Bruno Munari at Andrew Kreps Gallery and Repetto Gallery
An Italian artist, designer, and inventor who was initially inspired by the Futurist movement, Bruno Munari (1907–98) began his creative career as a graphic designer and art director. In the 1930s he made collages and sculptures, which later influenced his machines, industrial design products, and experimental abstractions in the postwar period. This double display of his work, presented at the artist's New York and Milan galleries, offers a selection of works on paper and sculptural objects that explore dynamism, movement, and light, with an experimental series of Xerox drawings capturing all of those aspects in their making.
Jacqueline de Jong at Pippy Houldsworth Gallery
With a career spanning six decades, the Dutch painter, sculptor, and graphic artist Jacqueline de Jong (b. 1939) has been associated with a variety of international art movements, including CoBrA, Pop Art, and the Situationist International. A lifelong radical who marched with student protesters in Paris in 1968, the self-taught artist defiantly published The Situationist Times after being thrown out of the intellectual movement by its founder, Guy Debord. Fresh off a retrospective at the Stedelijk Museum in Amsterdam with some of the works here that were shown there—such as her peculiar "Erotic" paintings, which were made while she was living in Paris 50 years ago—De Jong will be making her U.K. solo debut with the gallery's presentation at the fair.
Recommended: London's Best Art and Design Events This Fall
Richard Hunt at Kavi Gupta
The subject of a solo show at New York's Museum of Modern Art when he was just 35 years old in 1971, Richard Hunt (b. 1935) is an abstract sculptor who works with metal materials. Working out of a former power station in Chicago since the 1970s, Hunt has created more than 125 public commissions, including a recent hanging bronze of abstracted angels for the lobby of the Smithsonian's National Museum of African American History and Culture in Washington, D.C. The sculptural pieces being exhibited at Kavi Gupta's booth feature repurposed chrome car bumpers, aluminum mufflers, and copper plumbing pipes, which have been given new lives in the hands of this talented yet under-known artist.
Mildred Thompson at Galerie Lelong & Co.
Mildred Thompson (1936–2003) was an artist, educator, writer, and editor. After studying at Howard University, Skowhegan School of Painting and Sculpture, and the Brooklyn Museum of Art School in the 1950s, the Florida-born painter and printmaker traveled to Germany to continue her studies at the Art Academy of Hamburg. Following a brief stint back in America, where she found little acceptance, she returned to Germany and established her career as an abstract painter in Europe. Settling in Atlanta later in life, Thompson taught at the Atlanta College of Art and wrote for the publication Art Papers while making many of the marvelous abstract paintings on vinyl that the gallery is showing in Spotlight.
K. P. Brehmer at Diehl Gallery
A German painter, graphic artist, and filmmaker, K. P. Brehmer (1938–97) used a Pop Art style of production to make work that fell under the conceptual umbrella of Capitalist Realism, which was a 1960s art movement that also included work by Sigmar Polke, Gerhard Richter, and Wolf Vostell. Using appropriated imagery from commercial and government sources, Brehmer was a clever visual agitator who coaxed political and critical meaning out of mundane things. Exhibiting a number of works that look like department store displays, television screens, flags, and jumbo postmarked stamps, the gallery is offering a broad overview of his rarely seen work.
Helen Escobedo at Proyectos Monclova
A master of many mediums, the pioneering Mexican artist Helen Escobedo (1934–2010) split her time between her homeland and Europe. A graduate of London's Royal College of Art in the 1950s, she was appointed a lifetime member of the Royal Academy of Sciences, Letters and the Arts of Belgium in 1986; received a Guggenheim fellowship in 1991; and was awarded the Mexican National Prize for Art and Science gold medal in visual arts in 2009. Widely recognized for her sculpture and installation art that employed the repetition of geometric forms, Escobedo was equally proficient in her ability to visualize three-dimensional forms with her drawings, which are also featured in the gallery's broad presentation of her work.
Recommended: A Plush New Cocktail Bar Opens at the Berkeley in London
Ernst Wilhelm Nay at Aurel Scheibler
One of the most important—yet internationally underrecognized—artists of the European postwar period, Ernst Wilhem Nay (1902–68) was best known for his colorful, abstract canvases. Mixing expressionist and surrealist painting styles, he had his first museum surveys in the 1950s and represented Germany in the 1956 Venice Biennale. Moving from his expressive figurative works to simplified abstractions later in life, Nay knew how to control and balance the pictorial space of his canvases. This is clearly evident in the artist's "Late" paintings, with their imaginative shapes and flat fields of color, which are being highlighted in the gallery's Spotlight show.
Ming Smith at Jenkins Johnson Gallery
Purportedly the first black female photographer to have her work collected by the Museum of Modern Art in New York, Ming Smith (b. circa 1951) graduated from Howard University in 1973 and then moved to New York, where she got her introduction to photography through modeling. Most often considered in the context of Gordon Parks and Roy DeCarava, who were members of the black photography collective Kamoinge and where Smith was the only female member, she's celebrated for the humanity that she sensitively captured in her subjects. She's made her mark with black-and-white street photography and candid portraits of important black cultural figures, including Grace Jones, Tina Turner, and Sun Ra, who are all featured in the pictures on view in the gallery's Spotlight presentation.
Frieze Masters is on view October 3–6 at Regent's Park in London. 
Next Post