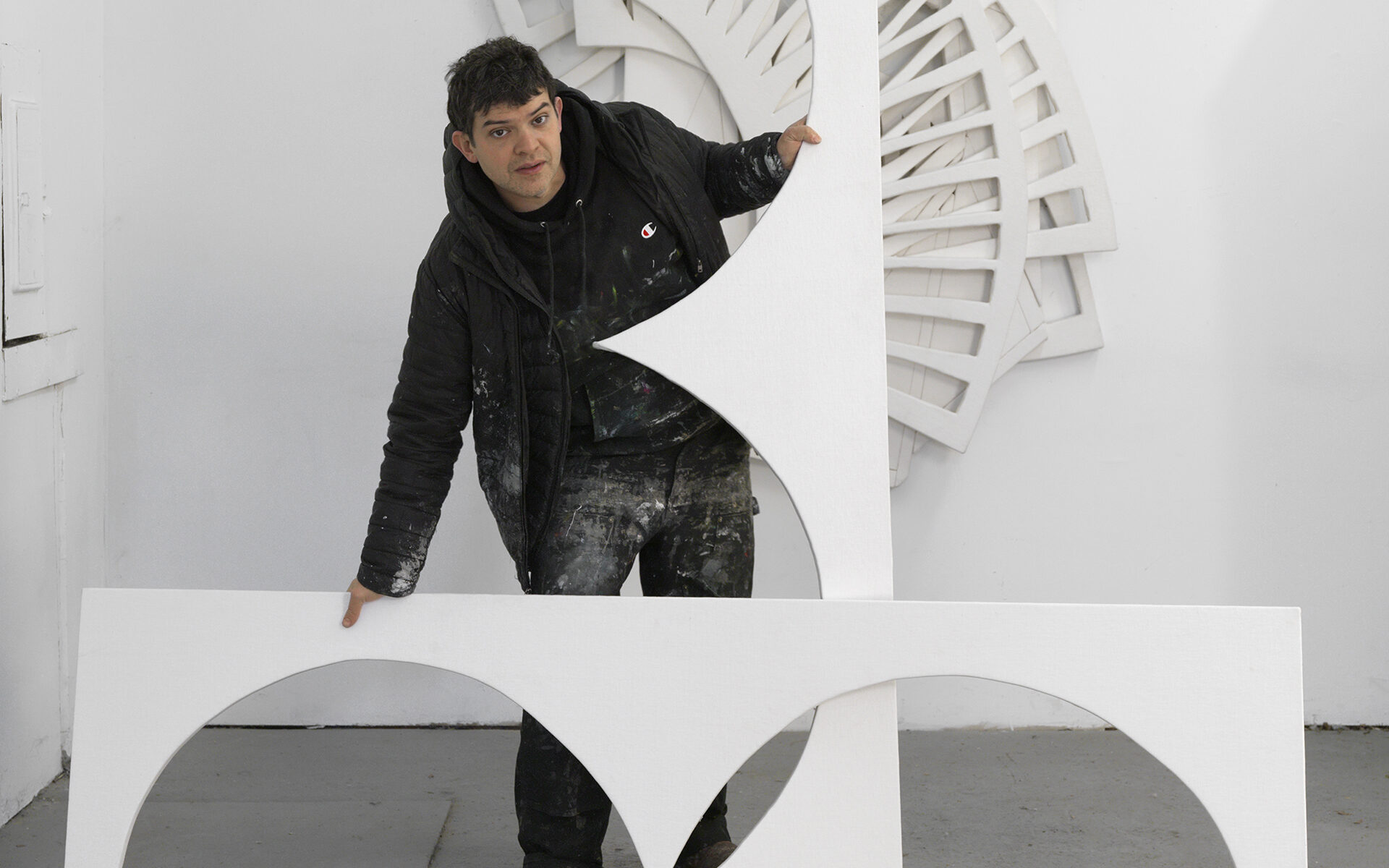 Wyatt Kahn's Monumental Cor-Ten Steel Sculptures Transform New York's City Hall Park This Summer
The larger-than-life installations mark the Brooklyn-based artist's public art debut as well as his first true sculptures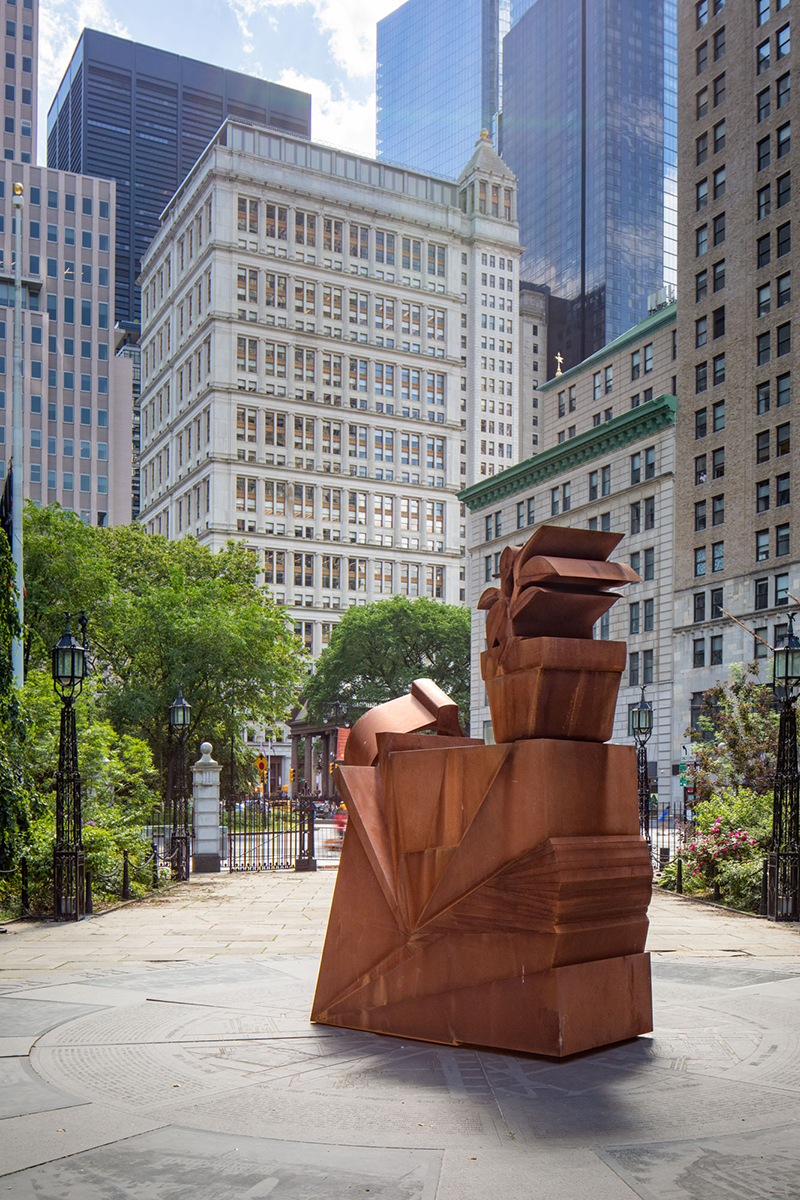 On a breezy afternoon, the wind howled through artist Wyatt Kahn's Brooklyn studio. The acoustic turbulence joined what Kahn describes as "a controlled chaos" in the large-scale, all-white, three-dimensional abstract paintings on the wall. Nearby were stacks of hand-built raw canvases of vibrant forms. "Over the years, the paintings have shifted from including the wall to also considering the space between the work and the wall," he explains. "I want the changes in nature to be a part of the experience."
The New York–born artist has been exploring the notion of fractured shapes for more than a decade, and the emotional toll of the pandemic prompted him to incorporate the idea of a fragmented self directly into his paintings. Kahn's latest pieces now take that engagement with light and nature directly outside. "Wyatt Kahn: Life in the Abstract," commissioned by the Public Art Fund and on display until December 1, consists of seven Cor-Ten steel sculptures that merge silhouettes of his former wall works with those of everyday objects, such as a comb, as well as intimate shapes, like the artist's own hand.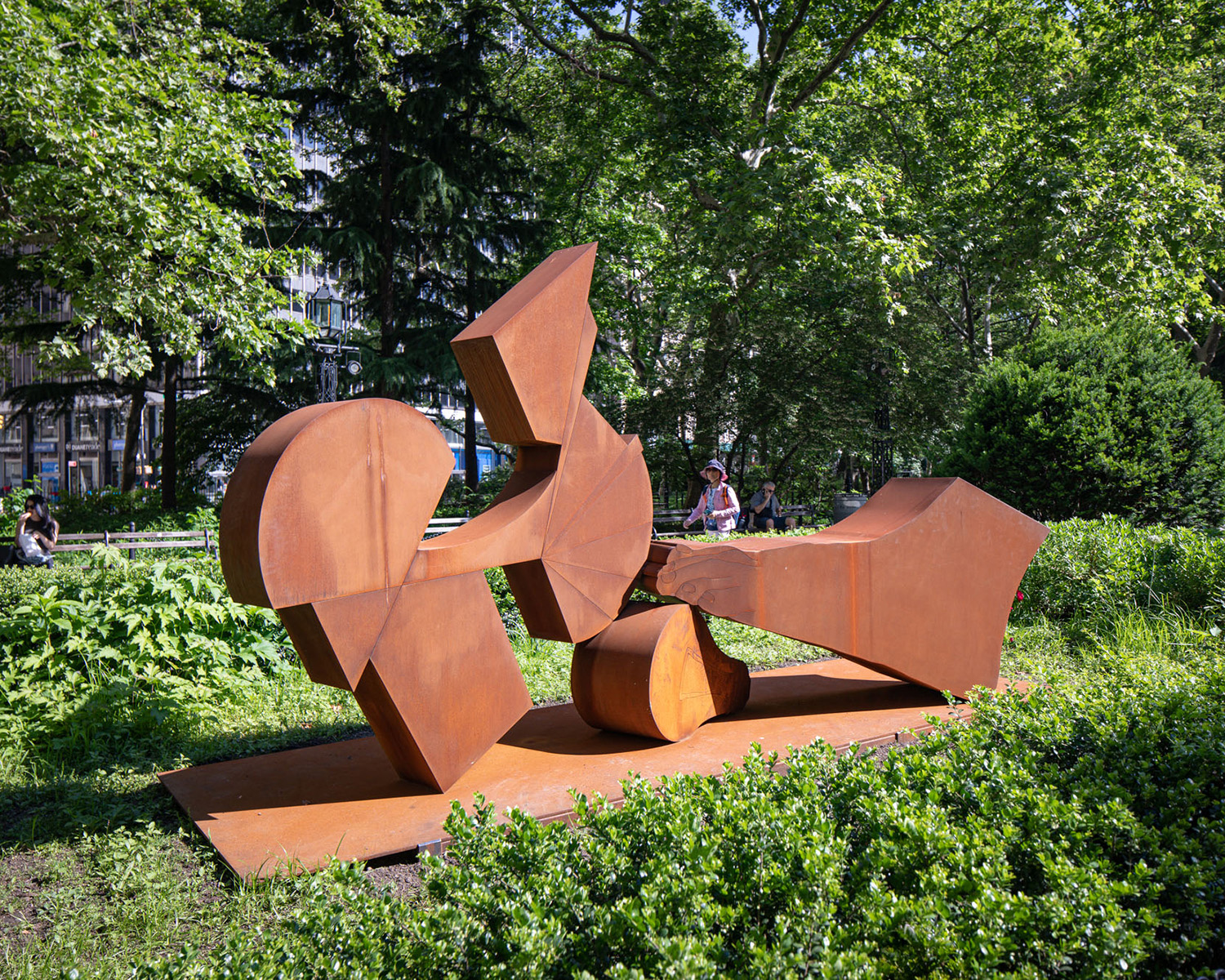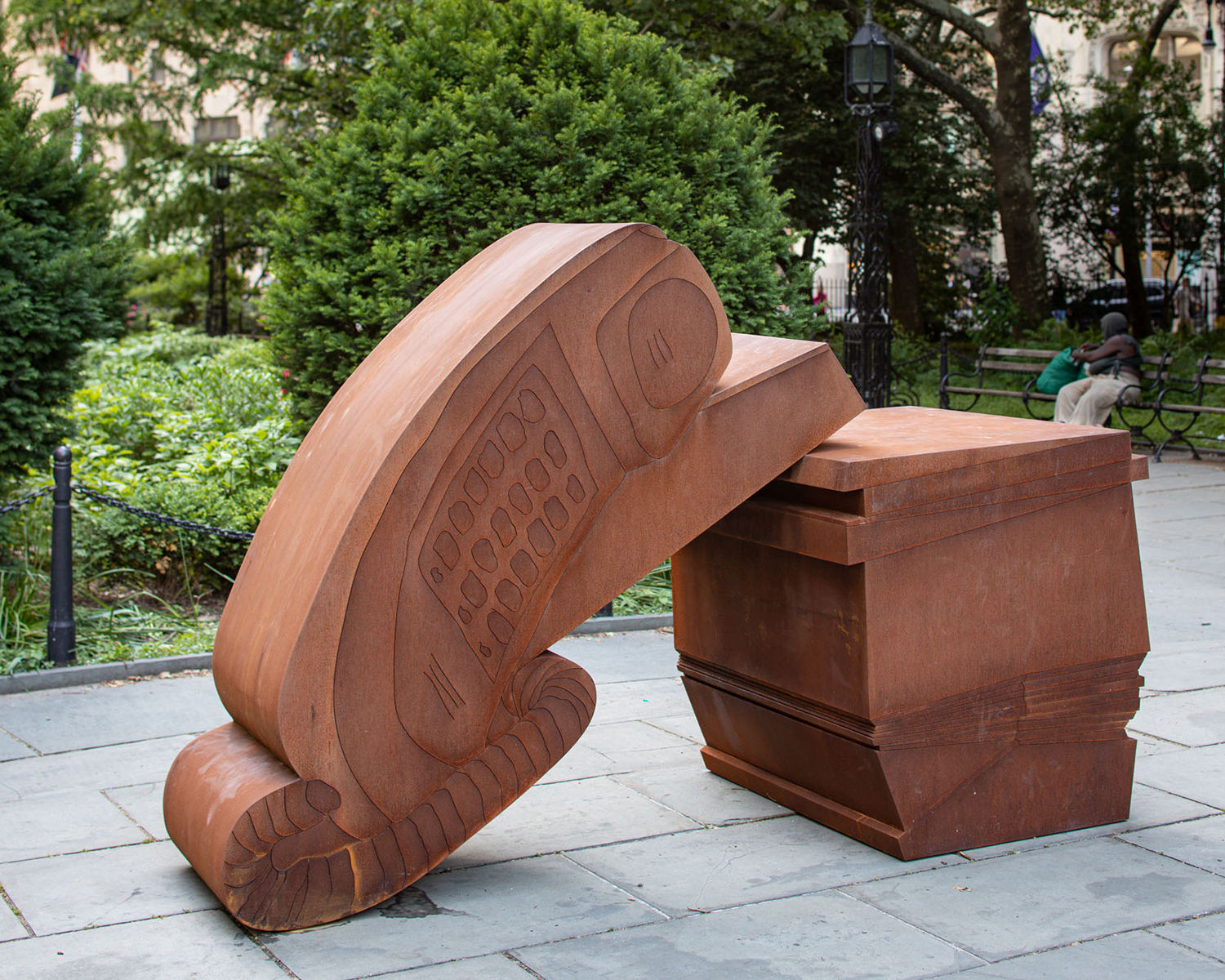 Dotted across New York's City Hall Park, the larger-than-life installations mark his public art debut as well as his first true sculptures. "But I still play a painting game here," he says, referring to the weathering process the works underwent. Once constructed, they were kept in the steel manufacturer's parking lot in Poughkeepsie, New York, for 18 months, allowing them to gain their painterly finishes with rust and oxidation forming abstract patterns. "I let nature do 95 percent of the process, with sunlight, rain, and snow," he says.
Producing with a manufacturer was also new for Kahn, who spent years operating solo in his sprawling studio, where he slices sheets of wood, hand-builds frames, and stretches canvases. Kahn leaves the canvases of his layered paintings unprimed as a nod to "being incomplete," and similarly keeps the potential of his public sculptures open-ended. The familiar visual language and seasonal changes across the park, the artist hopes, will communicate with the viewers. "A large hand stretching from an abstract painting at over five feet high can also be a shelter when it rains," he says. On a sunny afternoon, the comb functions as a slide for children, while the frame of the glasses is ergonomic enough to serve as a picturesque perch for lunch.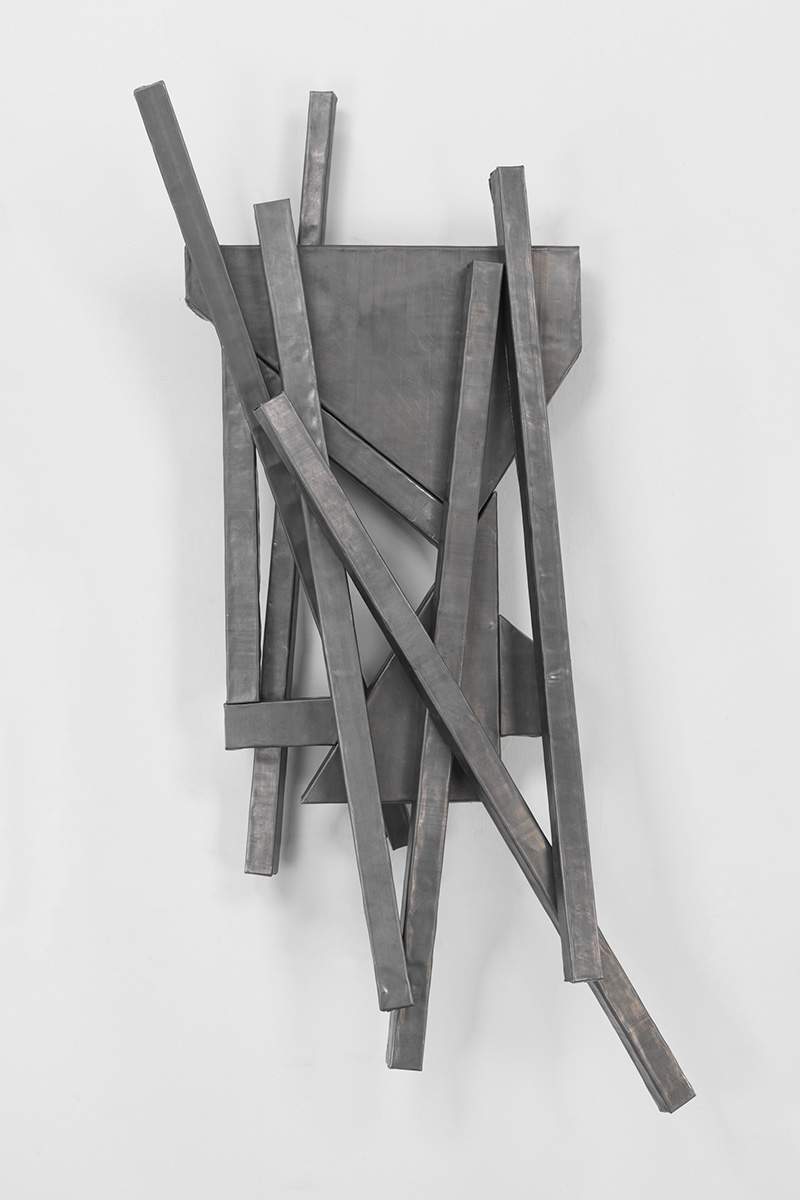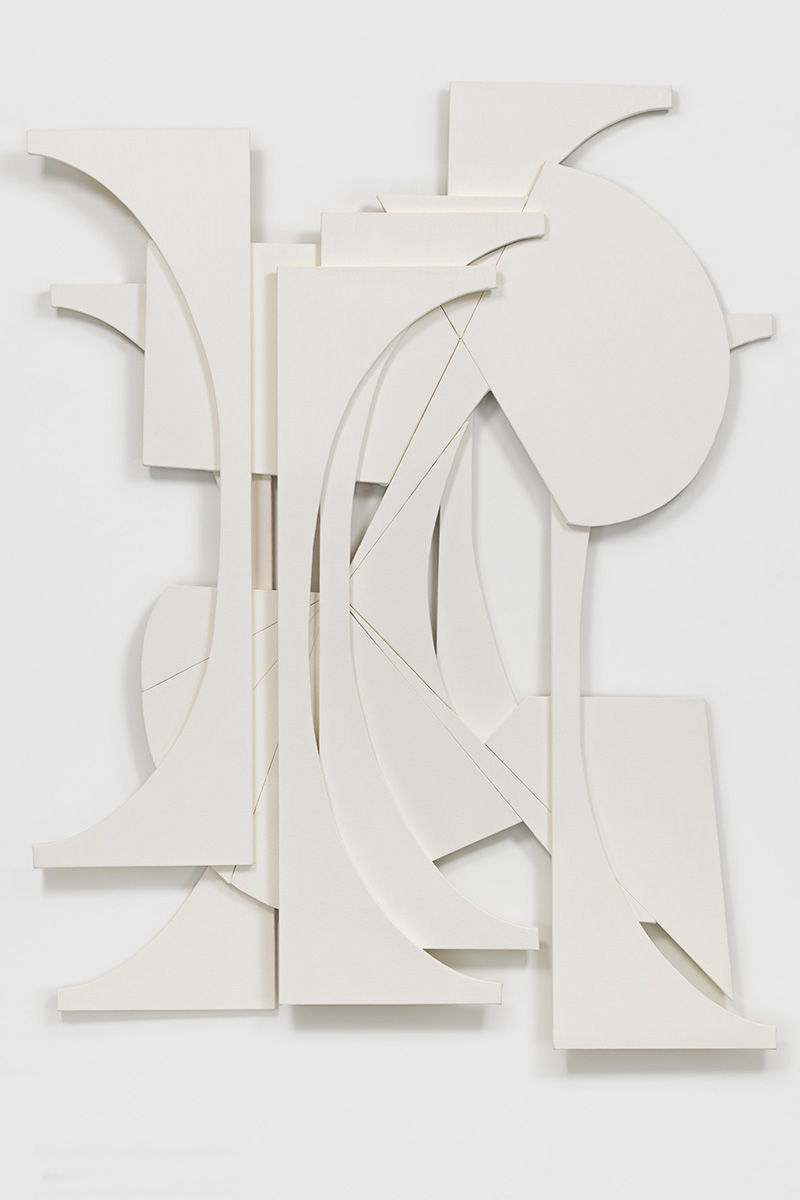 A version of this article first appeared in print in our 2022 Summer Issue under the headline "Artists to Watch." Subscribe to the magazine.
Next Post