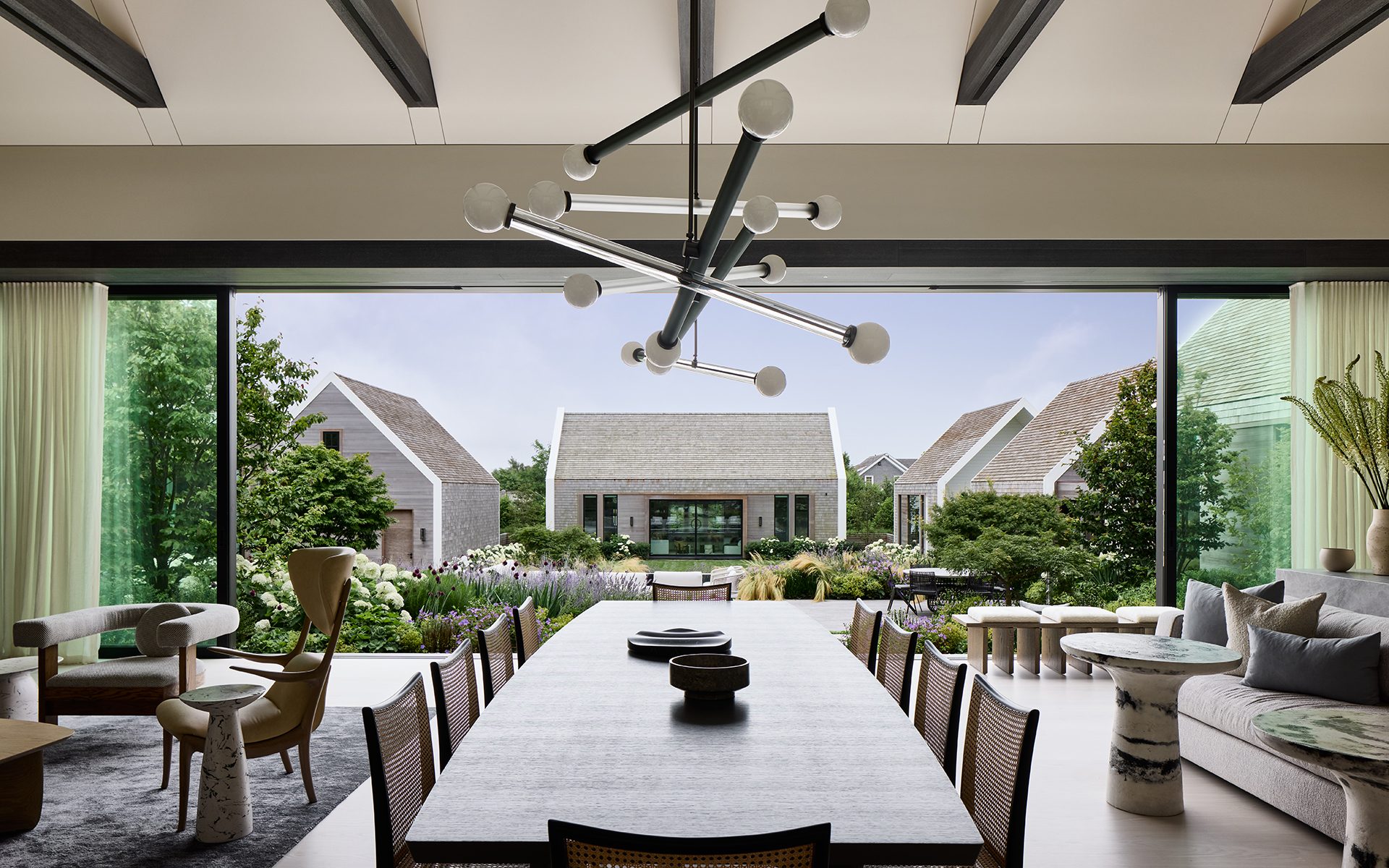 Go Inside a Tranquil Nantucket Compound Conjured by Workshop/APD
Courtyard House nods to the New England destination's traditional vernacular but offers elegant interiors with a modern twist
At just over 100 square miles with a grassy, flat terrain, Nantucket offers a quieter, more bucolic alternative to its tony Cape Cod neighbor of Martha's Vineyard. But that also means finding an undeveloped piece of property that offers both room to build and seclusion can be like finding the proverbial needle in the haystack. So when a pair of clients reached out to noted architecture firm Workshop/APD with a still untouched flag lot that was both accessible and private, founding principal Andrew Kotchen encouraged them to quickly sign on the dotted line. "I called the homeowner up and said, this is a dream opportunity," recalls Kotchen of that initial site visit. "We could do a courtyard house, and it could be phenomenal."
That kicked off an extended project for a unique couple looking for a family vacation retreat with room for guests. Elevating their basic requests, the team designed a series of connected structures that leaned into Nantucket's traditional vernacular on the exterior with a more modern language on the interior.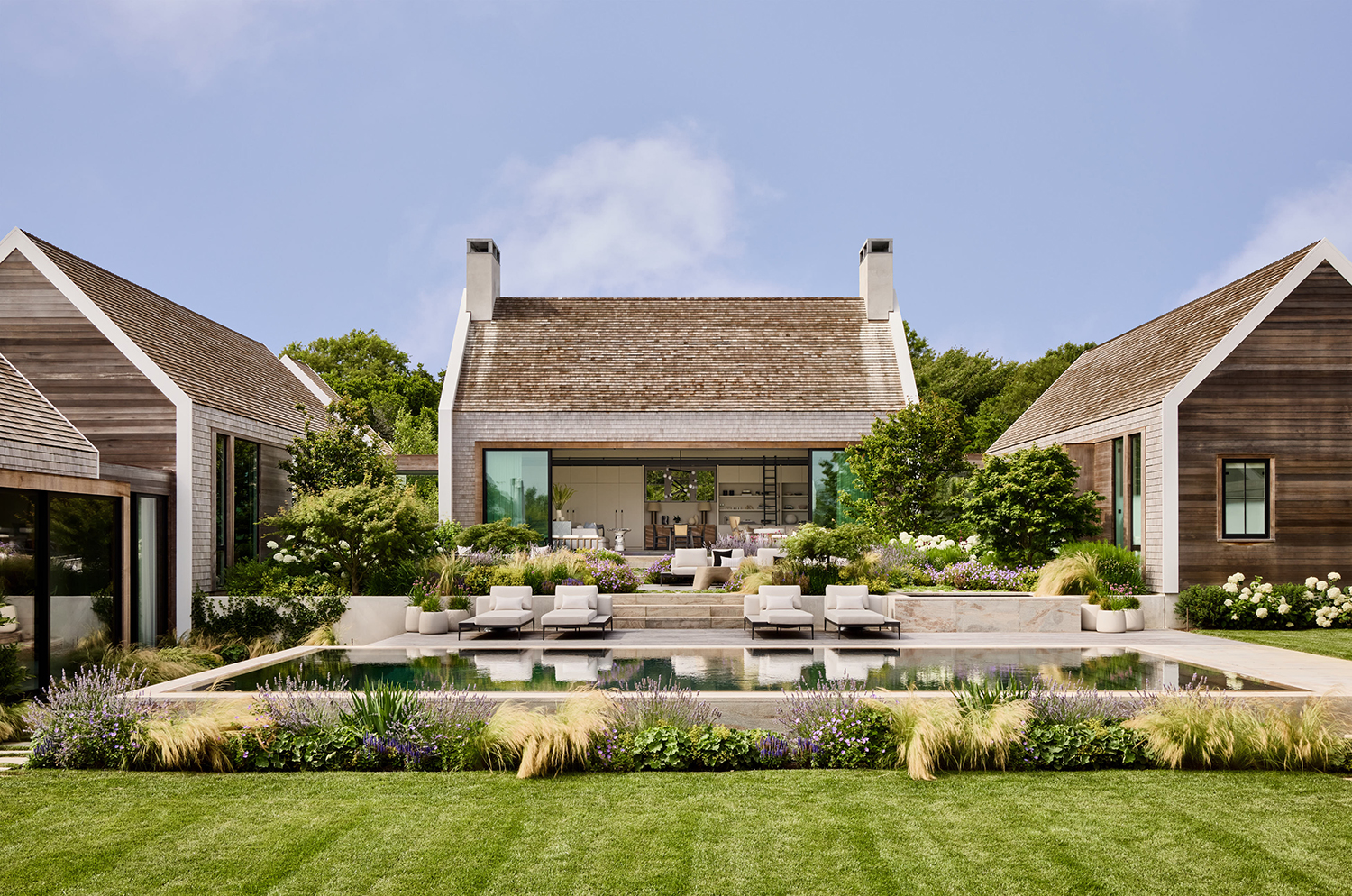 In developing a parcel without sight lines to the ocean, the architects needed to devise their own scenic vistas. "By creating an inward focused architecture, something that is surrounded by a beautiful garden, a pool, open to the sky, you can design something fairly spectacular that doesn't actually have a view," says Kotchen. "The view is the architecture itself."
Indeed, each of the eight buildings—all of them encased in cedar—is open to a central courtyard defined by a spacious pool. Landscape designer Miroslava Ahern tamed the natural meadow, installing multiple seating zones with pergolas and fire areas as well as outdoor sculptures. "When you're living in a coastal community, indoor-outdoor living really becomes paramount because if not, you've kind of missed the boat as to why you're even there," says the designer, who featured the project in the firm's new monograph, Workshop/APD Homes: Architecture, Interiors, and the Spaces Between (Rizzoli). "It's not an easy thing to convince a client to do because it does increase the cost by spreading out a home across a site, it does require a lot more circulation to connect all of these pavilions together. You could say, in some ways, there's an inefficiency to the utilization of square footage. But ultimately, it creates better architectural moments as you move from one space to the other."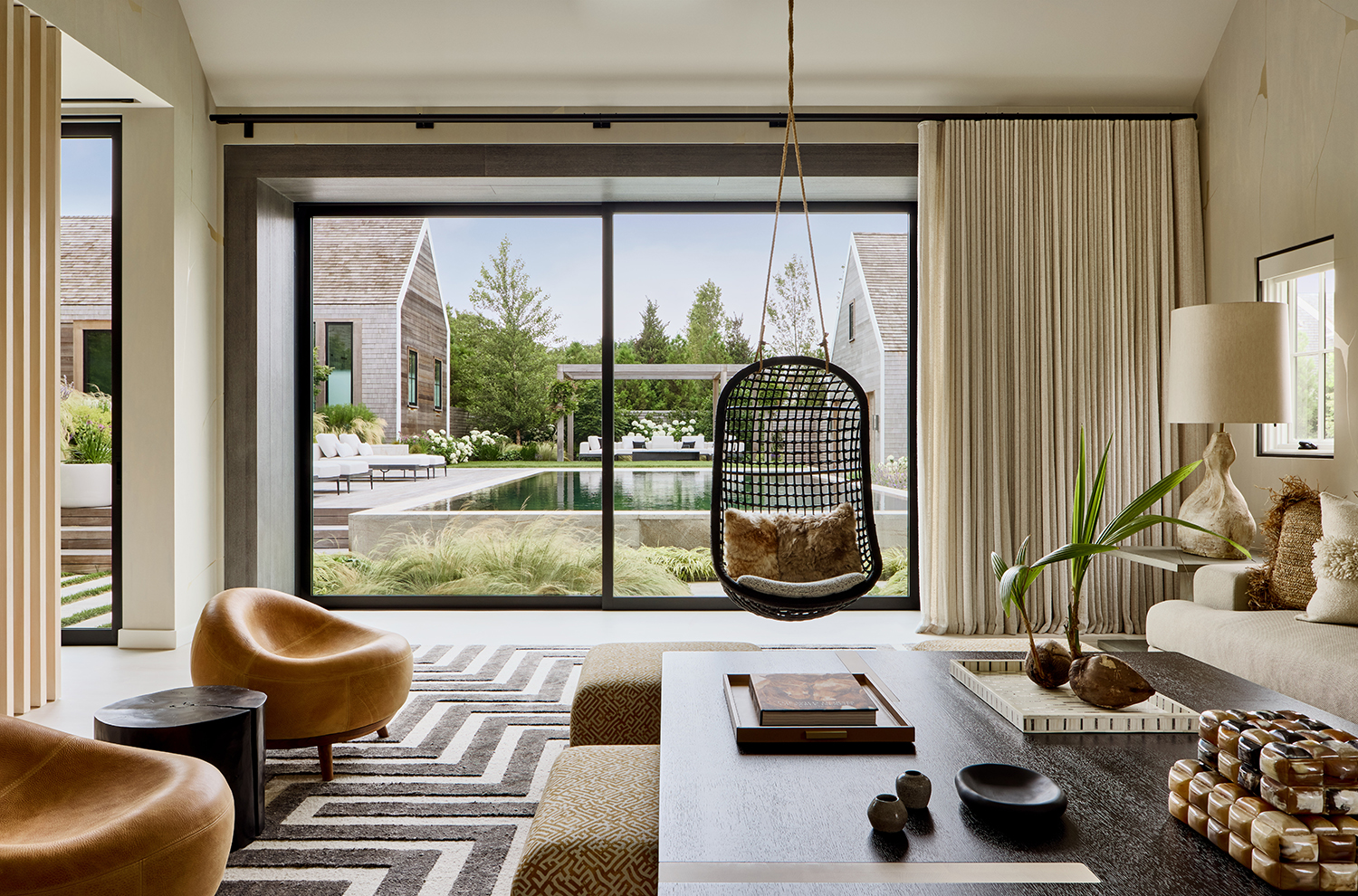 Passing a small gatehouse that nods to the property's twist on gable-form architecture, visitors first encounter the compound on an angle, its peaked roofs jutting above the greenery. Passing through the first pavilion, a series of "spines" connects the main living area with ancillary buildings housing the primary suite, bedrooms for the couple's children, a two-bedroom guest cottage, family cabana, study, home office, and garage.
Within each structure, the designers cultivated an interior that speaks to the idea of a "smart beach cottage," using soft natural tones, layers of sumptuous materials ranging from painted plater finishes to glass railings and stone fireplace surrounds. "Our work always has a modern point of view to it, whether it's sort of dressed in more modern materials or more traditional materials," says Kotchen. "While this house is incredibly durable and functional for all the things you're going to do when you're on the island, it also has a sophisticated feel to it. That balance between hard elements and softer elements is what ultimately makes the house comfortable and nice to live in."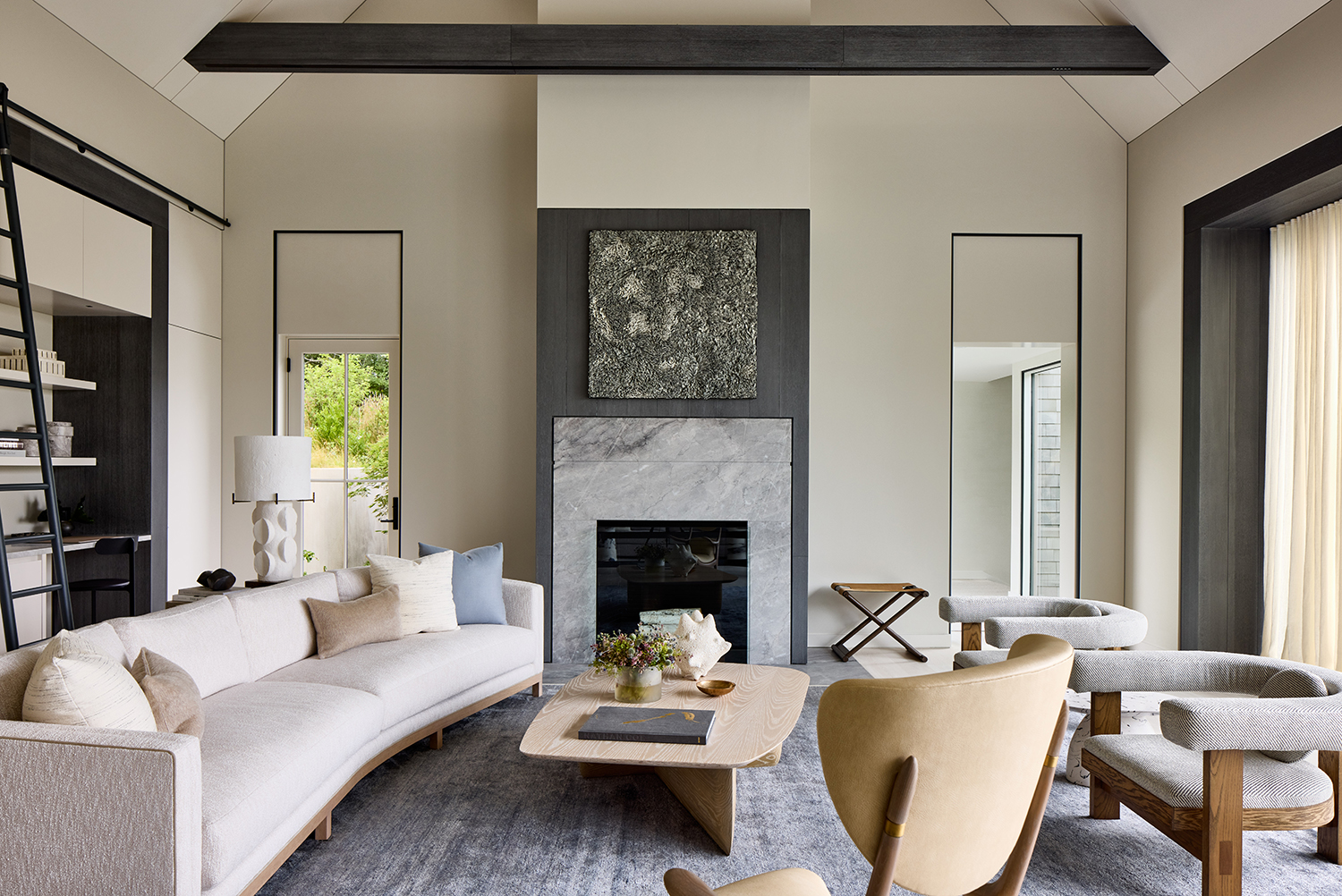 Adding to the space's air of approachable elegance are elements that reference the ocean without being abrupt, including a coastal blue stone with waves of white veining in the powder room, as well as custom furniture pieces that adhere to a similar palette of earth tones with high contrast blacks and grays, such as the large custom sofas in the living area and an ebony colored hanging swing in the family cabana. An art installation made using geometric cuts of the same style of wallpaper in various watery hues adds a visual punch to one of the kids rooms, while the other bunk room supports a bold sapphire feature wall.
The client's art collection complemented the home's resort destination, including a series of coral-like sculptures the Workshop team installed on custom plinths and a watery etching in the living room, without playing to customary nautical tropes. "It's thematic, but done in a very subtle way where it's not sort of in your face," says Kotchen. "In every project that we do, we heavily value the context. It connects you to the place without smacking you over the head and making it so obvious."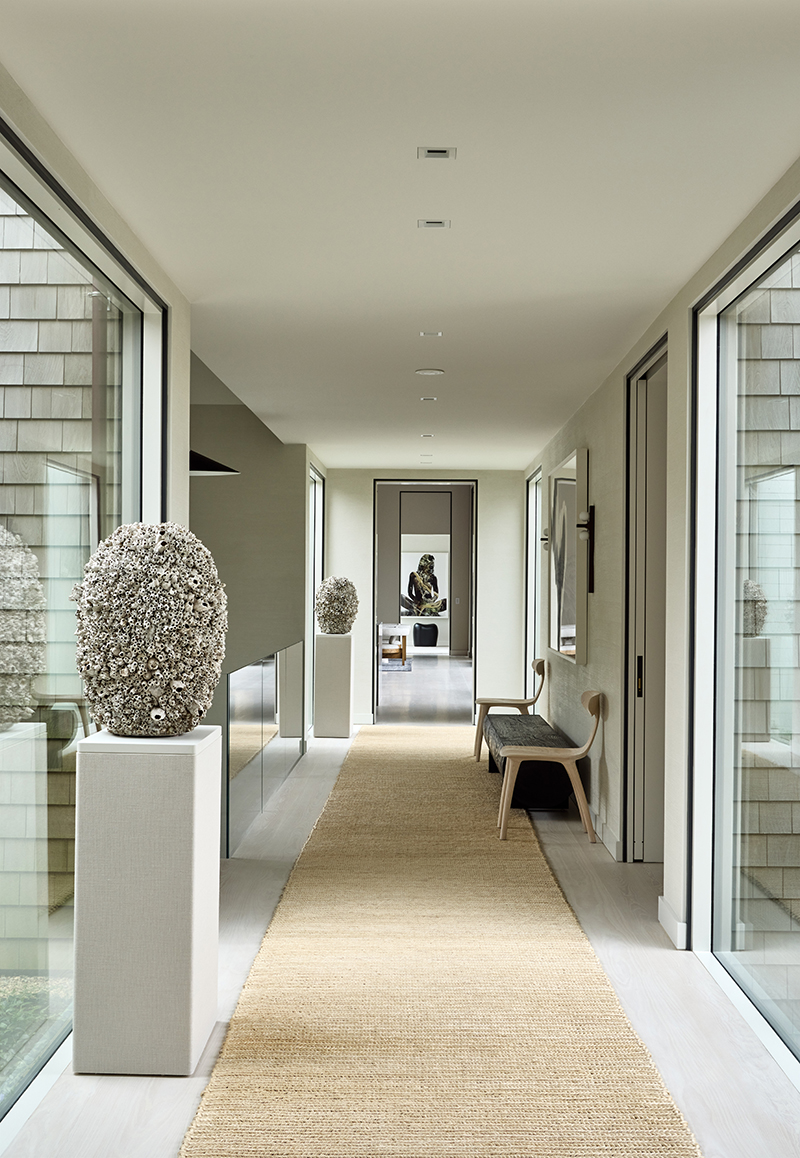 The end result is spectacular, offering the welcoming family space for both entertaining and respite. "The approach worked incredibly well for the site, and for this client," says Kotchen. "For someone that appreciates design, appreciates this idea of sense of arrival, appreciates the space between buildings, the space between rooms, and how you circulate between them—it's just a more dynamic way to live."
Next Post