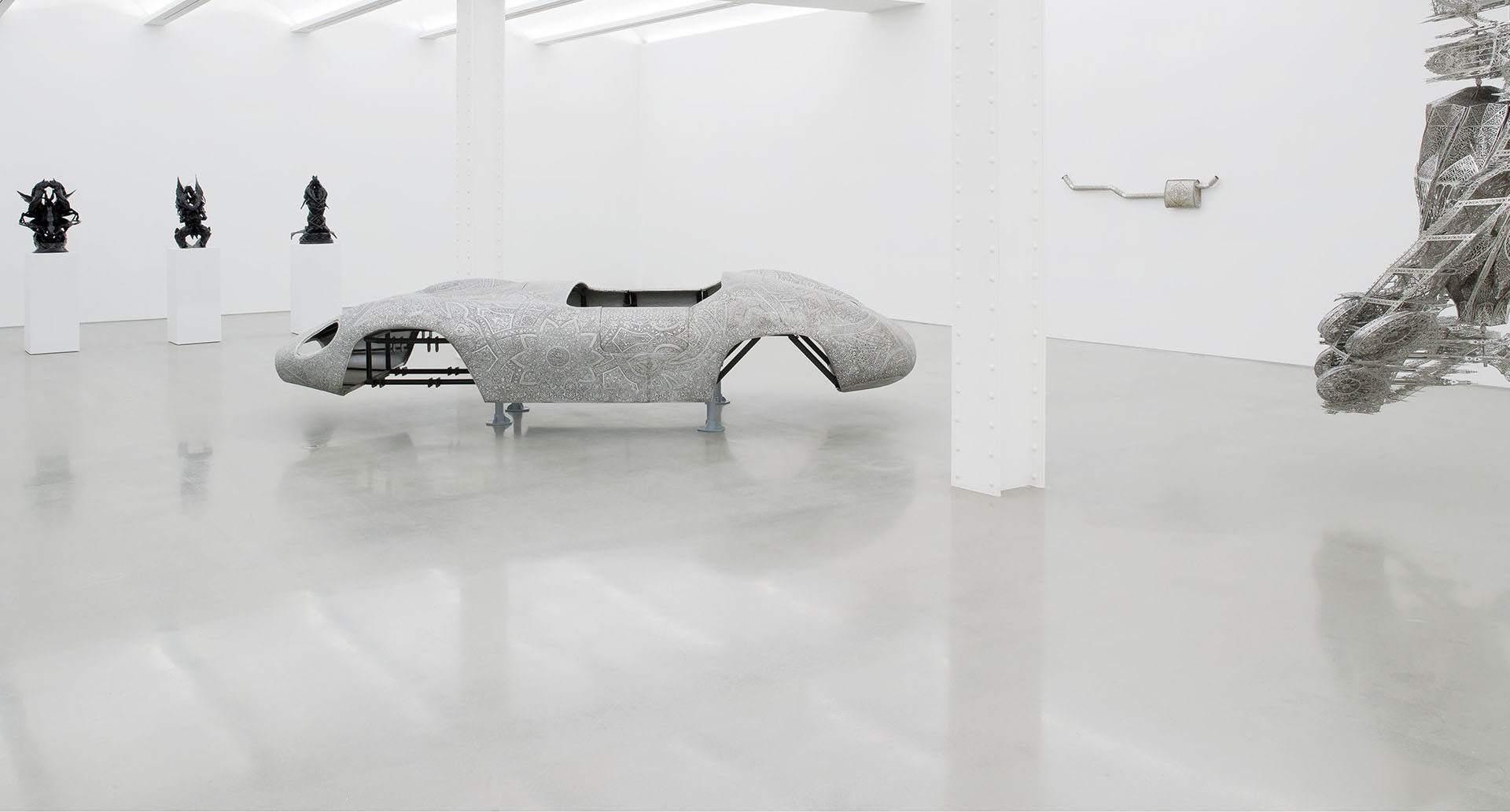 Wim Delvoye Discusses Bold Plans for Art Space in Iran
At a new exhibition at Galerie Perrotin in Manhattan's Lower East Side, the globetrotting Belgian artist dishes on his new works and ambitious plans in Iran
Live pigs tattooed with Disney princesses, a life-size cement truck rendered entirely in teakwood, scientific-looking Cloaca machines which transform food prepared by prized chefs into manufactured waste. These are just a few of the bold, often-shocking works created by neo-conceptual Belgian artist Wim Delvoye. And while the tattooed swine and Cloaca are controversial to say the least, and the wooden cement truck was sold years ago, the artist now has a series of sophisticated new works—replicas of construction machinery and vehicles using gothic and Persian style ornaments—on view at Perrotin New York (through October 29).
The centerpiece at the recently-opened Lower East Side gallery is a striking vintage Maserati racecar intricately embossed by Iranian artisans.
An assisted readymade—in the true Duchampian sense of the term—it's accompanied by a variety of other whimsical works, including twisted motorcycle tires, elaborately embossed suitcases, and warped historical icons, all of which take visitors on a surreal cultural journey.
The gnarled tire pieces are fabricated in stainless steel and exquisitely patinated to resemble perverted, Möbius-strip versions of the real thing. The seductive sculptures consist of contorted crucifixes and famous Neo-classical sculptures that are digitally doubled to create Rorschach replicas, then cast in bronze and strikingly colored with a gorgeous black patina.
"I let the anatomy of the object determine the action, and the action is completely determined by the object," Delvoye said during a recent walk-through of his exhibition at the gallery. "The object is the boss, and I worship the object through the transformation."
Equally as compelling and masterfully crafted as the embossed Maserati is the 12-foot tall Twisted Cement Truck, which delicately dangles on a wire in the sparsely displayed gallery space. Constructed from thousands of stainless-steel plates, which are digitally laser-cut with Gothic designs and welded together in elaborate layers, it took more than a year to make.
Constantly reinventing himself, and ever the dreamer, Delvoye owns a handsomely renovated castle with a moat in his native Belgium and is now in the midst of restoring four 18th-century traditional Persian palaces in Kashan, an ancient Iranian city in the legendary Isfahan Province. Derelict when he bought them, the estates are currently buzzing with about 50 people working to combine them into a large, kunsthalle-style space to showcase contemporary art—both local and international.
The director of the Tehran Museum of Contemporary Art, where Delvoye had a large survey show in 2016, is advising the artist on the local art scene and making introductions to aid him in his philanthropic pursuit. Contrary to published reports, he will not be relocating his studio to Iran, but he will be adding a workspace in Kashan, where he can continue to work with local craftsmen on the creation of his audacious art.
"It's a very speculative thing to do," Delvoye shares from his studio in Belgium. "It's like, okay, let's make mama cry. You buy these things and your friends are astonished, so there's a social capital. Most people buy a house with a garage or something normal that's later worth a lot of money, but with this type of thing, who knows. It could be nothing or it could be everything. Kashan has the quality to be something like Venice, but right now it's like Brooklyn or Berlin 20 years ago. What I do know is that it's the last wild thing I want to do."
"Wim Delvoye" is on view through October 29 at Perrotin New York, 130 Orchard Street, Manhattan.
Next Post