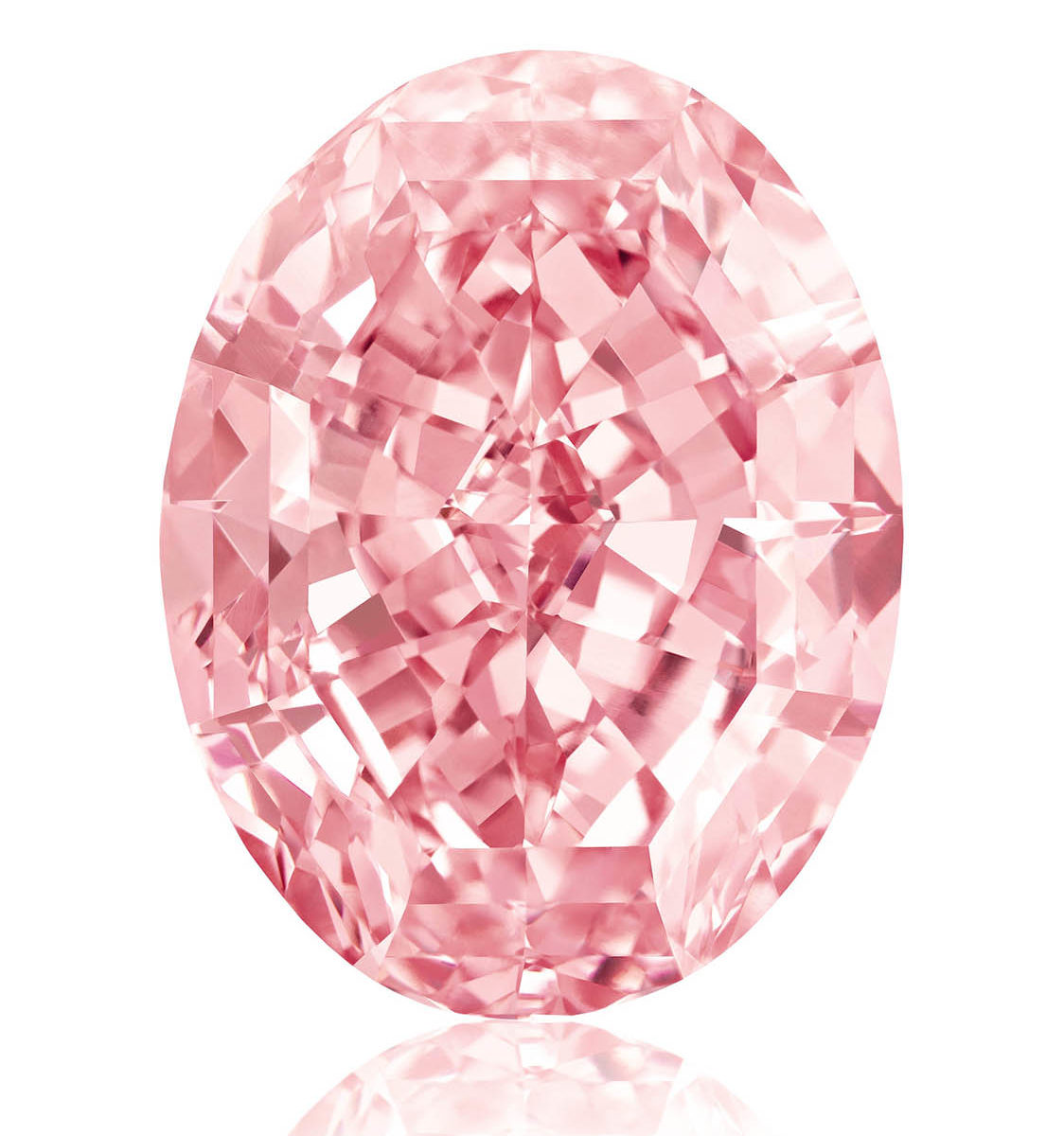 Will This $60 Million Rare Pink Diamond Shatter the Auction Record?
Weighing in at a whopping 59.60 carats, this could become the most expensive gem ever sold at auction
Called a "true masterpiece of nature" by the Gemological Institute of America, a rare, internally flawless fancy vivid pink diamond is coming to the auction block as the highlight of Sotheby's Magnificent Jewels sale in Hong Kong on April 4. Nicknamed the Pink Star, it's the largest vivid pink diamond the GIA has ever graded, weighing in at a whopping 59.60 carats. Sotheby's estimates the oval mixed-cut stone will bring more than $60 million.
But it's not the first time the Pink Star has been offered by the auction house. At 2013 Sotheby's sale in Geneva, New York–based diamond cutter Isaac Wolf outbid three rivals by offering $83.2 million, a record price for any gem sold at auction. While he called it his "Pink Dream," the sale turned into a bit of a nightmare for Sotheby's. Wolf and his partners defaulted on the purchase, and because the original seller had been guaranteed $60 million, the auction house had no choice but to purchase it outright.
In a 2014 annual report, Sotheby's recorded the Pink Star as an asset worth $72 million. Now, three years later, a spokesperson for Sotheby's confirms that the diamond's value is currently listed as roughly $68 million.
Sotheby's has sold two other especially notable pink diamonds: the 24.78-carat Graff Pink, which fetched $46.2 million in 2010, and a unique fancy vivid pink diamond that brought $31.6 million last year. Both of those auctions took place in Geneva.
Regarding the decision to offer the Pink Star in Hong Kong, Sotheby's deputy chairman for Asia Quek Chin Yeow has noted that Hong Kong has been the site of some of the world's most famous diamond sales. Examples include the 118.28-carat oval white diamond, which brought $30.8 million in 2013, as well as the vivid blue 10.10-carat De Beers Millennium Jewel 4, which sold for $32 million last April.
Although the Pink Star is expected to attract more than $1 million per carat, looking at the history of diamond sales shows that what's most important isn't size but quality—more specifically, a combination of factors like cut and richness and depth of color. Sotheby's worldwide chairman of jewelry David Bennett proudly has declared that the Pink Star "surpasses any known pink diamond recorded in history."
Should the Pink Star meet expectations, it would become the most expensive gem ever sold at auction, surpassing the record set at Christie's Geneva last May, when the Oppenheimer Blue diamond sold for $57.5 million. (Though the rectangular stone weighed only 14.62 carats, blue diamonds larger than a carat are exceptionally rare.) The jewelry world is watching with great anticipation to see the results on April 4.
Next Post