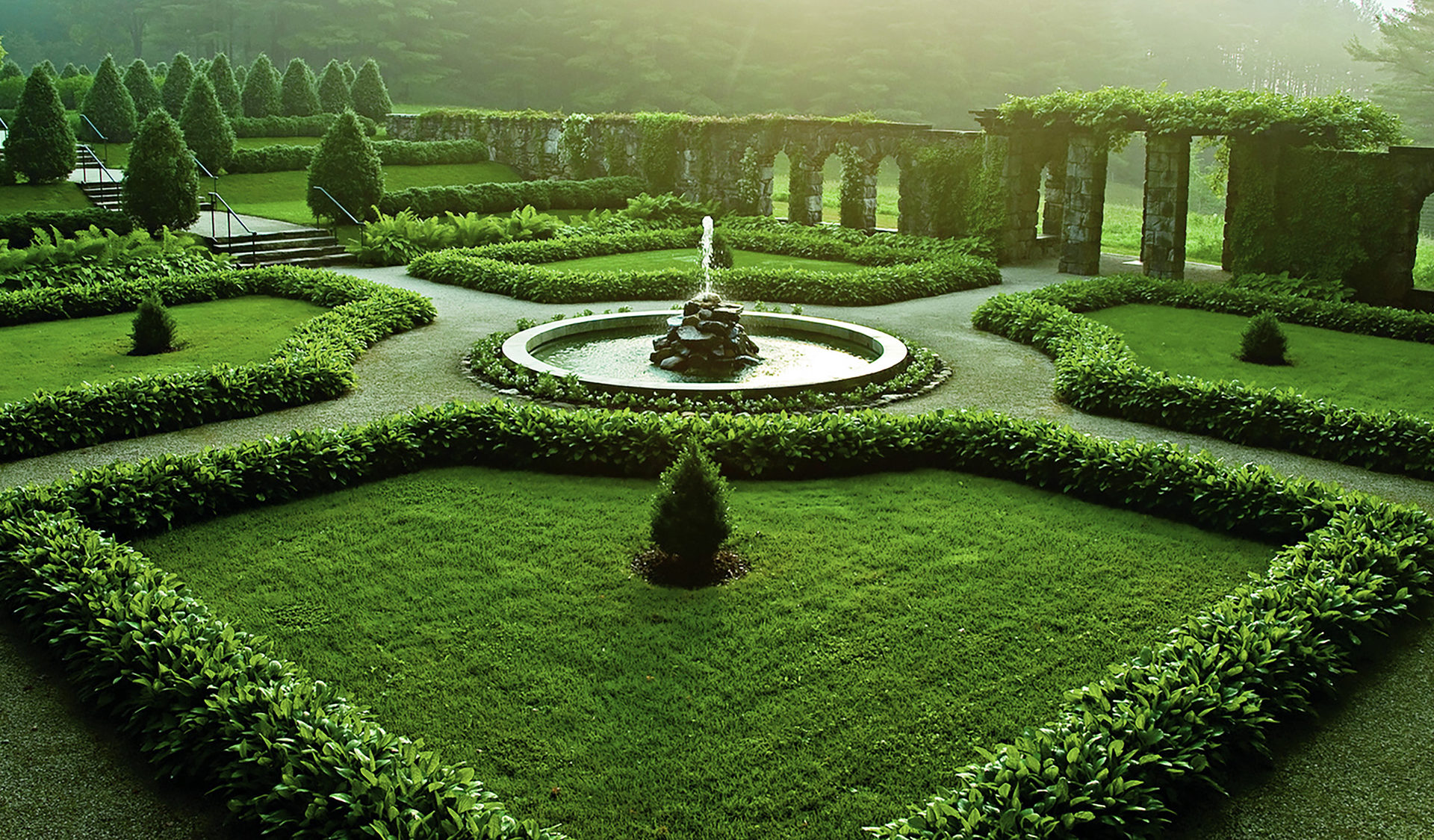 Why the Berkshires Are This Summer's Cultural Hot Spot
Western Massachusetts has it all: majestic landscapes, charming inns, and a red-hot art scene
With lush forests, blooming fields, and undulating mountains that have inspired everything from Herman Melville's Moby-Dick to a J. K. Rowling wizardry school, the bucolic western fringe of Massachusetts might seem an unlikely place to possess enough creative energy to rival that of most major cities. But Berkshire County is just such a place, where stunning natural beauty and exceptional cultural happenings peacefully coexist.
"It just feels so unspoiled," says William Li, global brand president of Ralph Lauren Home, who has a country house nearby. "Even though it has pockets that are more developed, a few minutes later you're in wild New England, where it's just fields of green, farms, and mountains."
New York interior designer Matthew Patrick Smyth is another fan: "In the summertime there are so many cultural things to do." He fills his weekends there with art, theater, and music. "I'm always taking side routes and discovering new favorite spots."
In the spirit of just such a meandering weekend road trip, here are a few of the high points in the Berkshires: A good place to start is Great Barrington, which anchors the southern section of the county and is "the quintessential all-American little town," according to Li. Rubiner's Cheesemongers & Grocers on Main Street offers artisanal picnic provisions, while Rubi's café around back serves locally roasted coffee for the journey.
A few miles north are the picturesque towns of Stockbridge and Lenox, rich with artist studios and historic homes. Naumkeag, a magnificent 44-room hilltop home built in 1886 by McKim, Mead & White, has a newly restored landscape: a succession of garden rooms and sculptural earth features created by Fletcher Steele from 1926 through the 1950s, which include the Blue Steps, a terraced series of fountain pools and stairs that cascade down the slope.
Just west is the Norman Rockwell Museum, with 998 of the artist's paintings and drawings, his relocated studio, and a gallery building designed by Robert A.M. Stern. The summer exhibition presents another iconic imagemaker in "Inventing America: Rockwell and Warhol." A mile down the road is Chesterwood, the former home and studio of Daniel Chester French, best known for his 19-foot-tall statue of Abraham Lincoln at the Lincoln Memorial. The site hosts a contemporary outdoor-sculpture program every summer.
To delve into the early days of American interior decoration, head to The Mount, a national historic landmark that was the summer home of Edith Wharton, who coauthored The Decoration of Houses in 1897 before conceiving her Lenox estate in 1901, where she entertained friends like Henry James. Nearby is the Frelinghuysen Morris House & Studio, an early modernist compound in the International Style, which was home to abstract artists George L.K. Morris and Suzy Frelinghuysen and is still filled with their collection of artworks by Pablo Picasso, Fernand Léger, and Georges Braque.
To refuel, pause at the charmingly rustic Prairie Whale, a love letter to local farms by Mark Firth, a restaurateur behind Brooklyn hot spots Diner and Marlow & Sons, who gave up the city for a full-time life in the Berkshires.
For evening entertainment, there is Tanglewood, the summer home of the Boston Symphony Orchestra, where you can take a seat inside the open-air performance "shed" or sprawl out on the surrounding lawn. After the show there is no grander place to crash than Wheatleigh, an 1893 home modeled after a 16th-century Florentine palazzo that was transformed into a seriously luxe 19-room hotel by architecture firm Tsao & McKown.
Spend the next day in North Adams and Williamstown, in the northern part of the county. "It's pretty much the only place in North America with three world-class art museums inside a few miles' radius and with no rush-hour traffic," says artist Stephen Hannock, a Williamstown resident for the past 16 years. "There's crackling cultural activity happening here."
The Massachusetts Museum of Contemporary Art, or MASS MoCA, roughly doubled in size this May and now hosts long-term exhibitions by artists such as James Turrell, Sol LeWitt, Jenny Holzer, and Anselm Kiefer. The Clark Art Institute recently expanded with new and overhauled buildings by Tadao Ando and Annabelle Selldorf that feature a treasure trove of French Impressionist paintings and special exhibitions such as "Picasso: Encounters," which runs through August 27. The Williams College Museum of Art is no less impressive, with enormous Louise Bourgeois eyeballs on the front lawn and brainy exhibitions inside, like "Robert Rauschenberg: Autobiography," on view through August 20.
Don't miss the Williamstown Theatre Festival, the unofficial summer camp for such Broadway and Hollywood stars as Gwyneth Paltrow, Bradley Cooper, and Patricia Clarkson. This summer's lineup includes The Clean House, starring Jessica Hecht, and A Legendary Romance, directed by Lonny Price.
To sample more local agricultural bounty, dine at Mezze before retiring to the Porches Inn, a set of renovated Victorian rowhouses across from MASS MoCA. And if you deem it necessary to stargaze from the hot tub after so much exploring, so be it.
Next Post