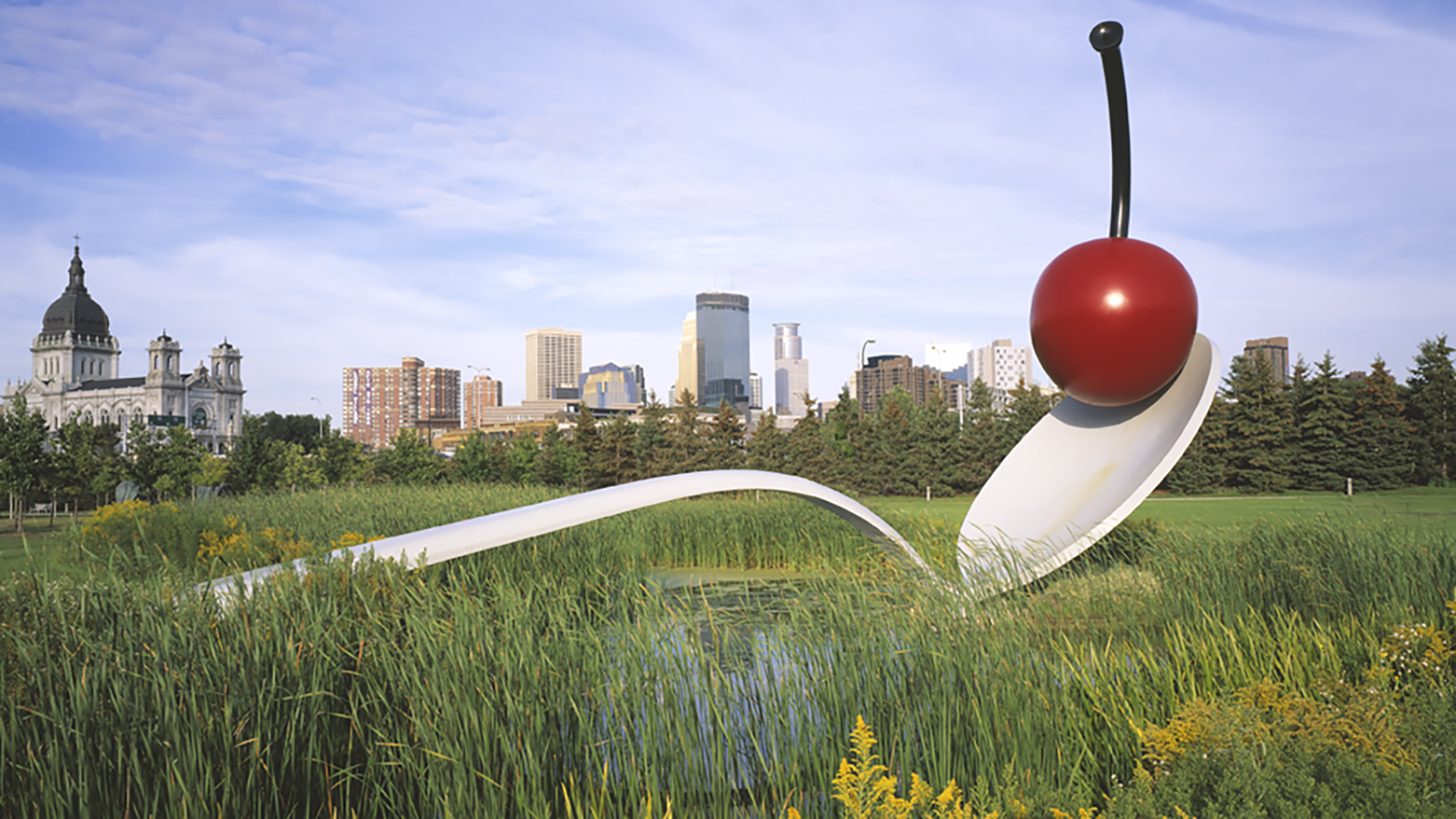 Walker Art Center Sculpture Garden Reopens Amid Controversy
The reopening of the sculpture garden has been postponed following protests surrounding an artwork by Sam Durant
This June, Minneapolis is gaining 17 new sculptures… and a large dose of controversy. Initially slated for June 3, the reopening of the newly-renovated Minneapolis Sculpture Garden at the Walker Art Center was supposed to introduce the community to five additional acres of green space and works by such major contemporary artists as Katharina Fritsch and Theaster Gates. This past weekend, however, protests erupted regarding the inclusion of Sam Durant's sculpture, Scaffold. The Walker, which organized the sculptures' placements, will remove the piece and delay the opening until June 10.
Scaffold resembles a children's playground with its wood and steel platforms, staircases, and vertical elements—as though it were just missing a slide or sandbox. But its references are more serious. The wooden elements are reconstructed gallows used for executions in the U.S. The artist connects state-sanctioned hangings to lynchings and the continued racial injustice that leads to disproportionate capital punishment for people of color. Durant wrote, "We now know that one in 100 U.S. citizens are in jail and one in nine African American men are in prison… We know that innocent people have been executed and that there are many potentially innocent prisoners sitting on death row today. It is to this context that Scaffold is addressed."
The piece triggered groups in the Native American community, who condemned Durant's depiction of a gallows used to hang 38 Native men in Mankato, Minnesota, in 1862. Notably, the Walker's land was once used by the Dakota people. Activists called for Scaffold's removal based on its failure to engage the community, its inappropriate siting amidst playful and emotionally incongruous works on meaningful ground, and its traumatic effect on many of its viewers.
While the Walker decides when and how to remove Scaffold, and where it might travel next, they continue to plan a celebration for other included artists' accomplishments. Theaster Gates, for example, will open his first permanent outdoor commission in the garden. Inspired by the form of a tempietto, a small, circular Renaissance temple, the work will offer a sanctuary for the community—much needed, perhaps, after the debacle.
Katharina Fritsch's 20-foot-tall, bright blue sculpture of a rooster (a new acquisition entitled Hanh/Cock), will introduce some levity into the garden. Another new acquisition, Robert Indiana's LOVE sculpture, will provide a Cor-Ten steel version of the iconic piece to the Minneapolis public. Irish artist Eva Rothschild is contributing her first public art commission to be shown in the United States, a spindly, red and green archway that beckons visitors to pass underneath like sculptural mistletoe.
First opened in 1988, the sculpture garden already features work by Claes Oldenburg and Coosje van Bruggen, Dan Graham, Jenny Holzer, Ellsworth Kelly, and Richard Serra. Hopefully, the new additions will unite the community and create spaces for greater exploration and communication.
Next Post