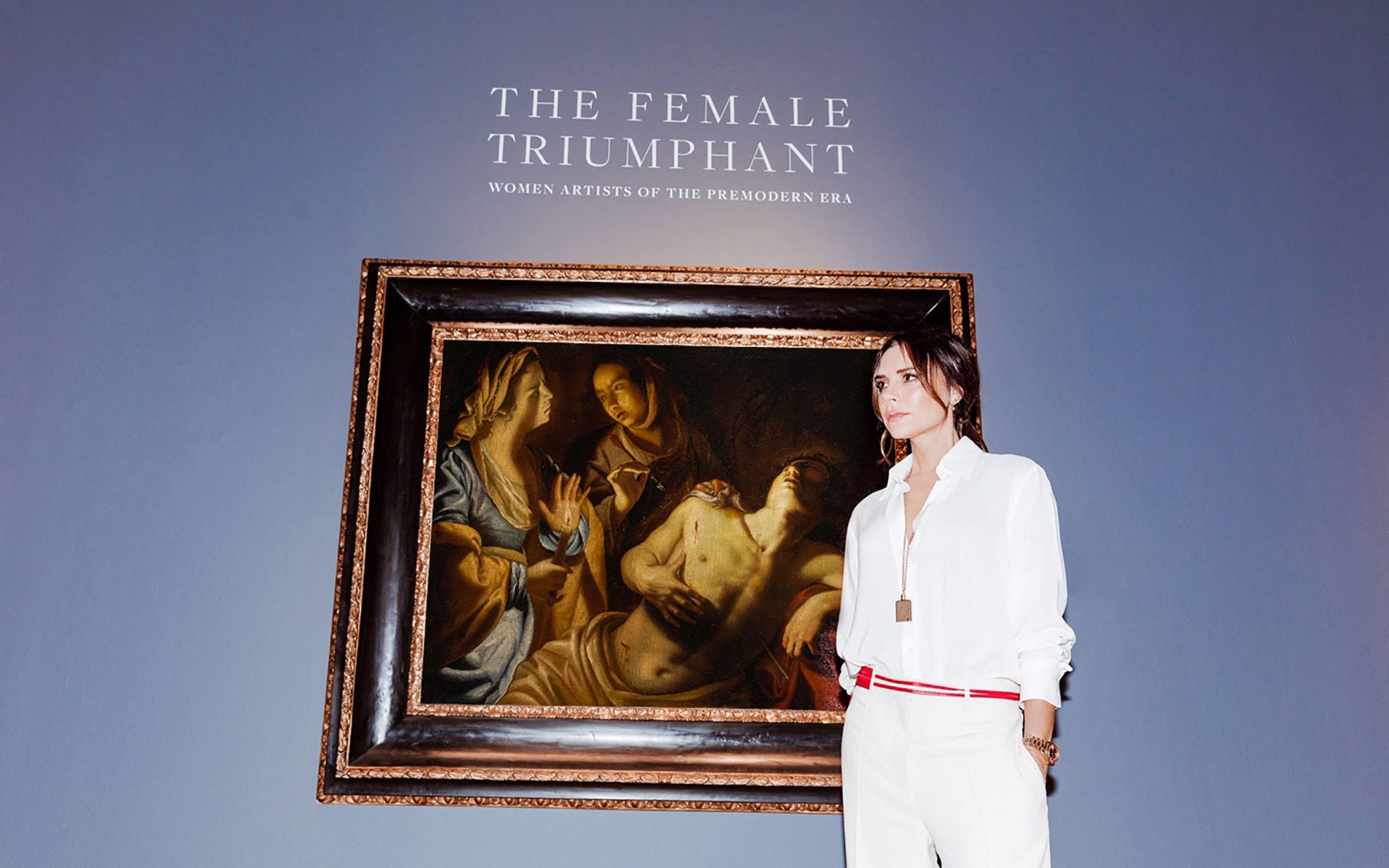 Victoria Beckham Celebrates Women Old Master Artists at Sotheby's New York
The British fashion designer cohosts a preview of an exhibition of paintings by women artists ahead of the Old Masters auction
Chic in all white, Victoria Beckham mingled with art lovers last night in the expansive galleries of Sotheby's New York for a private cocktail reception and preview of "The Female Triumphant: Celebrating Fearless and Groundbreaking Women Artists of the Premodern Era," an exhibition of 21 major works by 14 women artists spanning from the 16th to the 19th centuries that will hit the block across Sotheby's Old Masters sales next week.
"I'm so happy to be here and raising awareness of Old Masters," the British fashion designer told the crowd, many of whom were members of the Frick Collection's Young Fellows and Sotheby's Young Collectors.
Well versed in contemporary art, Beckham has organized a number of cutting-edge exhibitions in her Dover Street London flagship store featuring works from Turner Prize–winning artist Martin Creed and jewelry sculptures by Emily Young.
Recommended: 12 Art and Design Heavyweights Share Their Stunning Collections
But it was an exhibition of Old Masters at her store this past summer ahead of the Sotheby's Old Master Paintings sale in London—featuring Lucas Cranach the Elder, Peter Paul Rubens, and the Circle of Leonardo da Vinci—for which Beckham made the biggest headlines.
"That collaboration got a lot of attention—I think people didn't see it coming," she says. "To see Old Masters in such a contemporary minimalist environment was really amazing."
Beckham credits a visit to the Frick Museum for sparking her passion for Old Masters. "My husband and I have been interested in contemporary art for some time," she says. "Last year I was in New York on my own and came down to the Frick and found it so inspiring. That was the first time, really, I became interested in Old Masters."
A highlight of the New York exhibition is Saint Sebastian Tended by Irene, a vibrant oil-on-canvas work that was recently reattributed to Artemisia Gentileschi, perhaps the most celebrated female painter of the 17th century. The canvas depicts two concerned women standing over a wounded man revealing an incredible display of feminine strength and power. The work is estimated to sell for $400,000 to $600,000.
"I'm so gratified that one of the most powerful voices right now rejuvenating the field of Old Master painting is a strong leading woman," says Calvine Harvey, a vice president and Old Master paintings specialist at Sotheby's.
Of the three works on view by French 18th-century portraitist Élisabeth Louise Vigée Le Brun, the standout is the imposing Portrait of Muhammad Dervish Khan, Full-Length, Holding His Sword in a Landscape, painted in the summer of 1788 and exhibited at the Salon of 1789, as the French Revolution began spreading social and political upheaval in France and its colonies. On offer for the first time in more than a century, it's estimated to sell for $4 million to $6 million.
It's well-known that women artists have been historically overlooked in academic study and undervalued in the art market compared with their male counterparts, and these exhibitions are part of a larger movement to turn that around.
"Renaissance women were expected to bear children and not really to pursue professional interests. And then it was small things like women not being allowed into life-drawing classes because there were male nude models," Harvey explains. "In some ways, even the term 'Old Master' reflects these realities and histories, and there's not really room for women. What would we call them—'old mistresses'?"
"I try to teach David everything that I have learned," says Beckham of her husband. "This is becoming a family passion and something we are really interested in learning about. I'm so keen to learn more."
After the reception, Beckham and a small group of guests enjoyed a private dinner hosted by the Frick's chief curator, Xavier F. Salomon, in the Directors Dining Room on at the historic Upper East Side museum.
"The Female Triumphant" will be offered across Sotheby's Master Paintings Evening Sale on January 30, Master Paintings & Sculpture Day Sale on January 31, and the 19th-Century European Art auction on February 1 at Sotheby's New York. 
Next Post