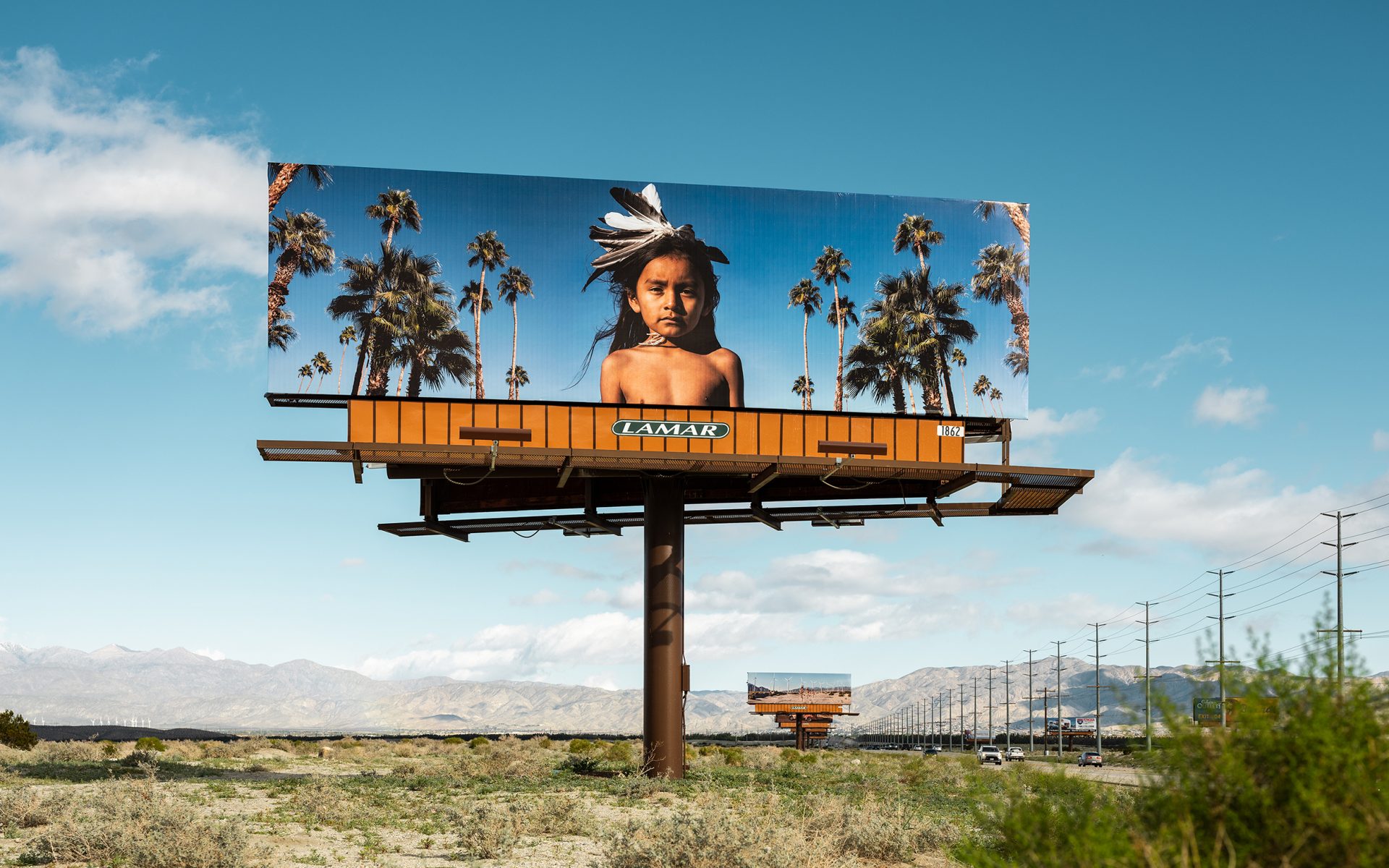 The 9 Most Unforgettable Installations at Desert X in Coachella Valley
See the best of the biennial's second edition, from a digital simulation by John Gerrard to striking billboards by Cara Romero
The second iteration of the art biennial Desert X kicked off February 9, introducing 18 site-specific, outdoor artworks across nearly 55 miles of the California desert known as Coachella Valley, an area more widely known for its annual music festival than its avant-garde art scene.
Artistic director Neville Wakefield and the husband-and-wife cocurators Matthew Schum and Amanda Hunt (formerly of New York's Studio Museum) chose artworks that explore the area's signature characteristics—its precious and practically fetishized mid-20th-century architecture; the alternating wealth and scarcity of its natural resources (notably land, water, wind, light); the wildfires and other visible results of climate change; its diverse indigenous peoples; and the conflicts and confluences that arise from the interplay of those elements.
Recommended: How Bettina Korek Is Transforming L.A. into a Breeding Ground for Future Art Patrons
"What's great about Desert X is it really takes you to a place you'd never normally go," says Wakefield, who describes Desert X as being "curated by the place," and led the first go-round for the biennial. "Unless you have some landfill, of course."
Susan Davis, who originated the idea for the biennial and heads Desert X's board, says that for the first edition, in 2017, far more people trekked to Desert X than she and Wakefield had anticipated. "We were able to count 200,000 people," she says, ticking off a list that included collectors, artists, museum groups, and many from "the entire international art world." It probably didn't hurt that the area has long attracted design-loving tourists and that many of its hotels are set up to cater to the aesthetically finicky.
This second version of Desert X has a broader geographic reach, extending down to the less picturesque Salton Sea and even crossing the border into Mexico. The border also appears as a theme in many works, along with reference to the rancorous debate over a border wall.
"The desert is vast," says Hunt, noting the surprising ways the artists engaged with it. While "there's this myth of the desert as a blank canvas," she says, what the artists found exciting was responding to the "many cultures and stories contained here."
Here are Galerie's top picks from the exhibition.
1. JOHN GERRARD, Western Flag (Spindletop, Texas), 2017
If you trek to see only one work at Desert X, make it this one. The Irish-born artist John Gerrard's video work Western Flag depicts the now-spent site of the famous Lucas Gusher, the world's first major oil find (in 1901), located in Spindletop, Texas. The site is re-created as a digital simulation with an image of what appears to be a single black flag fluttering in the wind. The flag is in fact several thin streams of black smoke that wave and move as a flag might in the windy desert. "It's a video simulation of what a flag would look like if it was gushing carbon monoxide and if carbon monoxide was black," says Wakefield.
"Flying the flag of our self-destruction," Gerrard writes, "we are asked to consider our role in the warming of the planet and simultaneous desertification of once-fertile lands."
2. CARA ROMERO, Jackrabbit, Cottontail & Spirits of the Desert, 2019
The most visible work of this year's Desert X is a series of five billboards featuring portraits of young tribal children that stretch along a popular highway between downtown Palm Springs and Palm Desert by the Santa Fe artist Cara Romero. Romero photographed the children on their own reservation as part of a series in which she tries to make visible the Cahuilla, Chemehuevi, Serrano, and Mojave peoples.
"These images stand proudly in a major passageway," Hunt says. "They bring acknowledgment to the people who have occupied this land historically." The fact the billboards feature "contemporary images of indigenous people" is critical, says Hunt, because many Americans and tourists only knowingly glimpse Native people in history books, though in person, native adults and children are often mistaken for immigrants.
3. NANCY BAKER CAHILL, Revolutions, 2019
The gee-whiz aspect of Nancy Baker Cahill's two artworks here is the way they turn your phone into a magician's wand you never knew you had. Situated at two distinctive locations near the extreme poles of the Coachella Valley, her animated drawings exist digitally and can be conjured on site only through a predownloaded Desert X app. (Be sure to do this when you have Wi-Fi on an iPhone 6s or newer.)
It may sound complicated but Revolutions is one of the most purely beautiful works at Desert X—well worth the phone fiddling. With the app loaded, hold your phone up and colorful blossoms begin to dance among the colossal white windmills. Her augmented-reality drawing Margin of Error can be seen in a similar fashion only in the exact right spot by the Salton Sea. Wakefield suggests that the works here by Cahill are what the Land Art movement of the 1960s would look like today.
4. IVÁN ARGOTE, A Point of View, 2019
Paris artist Iván Argote's A Point of View is an interactive sculpture of five viewing platforms over the Salton Sea (each with its own set of steps), the body of water that was formed by accident in the 20th century as the result of a flooding of the Colorado River (in an area where an ancient body of water had long ago dried up). Messages in Spanish and English are set in the surprisingly springy surface of each step. The sculptures are positioned to function as sundials and purport to measure "diurnal, geologic, and mechanized time."
For Desert X, the artist blends "pre-Colombian architecture and Brutalist architecture that you'd find in a midcentury-modern environment like in Southern California and Palm Springs," says Schum. He does this in order to compress "many different registers of times," the human-constructed eras of the pre-Colombian and the modern, as well as the time of the ancient oceans.
 5. JULIAN HOEBER, Going Nowhere Pavilion #01, 2019
Los Angeles artist Julian Hoeber's work Going Nowhere Pavilion #01 is a Möbius-strip-cum-maze created in concrete "breeze blocks" (cinder blocks with cutouts that are popular in warm-weather climates). When viewed in the right light, they cast circular or crescent-shaped shadows on the dusty earth surrounding it.
The breeze blocks evoke a bygone aesthetic of 1950s and '60s architecture and the Benday dots that artist Roy Lichtenstein made his trademark. The work also has a connection to French psychoanalyst Jacques Lacan, whose use of topology—the study of geometric properties—to describe the human mind, Hoeber has studied. "It makes visible the invisible, in terms of a psychology," says Hunt, "the things you can and cannot see inside yourself."
6. IMAN ISSA, Surrogates, a film about things to be used, in order of appearance, by self or others, for touching upon larger, insidious, or different things, 2019
Berlin artist Iman Issa's work is not a film, despite its confusing title. It's an installation comprising thin agricultural irrigation piping that she has snaked in and around the luxurious and verdant grounds of the Sunnylands Center & Gardens, the estate of Walter and Leonore Annenberg. Once considered a sort of West Coast Camp David, the site has seen visits by eight U.S. presidents from Eisenhower to Obama, but nowadays is more of a mecca for modern design, architecture, and garden enthusiasts. As with her prior work, the artist uses sculpture and installation to investigate political and personal associations with history, language, and the object.
7. ARMANDO LERMA, Visit Us in the Shape of Clouds, 2019
The only painting—and likely the only permanent work—at Desert X is local artist Armando Lerma's mural. The work, which adorns a water tower near a landfill, is a hieroglyphic-like series of images from the American Southwest and beyond of snakes, birds, parrots, seashells, plants, and flowers in a muted Chicago Pop Art palette of sienna and blue. Lerma, who was born in nearby Indio in 1975, founded Coachella Walls, a street-art project to enliven and encourage visitation to historic downtown Coachella and boost awareness of the marginalized and low-income residents (many farmworkers) of the eastern Coachella Valley. Wakefield describes Lerma as a "local hero" whose mural "examines how nature and culture interact."
8. NORMA JEANE, Shybot, 2017-2019
One of the transborder works is a repeat visitor from the first Desert X. Its name is Shybot, and it's a roving robot that is programmed by the artist known as Norma Jeane to avoid human contact. Of course, this makes it impossible for visitors to see. But it merits mention nonetheless because like a desert-borne Major Tom, Shybot went wayward on its inaugural 2017 mission, until a maintenance worker came across it and claimed the $1,000 reward for the robot's return. This time, Shybot will be released along the Mexican border and, barring any interference, will stay connected to Desert X ground control during the biennial's approximately two-month run.
9. STERLING RUBY, Specter, 2019
Ruby has conceived this staggeringly vibrant monolith to give the illusion of negative space, as though some former piece of the landscape, like a shipping container or military bunker, has been removed. A resulting void—the object's ghost, if you will—lends the piece its name. In spite of its fluorescent orange hue, the sculpture remains somehow elusive. "He's developed a color—it's an extremely bright orange that kind of avoids photography in some way," says Wakefield. "It's very hard to capture."
Desert X is on view through April 21.
Next Post