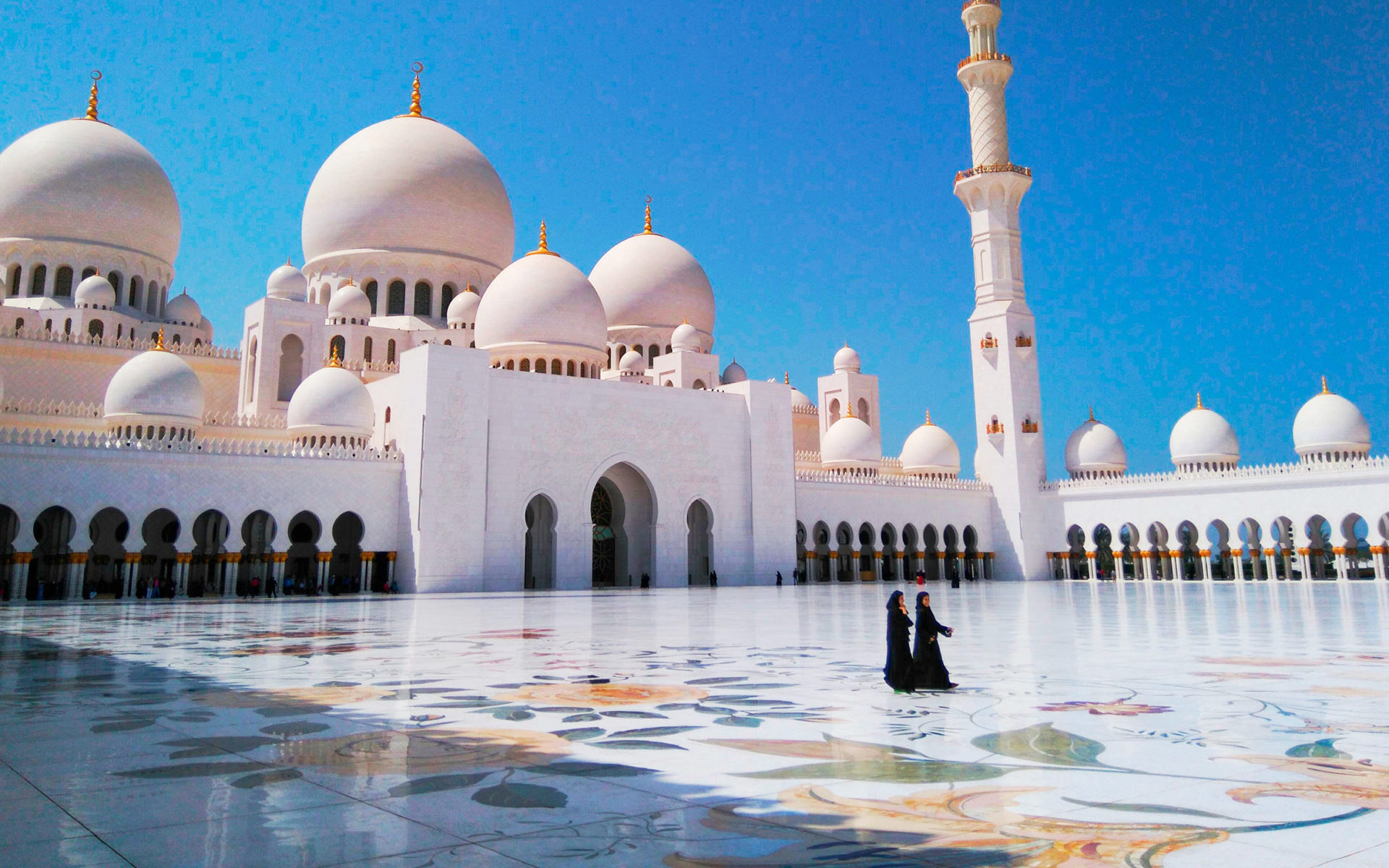 The Ultimate Art-Lover's Guide to Abu Dhabi
Boasting a spectacular new branch of the Louvre, Abu Dhabi is becoming a global center of art and culture
The federation of oil-rich Persian Gulf states known as the United Arab Emirates has become a land of superlatives as it races to build the tallest, the biggest, the first of its kind. But there's more to the UAE than the gleaming high-rises and flashy cars—there's also an increasingly vibrant arts scene.
Off the coast of Abu Dhabi, the wealthiest of the emirates and the UAE's capital, a formerly uninhabited stretch of sand is now one of the most ambitious—and, yes, largest—construction projects in the world. This barren landscape, which until a decade ago was home only to turtles, Arabian oryx, and gazelles, is being developed as a global hub for culture, learning, and eye-catching architecture, conceived to eclipse anything else like it in the Middle East. Called Saadiyat Island, which means "Happiness Island" in Arabic, the site is already home to a New York University outpost and the Manarat Al Saadiyat arts center, but it's a series of planned cultural buildings by celebrated architects Tadao Ando, Sir Norman Foster, Frank Gehry, the late Zaha Hadid, and Jean Nouvel that promise to be its defining achievements. In early November the first of these, Nouvel's Louvre Abu Dhabi, was unveiled, marking a major step toward the emirate's mission of raising its profile as a world-class destination for culture as well as a top spot for luxury shopping, fine dining, and international business.
A partnership with the Louvre Museum in France, Nouvel's much-anticipated (and delayed) building takes the form of a souklike grouping of gallery structures, plazas, and reflecting pools, all set beneath a huge latticed dome measuring some 600 feet across. Evoking the traditional Islamic brise-soleil known as a mashrabiya, the spectacular circular roof features overlapping layers of intricately perforated metal, shielding the interior from direct sun while allowing filtered light to softly illuminate the spaces. Nouvel, who used mashrabiya-inspired elements in earlier projects like the Institut du Monde Arabe in Paris and the Doha Tower in Qatar, describes the gesture here as wanting "to put an umbrella on the neighborhood and create an Arabian symbol in the context of the Middle East. It was part of linking the museum to the geography and history of the region."
Inside this striking sanctuary, galleries will host permanent displays, a regular rotation of loans from the Louvre, and changing temporary shows, all with a global scope, ranging from ancient to modern. The inaugural round of exhibitions will feature such chronologically diverse highlights as a Bactrian princess statue dating to the third millennium B.C., Paul Gauguin's 1888 painting Breton Boys Wrestling, and a recent monumental work by Ai Weiwei. A special show titled "From One Louvre to Another," opening on December 21, traces the history of the Louvre.
Visible from the museum's campus, just to the north, is the site of the future Gehry-designed Guggenheim Abu Dhabi, which is even more behind schedule. At present, there is no completion date, which is also the case with Foster's Zayed National Museum, Hadid's performing-arts hall, and Ando's Maritime Museum. Authorities insist that all of these Saadiyat Island projects will be realized, in due time, and the delays haven't stopped hotels from moving forward, including the St. Regis and Park Hyatt, both of which have opened luxurious waterfront properties nearby.
Those hotels welcomed plenty of international visitors for Abu Dhabi Art, the annual modern and contemporary fair that takes place in early November at the Manarat Al Saadiyat. A decade old, the show attracts prominent exhibitors like Galerie Thaddaeus Ropac (Paris, London, Salzburg) and Lisson Gallery (London, New York). "We were here for the inception of the fair and feel that its intimacy allows us to connect with patrons, collectors, and museum directors in a very special way," says Leila Heller, who owns eponymous galleries in Dubai and New York.
The other big fall event is the Abu Dhabi Grand Prix, at the Yas Marina Circuit, from November 24 to 26. Attended by a glittering array of celebrities and socialites, the race always brings the city to life with festive parties galore. It's hard to find a more sensational setting for a race than Yas Island, home to the exhilarating Ferrari World theme park, a marina, and several elite hotels, including the arresting Yas Viceroy Abu Dhabi. 
Regardless of the time of year you come, there's always plenty to do. One of Abu Dhabi's most iconic attractions is the Sheikh Zayed Grand Mosque, whose mesmerizing white minarets are visible from all across the city. Completed in 2007 by Syrian architect Yousef Abdelky, the magnificent edifice features four minarets and 82 domes, marrying facets of Persian, Arab, and Indo-Islamic design. It pays tribute to the late Sheikh Zayed bin Sultan Al-Nahyan, who dreamed of the mosque's construction.
Like Dubai, its go-go neighbor, Abu Dhabi often feels averse to the old. Nowhere is that more evident than on Al Maryah Island, which has a lively array of hotels, bars, and restaurants that cater to the large population of expats. Here you'll find the Rosewood Abu Dhabi, where the elegant interiors host a revolving display of contemporary art, and the newly opened Four Seasons Abu Dhabi, a glamorous oasis within the humming city. Al Maryah Island also boasts some of Abu Dhabi's best places to eat, including the French Riviera–inspired La Petite Maison, the Japanese-fusion spot Zuma, and Coya, which offers upscale Peruvian dishes.
For Emirati cuisine, a visit to Mezlai, nestled inside the opulent Emirates Palace, is a deserving favorite. Seated amid lavish Arabic interiors—designed to recall an airy Bedouin tent—you can enjoy hearty Middle Eastern dishes prepared with classic ingredients such as camel, dates, za'atar, saffron, and rosewater.
When it comes to shopping, the Galleria on Al Maryah Island offers the latest collections by prominent designers in sleek storefronts. But if you're interested in exploring a more traditional side of Abu Dhabi, head to the Al Mina port district, where you can stroll through markets for fish, fruits and vegetables, flowers, and crafts. At the Carpet Souk, you'll find rugs from across the Middle East and Afghanistan. This is where average Emirati families buy carpets for their majlis (reception room) as well as prayer rugs and beautiful cushions with classic Bedouin designs.
For a taste of desert wildlife, head to the island of Sir Bani Yas, where you can see roaming giraffes, gazelles, and cheetahs. More adventurous still is a day trip into the Rub' Al Khali (the Empty Quarter), the world's largest uninterrupted sand mass, which spans much of the Arabian Peninsula. In a scene out of 1001 Nights, ever-changing golden sand dunes undulate like ocean waves and time stands still. It's a striking contrast to glittering 21st-century Abu Dhabi and a potent reminder of its desert heritage. 
Next Post