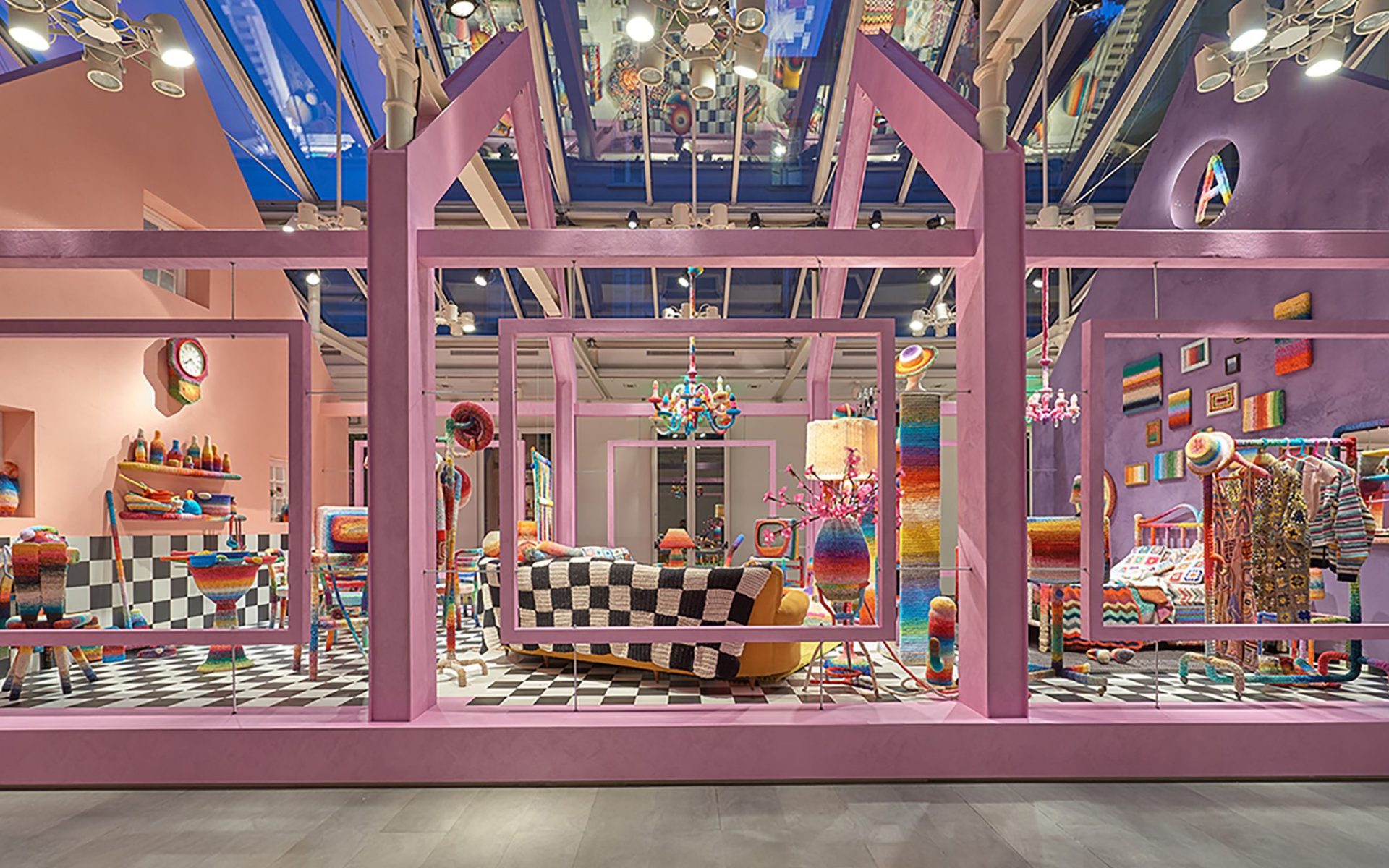 Here Are the Trends Spotted at Milan's Salone del Mobile 2019
From sustainable materials to artwork in spiritual settings, these trends prevailed
Last week, nearly 400,000 visitors packed the aisles at Rho Fiera and Milan's cobblestone streets for the 58th edition of the Salone del Mobile. The storied global furniture fair attracted exhibitors from 181 countries while the Fuori Salone events scattered throughout city drew thousands of design industry aficionados, architects, and retailers, many of whom stood in line for hours to experience larger-than-life installations and presentations of cutting-edge products. This year, the event highlighted sustainable materials, fashionable settings in colorful hues, and products at the intersection of art and design, often in spiritual settings. Here are some of the trends that prevailed.
Seeing a Future in Sustainable Materials
A profusion of sustainable and recycled materials was on display, including at this year's XXII Triennale de Milano's exhibition, "Broken Nature: Design Takes on Human Survival," which showcased the urgent issues connected to the natural environment, while underlining what is truly at stake.
"At the fair this year, I've seen an ongoing cultural transformation toward going more sustainable for our planet and encouraging designers to use recyclable materials," interior designer Amy Lau tells Galerie. That sentiment was echoed at "Waste No More," curated by Lidewij "Li" Edelkoort and Philip Fimmano, who presented the cycle of cloth—past, present and future—in pure shades of white, manufactured from recycled clothing from fashion brand Eileen Fisher.
Formafantasma, an Amsterdam-based design duo known for their material investigations, showcased their ExCinere collection, a range of tiles created from volcanic lava by architectural product manufacturer Dzek.
Clothing brand COS debuted Conifera, a large-scale modular structure by French architect Arthur Mamou-Mani composed of recyclable materials (700 compostable bioplastic bricks, to be exact) and produced with a 3-D printer. The site-specific installation was staged in the courtyard of the 16th-century Palazzo Isimbardi.
Fashion at Home
Fashion was front and center at this year's show, evidence that the once-rigid boundaries between disciplines were further being broken, according to Axelle de Buffevent, creative director of Perrier-Jouët. "Design is becoming more and more global," says De Buffevent, "with lots of fashion brands stepping in."
American interior designer Sasha Bikoff mixed 1960s space-age themes with '80s Memphis Milano for a glam-rock take on domestic life at Versace Home, where the collection was inspired by the label's runway campaign from 1994, which was shot by Richard Avedon. With the help of craftswoman Alessandra Roveda, Italian fashion designer Angela Missoni transformed the Missoni Brera showroom into a crocheted fantasy of Technicolor rooms dubbed Home Sweet Home.
Eco-friendly displays were a favorite of the fashion set. Designer Raf Simons's presentation of new fabrics for his home collection Kvadrat featured a garden of wildflowers while Jil Sander's Milanese headquarters had a living installation by landscape artist Linda Tegg, called Adjacent Field, which gathered moss, succulents, ivy, geraniums, and wild sage from in and around the city to bring a touch of the outdoors to the urban space.
Art inspires Design
"For a long time we've seen how fertile the ground is between art and design," says Aric Chen, Design Miami's curatorial director, about the overlapping practices, which merged at this year's Salone and Euroluce, the international lighting exhibition. Manufacturer Louis Poulsen introduced the OE Quasi pendant light by Danish-Icelandic artist Olafar Eliasson, known for bringing natural elements like light and ice into unusual settings. Czech glass company Lasvit presented De-Lux-Ity, a street-art-inspired glass chandelier by designer Wanda Valihrachová. In town, Argentinian artist Tomás Saraceno collaborated with Italian jeweler Bulgari on Weaving the Cosmos, an installation at Milan's Planetarium that fused scientific research and the cosmos with the artist's signature spiderweb motifs.
Sacred Spaces
De Buffevent also described a spiritual dimension that was omnipresent this year. "Lots of churches turned into exhibiting spaces, showed how design and art can relate to silence and deep thinking," she says. Two examples were Lebanese designer Carlo Massoud's sculptural installation The Fish and the Crowd in the Basilica of Sant'Ambrogio and Swedish-Chilean artist Anton Alvarez's L'Ultima Cera, an exhibition of extruded bronze sculptures at the church San Bernardino alle Monache.
Japanese designer Nendo's installation Breeze of Light incorporated 17,000 flowers made from polarizing film, with over 100 spotlights with polarizing filters used to alter the intensity of the shadows from the flowers. The work, which was created for air-conditioning manufacturer Daikin, was meant to evoke the feeling of a breeze blowing through a field of flowers. During an otherwise frantic week, it was a welcome moment of calm.
Next Post