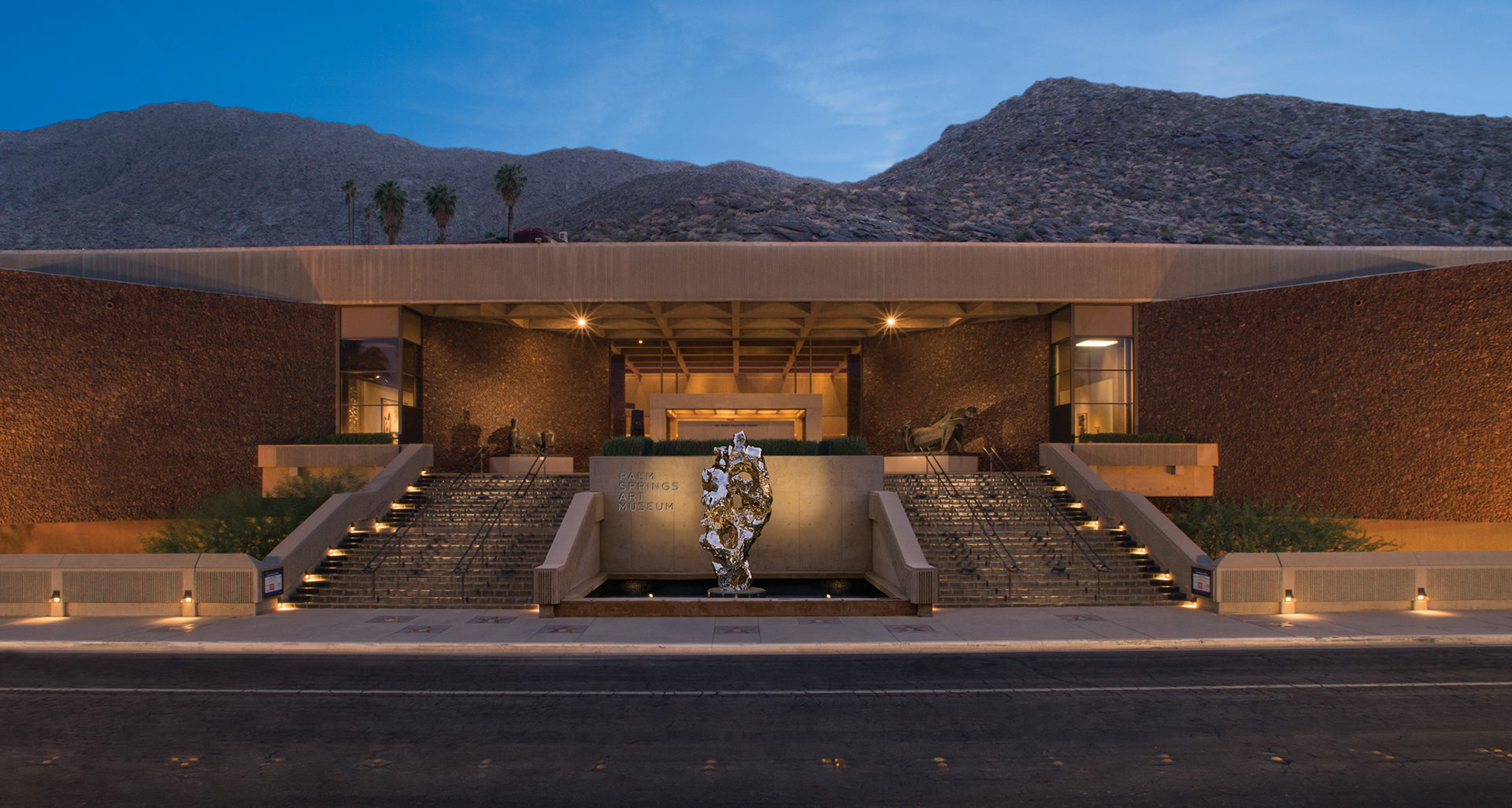 Tour Palm Springs's Midcentury Modern Landmarks
In February, the midcentury modern mecca hosts a 10-day festival of art and design
"Architecture should come from the earth rather than merely being placed upon it."
— E. Stewart Williams, Architect
Palm Springs is an undisputed mecca of midcentury modern architecture and design. A tour of the Southern California city is like walking through a living museum chock full of works by legends like Albert Frey, William Krisel, Donald Wexler, and E. Stewart Williams. From the 1940s to the '60s, these architects designed everything from banks and gas stations to museums and housing developments, many of which have rightfully made their way onto the National Register of Historic Places.
Each February the sun-baked oasis hosts Modernism Week to show off its well-preserved midcentury trove. (This year's celebration takes place from February 15–25 and boasts more than 350 events.) But you don't have to wait until then to get a little culture; all you need is a map—available at the tourism center, itself housed in a midcentury landmark designed by Frey—and a good pair of walking shoes. See below for some of the city's must-see destinations.
The Tramway Valley Gas Station (1963-65)
Designed by Albert Frey and Robson C. Chambers, the distinctive hyperbolic paraboloid—a cantilevered, kite-shaped canopy in layman's terms—makes the structure look a bit like a space ship that has just landed at the  foot of the majestic San Jacinto Mountains. This prime example of midcentury modern architecture was originally an Enco gas station and since 2000 has served as the Palm Springs Visitor's Center. 2901 N. Palm Canyon Drive
Bank of America (1959)
This architectural gem was designed as, and still is, a bank—originally City National Bank—and is open to the non-banking touristically-inclined public. Designed by Victor Gruen Associates, the building was inspired by Le Corbusier's Ronchamp chapel in France. 588 S. Palm Canyon Drive 
Palm Springs City Hall (1952-1957)
Designed by Albert Frey specifically as the Palm Springs City Hall, the building hasn't changed much over the years. A magnificent palm tree soars through  an opening cut in the portico overhang in front of the building. Frey's use of angled metal piping creates a shield against the intense morning and early afternoon sun. These brise-soleils cast changing patterns, further enhancing the architectural design. 3200 E. Tahquitz Canyon Way 
Kaufmann House (1946-47)
This private residence is one of Richard Neutra's most famous works. It was commissioned by Pittsburgh department store tycoon Edgar J. Kaufmann Sr. who, ten years earlier, commissioned Frank Lloyd Wright to build Fallingwater. Like Fallingwater, this five-bedroom, five-bathroom house was designed to emphasize connection with the outdoors: sliding glass walls give the living spaces and master bedroom access to adjacent patios. Movable vertical slats offer protection against sand storms and the intense desert heat. 470 W. Vista Chino Road 
The Wexler Steel Houses (1961-62)
Partnering with The Alexander Construction Company, Donald Wexler developed an elegant and affordable pre-fabricated steel housing design consisting of a concrete foundation on which a bathroom and kitchen unit was placed, with the rest of the home built around this central core. Wexler hadn't counted on rising steel prices, and the project ended abruptly. Six of the seven built are today classified as Class 1 Historical Sites, the city's highest designation.
NEIGHBORHOODS
Twins Palms Estates, aka Alexander Homes (1957-58)
Designed by William Krisel and Dan Saxon Palmer and built by the Los Angeles–based George Alexander Construction Company, Twin Palms is so-named for the two palm trees located in front of each house. These easy-to-build affordable middle-income vacation homes feature varying rooflines (butterfly, a-frame, flat) giving what is essentially a tract neighborhood the look of custom mid-century modern homes.
This model became so popular that the Alexander company went on to build several other neighborhoods in Palm Springs, all still in private use, and all of which are worth at least a drive-by:
Racquet Club Road estates, North Palm Springs (1959-1960)
Vista Las Palmas, near Down Town (1957)
Sun-Mor estates central Palm Springs (1955-1962) 
Frey House II, (1964)
No round-up of midcentury-modern architecture in Palm Springs would be complete without a mention of the house Albert Frey designed for himself.
Frey House ll, his long-time second residence in Palm Springs, completed in 1964, is perched on the hillside at the west end of Tahquitz Canyon Way. At the time it was built, it was at the highest elevation of any residence in the city. Frey left the house and its contents to the Palm Springs Art Museum, which today acts as custodian.
The museum itself is worth a visit–as much for the 1976 architecture of E. Stewart Williams as for the ever-increasingly rich art collections. The Architecture and Design Center building at 300 S Palm Canyon was also designed by Williams and offers a wealth of information on Desert Modernism. For more information, visit psmuseum.org
Next Post