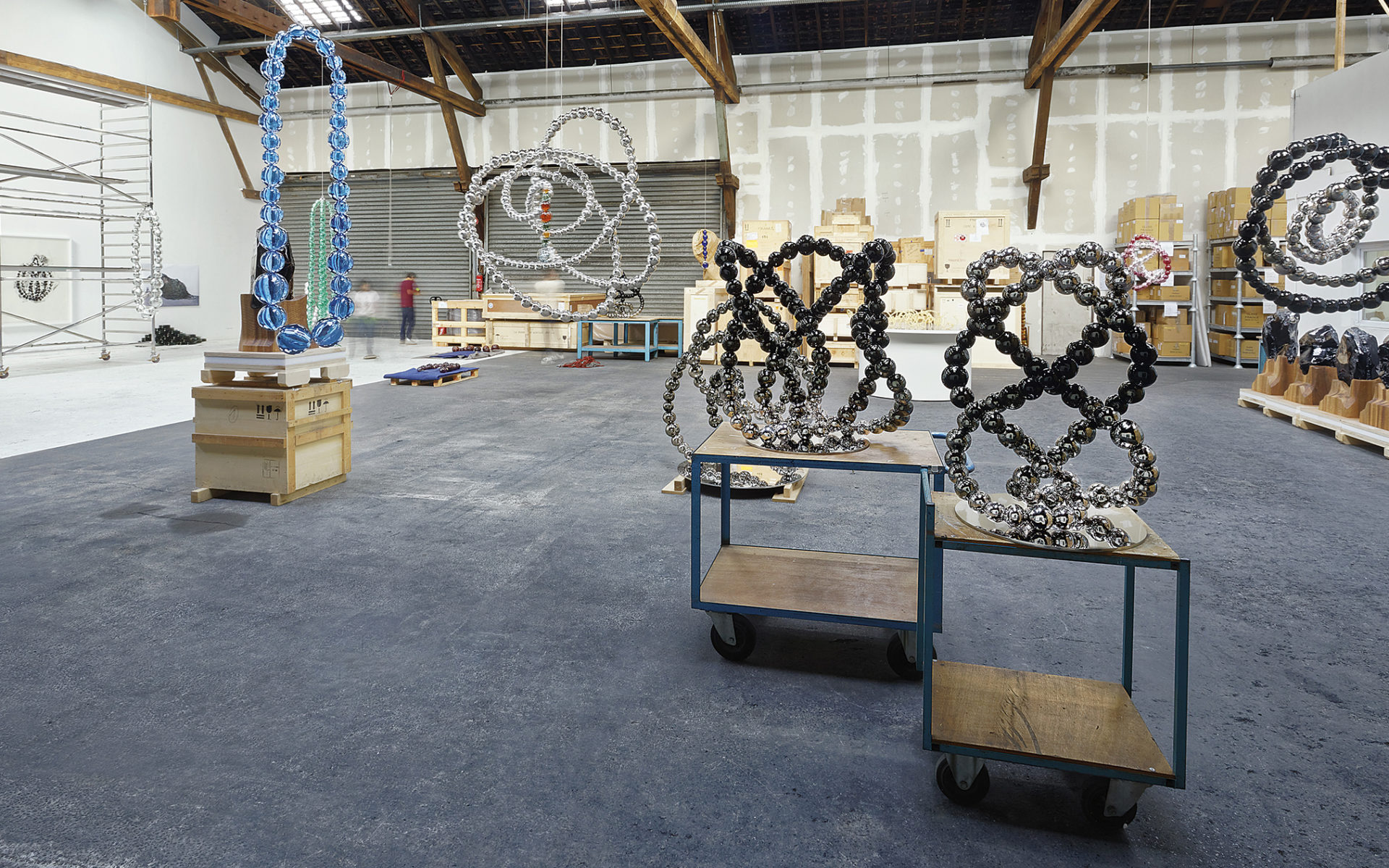 Tour Jean-Michel Othoniel's Sprawling Studio in Paris
In a former rail depot, the celebrated glass artist is preparing for his highly-anticipated solo show at Galerie Perrotin in New York
French artist Jean-Michel Othoniel's 2010 book, Why Glass?, was more than just a limited-edition monograph. It was a 48-page manifesto declaring his passion for the material whose alchemic potential he inventively exploits in his fantastical, often outsize sculptures. Othoniel's creations in recent years have ranged from a 36-foot-long necklace of silvery mirrored beads for a Chanel boutique in London to a series of lyrical sprays of blue and gold orbs permanently installed above fountains in the gardens of Versailles. And for a museum exhibition in the South of France this past summer, he fashioned 10,000 black glass bricks into a spectacular 25-ton cresting wave. Why glass, indeed.
To conjure these fanciful works, the Paris artist spends most mornings drawing his inspirations in a light-filled atelier overlooking the Musée Picasso in the Marais neighborhood. After lunch, he heads to his main studio, an 8,500-square-foot former railway station in Bercy, once an important warehouse district for the wine trade. In a cavernous, barnlike space—where the rustic ceiling retains its original wood trusses—Othoniel assembles his massive installations with a team that includes architects and engineers. "I love to be pushed by technical challenges," he says. "I design in a very wide and free way, but in the end, I need people to help me."
The walls of the studio are lined with the artist's paintings of his sculptures, serving as a backdrop for the works in progress as well as pieces in transit to museums and galleries around the world. Recently at the space, The Big Wave, with the thousands of glass bricks, was piled into six crates destined for a spring exhibition at a venue close to Othoniel's heart, the Musée d'Art Moderne et Contemporain in his hometown of Saint-Étienne. "It's very emotional for me to have a huge piece in the museum where I discovered art—and the emotions of art," he says.
Othoniel didn't start out working with glass. In the early '90s, he experimented with wax and then sulfur, an unconventional material he was drawn to for its fiery hue and corrosive properties. But during a trip to the Aeolian Islands to look for sulfur, he discovered another mutable, mercurial material: obsidian, the lustrous black stone commonly referred to as volcanic glass. From there a world of possibilities opened up, leading him to the famed glass workshops of Murano and India, where he now sources much of the glass he uses in his installations. "I love the idea of transformation, a liquid that turns into a solid—a material that's not fixed," he explains.
References to the natural world, especially waves and tornadoes, play a significant role in Othoniel's work. Walk inside, around, or beneath one of his signature sculptures of swirling, jewel-like spheres and—connotations of luxury and fashion aside—you get an almost visceral "feeling of movement and of the power of nature," as the artist puts it.
This spring those elements will sweep into the Perrotin gallery in New York. More than 30 pieces created by Othoniel over the past two years will occupy three of the five floors at Paris dealer Emmanuel Perrotin's largest space to date: a freshly renovated 1902 redbrick building on Manhattan's Lower East Side. One floor of exhibition space opened in late spring, but Othoniel's show will officially inaugurate the full 25,000-square-foot gallery with a mix of drawings, paintings, and large-scale sculptures. Highlights include The Blue Brick Road, a 56-foot-long floor assemblage of glass blocks that suggests a luminous azure pool. (The artist's last big splash in New York City was his 25-year mid-career survey at the Brooklyn Museum, in 2012.) Owing to the scale and delicacy of the work, the installation of the show is expected to take two weeks, says Othoniel, who concedes that "it's always a challenge
not to break things."
Yet it's that very vulnerability that endlessly captivates the artist. "It's important to show glass's fragility," he says. "That's not something I want to hide. There's no machismo—my work is more poetic and sensitive. It's why this material is so close to my heart." 
Click here to view more photos of the studio.
Next Post