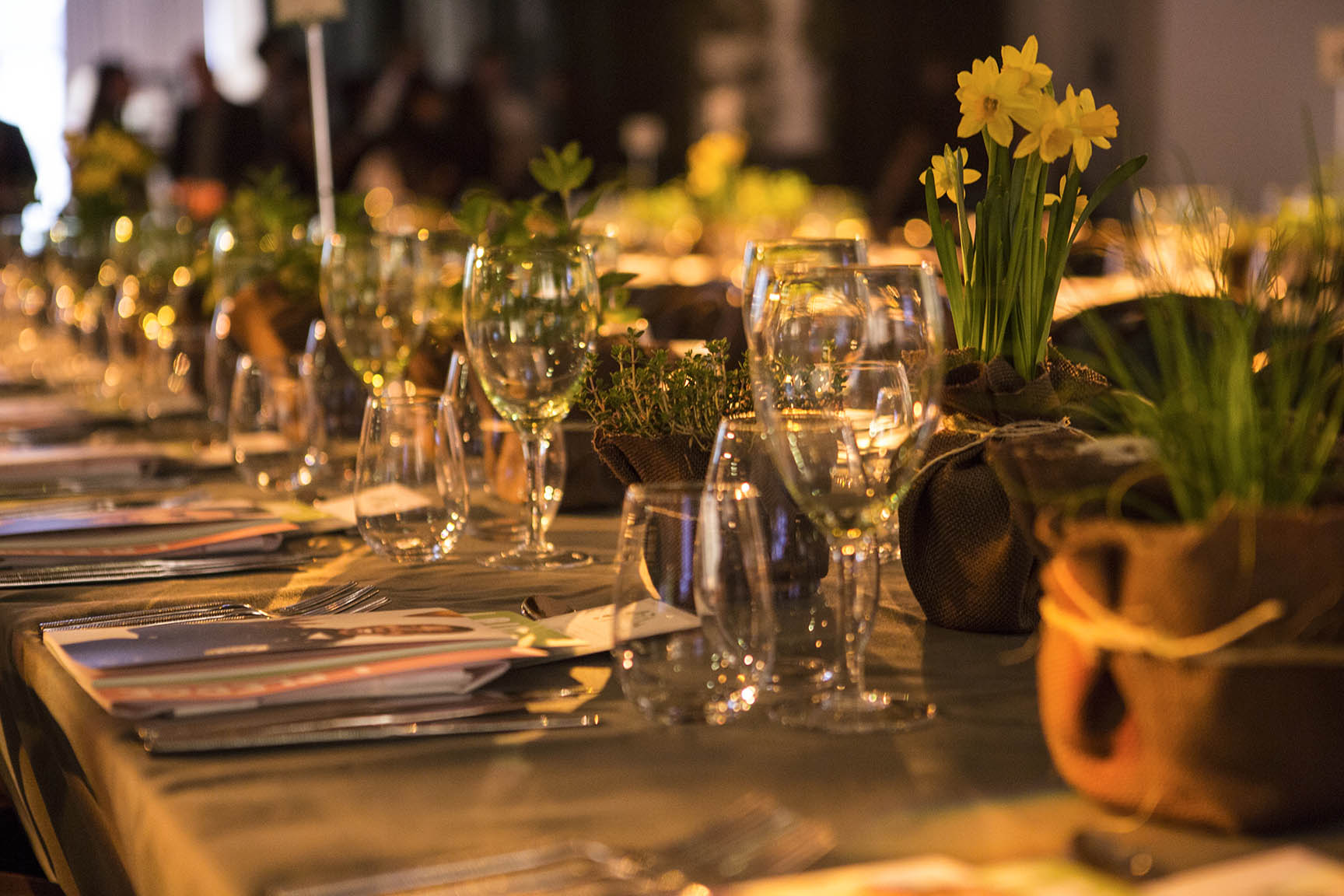 Food and Design Come Together at the 2017 Edible Schoolyard NYC Benefit
The highly-anticipated event features menus by 25 top chefs and design by Van Wyck & Van Wyck
For the last five years, the most most anticipated event on the foodie calendar hasn't been yet another new restaurant opening, but a coveted seat at the annual Edible Schoolyard NYC benefit.
Held in New York every spring, the unique charity evening is far from the usual overcooked chicken affair. Instead, an all-star roster of top chefs, assembled by David Chang of the Momofuku empire, are tasked with devising the menus and cooking dinner for individual tables of esteemed guests. This year's event, held at Metropolitan West on Monday, April 24, boasted 18 of the most buzz-worthy names in the restaurant scene including Justin Similie of Upland; Alex Raij of Txikito; Fredrik Berselius of Aska; Ignacio Mattos of Estela, Cafe Altro Paradiso, and Flora Bar; and Michael Solomonov of Philadelphia's Zahav. So, while one table is feasting on plates of pillowy rabbit agnolotti prepared by Ryan Hardy of Charlie Bird and Pasquale Jones, another might be experiencing the layered flavors of a dish of white asparagus, crab, ginger, and hazelnut served by Jeremiah Stone and Fabián von Hauske of Wildair and Contra.
Another highlight of the event is the gorgeous décor devised by party-planner extraordinaire Bronson van Wyck of Van Wyck & Van Wyck. "With the chefs in the room cooking such fabulous meals, what we do is really just the background," van Wyck modestly explains. Over the years he and his team have created all manners of vegetable-inspired wonders, including an ingenious chandelier of dangling carrots.
This year, the space was masterfully transformed into a lush, green setting that heralded the arrival of spring. Vines trickled down the room's vertical columns recreating the feeling of an outdoor garden, while potted edible herbs and baby daffodils graced every table (and were encouraged to be taken home by guests at the end of the night).
The mission of the charity, to build awareness around healthy eating by developing gardens and kitchen classrooms in high-need public schools, was thoughtfully highlighted through the décor. Striking portraits of school children taken by celebrated photographer Melanie Dunea were prominently on display. There was also a wall of Post-Its notes containing handwritten messages by hundreds of kids about what a healthy community means to them. edibleschoolyardnyc.org
Next Post