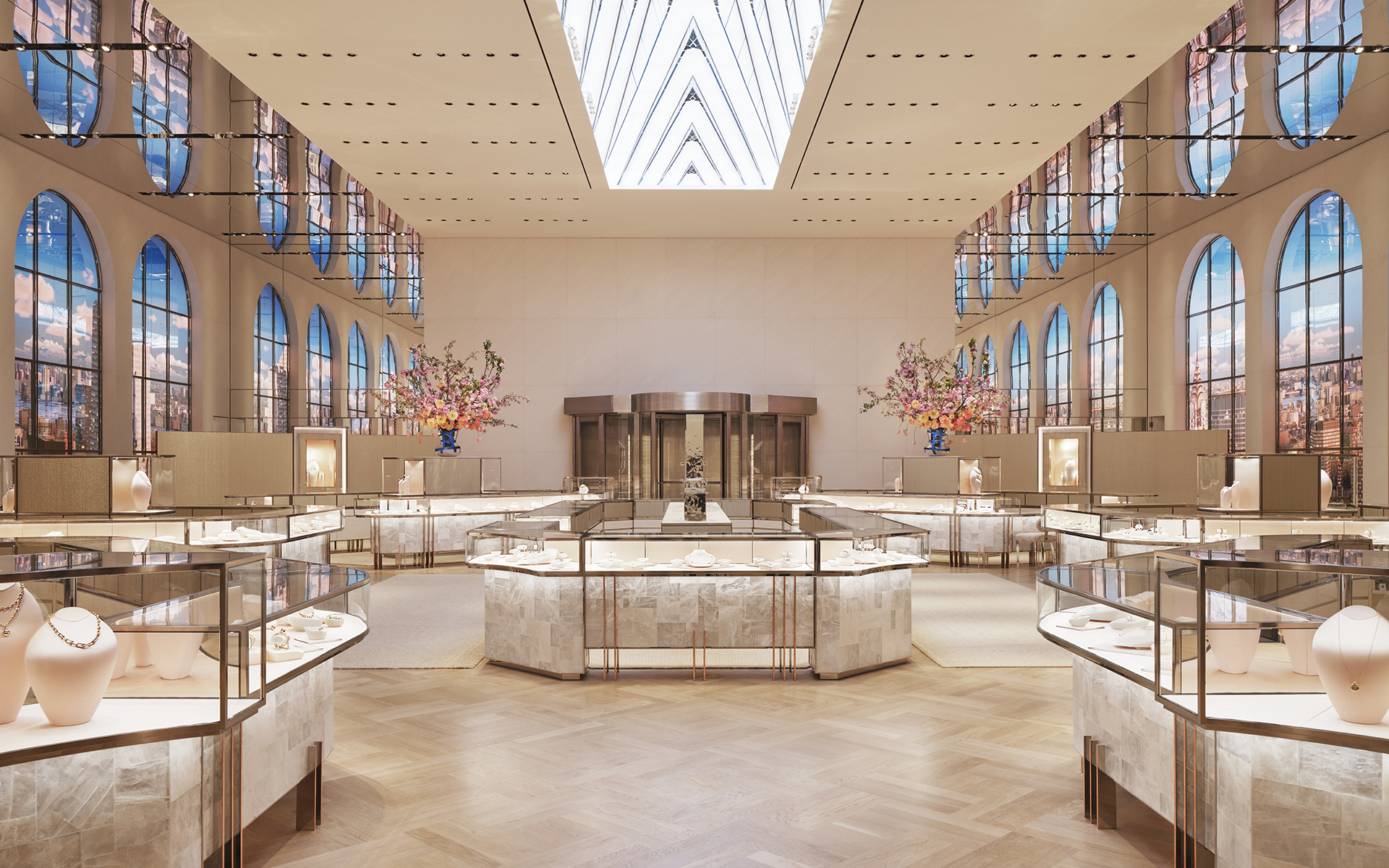 Look Inside the Dazzling New Art-Filled Tiffany & Co. Flagship on Fifth Avenue
Dubbed 'The Landmark,' the ten-story boutique is showing off a major renovation by OMA New York and Peter Marino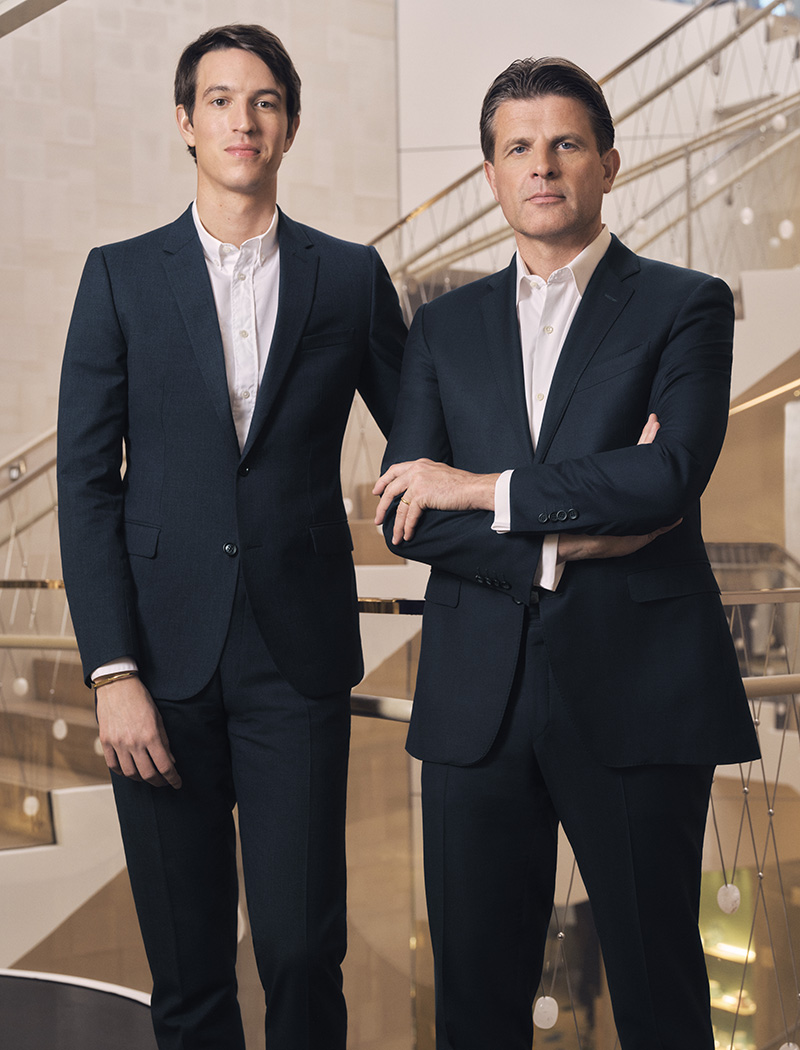 On Wednesday morning, a throng of celebrities and VIPs made their way from around the globe to have breakfast at Tiffany's. It was the hotly anticipated opening morning of the famed Tiffany & Co boutique on Fifth Avenue in New York, which has undergone an extensive refurbishment. Marking the first renovation since the original store opened in 1940, the building was masterfully redesigned by OMA New York, led by Shohei Shigematsu, who added on three stories to the existing building, and a dazzling interior renovation was conceived by famed New York architect Peter Marino.
The transformation began in 2019, and the façade pays homage to the iconic original structure, while the interiors introduce a whimsical and daring new world for Tiffany & Co., which was acquired by LVMH in 2021. Dubbed "the Landmark," the new space is notably filled with major contemporary art pieces, a reflection of LVMH's CEO Bernald Arnault, who is one of the world's biggest art collectors.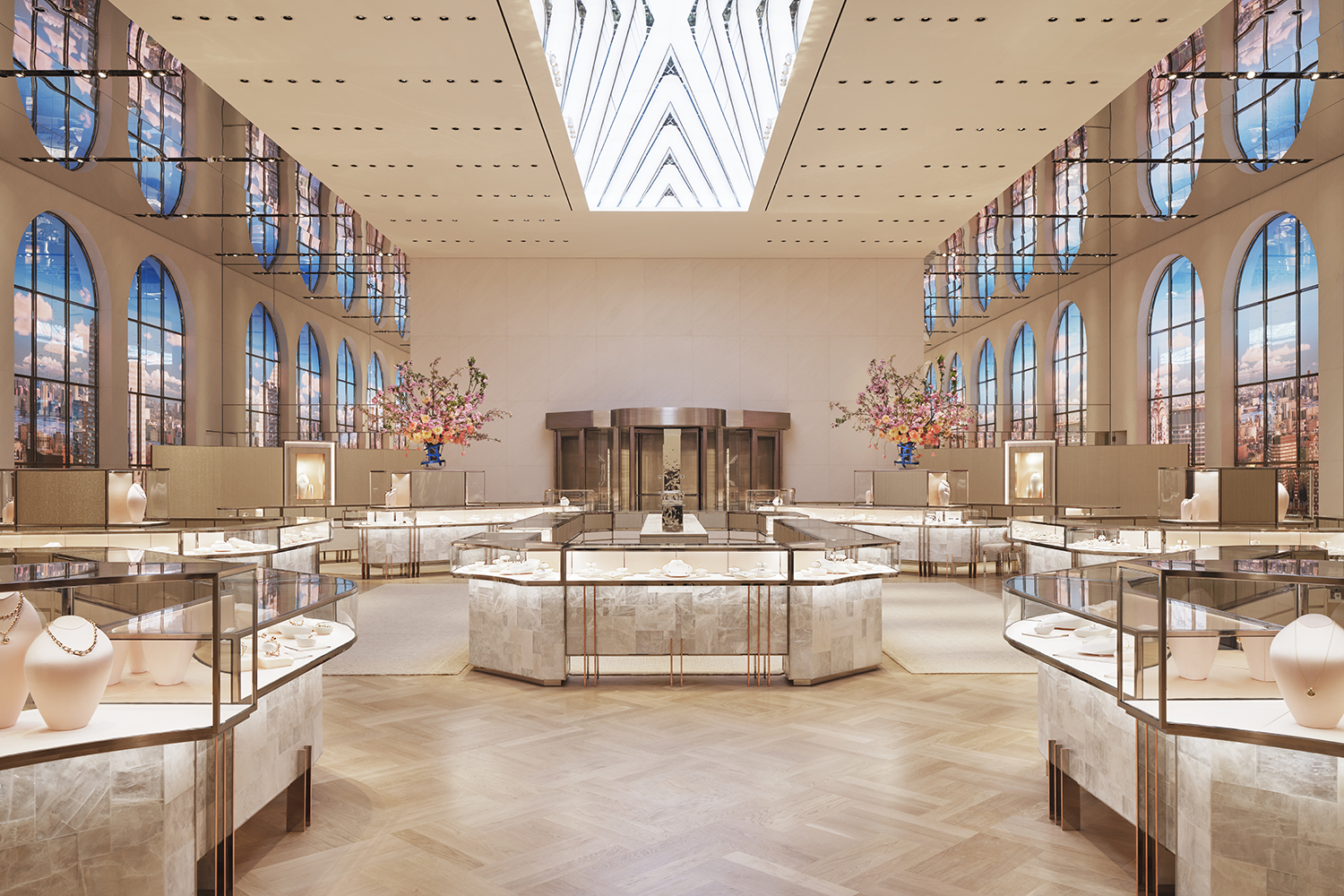 Upon entering the sprawling, light-filled ground floor—framed by iconic New York City scenery through video walls—guests are greeted by nods to the past and the future. Signaling the bold new era for the brand from the get-go, a rare and important work by New York artist Jean Michel Basquiat, Equals Pi, which is rendered in a bold shade of Tiffany Blue makes a grand statement above the elevators. (It first featured in a buzzy Tiffany & Co. ad campaign featuring Beyoncé and Jay-Z in 2021.)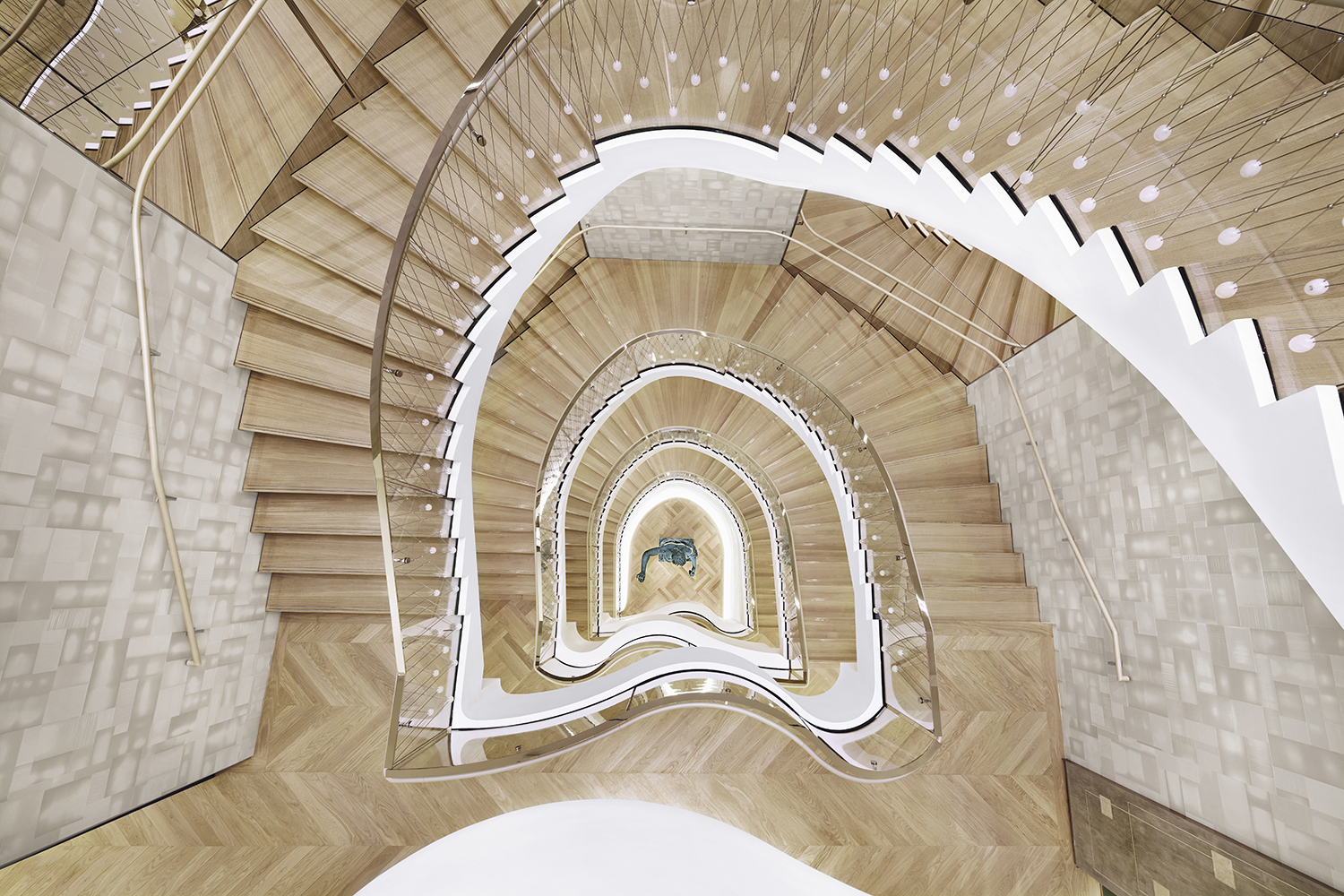 At the heart of the store is a striking, sculptural spiral staircase with undulating transparent balustrades adorned with rock crystal, inspired by, and reflecting the sensual and organic designs of Elsa Peretti. The staircase connects floors three through eight, while elevators allow access to every floor. At its base stands a monumental sculpture by Tiffany & Co. collaborator Daniel Arsham, also in a perfect Tiffany Blue shade. Using his signature method of creating "future relics," the Classic-style stature has been "crystallized," with shards of gold and crystal jutting out.
In a room dedicated to all things engagement—where the iconic Tiffany Setting is found in every carat weight twinkling throughout the room, there are some of the splashiest contemporary art pieces. On display is a spectacular chrome concave disc work by Anish Kapoor and a fantastical ceiling treatment by Rashid Johnson, where metal appears to drip from above. A more intimate room for private appointments features swathes of soft pink lining the walls, with a striking painting by Rashid Johnson at center, creating a perfect blend of art, jewelry, and romance. Another salon room nearby features a dizzying floor to ceiling artwork by Vik Muniz, where layers of painted panels make up an image of a vibrant floral wonderland.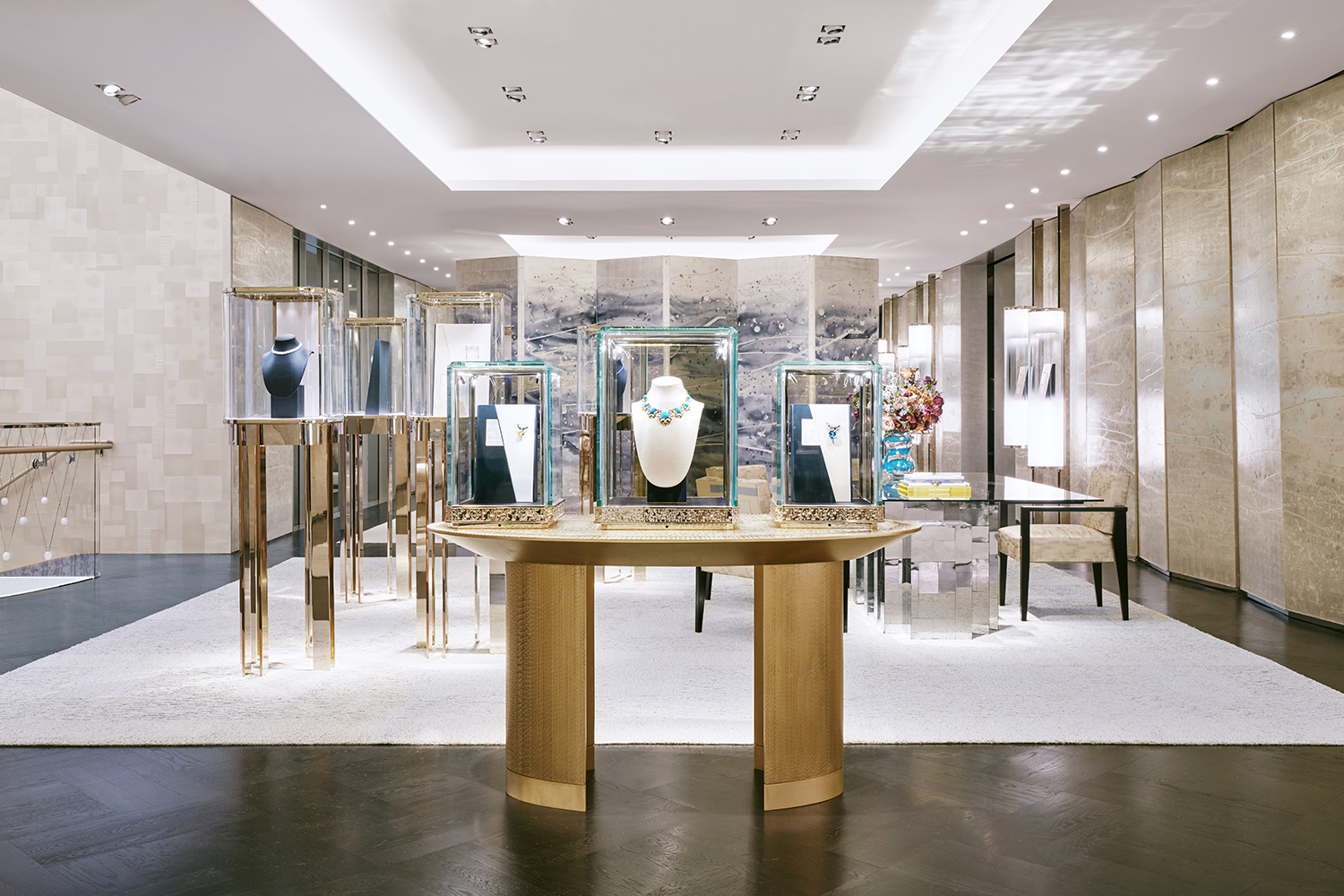 Other highlights that propel the store to new heights is a state-of-the-art jewelry atelier found on the High Jewelry floor, where master artisans craft the spectacular creations that the house is known for. Visitors can watch the magic at work, and a dark privacy screen can be enabled when the team are working on private pieces. The boutique is now home to the largest collection of Tiffany High Jewelry in the world and a special new home for the legendary 128.54-carat Tiffany Diamond.
Each of the spaces boasts a distinct aesthetic that thoughtfully reflects what is being displayed. An area dedicated to the organic, sinuous pieces by Elsa Perretti, for example, features burlap rugs, sculptural wood tables without a hard edge in sight, and pops of cobalt blue and gold. Here there is also a vitrine from the archives embedded in the wall presenting a selection of vintage perfume bottles by Peretti, dangling in a rainbow of colors and shapes.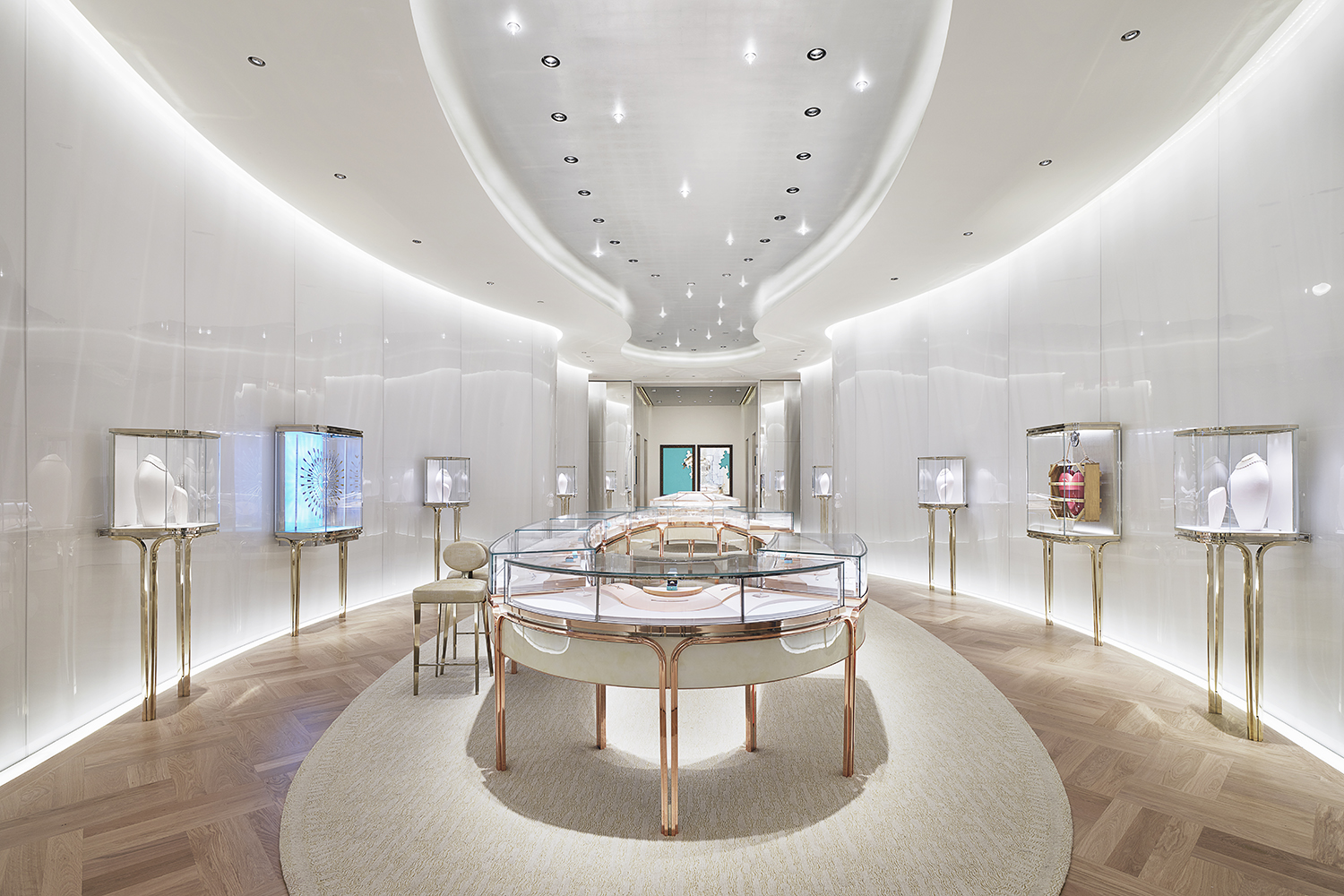 Destined to be more than simply a retail space, the store-come-museum is likely to attract visitors looking to immersive themselves in some New York history, too. Rare objects from the archives include the famous black Givenchy dress that Audrey Hepburn wore as Holly Golightly in the film adaption of Truman Capote's Breakfast at Tiffany's surrounded by giant photographs of Hepburn, encouraging selfie moments. There's also original pages from the film manuscript in another vitrine nearby.
After taking in all the jewels, home collection, watches, and pop culture surprises, visitors can break at the Blue Box Cafe by Daniel Boulud, which offers a unique take on Tiffany's coveted dining experience. The Michelin-starred chef brings a seasonally inspired daytime menu, including breakfast and tea, and it now includes a private dining area.
Next Post