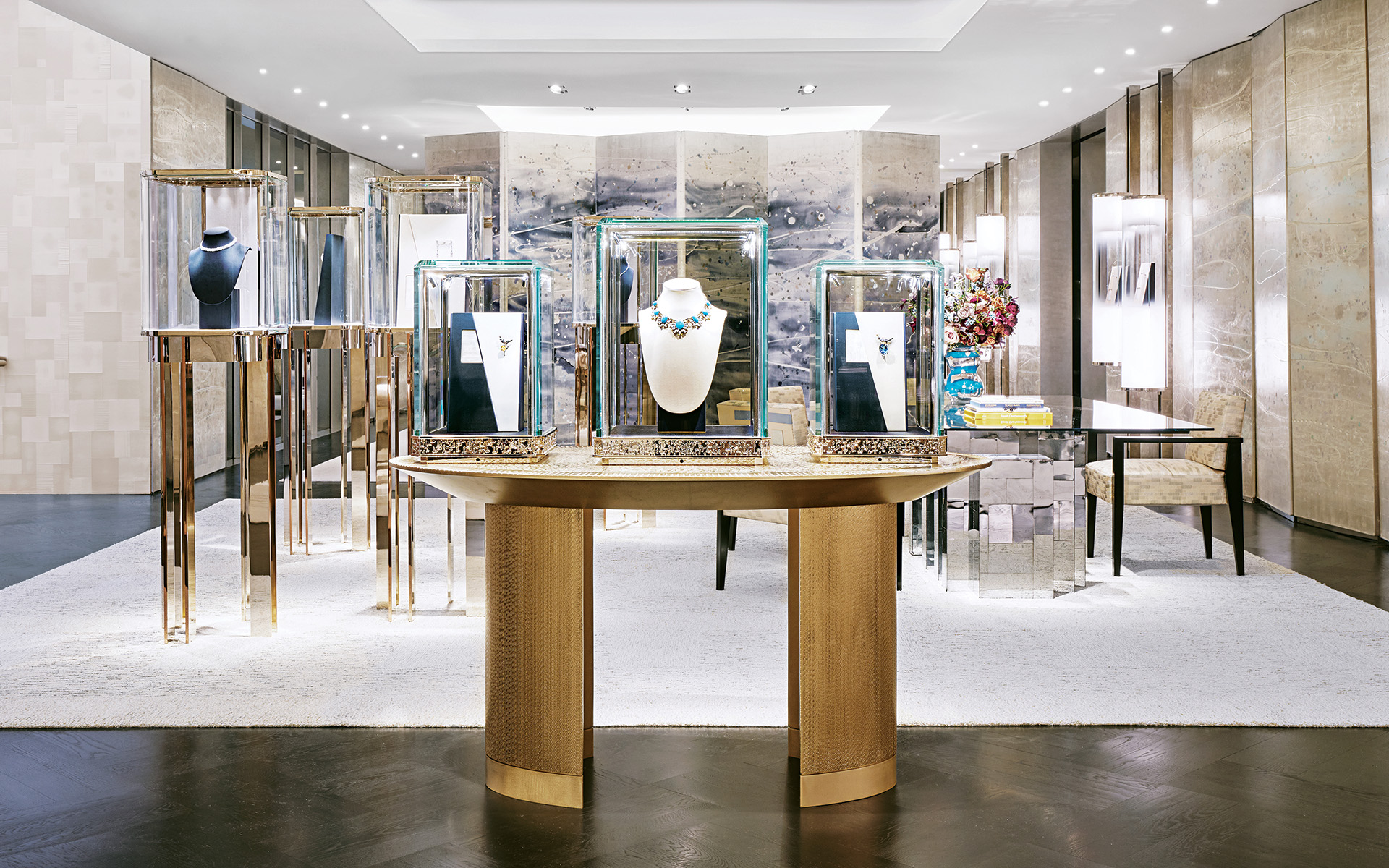 Tiffany & Co. Starts Exciting New Chapter with Spectacular Flagship and Aquatic-Themed Jewels
The high-jewelry creations from Tiffany & Co.'s Blue Book 2023: Out of the Blue reimagine Jean Schlumberger's signature motifs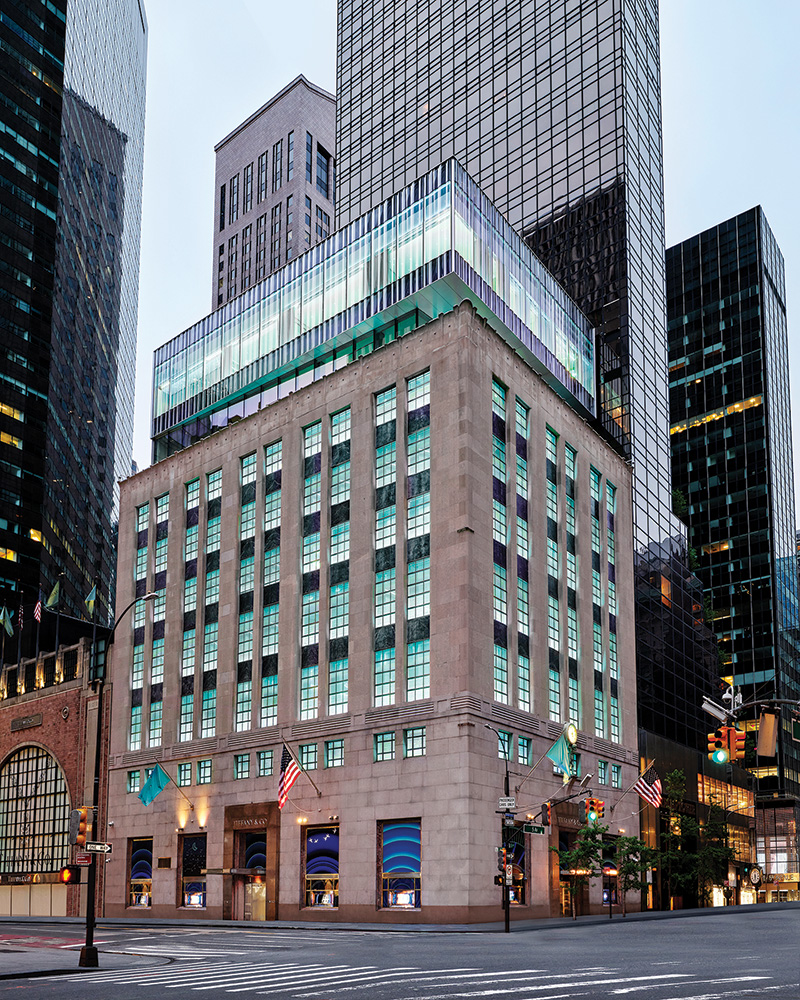 It's impossible to overstate the trailblazing impact of artist and designer Jean Schlumberger, who conjured some of the most innovative and fanciful jewelry in the world for Tiffany & Co., where he was lead designer for almost three decades beginning in 1956. His legacy looms even larger with the launch of Tiffany's new Blue Book high-jewelry collection, which pays homage to the master colorist and draftsman who conceived the maison's iconic Bird on a Rock brooch and Croisillon bangle. "We preserved and magnified the fundamentals of Jean Schlumberger's aesthetic, staying true to our heritage while reinventing it," says Nathalie Verdeille, Tiffany & Co.'s recently appointed chief artistic officer of jewelry and high jewelry, who delved into the house's rich archives to design a series of contemporary pieces with her distinct point of view.
The aquatic-themed introductions in Out of the Blue, which entail a second installment to be released in October, feature a shimmering mix of fantastical sea creatures, coral, and shells crafted with unexpected combinations of materials and cutting-edge techniques. Among the most ambitious pieces is an ornate collar depicting starfish, one of Schlumberger's signature motifs, draped over a gentle tangle of black opals, aquamarines, tourmalines, beryls, and diamonds. Requiring months of stone sourcing, the necklace took close to 1,500 hours to complete, with an extensive 3D wax model made of each creature.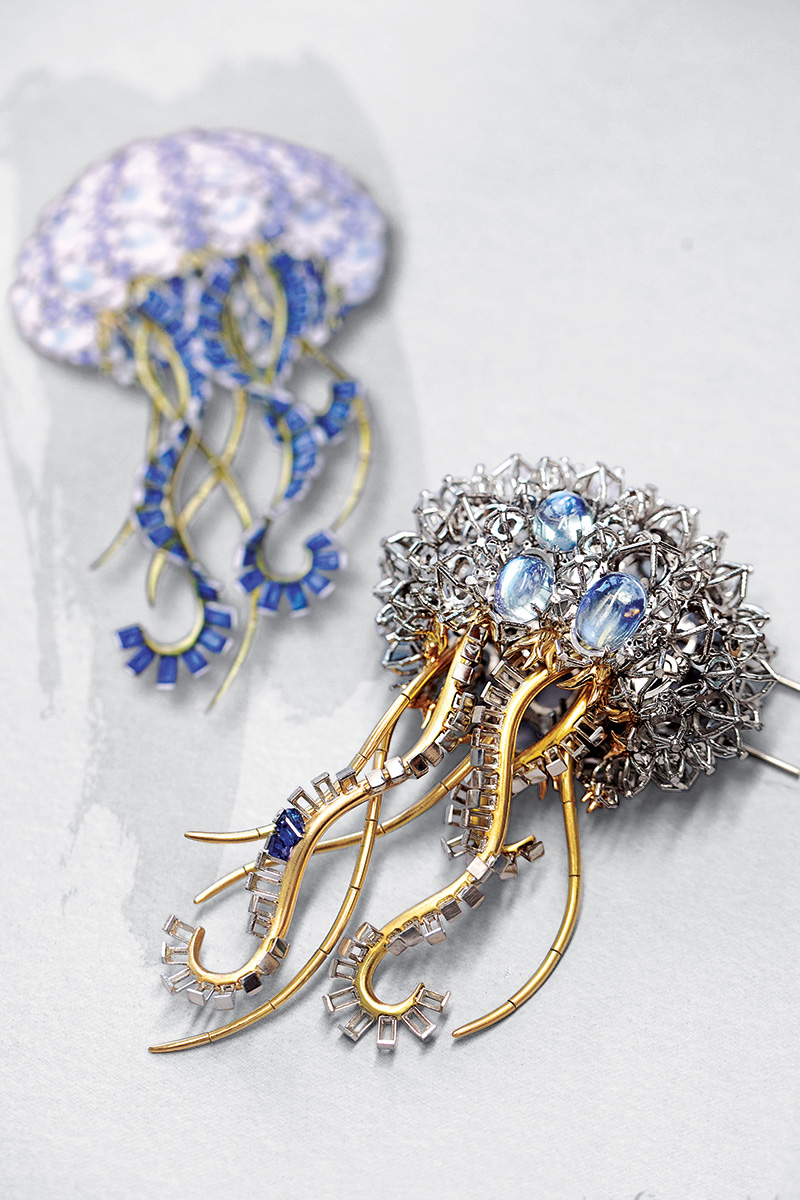 Schlumberger's 1967 La Méduse brooch has also been reimagined with articulated tentacles to create harmonious movement, while the palette of moonstones, tanzanites, diamonds, and sapphires adds to the new Jellyfish's ethereal quality. A Star Urchin necklace is comprised of 340 hand-carved chalcedony spikes. "I think Schlumberger painted with gemstones, which is what I try to do," says Victoria Reynolds, the brand's chief gemologist. "He wasn't focused on the value of the gemstone; he was focused on its beauty. We have that same integrity, but we can do things that he couldn't do at the time because of the technology."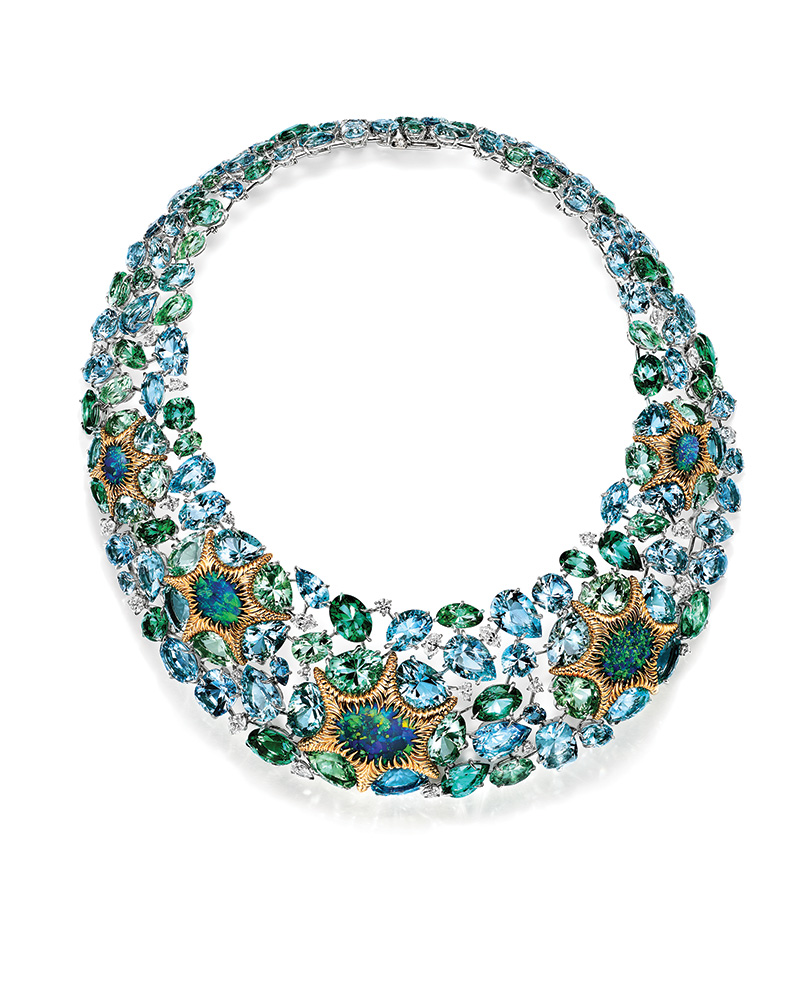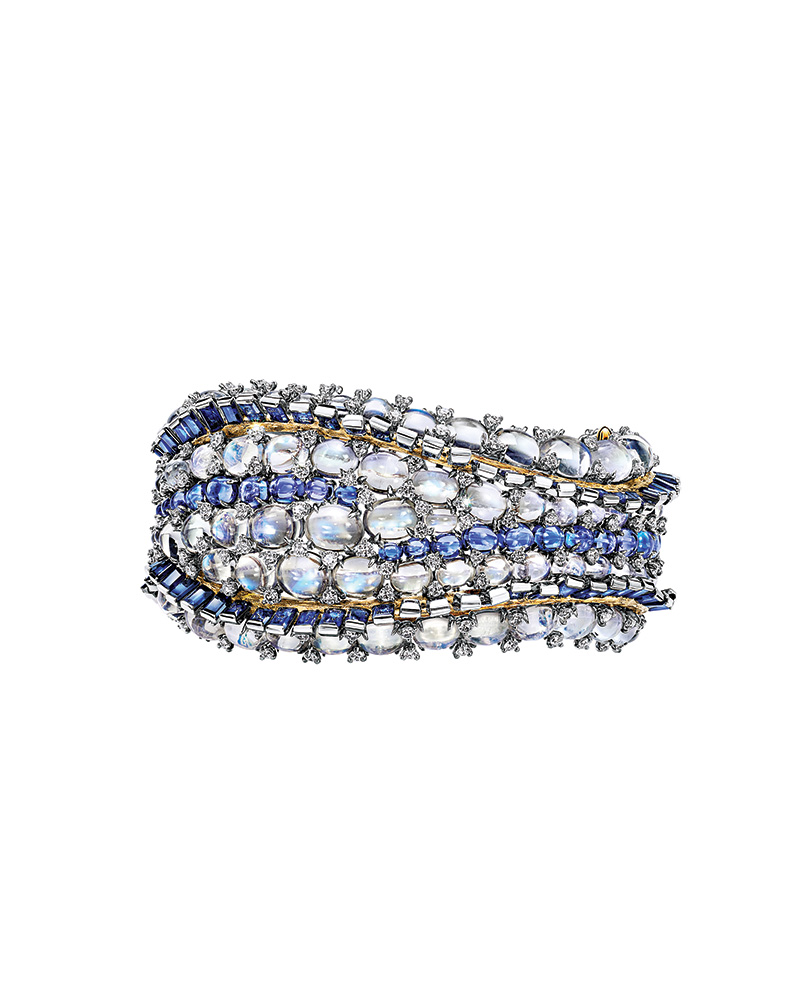 Verdeille's first major collection for the house marks a daring new chapter for Tiffany & Co., which reopened its New York flagship, now known as The Landmark, this past spring. The impressive ten-story building on Fifth Avenue was masterfully renovated and expanded by OMA, with dazzling, art-filled interiors by Peter Marino. The long history of Tiffany's high jewelry is celebrated throughout but reaches a crescendo on the seventh floor, where the dedicated High Jewelry Salon is located, framed by custom platinum-leaf screens by artist Nancy Lorenz.
"We preserved and magnified the fundamentals of Jean Schlumberger's aesthetic"

NATHALIE VERDEILLE
A state-of-the-art high-jewelry workshop is tucked behind a mirrored wall that can be changed to clear glass to allow visitors a glimpse of the savoir faire in action as gems are transformed into extraordinary creations by Tiffany's master artisans, who continue to produce scores of Schlumberger's concepts. "Jean Schlumberger built the palace, and now we're opening up the windows and we're letting the bird fly," says Reynolds. "It is about paying homage, reinventing, and pushing boundaries. It is a renaissance for us."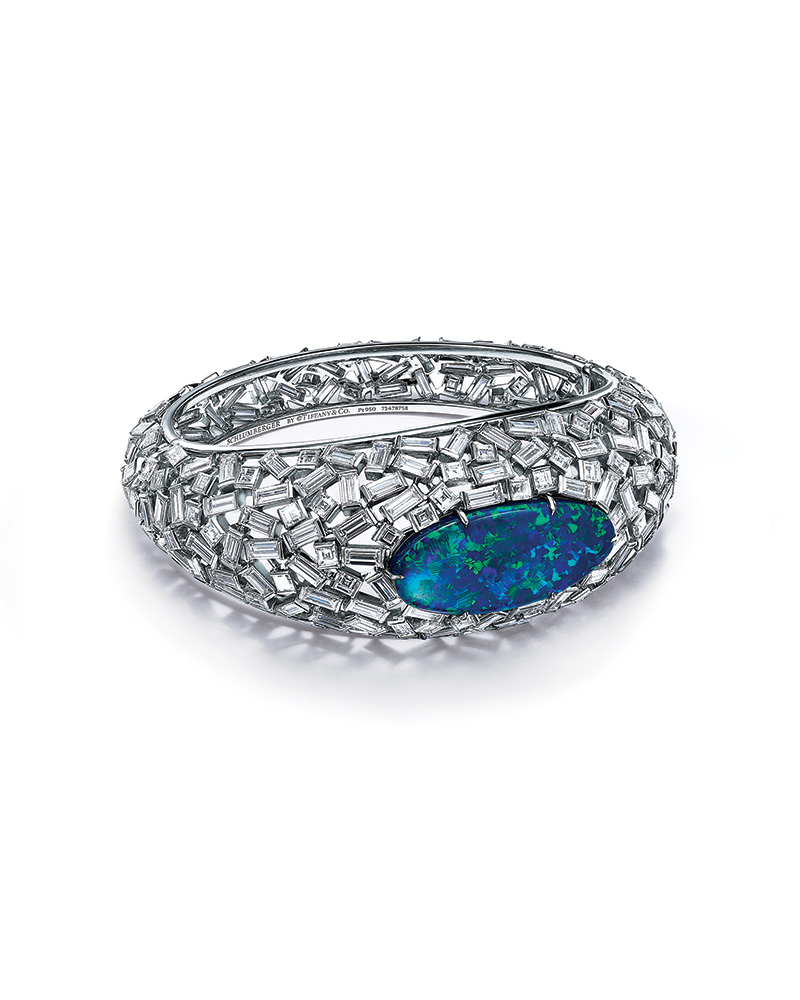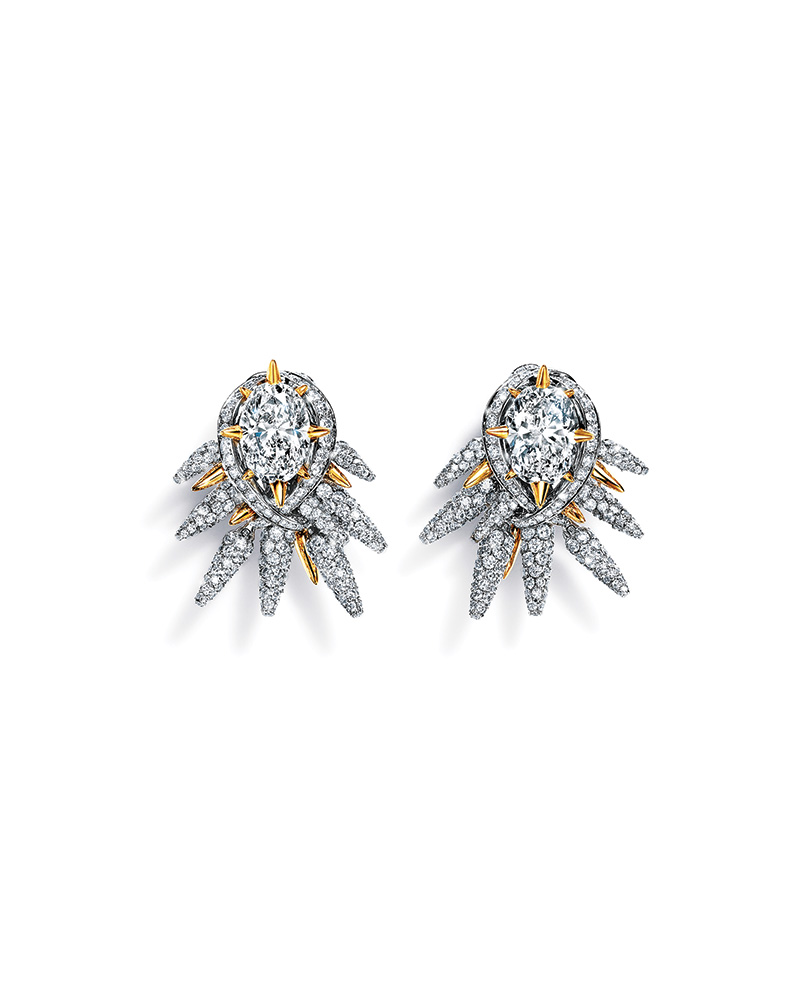 A version of this article first appeared in print in our 2023 Fall Issue under the headline "Rising Tide." Subscribe to the magazine.
Next Post