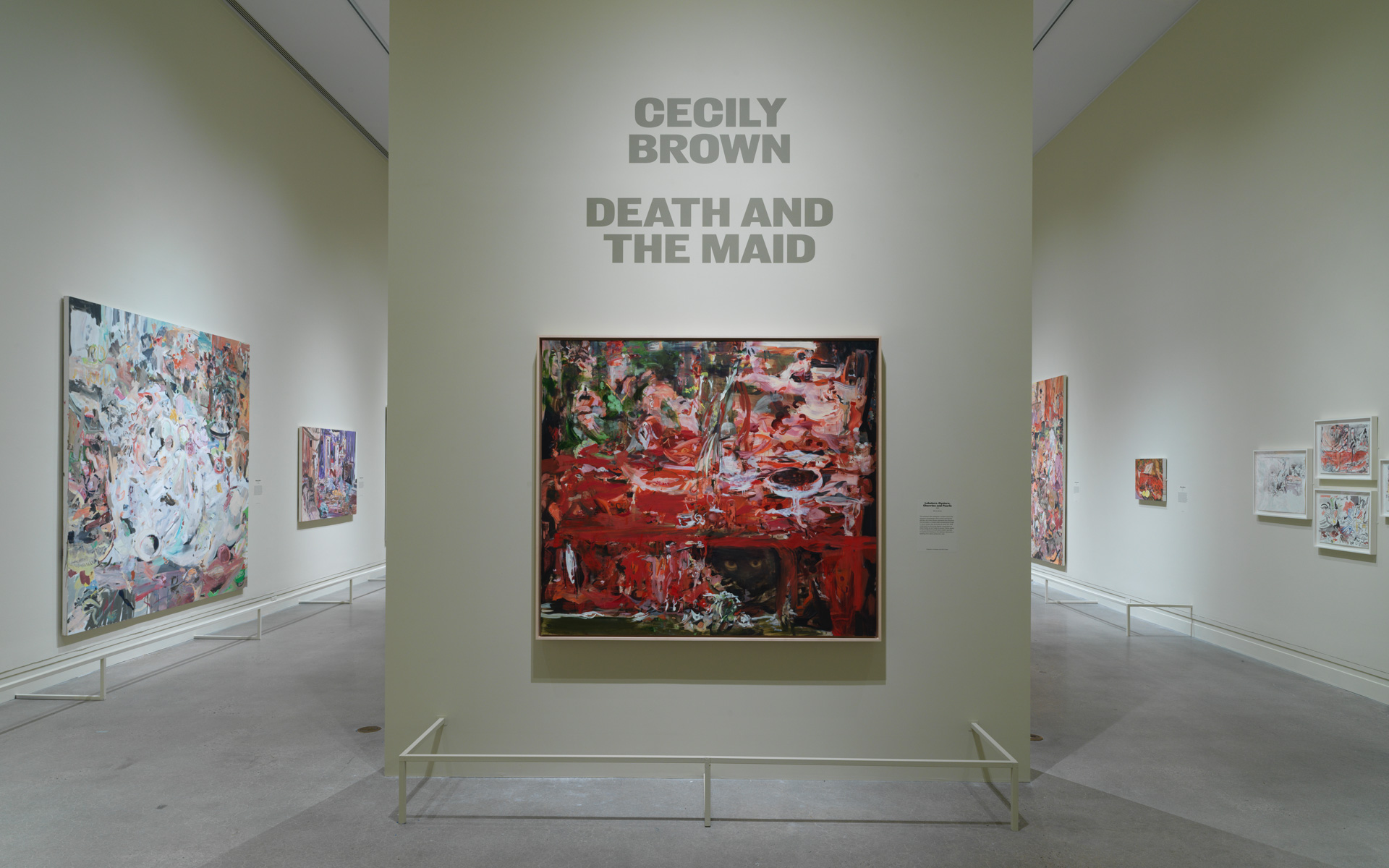 Three Major Painting Exhibitions in New York That Are Not to Be Missed
Cecily Brown, Mark Bradford, and Gerhard Richter have each opened solo shows around the city with powerful works that celebrate the power of the medium
This spring, New Yorkers have the unique opportunity to see three major solo exhibitions by pillars of contemporary painting. Cecily Brown and Mark Bradford have both returned to New York this season with long awaited solo shows at the Metropolitan Museum of Art and Hauser & Wirth respectively. Gerhard Richter is also back in town after his Met survey was only on view for eight days in March 2020 due to the museum's covid-related closure. The German maestro's comeback at David Zwirner includes, in addition to paintings, tens of pencil on paper drawings that he made one a day during lockdown in 2022.
The trifecta of nonfigurative introspection can be individually lauded for their subjective commands of abstraction through their masterful palettes as well as interpretations of memory and history. In their new presentations, they each delve into their recent inspirations and impetuses at grand scales.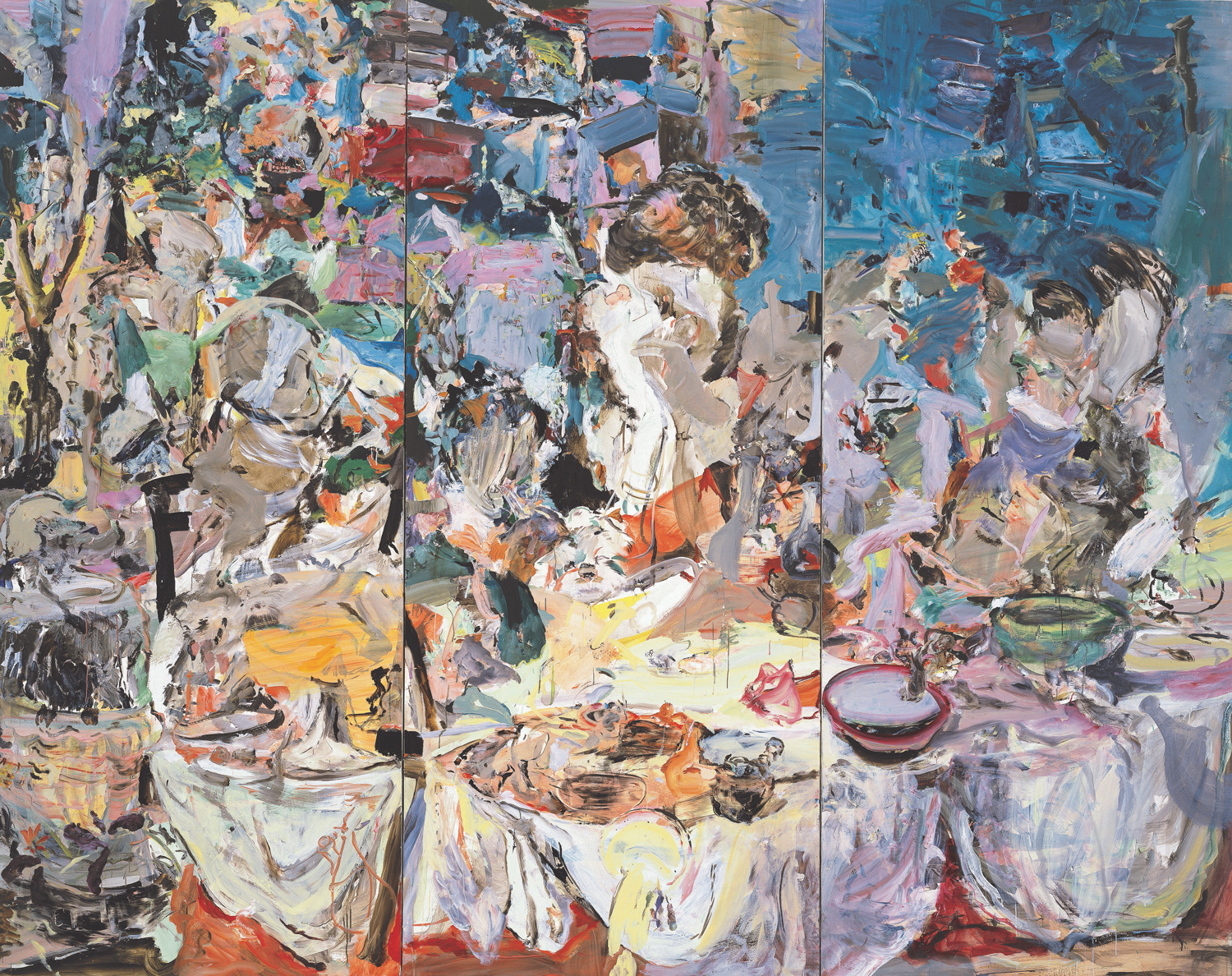 1.Cecily Brown "Death and the Maid" at the Metropolitan Museum of Art
On view at the Met, Around fifty works in Brown's exhibition veil the New York-based British artist's palatial abstraction with hints of flamboyant figurations. Old worldly lush interiors, ornate tablescapes, and vanities overrun with perfume bottles coyly appear across the paintings, drawings, and prints that she created in the last two decades. Pastel-washed swirls, twirls, and bursts occupy Brown's musings on the joyous leisures of life as well as the glooming permanence of mortality. In between emotional darkness and light, her compositions pay homages to a range of inspirations, from a 1894-dated Edward Munch print to Brown's mentor British painter Maggi Hambling. Boredom, chaos, and contemplation are reoccurring themes in paintings she painted both before or after covid, such as Hangover Square (2005) and Lobsters, Oysters, Cherries, and Pearls (2020). A joy in observing the paintings tucked inside the museum's Modern and Contemporary galleries is the search for her figurative cues. Amidst erratic brush gestures juxtaposed with her hand's familiar composed tumult, hints of everyday life, as well as sentiments of vivacity and death, rest engulfed into mystery. Through December 3, 2023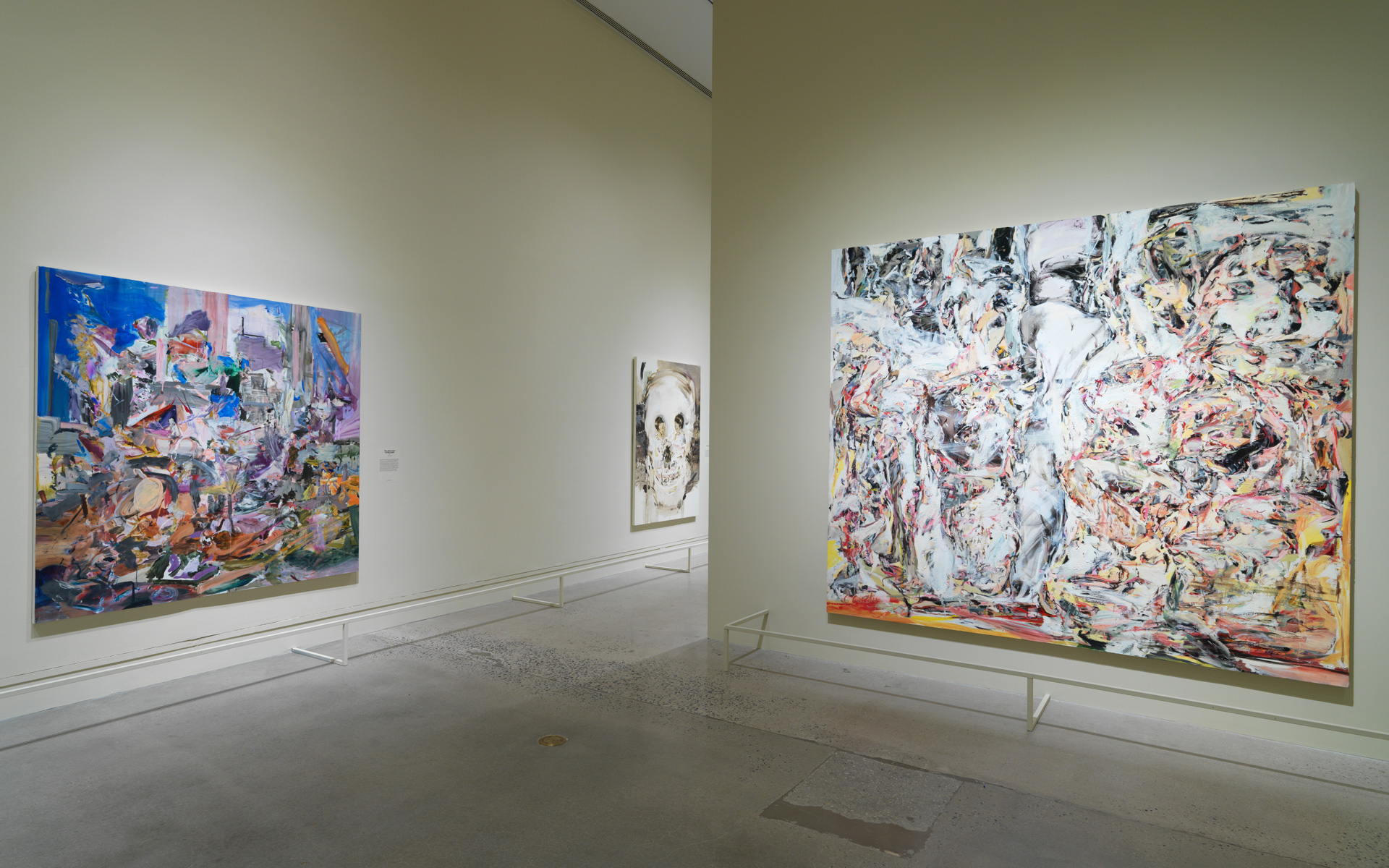 2. Mark Bradford, "You Don't Have To Tell Me Twice" at Hauser and Wirth
A similar immediacy of emotions linger across Bradford's show, "You Don't Have To Tell Me Twice," at Hauser and Wirth. For Bradford, the Swiss bluechip gallery handed over their entire Chelsea space for the first time to a single artist. His first solo New York exhibition in eight years, the Los Angeles-based artist conducts a presentation of personal and collective reactions to his surrounding, all with paintings created in the last two years. The massive scale mixed media works recall Bradford's now-iconic technique of pulling and sanding found paper into energetic abstractions; however, the paintings radiate figurations of fauna and animals inspired by traditional European tapestry, as well. The historic early 20th century African American colony Blackdom in New Mexico provides the catalyst for the works on the ground floor, such as Johnny the Jaguar (2023) which borrows its title from the name of a house dealer that the artist constantly came across in South Central part of L.A. "Johnny became a specter, a ghost, a boogie man," Bradford said during the show's unveiling.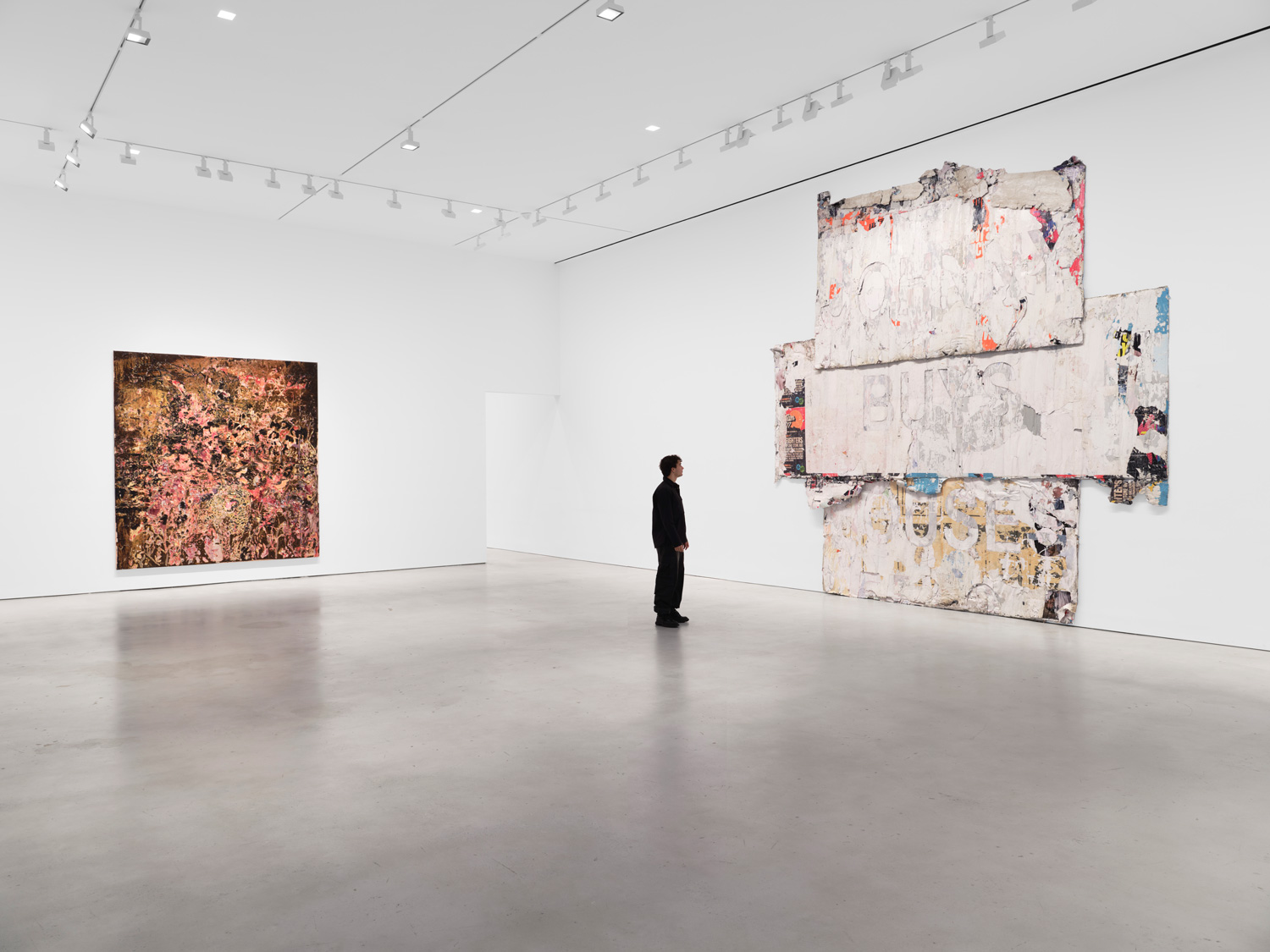 The characterization of this ambiguous figure into a jaguar pokes at the predatory impact of gentrification and real estate market on the Black community now and then, but this popping of figuration in the artist's work also stems from his experience with the social realities of covid. "I was in search of landscapes at the time, but I had to create my own," he added about the juxtaposition of a feline amidst an arid topography. The three-stack painting Manifest Destiny (2023) is meant to echo the show's three floors with its grandiose scale but it also alludes to house façades, especially those Bradford encountered with the sign "Johnny Buys Houses," around his neighborhood. The same text appears on the painting's surface with a faint visibility that recalls the artist's process of peeling and layering his surfaces. Through July 28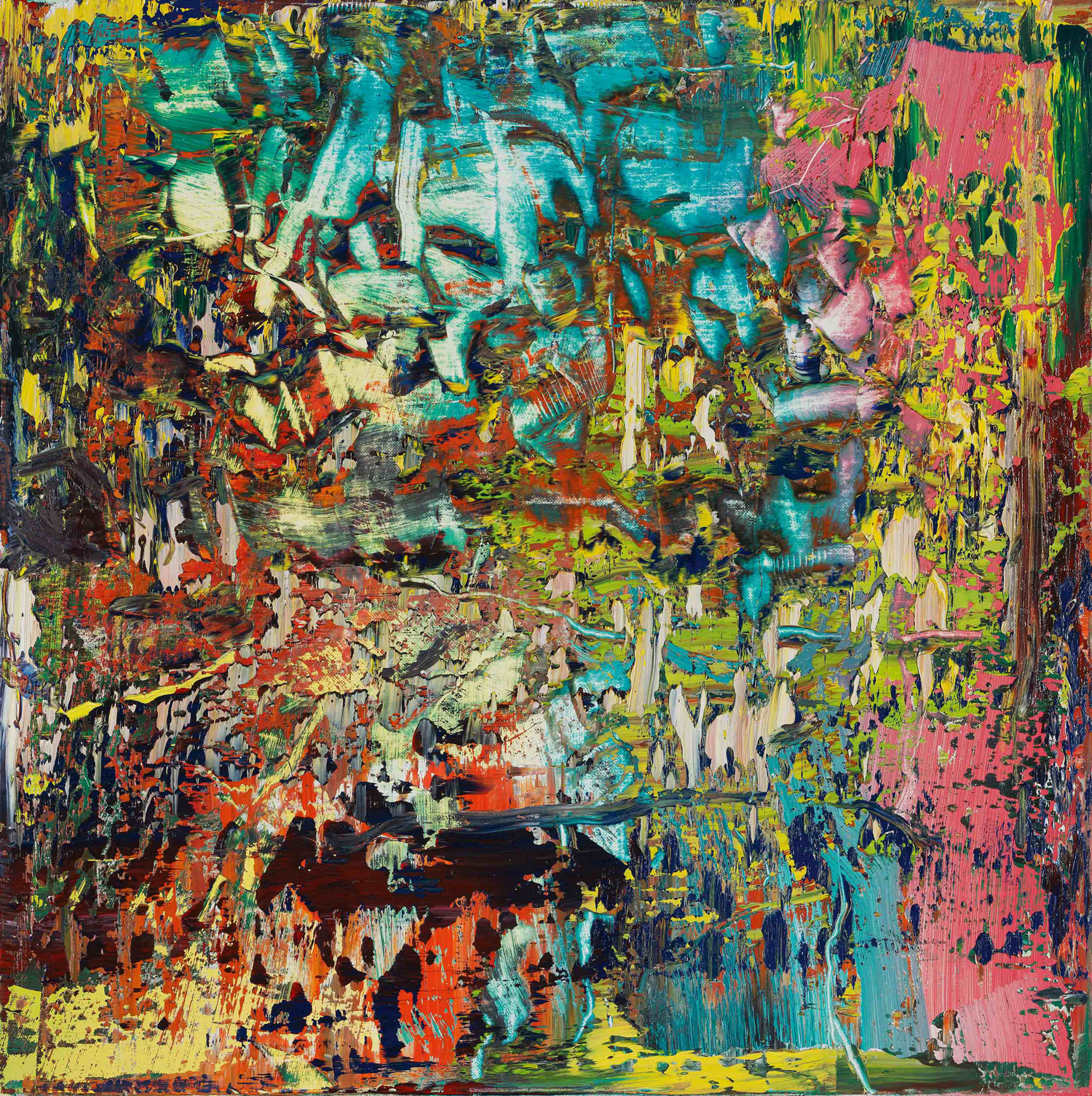 3. Gerhard Richter at David Zwirner
A few blocks away in Chelsea, Gerhard Richter's untitled exhibition asks the viewers to near his surfaces to discover his dense working of oil on wood or canvas. In line with the spring's budding colors, the painter's palette is quite joyous with turquoise washes that blend with pinks and reds. Thick layers of paint protrude from the surfaces like tumultuous waves on the ocean, or rather as markers of time through the immediacy and tactility of the artist's hand. All fittingly titled Abstraktes Bild (Abstract Painting), the paintings from 2016 and 2017 convey energy and ambition, delivered through Richter's insistent exercise over the surface. Paint in his process functions not only as a physical medium of ideas for optic stimulation but also transforms into physical results of the alchemy between the mind and the body.
Accompanying Richter's explosive approach to abstraction in painting, the suite of drawings meditate on the potentials of a slowed paced life, in this case, during the pandemic lockdowns in Cologne. Calm at times and erratic at others, the ink and pencil drawings compartmentalize a given day in time on paper. The boredom as well as the potential in the routine are reflected in Richter's ambition to draw with the regiment of a job yet with the liberty of an artist whose visions for an unprecedented period in history take many liquid or geometric forms. Through April 29, 2023 
Next Post