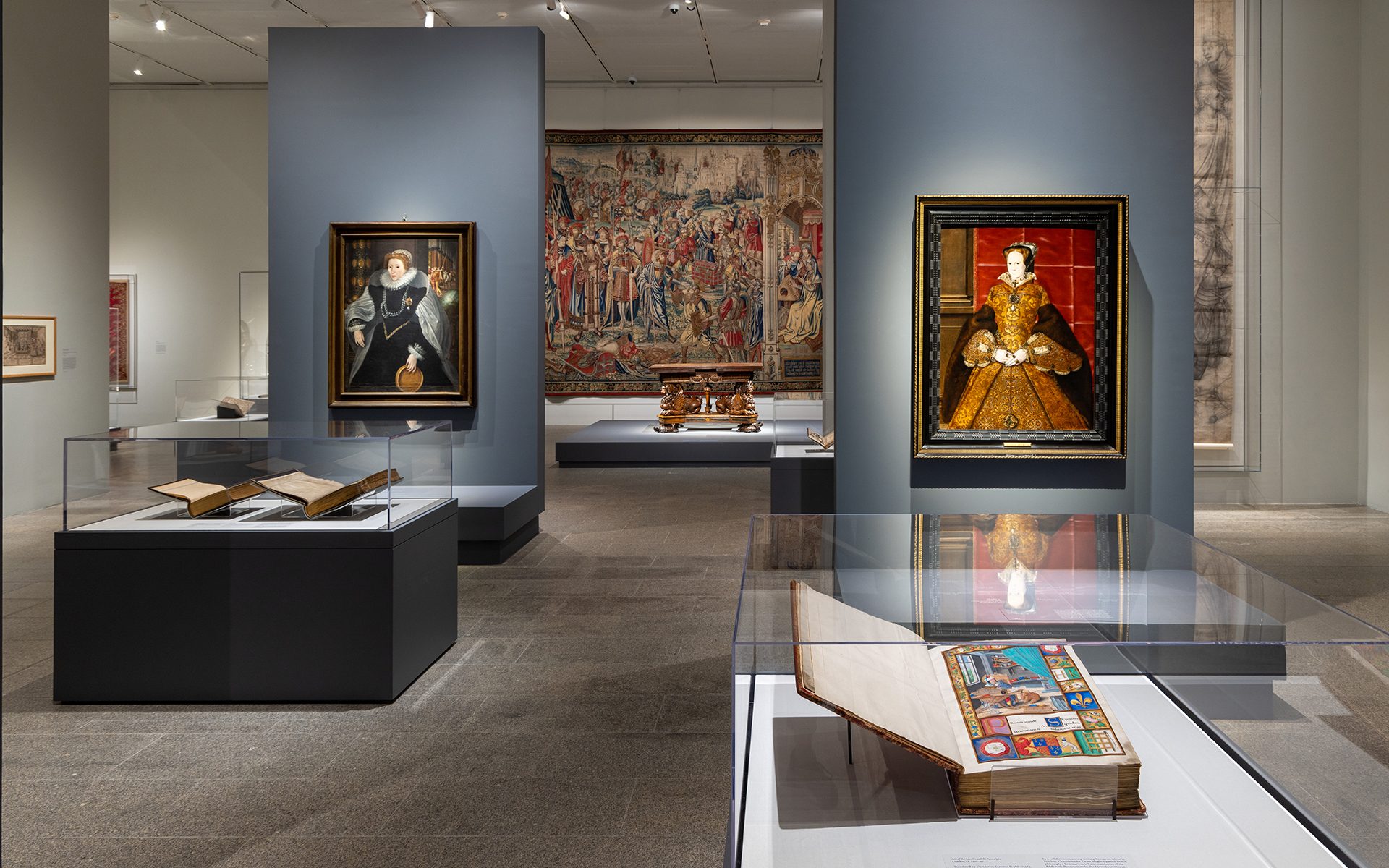 A New Exhibition at The Met Explores the Tudors' Artistic Dynasty
On view through January, the comprehensive show is first American exhibition to survey the family's artistic patronage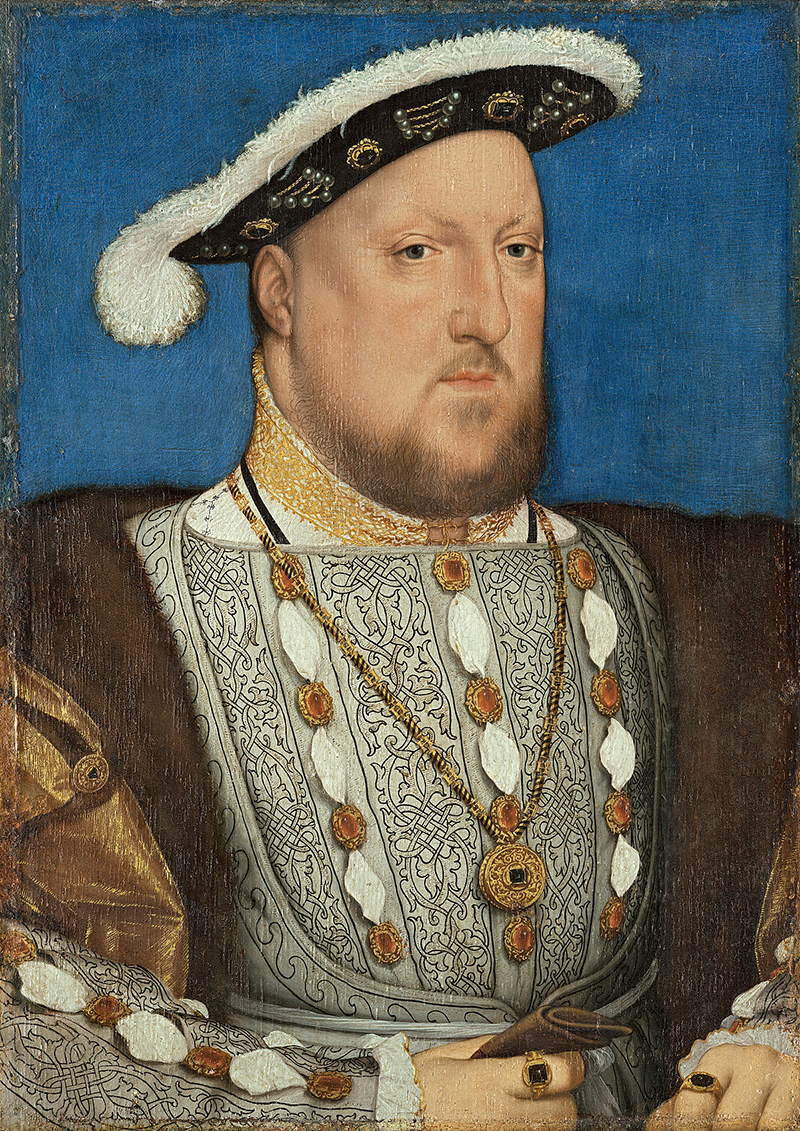 The Medicis had Michelangelo. The Kennedys had Jacques Lowe. Behind almost every ambitious, dynastic family has stood an artist capable of projecting the most calibrated images of power. The Tudors—one of history's most compelling ruling families, who continue to command our collective imagination—had Hans Holbein the Younger, the gifted Northern Renaissance portraitist. His vivid, richly detailed likenesses of Henry VIII, the Tudors' most infamous king, summon myth and might: in one, Henry is captured regally self-composed; in another, prowess is on full display with an aggressive, towering stare into our faces.
It comes as no surprise that Holbein tends to hold court in "The Tudors: Art and Majesty in Renaissance England," the bravura exhibition now on view at the Metropolitan Museum of Art through January 8, 2023 (with later versions traveling to the Cleveland Museum of Art and San Francisco's Legion of Honor). Holbein's 1537 oil-on-panel portrait of Henry VIII, on loan from the Museo Nacional Thyssen-Bornemisza in Madrid, is among the first paintings to stop visitors in their tracks. Though relatively small (at roughly 11 by 8 inches), it's a work of material wonder, from the extravagant aquamarine background (a precious blue imported from Afghanistan) to the lustrous silver and gold in Henry's clothing (actual gold leaf was employed).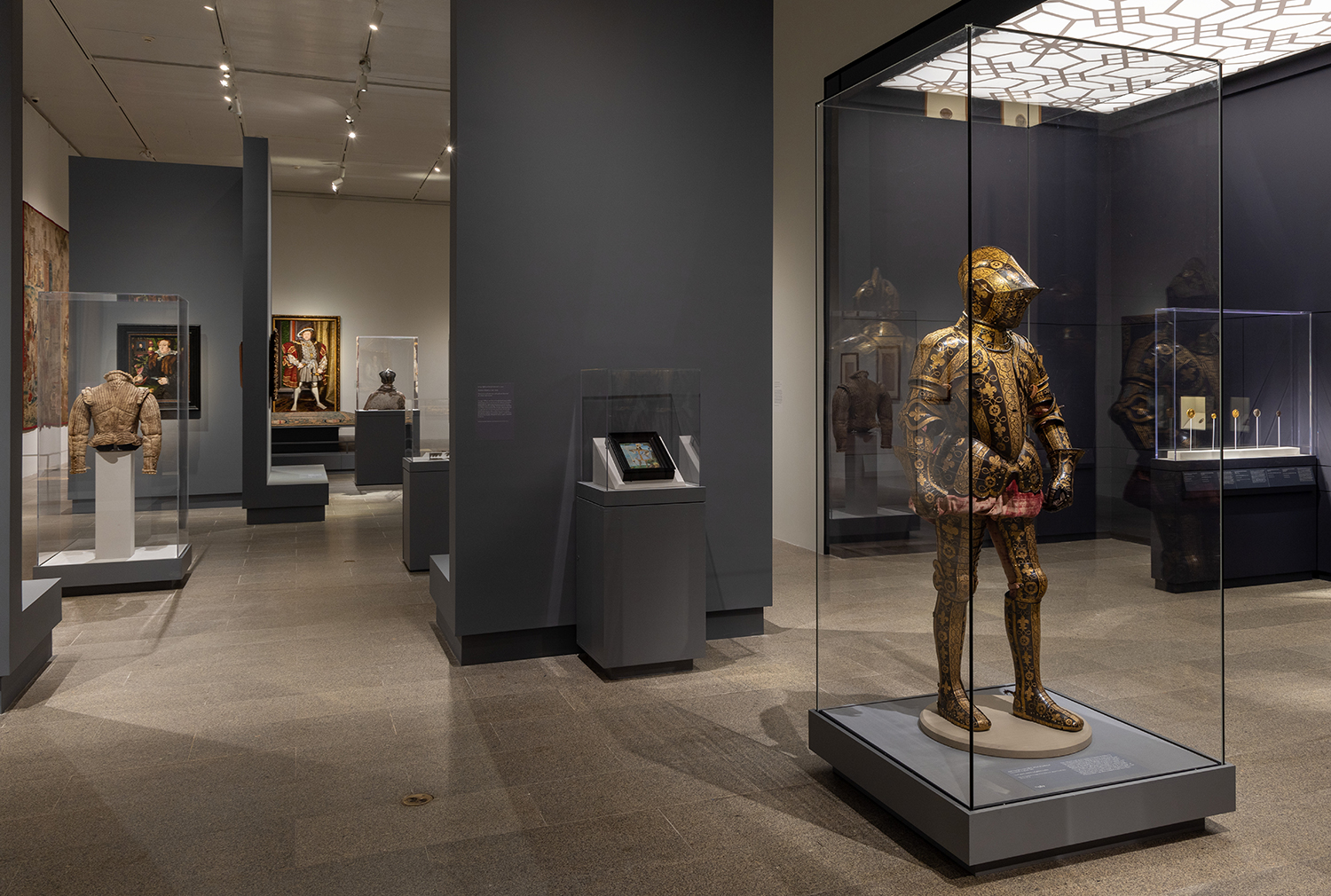 Still, Holbein's work is but a part of the "art and majesty" on display in this sumptuous, at times visually tactile, assortment of almost 100 objects that trace the transformation of the arts under Tudor rule—from portraits, sculpture, and suits of armor to tapestries, manuscripts, and silverware. Co-curated by the museum's Elizabeth Cleland and Adam Eaker, "The Tudors" is noteworthy for being the first American exhibition to survey the family's artistic patronage, and draws on an extensive list of international lenders along with pieces from The Met's collection.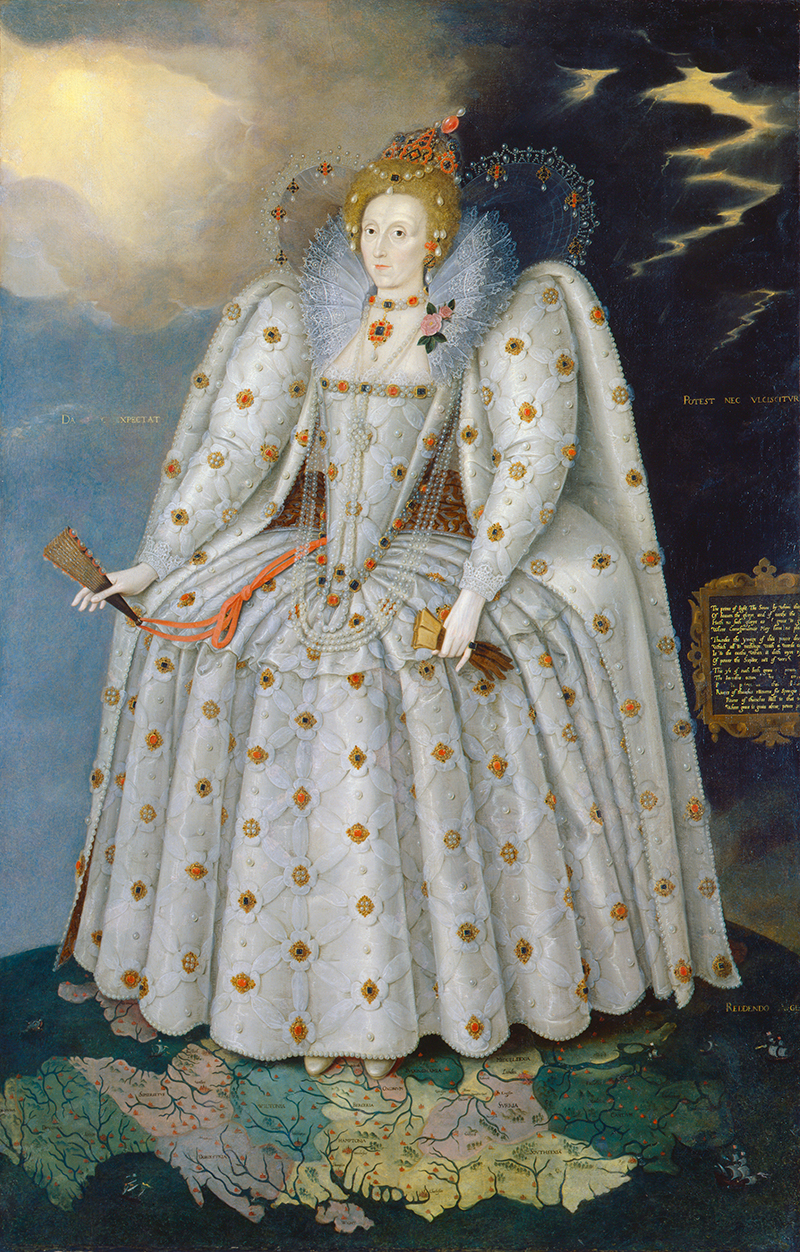 During the Tudor reign, England witnessed extreme change, and the family used art and iconography as a way of legitimizing their name by emblazoning it everywhere—from Henry VII's famous Tudor rose to the eventual and quasi-idolatrous adulation of Elizabeth as the Virgin Queen, captured in the famous 1592 "Ditchley" portrait, on loan from the National Portrait Gallery in London.
There are other works of Elizabeth so iconic they also go by their own names: the Darnley Portrait, the Sieve Portrait, the Rainbow Portrait. A wildly operatic painting from 1599, attributed to the workshop of Nicholas Hilliard, holds up the end of the show in telling contrast to one from the beginning—the so-called Hampden Portrait by George Gower, likely intended to show her off as a potential bride, in which a young Elizabeth is bathed in luxuriant reds and golds, with nods to her fertility hanging on a background verdure of ripe fruit. By the time Hilliard's workshop depicts her near the end of her reign, she is decidedly independent on her own flush throne, almost physically weighed down by so many trappings of power and wealth.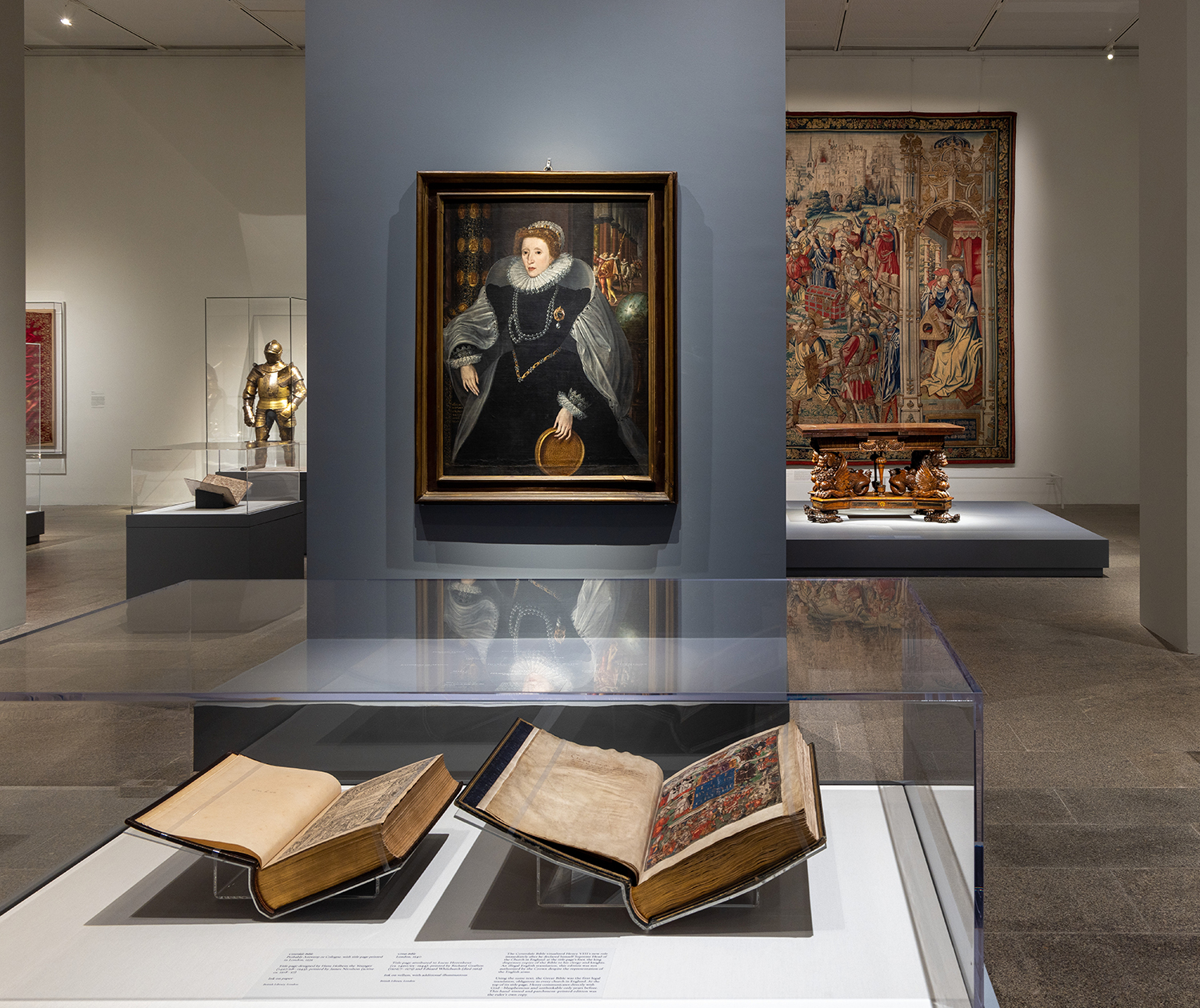 To be sure, Elizabeth was a monarch extremely aware and protective of her image, and she used her own agency to assert control, issue proclamations, and vet different portraitists, as Eaker tells Galerie. "We have recorded her own commentary on portraiture: that she didn't think you should have shadows on the face—that they interfered with likeness—so I think what we're really seeing is the emergence of the monarch or the politician as someone who very astutely and carefully shepherds their own public image."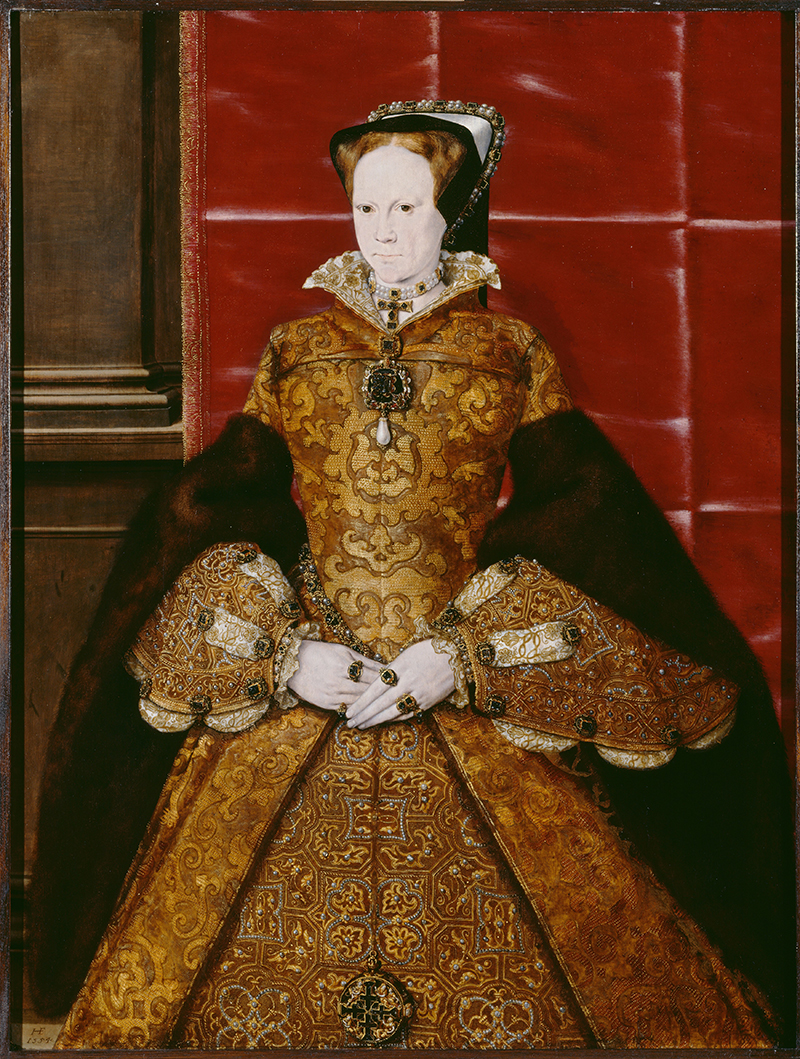 Also featured in the presentation is a portrait of Queen Mary I, Elizabeth's half-sister, whose marriage to Philip of Spain marked a merger not only with the most powerful man in Europe, but also a dynasty that had at its disposal some of the most preeminent artists of the day. According to Cleland, what we see during Mary's limited time on the throne is "this sort of attempted 'Hapsburgarization' of England"—as represented in the exhibit by two gorgeous golden medals of Mary lent to the exhibition from the British Museum. The prototype was by Jacques Jonghelinck, a Neapolitan medalist and jeweler in the service of the Hapsburgs. "It's a really beautiful piece and it's completely different to the medals Elizabeth is commissioning a few decades later," Cleland explains.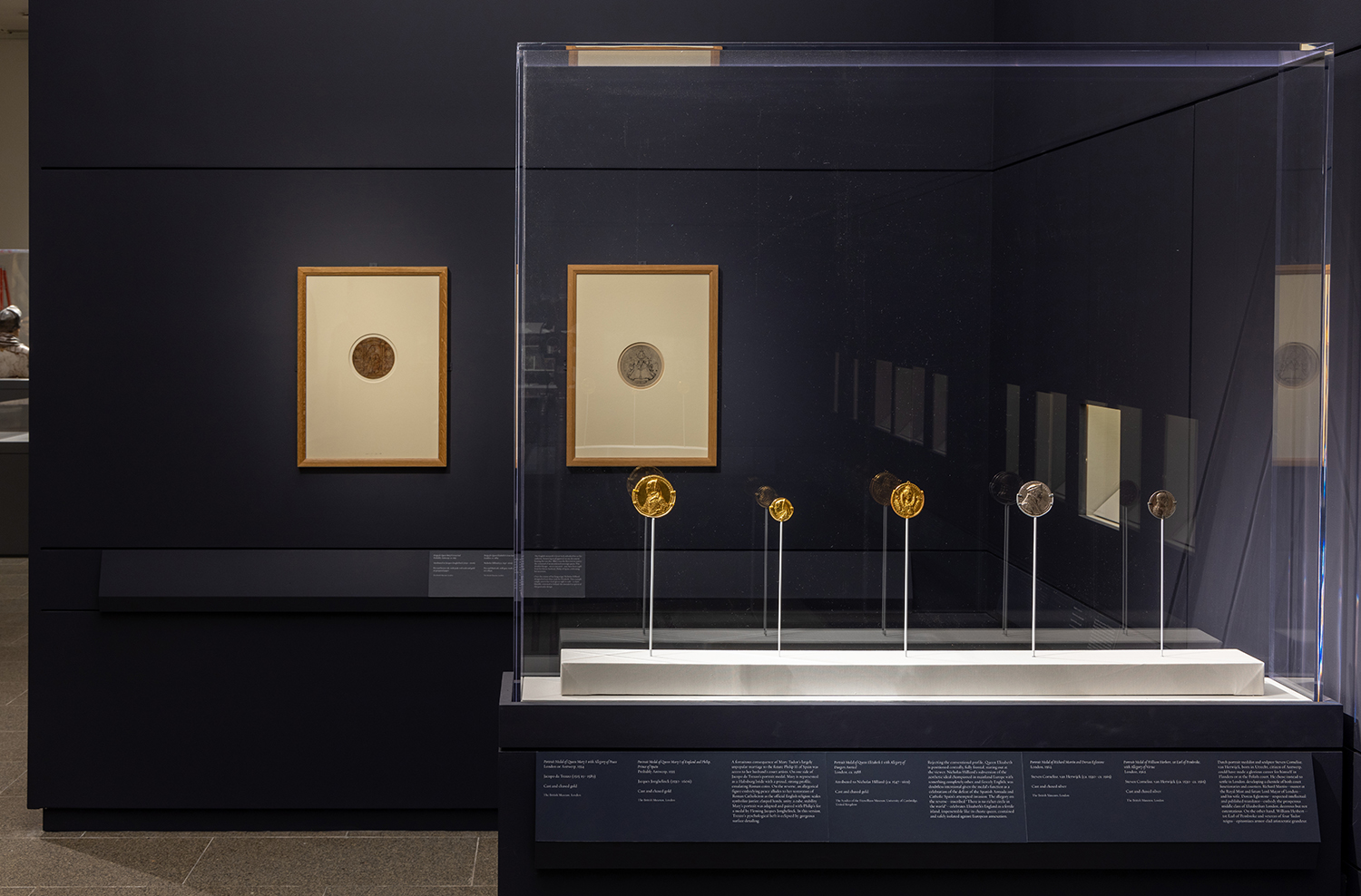 The medals are among the many fine objects that bring visitors up close and personal with the impressiveness of Tudor art. Also displayed are Benedetto da Rovezzano's monumental bronze sculptures of angels bearing candlesticks and large-scale tapestries illustrating scenes from the Bible, tales from Greek mythology, and contemporary coats of arms, their vibrant colors exceptionally preserved. The burnished "Sea-Dog" table—carved from walnut with two enormous sphinxlike creatures resting on giant turtle feet—comes from Hardwick Hall, one of the greatest Tudor houses. A circa-1511 cup and cover made of rock crystal, gilded silver, and colored enamel looks like something a Hollywood set designer might only dream of for a period production.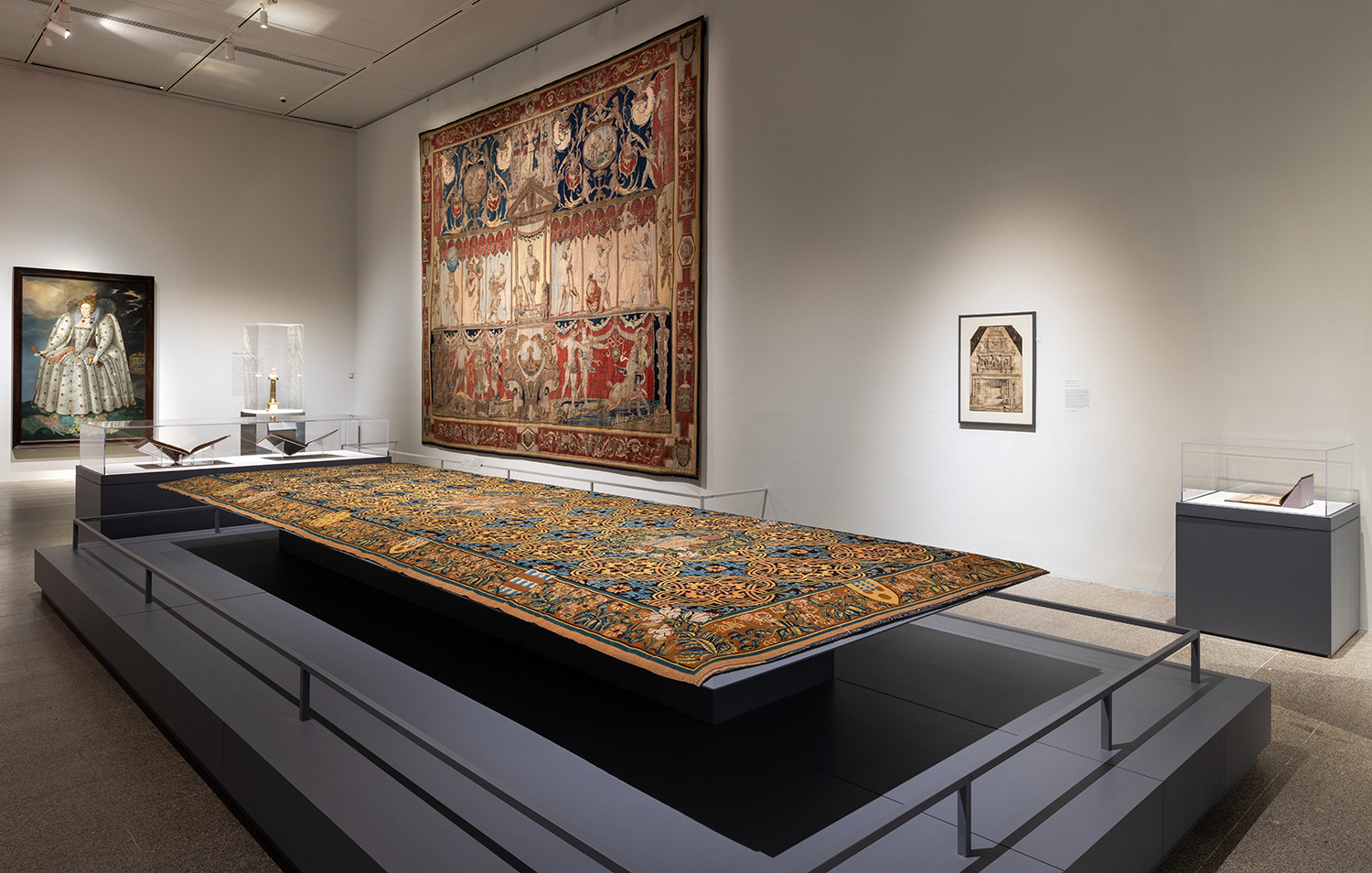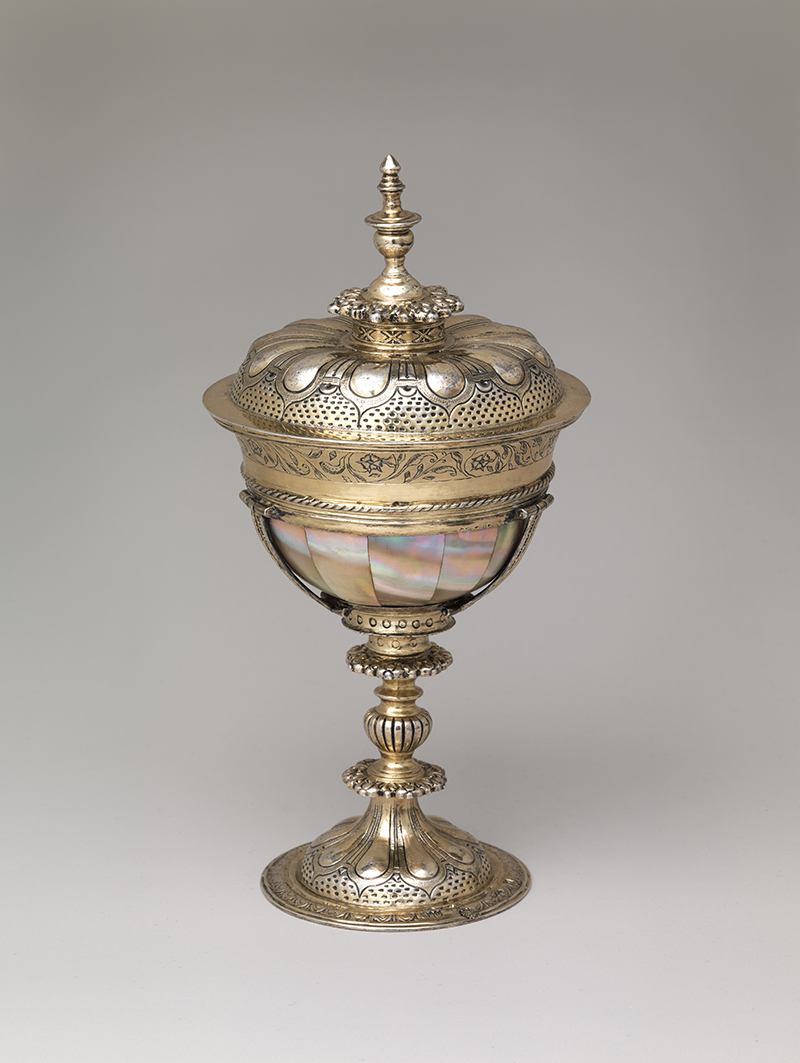 In the end, what emerged under the Tudors was a style of art peculiar to England during the Renaissance. In addition to the classical, they took an interest in the natural world while reviving medieval tradition. For Cleland, "it's this very rich bringing-together of these different strands that creates a really idiosyncratic English art," and perhaps nothing in the show, according to her, embodies this aesthetic more than the Luttrell table carpet, on loan from the Burrell Collection in Glasgow. Commissioned by Sir Andrew Luttrell and made by Flemish weavers, it bears heraldic shields and is fringed by a border patterned with daisies. "It has the Celtic knotwork motif and very strong blacks, blues, and mustard yellows," Cleland describes. "In the center of alternate knots we have the Tudor rose alternating with honeysuckle, so it's really beautiful and, as I say, 'weirdly' English—unlike anything being made elsewhere in Europe."
"The Tudors: Art and Majesty in Renaissance England" is on view at the Metropolitan Museum of Art through January 8, 2023.
Next Post