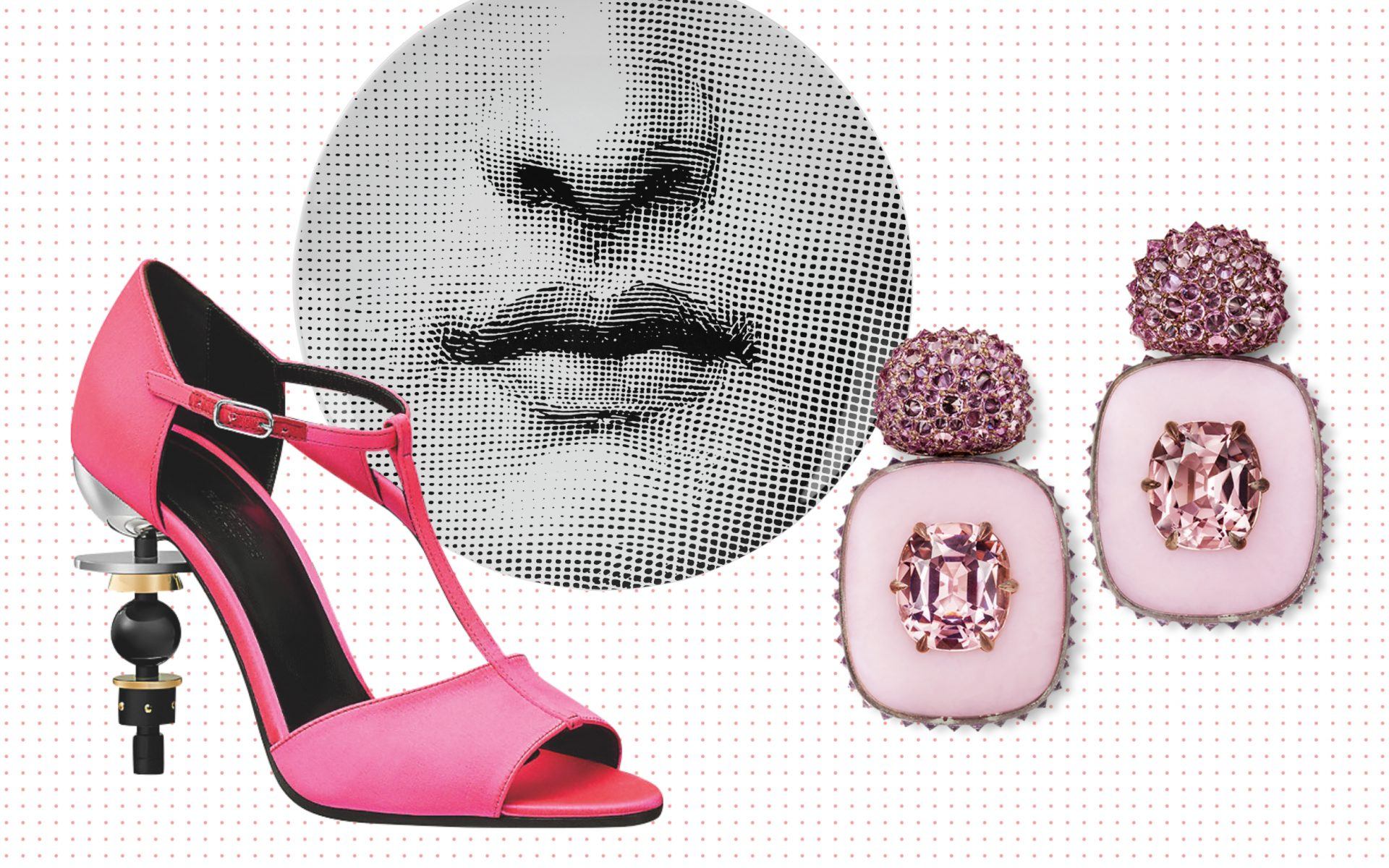 17 Valentine's Day Gifts for the Art Lover
From a rare Marcel Duchamp book to one-of-a-kind earrings, these tokens of affection will impress any art and design aficionado
1.  Fornasetti Comme Des Fornà Wooden Box 
Featuring an array of decorative objects and home furnishings, Fornasetti's new collection is a vibrant play on pattern. The repetition of muse Lina Cavalieri's iconic red lips adds an irreverent touch to the geometric black-and-white design.
2. Dior Brutal Journey of the Heart Silk Twill Square Scarf, $415
Inspired by the romantic ballet costumes for The Brutal Journey of the Heart, which were designed by Dior's creative director, Maria Grazia Churi, this painterly silk scarf captures the complexities of love and desire.
3. Hemmerle Earrings, Price upon Request
Pretty in pink, these striking earrings by the fourth-generation Munich jewelry house showcase an unexpected mélange of materials, including tourmaline, pink sapphires, opal, copper, and white gold.
Recommended: Arquiste's Carlos Huber Debuts a Seductive New Scent
4. Jonathan Adler Gala Rectangular Tray, $195
Part of Jonathan Adler's Muse collection, this porcelain tray dotted with a row of seductive lips pays homage to Gala Dalí, the wife and muse of Surrealist artist Salvador Dalí.
5. Flowers: Art & Bouquets by Sixtine Dubly, $95
This sumptuous tome, published by Assouline, explores how the beauty of florals has inspired countless creatives, from Dutch masters of the 17th century to Andy Warhol and contemporary designers today.
6. Lalique Clear Crystal Bacchantes Champagne Cooler, $3,200 
Lalique's classic design of the sensual priestesses of Bacchus adorn this elegant crystal champagne cooler.
Recommended:London's Famed McQueens Flower School to Open New York Branch
7. Pierre Hermé Heart-shaped Ispahan Cake, $38 to $45 
The famed French pastry chef Pierre Hermé crafted this decadent treat for the holiday with a macaron biscuit exterior with rose petal cream, raspberries, and lychees. It is available at L'Avenue restaurant at Saks Fifth Avenue during the month of February.
8. Jessica Jackson Hutchins Fairy Wing Candleholder Set, $990
Conceived to commemorate the 2010 Whitney Biennial, these whimsical candlesticks by artist Jessica Jackson Hutchins slowly melt into a unique creation.
9. Loewe Gate Top-Handle Mini Icy-Pink Bag, $2,250
Loewe's Gate bag has been entirely handmade by artisans, who each receive training at the brand's own craftsmanship school in Spain. This version in a sleek icy-pink soft-grained calf leather features a knotted latch closure.
10. Jean-Georges Valentine's Day Chocolates, $78
Michelin-starred chef Jean-Georges Vongerichten adds an artful touch to chocolate with this limited-edition, 24-piece box. Every set contains 12 custom flavors ranging from sesame crunch to cinnamon pecan. It is available through February 14 at his New York City restaurants and online.
Next Post