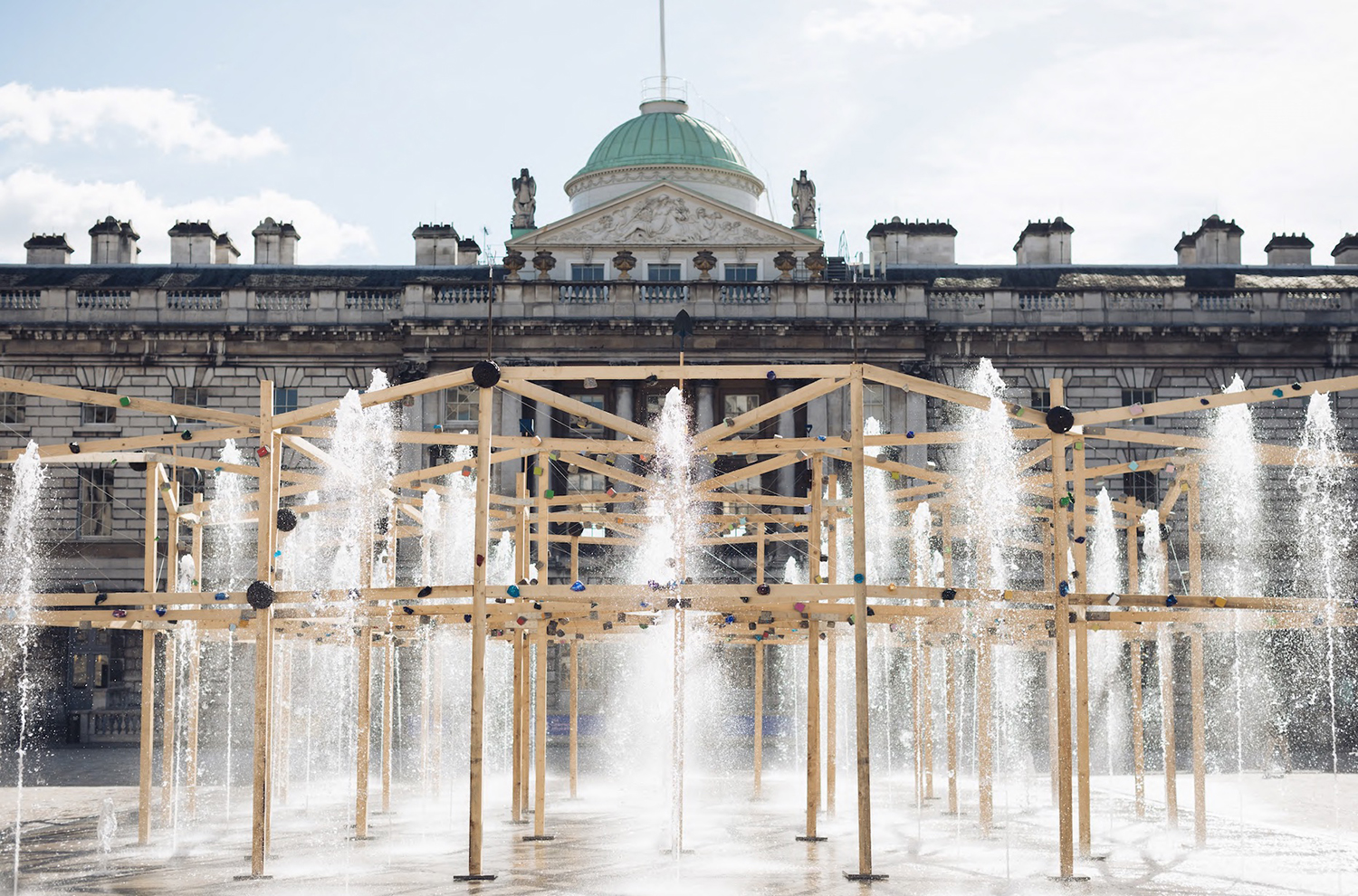 The Best Art and Design Fairs Around the World This October
From Frieze London to the first Bangkok Biennale in Thailand, here's your monthly global itinerary
The new fall season brings many exciting art and design happenings. The fair circuit begins on October 4 with Frieze Week in London, on which the art and design world descends for a mélange of fairs. Held every year in Regent's Park, Frieze London is one of the most anticipated on the art world's calendar. This year features some 160 galleries comprising fair veterans such as Hauser & Wirth and Salon 94 and younger galleries such as 47 Canal alongside spirited newcomers to the fair in London, including Xavier Hufkens.
Not-to-miss highlights include a special theme titled "Social Work," which pays homage to female artists of the 1980s and 1990s "who challenged the status quo and explored the possibilities of political activism in their art making," according to a statement. (This is a follow-up to last year's buzzworthy special presentation, which looked at radical feminist practice since the 1960s.) Artists working in this theme include Faith Ringgold, Sonia Boyce, Helen Chadwick, and Nancy Spero. In a similar vein, Deutsche Bank has teamed up with Tracey Emin for an exhibition of 35 female artists in the bank's collection.
Frieze Masters takes place just a stone's throw away and offers work spanning six millennia pre-2000 from modern and historical galleries. (This year sees a rise in the popularity of collecting Old Masters, with some 14 specialist dealers set to show.) Both fairs run through September 7.
After long days spent in the fair halls, make sure to take a break at Frieze Sculpture, where the work of 25 artists such as Rana Begum and Elmgreen & Dragset is dotted throughout the outdoor grounds (through October 3).
Recommended: See Highlights of Frieze Sculpture, Set in This Stunning 19th-Century English Garden
The boutique PAD London fair, meanwhile, is dedicated to 20th-century art, design, and decorative arts and will take place once again in Mayfair from October 1 through 7 with a lineup of 58 returning exhibitors and 10 newcomers. The London iteration of the original fair in Paris has garnered a serious following among interior designers and art lovers alike. As ever, its focus is on 20th-century European design and objets, with an eclectic assortment of art, antiquities, and contemporary design.
Over in Paris, the 45th edition of FIAC (October 18–21) will host 195 galleries in the nave and exhibition rooms of the Grand Palais. A highlight every year is the Hors les Murs outdoor exhibition in the Jardin des Tuileries, inaugurated in 2006 and organized in collaboration with the Louvre. Some 30 artworks responding to the history of Paris will be displayed around the garden. The Outsider Art Fair, held during the same week, is moving to a new site in the 2nd arrondissement, proving the genre's booming popularity.
Recommended: Art Basel Miami Beach Announces Exhibitors for 2018
In the U.S., art fans are looking forward to the Carnegie International in Pittsburgh—"our Venice Biennale," as one art world insider put it. The oldest exhibition of contemporary art in North America, the exhibition was founded in 1896, just one year after Venice's first grand exhibition. Opening on October 13, the highly anticipated show was launched by industrialist Andrew Carnegie with the premise to help identify the "Old Masters of tomorrow."
This year's edition is curated by Ingrid Schaffner—formerly chief curator at the Institute for Contemporary Art in Philadelphia—and is centered around the Carnegie Museum of Art. Alongside up-and-coming talent such as Jessi Reaves, there will be some iconic American artists such as Kerry James Marshall and Zoe Leonard. In New York, the fall edition of the European Fine Art Fair (TEFAF) takes place once again at the historic Park Avenue Armory and offers its usual eclectic assortment of fine and decorative art from antiquity to 1920.
Across the globe, Thailand is hosting the first Bangkok Art Biennale from October 19. Some 75 artists hailing from 33 countries—including the likes of Yayoi Kusama and Marina Abramovic—will be presenting their works across the city, including some new artist commissions that will be situated within ancient sites and temples.
Read on for our selection of the top art and design happenings around the world in October.
NORTH AMERICA
Design Chicago, Chicago
October 3–4
Texas Contemporary, Houston
October 4–7
Chinati Weekend, Marfa, TX
October 5–7
Design Week Mexico, Mexico City
October 10–14
San Francisco Art & Antiques Fair, San Francisco
October 11–14
Carnegie International, Pittsburgh
October 13–March 25, 2019
Fine Art Print Fair, New York
Oct 25–28
Art Toronto, Canada
Oct 26–29
TEFAF, New York
Oct 27–31
EUROPE
PAD London, UK
October 1–7
The Decorative Antiques & Textiles Fair, UK
October 2–7
Frieze London, UK
October 4–7,
Frieze Masters, UK
October 4–7,
October 4–7
1-54 Contemporary African Art Fair, UK
October 4–7
Sunday Art Fair, UK
October 4–7
Asia Now, France
Oct 17–21
October 17–21
Outsider Art Fair, France
October 18–21
FIAC, France
October 18–21
Biennale Interieur, Belgium
October 18–22
Dutch Design Week, Netherlands
October 20–28
ARTBO, Spain
October 25–28
ASIA
KIAF 2018 Art Seoul, South Korea
October 4–7
Bangkok Art Biennale, Thailand
October 19–February 3, 2019
Next Post