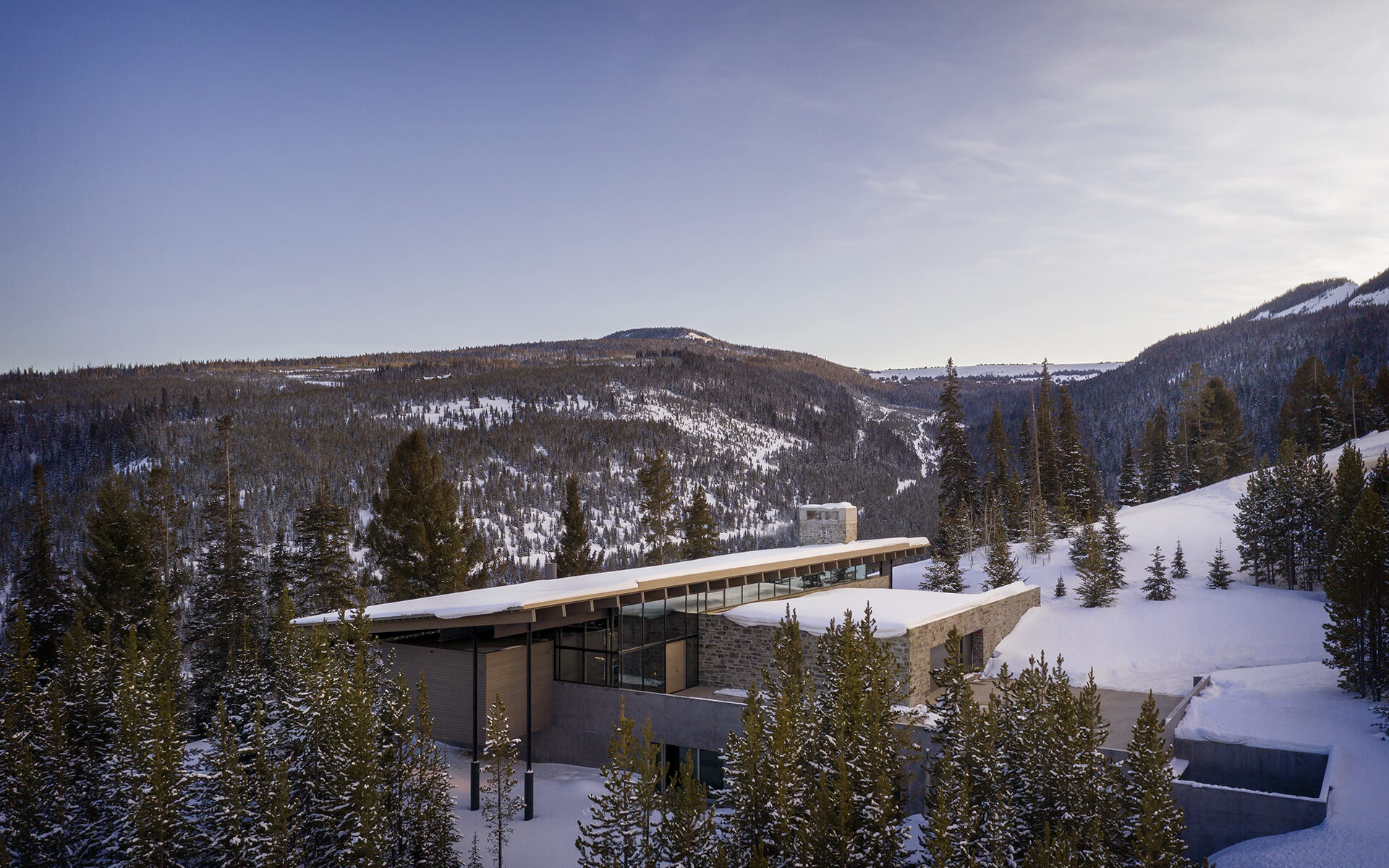 Go Inside a Spectacular Mountaintop Home Within Montana's Exclusive Yellowstone Club
Designer Terry Hunziker and architecture firm Suyama Peterson Deguchi craft a serene Montana retreat with major works of art and collectible design
Over the past two decades, designer Terry Hunziker and his client have collaborated on her main residence in Washington, D.C. as well as a townhouse in the capital, a country house, and a condominium address. Then she called with a new challenge: She had acquired a parcel of undisturbed property within Montana's exclusive Yellowstone Club, an adventurer's paradise in the state's aptly named city of Big Sky, and wanted Hunziker's help in a ground-up construction.
"Her whole life she had dreamed about having a house like this in Montana because she loves the area, and she's a skier, a hiker, and an angler," Hunziker tells Galerie. "What's great is you don't see any other house from her plot because it's situated right on the edge of a valley. It feels very private and secluded."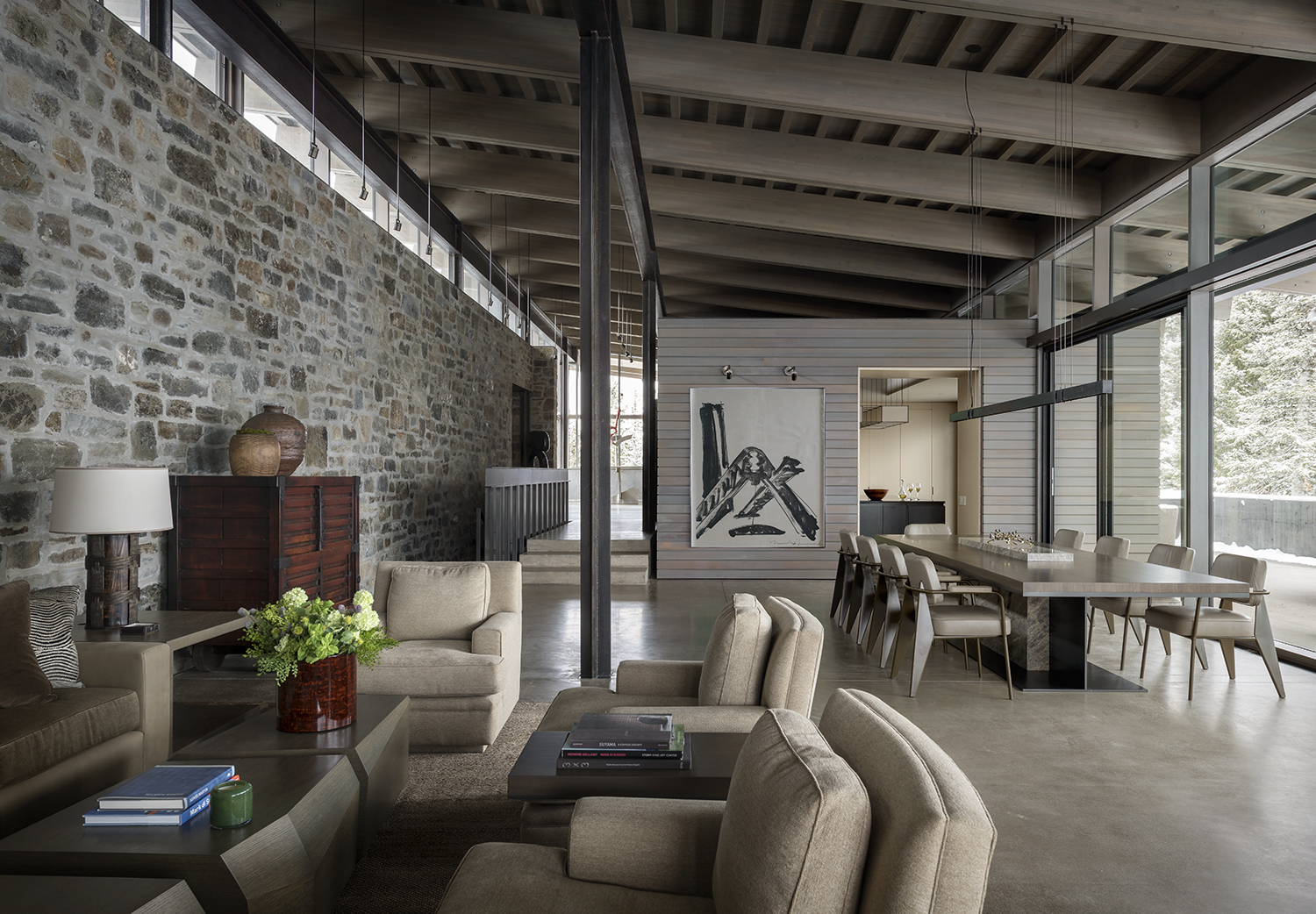 Hunziker introduced the client to the architects at Seattle-based firm Suyama Peterson Deguchi, who helped conceive a low-slung modern structure that seamlessly melded into the mountainous terrain. Comprising approximately 7,500 square feet, the home features an organic mix of materials complementary to the Northwest landscape, including wood and stone, paired with sculptural expanses of blackened steel. "It's a very masculine house, but it called for a more organic feeling," says Hunziker, who selected an equally earthy palette of soft beige, taupe, and grays.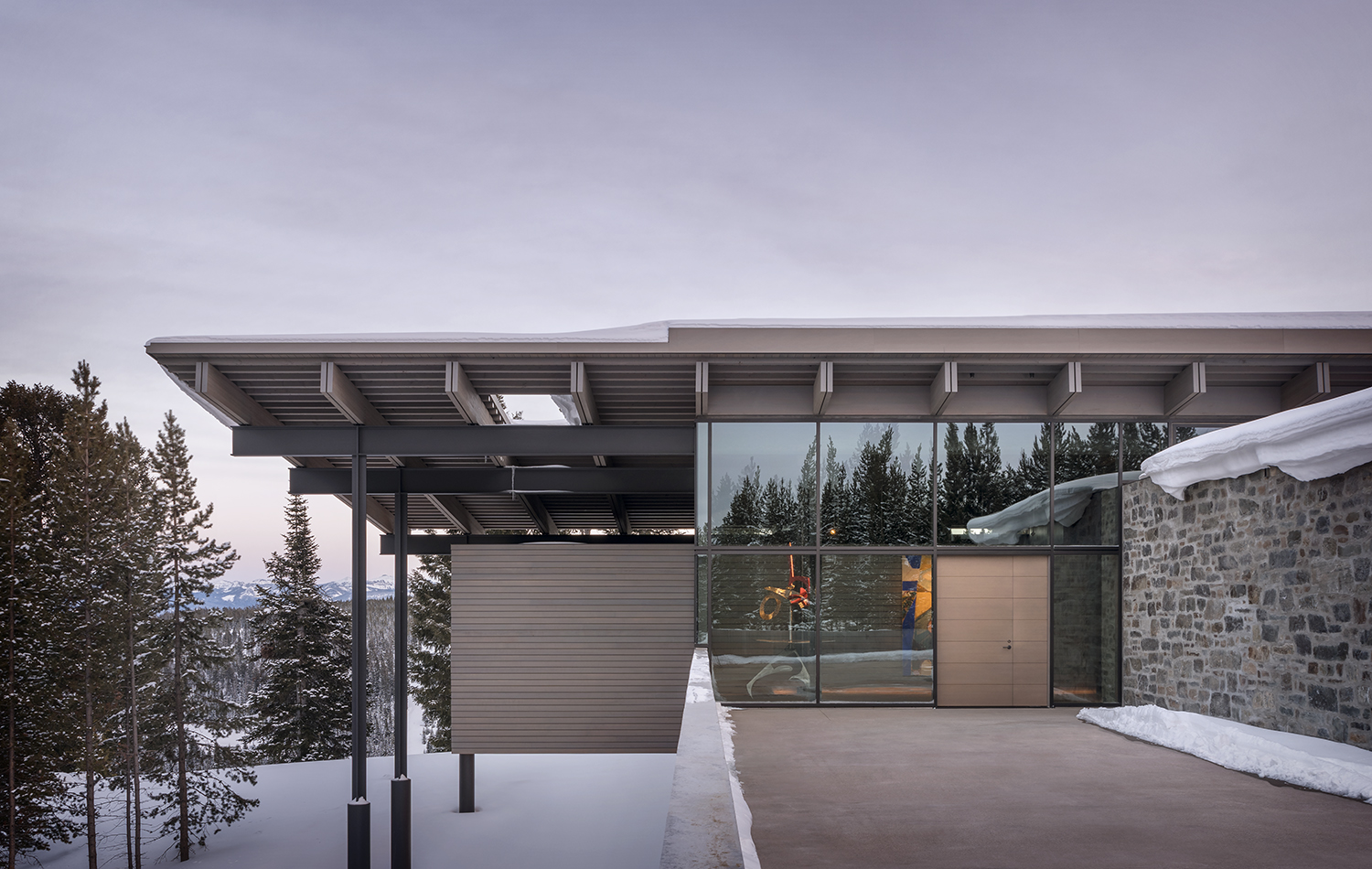 On the main floor, a large, open living room with panoramic views features several cozy seating areas and an elegant dining space. At one end, Mark di Suvero's 1976 work For Rilke is displayed alongside a custom dining table of Brazilian quartzite and blackened steel. "The idea was it was also more of a piece of sculpture than just a table," says Hunziker, who surrounded it with Jean Prouvé–style dining chairs to "get another design element that wasn't mine in the mix."
At the other end of the room, Hunziker composed a cozy seating area around a towering stone fireplace. There, he installed a custom mohair sofa and armchairs around a geometric cocktail table of his own design. "I wanted something very sculptural, not something too modern, and I just loved the way it turned out," he says of the piece, which is centered on an expansive rug by Driscoll Robbins. "I like the idea of throwing that into this big space," he adds of the floor covering. "I like the scale of it."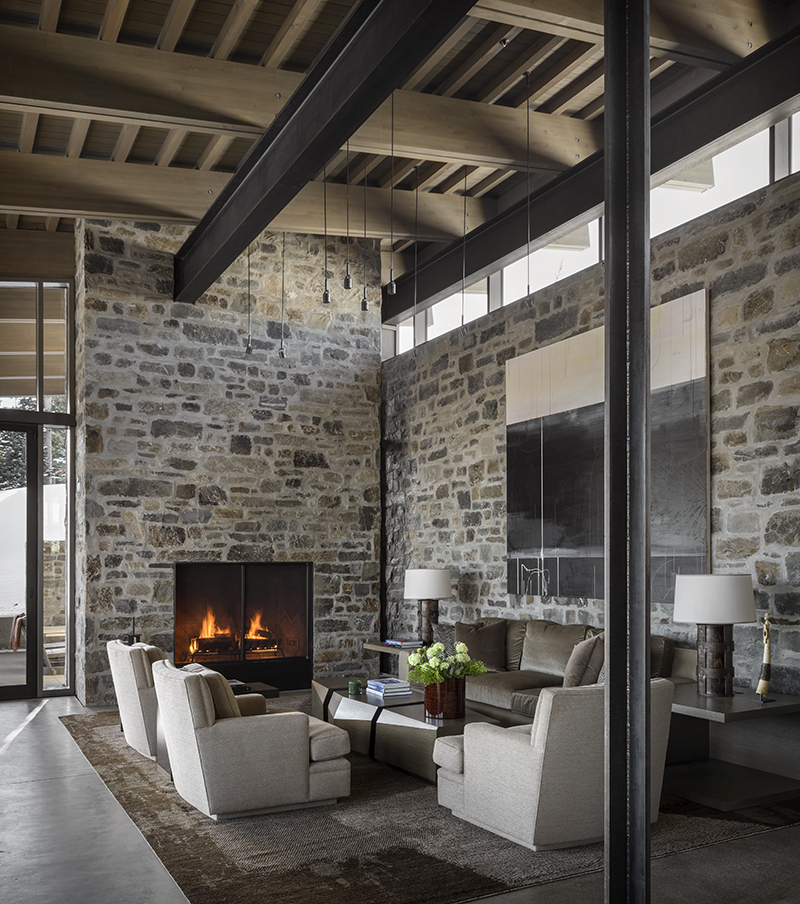 A large-scale canvas by Jacqueline Humphries overlooks the sofa that's bookended by a pair of custom side tables topped by matching Alexander Lamont table lamps. Just beyond, a group of antique Japanese vessels rests atop an antique Kuruma Tansu cabinet. "I wanted something old with patina and character to plop into the house that's mainly more modern in feeling," says Hunziker. "I almost always try to use something that's found, because so much of my furniture is custom designed for the client and the house. It can become too much, so I always try to use something old here and there to give it more character."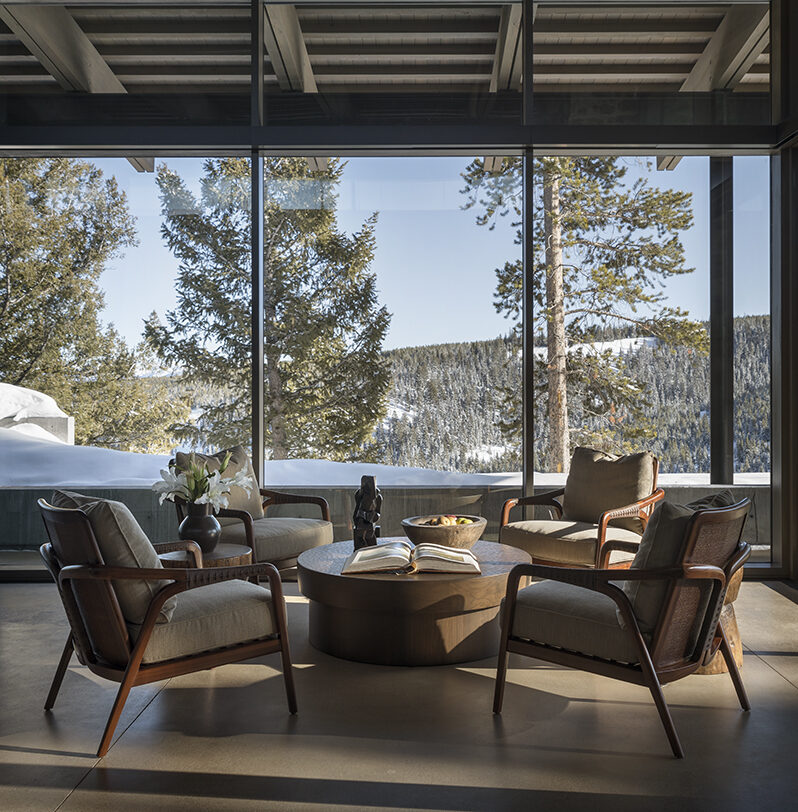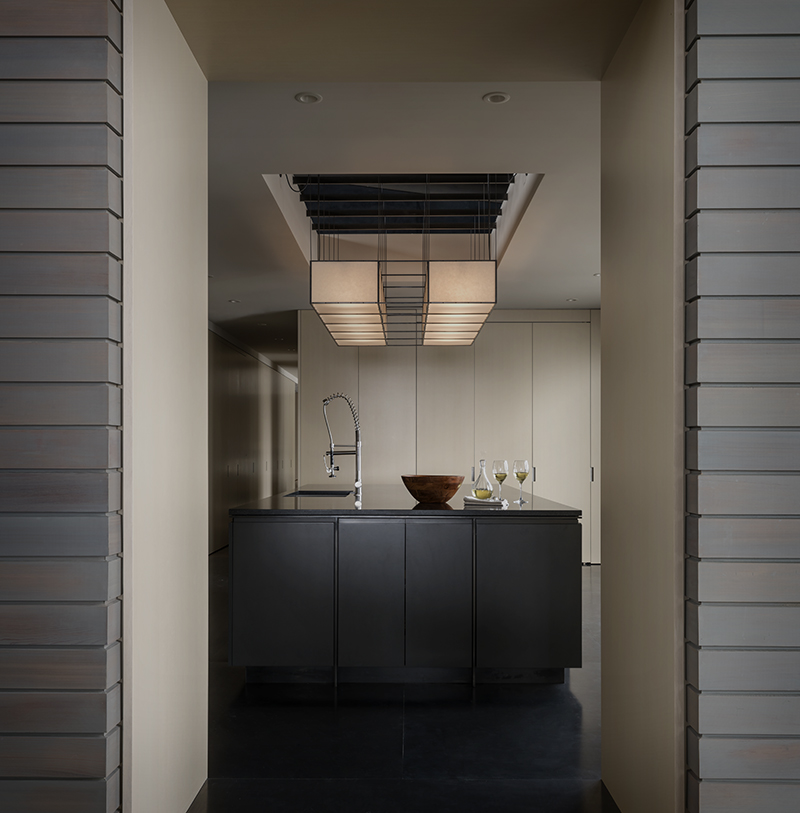 In the center of the room, Hunziker devised a third seating area that's "more view-oriented," placing four armchairs from Baker around a custom oak cocktail table inspired by African carvings. "After it was finished, it's nice to find that even though the room is very large and open, the whole space feels very cozy and not overwhelming at all," he adds. "The color palette and materials were selected to be warm and inviting."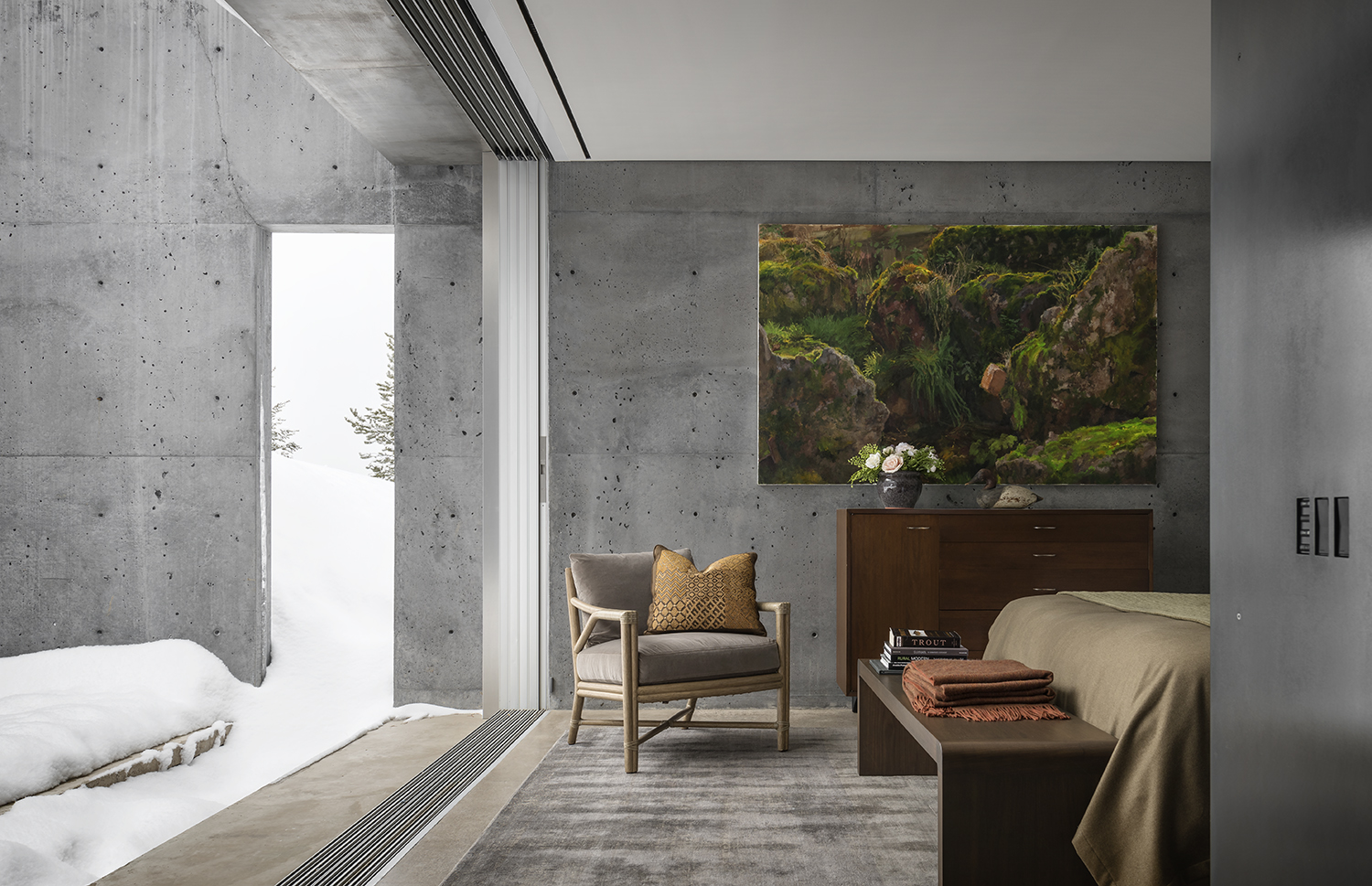 Adding to the residence's air of respite are the lower-level guest suites, including a bedroom designed for the client's son with a full wall of sliding glass panels that open directly into an interior courtyard. It's just one of the many spaces that display works from the homeowner's extensive art collection, which includes works by di Suvero, Jacques Lipchitz, and Simon Ling.
"We never preconceive exactly where everything is going to hang or be," says Hunziker. "I find that once you get the furnishings placed in an installation, a lot of times it changes the dynamic of the space and architecture and what you thought might go someplace ends up looking better somewhere else."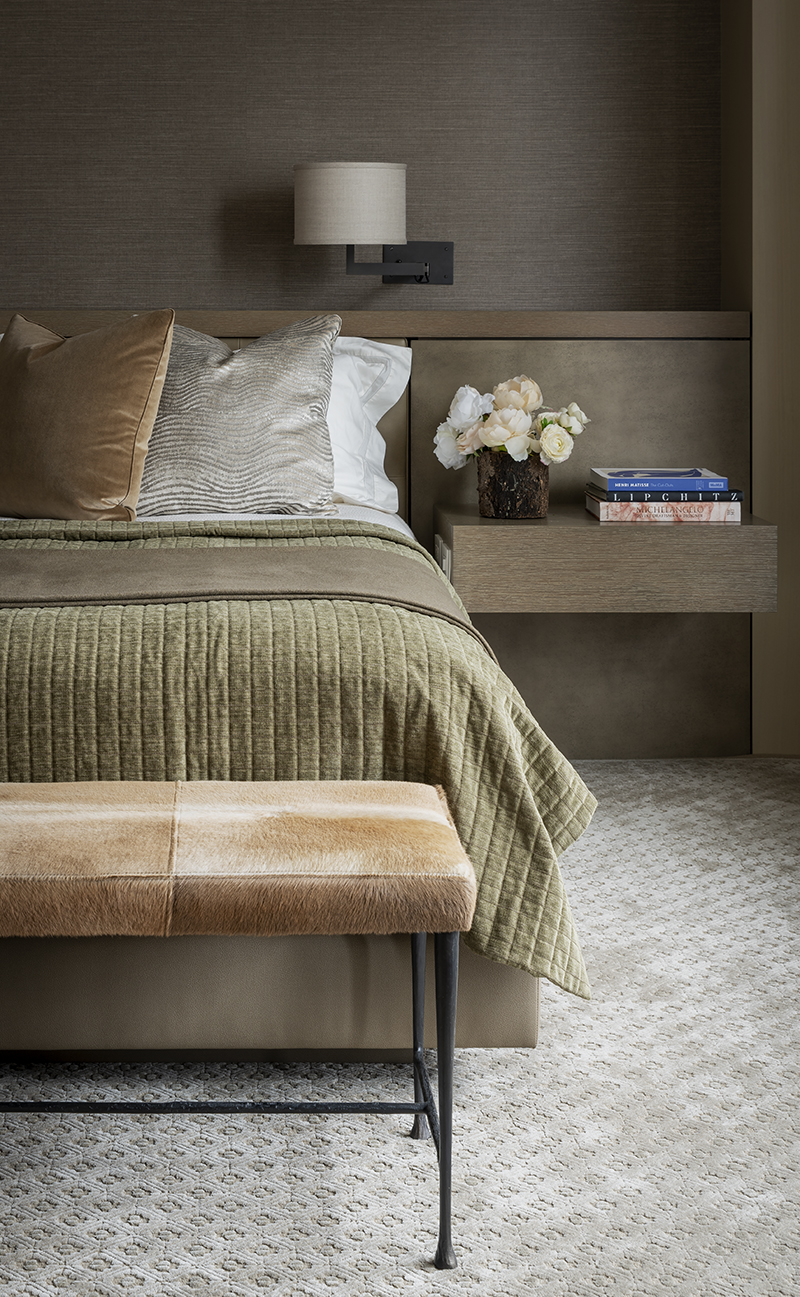 Completed over two years, the getaway is now a welcome retreat for the client and her adult children, who enjoy many of the myriad amenities constructed by the architects at Suyama Peterson Deguchi specifically for the family, most notably a vast kitchen island, surmounted by a bespoke Frank Lloyd Wright-esque light fixture, that was designed to appeal to their love of cooking. "Montana can be snow and cold and windy," says Hunziker. "This home was meant to be the refuge."
Next Post