It's hard enough designing a home for a discerning client with a serious, expansive, and varied art collection that includes everything from Picasso paintings and nude sketches to contemporary photographs—even a mounted surfboard is thrown in for good measure. But add an octagonal, full-floor layout in an urban tower into the mix, and you have yourself a real challenge.
Luckily, the owner of this home in Taipei, Pierre Chen, had a secret weapon for overhauling his apartment: Paris-based design powerhouse Liaigre. Chen, founder and president of major electronic component manufacturer Yageo Corporation, was a longtime friend of the studio's eponymous founder, the late Christian Liaigre, and the firm, now led by creative director Frauke Meyer, has crafted multiple residences for him and his family. "I first found out about Liaigre in a magazine," says Chen. "I was instantly stunned by its simple, minimalistic style."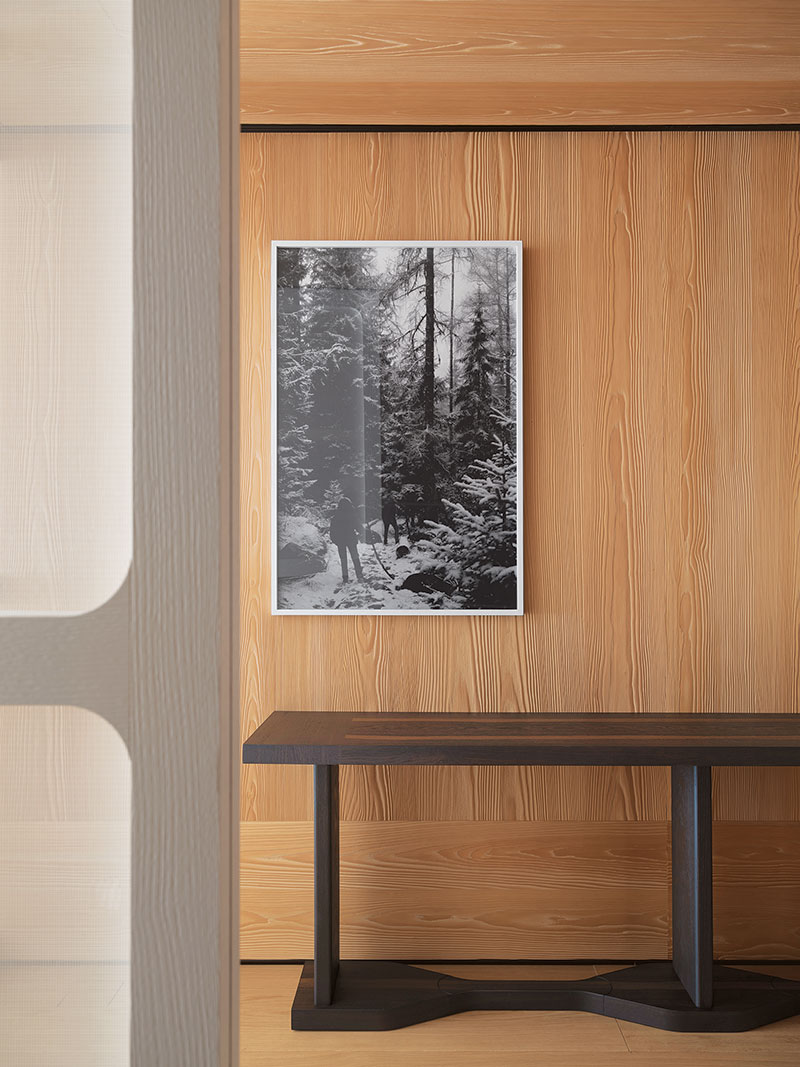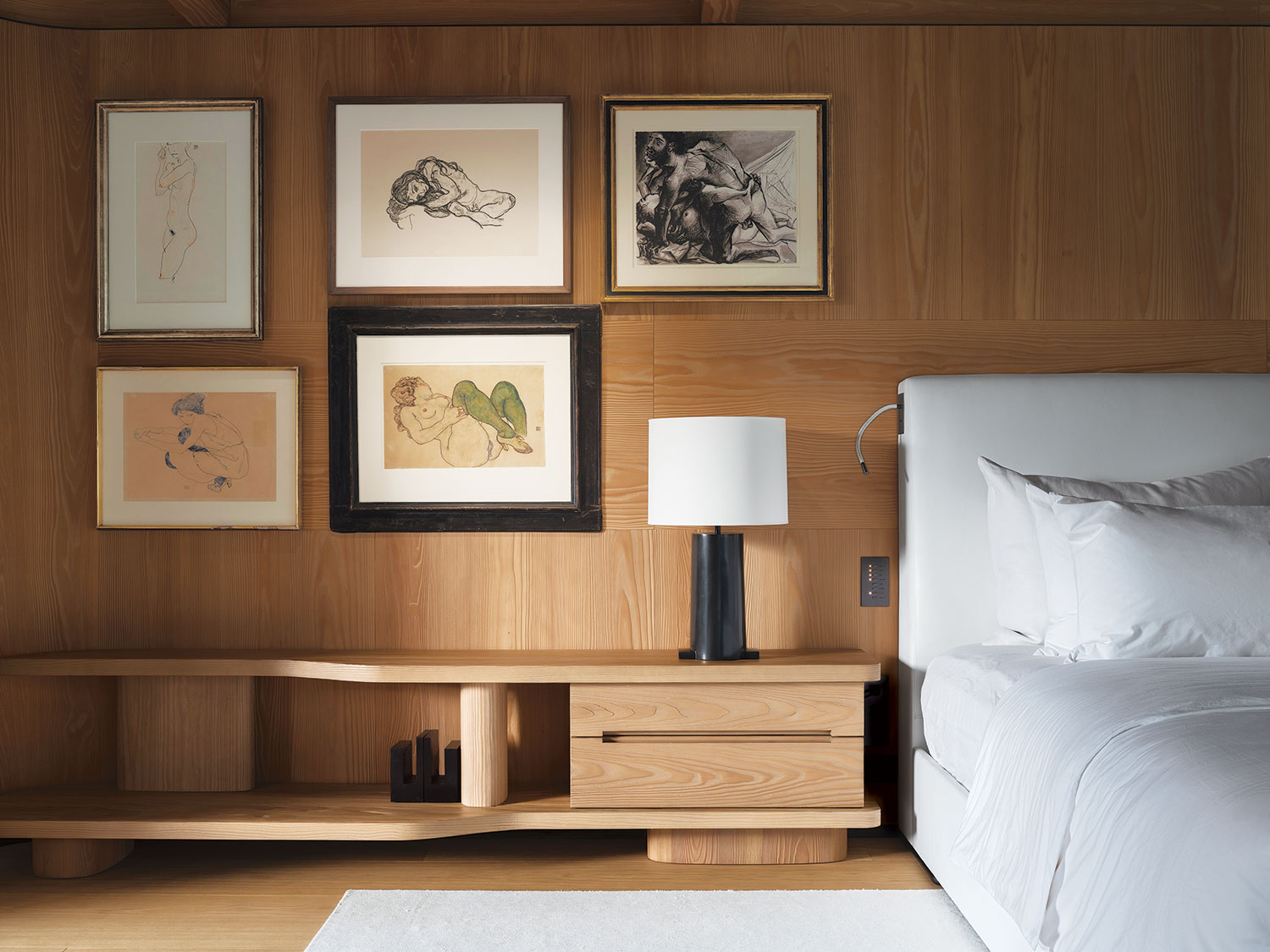 Liaigre specializes in highly planned and engineered interiors that are instantly recognizable for their inviting sense of organic yet austere minimalism. "I'd love to say it's all about materials," explains Meyers of the firm's ethos, "but it wouldn't be true because it's also about space planning and finding the right story for a project."
"Pierre is adding works to his collection all the time, and he has a very artistic approach to it"

Frauke Meyer
That's what made Liaigre the perfect choice for Chen's Taipei apartment, located on a low floor in an unusually shaped 1990s building. Since there was a limited amount of natural light, Meyer treated the unit, with its central elevator core, like a medieval cloister, with a continuous looping hallway around it. On two sides, the passageway was punctuated with a series of varying arches that add character to the apartment and allow light from the bay windows in as deep as possible, says Meyer. "The differing sizes bring a certain vibration."
Additionally, space had to be found to display the client's extensive selection of art. Chen has been collecting for more than 30 years, starting in his youth, when he saved as much as he could from his deejaying gigs to buy his first piece. "I often steer toward works with happy colors, such as red," he says. "I only look for art pieces I enjoy, regardless of their market potential or the fame of the artists."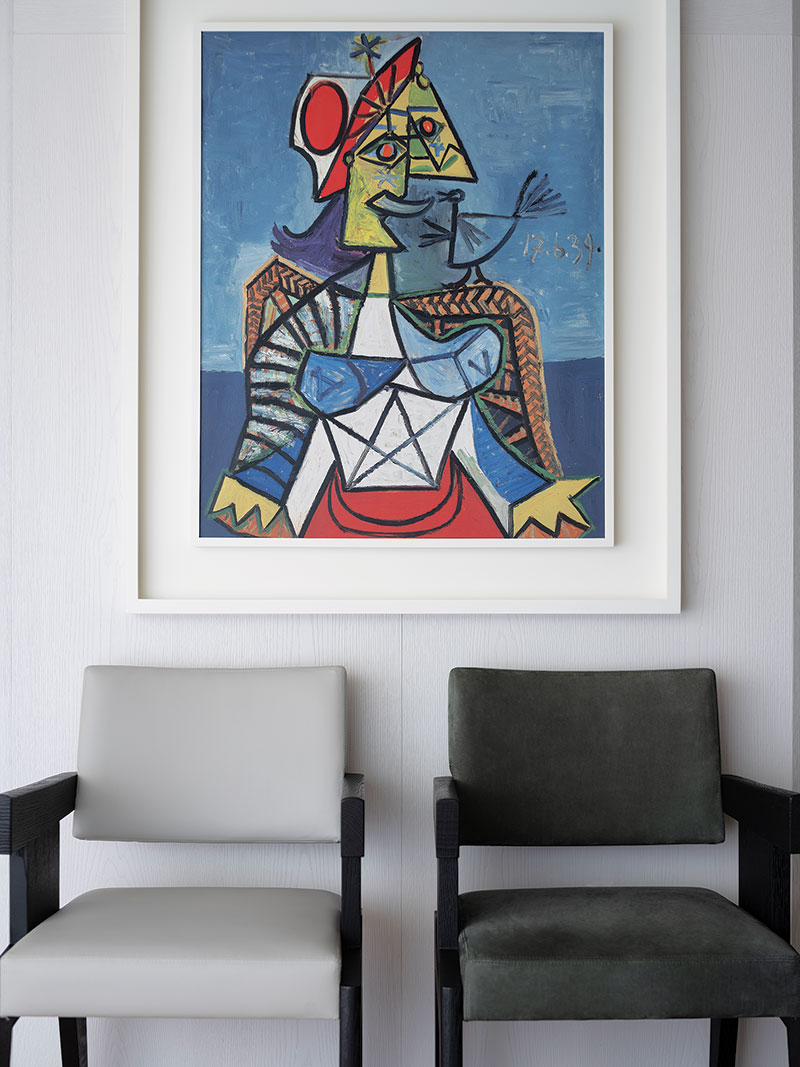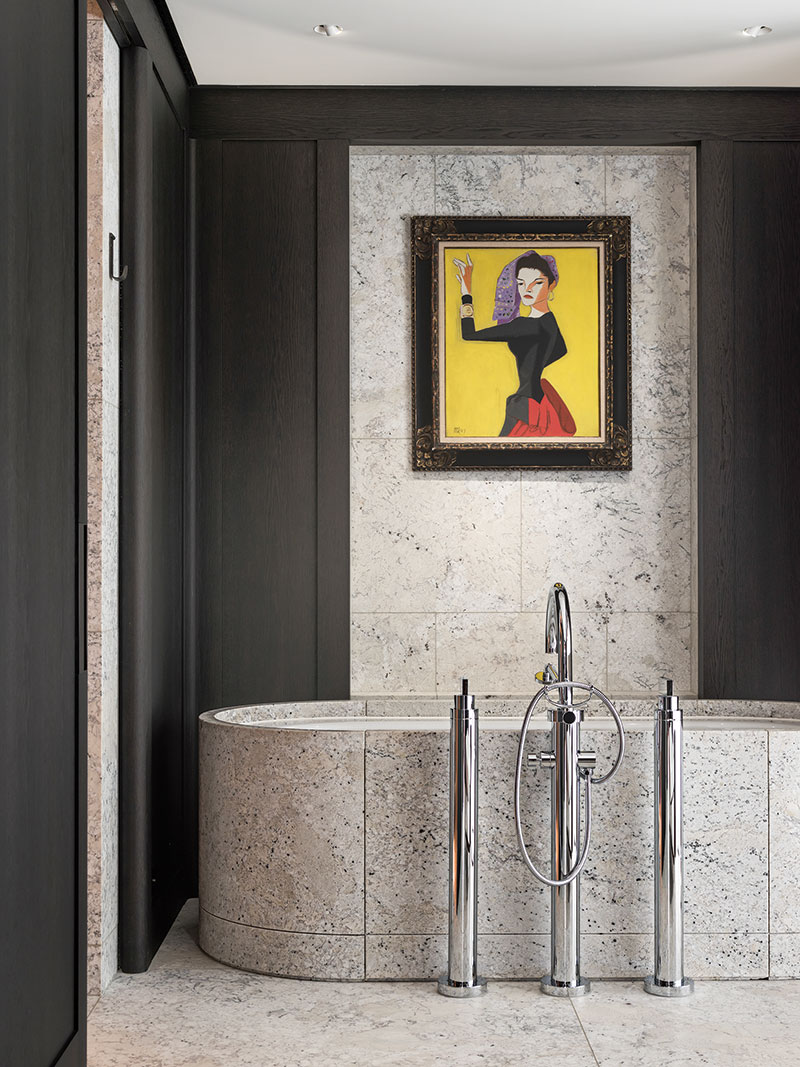 "I often steer toward works with happy colors, such as red. I only look for art pieces I enjoy"

Pierre Chen
Deciding where to place all of the works was a creative collaboration between the designer and the client. "Pierre is adding pieces to his collection all the time, and he has a very artistic approach to it," says Meyer. In the primary bedroom, for example, he nailed directly onto the wood-paneled walls to create an intimate salon-style grouping. With that kind of lessened formality, the interplay between art and design became effortless. "We were inspiring each other," she adds.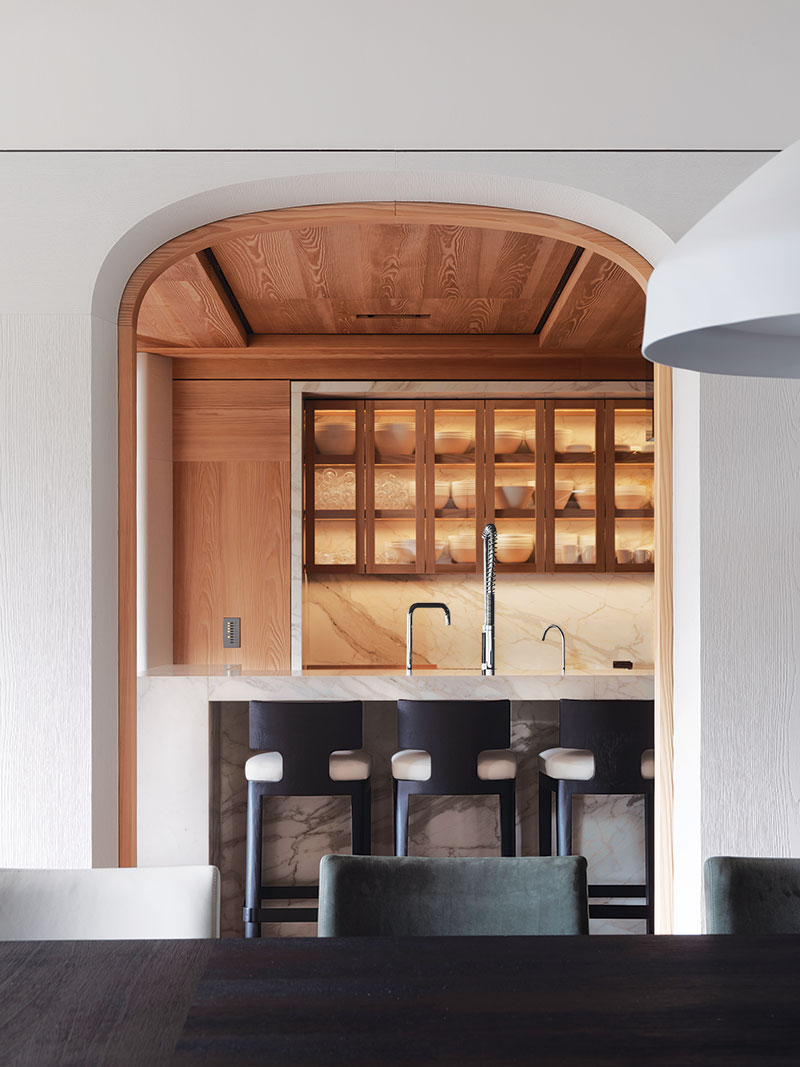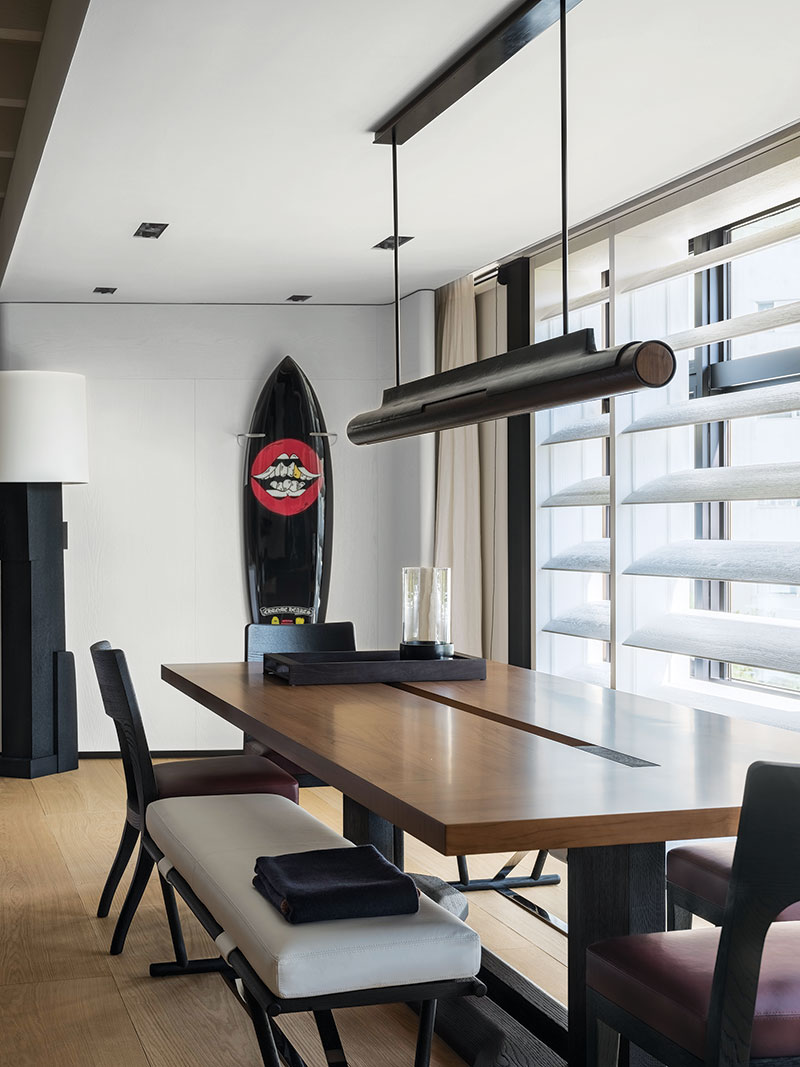 Informing other parts of the home's aesthetic is another one of Chen's collecting focuses, wines, as well as the family's love of entertaining. "Food and wine are a passion of mine, which makes the dining area the most essential and memorable," says Chen, who deems a pair of milk-white porcelain pendants that hang above the dining table as one of his favorite elements of the finished interior. "The dining area is a very powerful statement. What I love most is the beautiful sound the handcrafted ceramic shades make when struck, resembling the chime of church bells." Living in harmonious design, indeed.
A version of this article first appeared in print in our 2023 Summer Issue under the headline "Subtle Harmony." Subscribe to the magazine.
Next Post