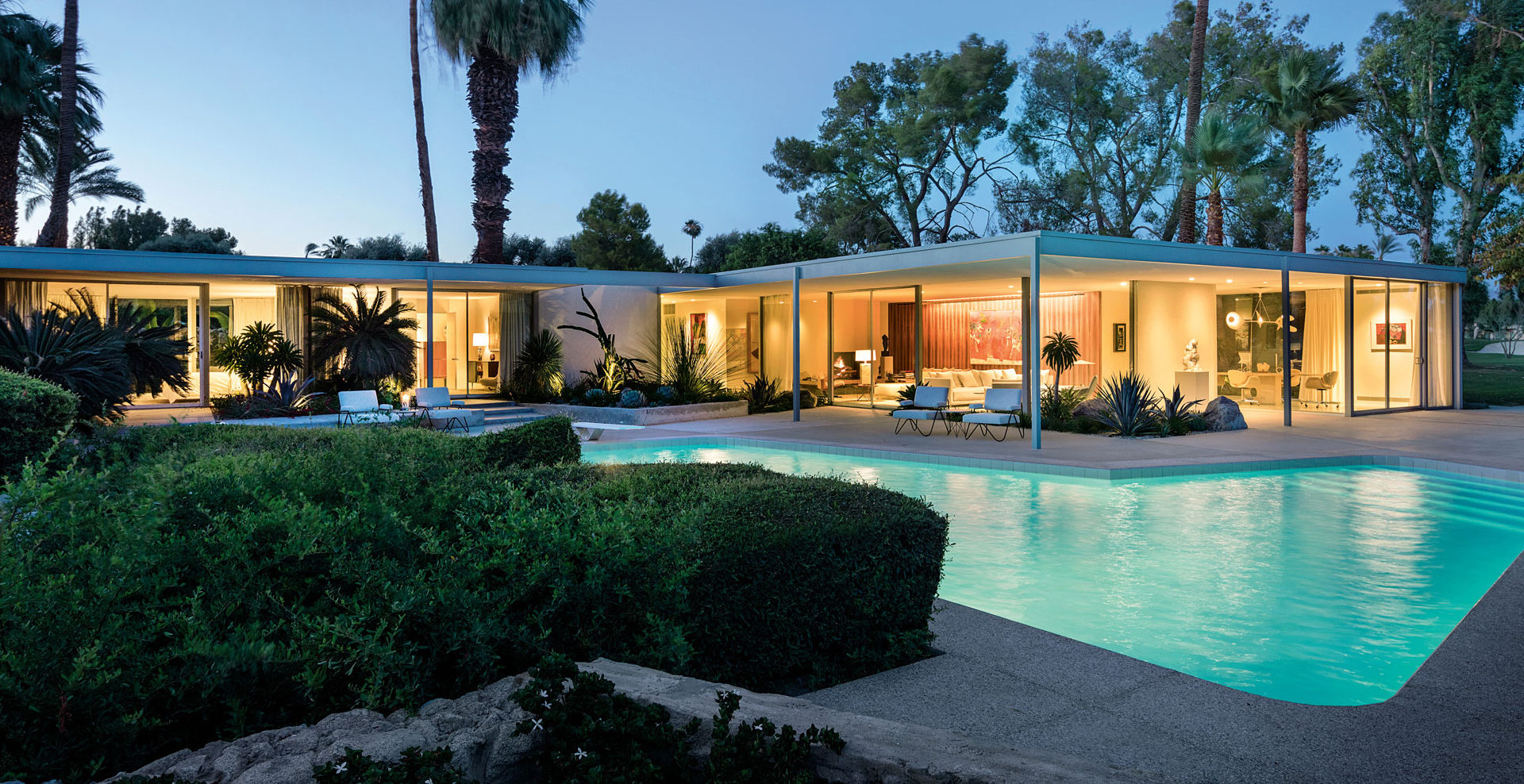 Steven Harris Restores a Midcentury Palm Springs Retreat
The architect and his partner, Lucien Rees Roberts, stylishly update a rare Desert Modern find
Sometimes we're lucky enough to find a place, a community, a home, that feels—unexpectedly—just right. When architect Steven Harris and his longtime partner, interior designer Lucien Rees Roberts, began looking at houses around Palm Springs a few years ago, it wasn't for themselves but for good friends in need of guidance.
That hunt landed the friends, Hollywood agent Brian Swardstrom and movie producer Peter Spears, a house in Rancho Mirage by William Cody, one of the luminaries who made California's Coachella Valley a nexus of the progressive midcentury architecture that came to be known as Desert Modernism. But the search also left a big impression on Rees Roberts and Harris, who asked a few real estate agents to keep an eye out for them.
Before long, an intriguing prospect turned up. It was a classic Desert Modern three-bedroom house from 1957, with a cross-shaped plan, lots of glass and steel, a palm-bordered pool terrace, and views out over an adjacent golf course to the mountains beyond. And it was in Rancho Mirage, just a few minutes' walk from Spears and Swardstrom's place. "As soon as I saw it on Google Earth and learned a little about it, I knew it was the house we wanted," says Harris. "We pretty much agreed to buy it before we ever visited."
That kind of trust-your-gut leap is perhaps easier to make when you already own six other residences in far-flung locations, as the New York City–based Harris and Rees Roberts do, and when you are as steeped in modernist architecture as Harris is. While they knew this house was significant, it took some sleuthing to figure out it had been designed by Donald Wexler, whose local projects included the Palm Springs International Airport main terminal and the Dinah Shore house, now owned by Leonardo DiCaprio. The clinching evidence came from the archives of celebrated landscape architect Garrett Eckbo, who conceived the house's gardens and indoor floor planters.
The passage of time and some unfortunate choices during a 1970s renovation meant significant work was required, including removing air-conditioning ducts that had been added to the roof and undoing an expansion of the master bedroom that had spoiled the roof overhang. Consulting Wexler's and Eckbo's drawings, the couple set about returning the property closer to its original state while updating all of the systems and introducing less water-dependent native plants to the gardens.
In the end, "every piece of drywall, Sheetrock, and plaster was taken off and replaced," says Harris, "but we were careful to maintain important details and the spirit of the house." Where Wexler had used wood paneling, they installed a strikingly patterned veneer of Brazilian rosewood. They also called on a local specialist to match new terrazzo for the baths and kitchen with the original floors elsewhere.
Throughout the house, the furnishings are an assortment of custom Rees Roberts designs and vintage pieces acquired over the years. The master bedroom's 1950s bed—its headboard outfitted with ashtrays, magazine pockets, and lights—was Italian design legend Gio Ponti's own. In the dining room, a sculptural light fixture by Paris designer Alexandre Logé hangs above a showstopping late-'60s Willy Rizzo travertine table, a sculptural circle bored through its base.
The art is a similarly compelling mix. Works from three generations of notable painters in Rees Roberts's family are on display, giving the collection a decidedly personal tint. Among the most significant works are the living room's painting by legendary Brazilian landscape designer Roberto Burle Marx and a large abstract canvas by noted Slovenian artist Jože Ciuha. "We buy things we fall in love with," says Rees Roberts. "They're not necessarily particularly expensive, and in many cases, they're not by famous people."
An artist himself, Rees Roberts often spends mornings painting in the casita, a short bamboo-lined path away from the kitchen. "The light here is incredibly beautiful," he says, "and in this house you feel very close to the landscape, the views." Harris, for his part, likes to begin his days with a drive. A self-proclaimed "car freak" with a fondness for vintage Porsches, he typically sets out just after sunrise and heads up into the San Jacinto Mountains. "Having driven nearly all of the passes in the Alps," he says, "this is one of the most beautiful sets of switchbacks and climbing roads anywhere."
The couple also enjoys entertaining a steady stream of out-of-town guests and an expanding circle of friends in Palm Springs. "So many colleagues, friends, clients—all kinds of people—happen to be here or are looking for a house here," notes Harris. After cocktails and dinner on the terrace, cushions often get pulled off the chairs and everyone settles down for a movie on an outdoor screen. "What's remarkable is that this is a house we didn't mean to have," says Harris. And yet they were clearly meant to have it.
Click here to view more photos of the home.
Next Post