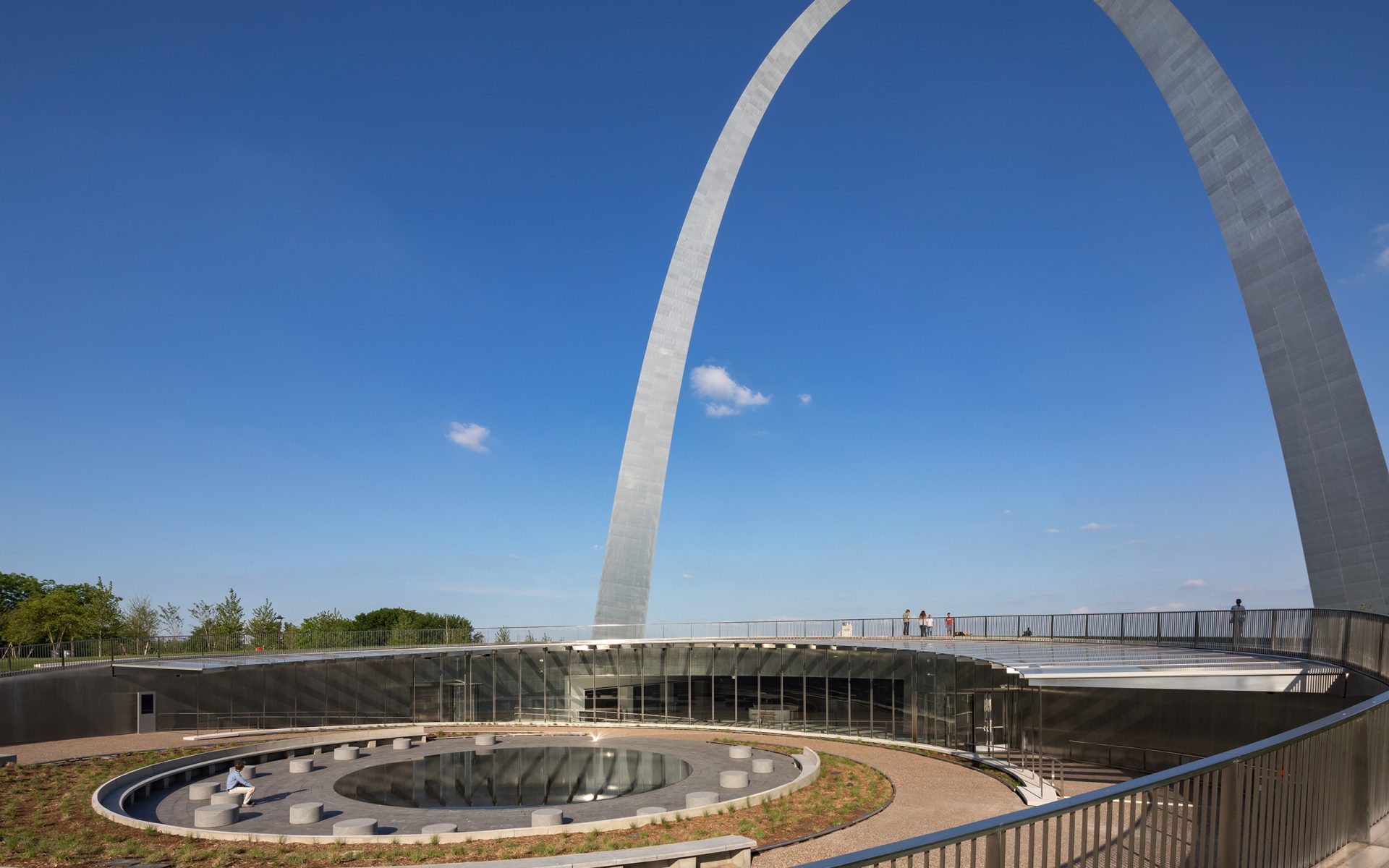 After $380-Million Renovation, the St. Louis Arch Reopens
The four-year project finally connects Eero Saarinen's iconic arch to the riverfront city
Soaring 630 feet above the Mississippi River, the St. Louis Arch is one of the most recognizable and beloved landmarks in the United States, a graceful yet sturdy embodiment of American idealism and determination. Designed by neo-futurist architect Eero Saarinen, the monumental steel-clad curve has also been severed from the city it calls home since its completion in 1965, truncated by a massive highway and rail line. But that all changed earlier this month, when, after a $380-million renovation and expansion, the grounds opened to the public.  
While the arch itself was not touched during the four-year project, the 92-acre grounds surrounding it, which were rechristened the Gateway Arch National Park in February, were completely reimagined by landscape architect Michael Van Valkenburgh. One of the most important additions he made is the grassy land bridge that now links the horseshoe-shaped landmark to the adjacent Luther Ely Smith Square, sewing it into the city's urban fabric. In total, 11 acres of parkland were added, as well as more than 5 miles of biking and pedestrian pathways, all of which provide Instagram-worthy shots of the iconic arch.
Beneath the massive statue, the underground Museum of the Gateway Arch—which originally opened in 1976 as the Museum of Westward Expansion—also underwent a complete revamp. Now totalling more than 150,000 square feet, the institution is accessed by a semi-circular entryway that takes cues from the site's curving geometry. Dug into a berm, the striking lobby is organized around a circle of water, perfect for cooling off on a hot summer's day.  
The interiors of the new museum were masterminded by a team that included James Carpenter, Cooper Roberton, Trivers Associates, and exhibition designers Haley Sharpe. Together, they added more than 46,000 square feet of space the museum, including one immersive exhibition  that simulates being inside the observation deck, aided by live-feeds from atop the structure.
The focus of the exhibitions have also shifted away from a simplistic view of Manifest Destiny, which some Americans used as justification to commit various atrocities, to a more nuanced form of storytelling. Now there's a greater emphasis on examining how the major push to expand impacted minorities like Native Americans and Mexicans. Plus, there's a deeper dive into the details of the building of the monumental arch and Saarinen's design—includin a 100-foot video wall displaying scenes from the arch's construction.
"The opening of the new Gateway Arch National Park experience is an incredible milestone for so many people—from St. Louisans who voted to help support the project renovations with the project's private donors, to the park's millions of annual visitors," said Eric Moraczewski, the Gateway Arch Park Foundation's executive director, in a statement. "We are excited to present the new experiences within the Museum and Gateway Arch National Park as a destination that people will visit, enjoy and return to for decades to come."
Next Post