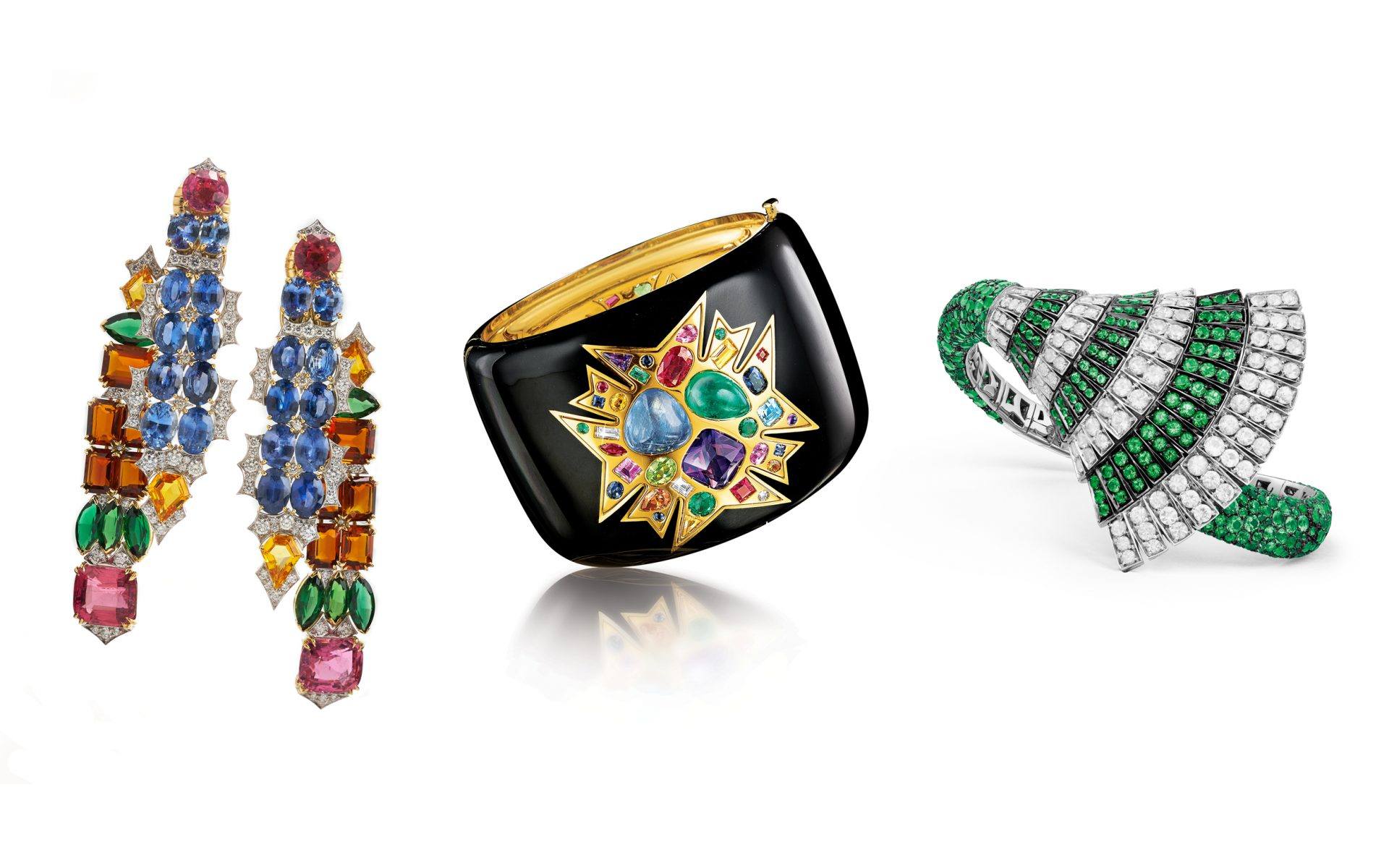 8 Spectacular Jewels to Covet This Holiday Season
These artful creations are sure to add major sparkle to your holiday celebrations
From David Webb to Cartier, these artful creations are sure to add some sparkle to your holiday season.
1. David Webb Streamer Earrings 
Known for his bold silhouettes and vibrant use of color, David Webb designed these Streamer earrings, which shimmer with a variety of precious stones accented with glimmering white diamonds.
2. De Beers Swan Lake Necklace
Inspired by the graceful movement of the prima ballerina in Swan Lake, this delicate necklace by De Beers features an assortment of diamond cuts to create a dazzling effect when worn. The diamond pendant is detachable, making it suitable for a variety of festive occasions.
3. Van Cleef & Arpels Ruby and Diamond Ring 
This cocktail ring is just one of the new pieces in Van Cleef & Arpels's latest Treasure of Rubies collection. The deep crimson color and inner glow of the central stone is enhanced by the interspersed white diamonds.
4. Harry Winston Drop Earrings with Yellow Diamonds
These classic drop earrings from Harry Winston feature a cluster of white diamonds with pear-shaped yellow-diamond drops set in platinum and gold.
5. de Grisogono Ventaglio Bracelet
Recalling the shape of a fan, deGrisogno's iconic Ventaglio bracelet is imbued with an Art Deco sensibility. The subtly articulated emeralds and diamonds appear to cascade down the wrist when worn and are sure to turn heads at your next holiday party.
6. Graff Abstract Diamond Earrings 
The eye-catching silhouette and intricate tessellation of diamond shapes call to mind an abstract work of modern art. Each earring measures 11 centimeters, and this pair by Graff features a whopping 64.09 carats of diamonds in total.
7. Verdura Theodora Cuff 
Inspired by the iconic Maltese Cross cuffs that Verdura designed for Coco Chanel in the 1930s, this limited-edition black enamel cuff was created for the brand's 75th anniversary. The 18K-yellow-gold cross is adorned with a baroque-shaped cabochon sapphire, a pear-shaped cabochon emerald, a cushion-cut amethyst and ruby, and a sprinkling of multicolored precious and semiprecious stones.
8. Cartier Diamond Ear Cuff 
These ultracontemporary white-gold and diamond ear cuffs are from Cartier's Reflection de Cartier high-jewelry collection. Wrapping around the ear, the left and right pieces are sold individually.
Next Post