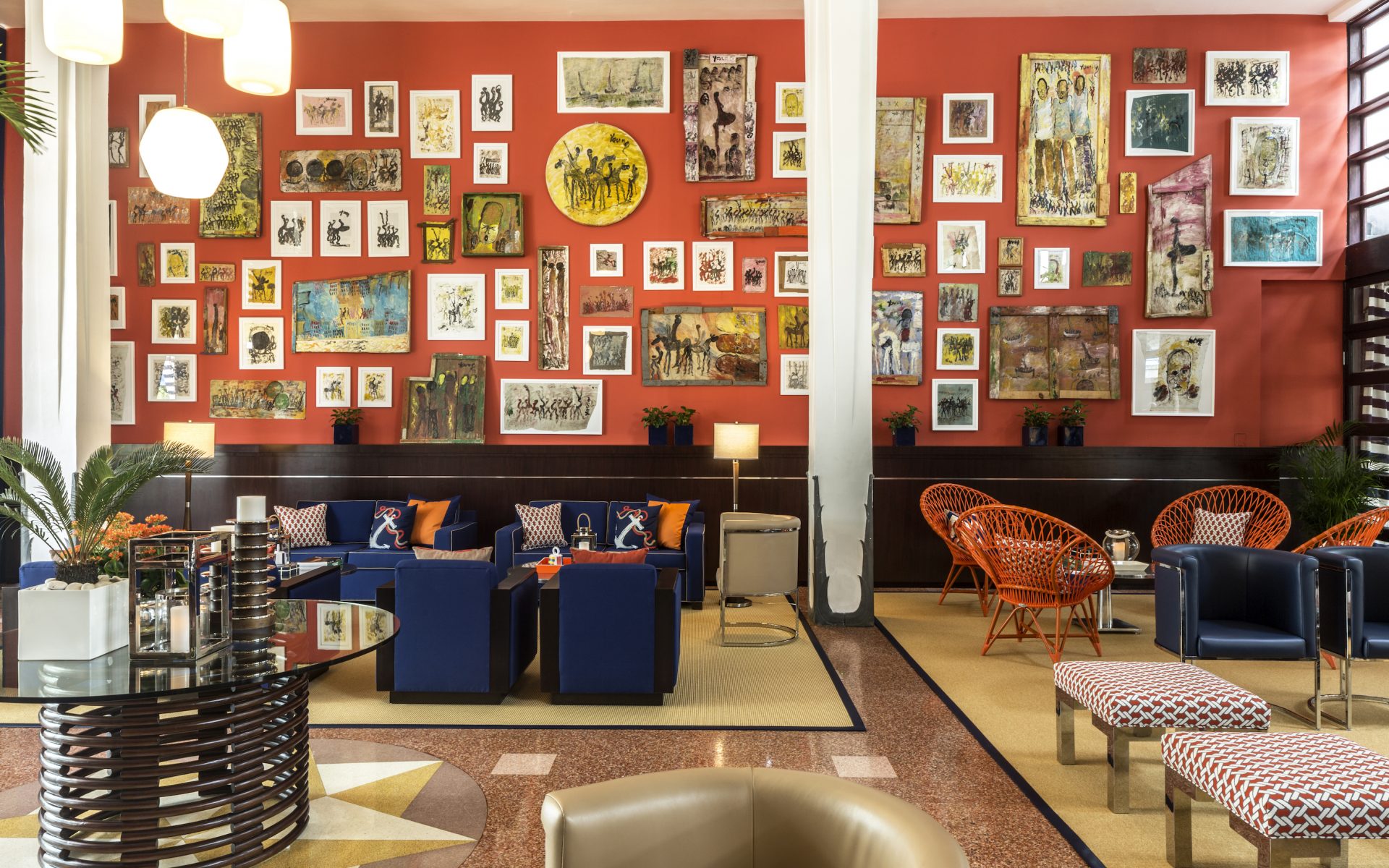 A Miami Beach Icon Gets a Magical Makeover
Designer Scott Sanders shares how he reimagined the storied Albion Hotel with artworks by breakout star Purvis Young
When I was asked by the Rubell family to reimagine their iconic art deco Albion Hotel in South Beach, my heart skipped a beat. I had always dreamed of designing the hotel, which is one of the most beautiful buildings in Miami, Florida. Having worked with the Rubell family since 1998, I was very familiar with the Albion. From the beginning, I knew I wanted to create a chic, modern take on a luxury cruise ship, and to connect the new design to the original 1939 architecture. I imagined the soaring, 20-foot-high lobby filled with modernist furniture, chrome and glass tables, rich navy fabrics and draperies, punctuated with pops of orange to echo the terrazzo floor.
The lobby was dominated by a 40-foot-long wall just waiting for attention. I felt that hanging one or more enormous paintings would not create the look of intimacy I wanted. Instead, I started to imagine the wall filled with lots and lots of small pieces. I went shopping in the Rubells' backyard, talking to Mera and Donald Rubell—and their son, Jason—about possible ideas. Jason came up with the perfect solution—an exclusive array of works by the late Purvis Young, a self-taught African-American outsider artist whose history included spending time in jail and, upon his release, selling his art on the streets, eventually developing a cult following that included wealthy art collectors. In 1999, the Rubells bought the contents of Young's Miami studio—more than 3,000 pieces of art—a decade before his death, in 2010. My task was to narrow down this treasure trove to 100 works. 
Next Post
We went through containers filled with beautiful drawings of horses, people, and angels—some of Purvis' favorite subjects. After selecting the most special works on paper, I was also able to look at the artist's larger pieces. Having struggled for decades, not having enough money to buy proper canvases, Purvis would paint on anything he could find on the street—from bureau drawers to the tops of crates. I knew the rawness and beauty of these pieces would be the perfect counterpoint to the smaller works. While the works on paper were mounted in identical white frames, the larger pieces would be hung as they were.
I also decided to paint the entire wall in a vibrant orange, to connect it to the original terrazzo floor. Once the wall was painted and all the art was delivered, it was my job to design the layout. Two art handlers, one forklift, three cups of coffee, one supercharged Cuban coffee, three Moscow Mules, nine hours later, the placement of 92 works by Young, and the installation was finished. My dream of re-imagining the Albion Hotel was complete. Later that evening, I found myself hoping that Young would have been happy too.