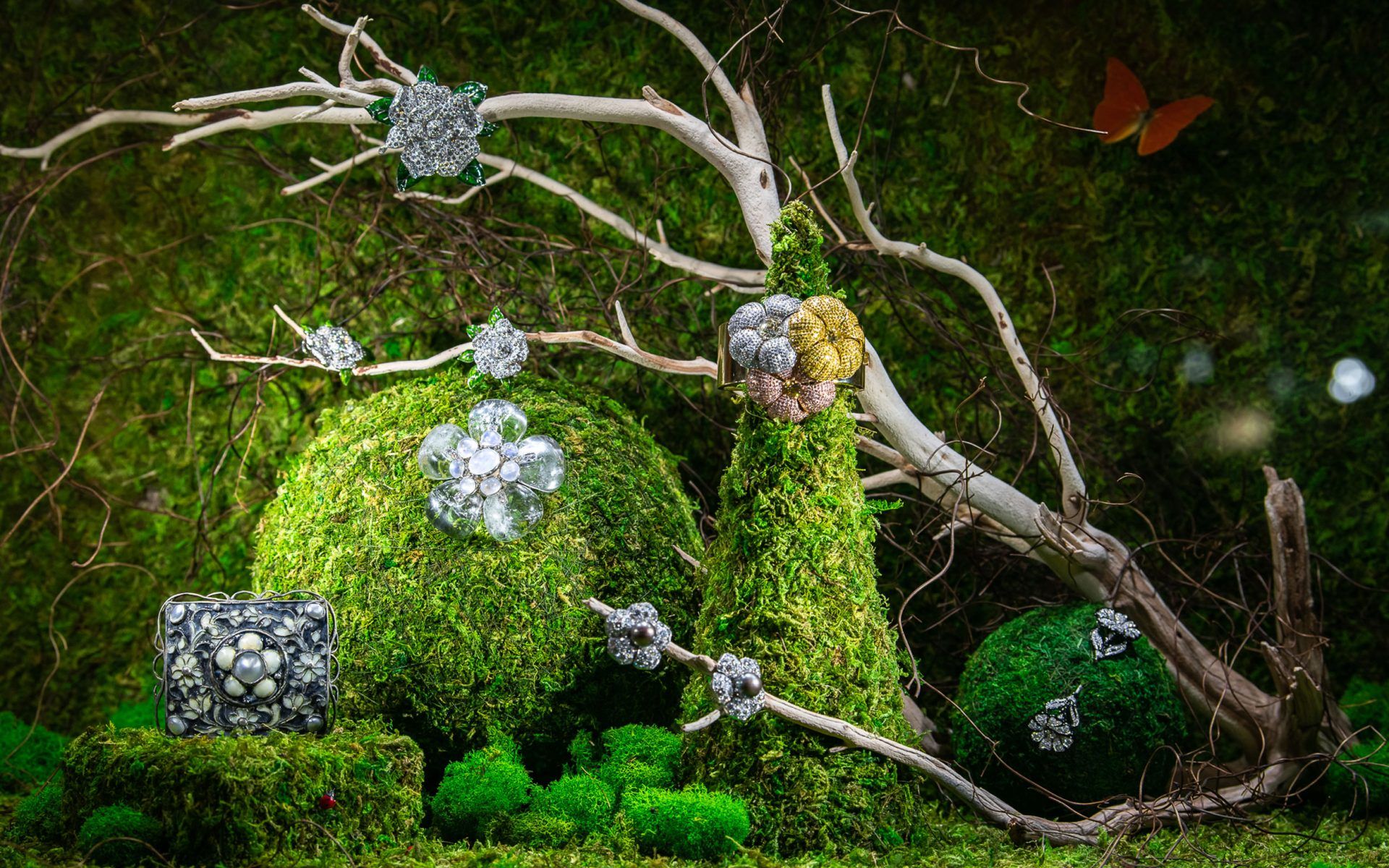 Trace the Evolution of Floral Jewelry at Sotheby's
A new selling exhibition celebrates the history of flowers with historic treasures presented alongside contemporary creations
Spring has officially sprung at Sotheby's with a dazzling new selling exhibition that spotlights how flowers have been a constant source of inspiration to jewelers throughout the ages. Curated by sales director of Sotheby's luxury division Frank Everett, in partnership with jewelry historian Carol Woolton, the show comprises 75 pieces and intersperses vintage floral designs from distinguished houses such as Tiffany & Co., Cartier, and David Webb alongside pieces by such contemporary talents as Solange Azagury-Partridge, Eliane Fattal, Fernando Jorge, Sabba, Jessica McCormack, and Irene Neuwirth.
"Florals are the most enduring motif in jewelry," Everett tells Galerie. "I always say, there are three motifs that have been around since the history of jewelry: flowers, snakes, and tassels."
Recommended: Meet 3 High-Jewelry Designers Shaking Up the Craft
In recent years there has been a trend of auction houses increasing their focus on private sales through curated exhibitions in what is perhaps an attempt to bring the jewelry department to the same level as their contemporary art business and to establish the idea that jewelry can be collectible to a younger clientele. "This is the first time we have presented such a show of jewelry in New York, and it's doing really well. We sold the first four pieces in nine days," says Everett. "It's like going to a concept fashion boutique where the pieces have already been hand selected, so you don't get overwhelmed."
Former Tiffany & Co. window display artist Michael De Luca conjured the lush garden-themed exhibition space, where the jewelry creations are sprinkled across twigs and mossy bundles. The pieces range from the 19th century (the earliest example dates to 1830) through to today, including a pair of striking orchid earrings by Shaun Leane that were created "just a week before the show opened."
Highlights include a striking necklace by Eliane Fattal for Sotheby's Diamonds, which comprises a 19th-century brooch with a necklace around it. "This question mark shape is so popular in floral jewelry, where one large flower is the feature and the vine is wrapped around the neck," says Everett. "Boucheron was the first to do it back in the 1930s. There are two in this show, but I could have had 20!"
Florals and nature remain a huge inspiration for the Taiwanese jeweler Cindy Chao, whose green tsavorite pavé rose earrings were on offer for $65,000. "The detail of the lacquered stamen is just extraordinary," says Everett. "She is a brilliant designer, and these sold within the first hour."
Recommended: A First Look at 'Camp: Notes on Fashion' at the Metropolitan Museum of Art
The rising young Paris-based designer Emmanuel Tarpin presents a rose ring crafted in patinated bronze that reveals just an enticing glimpse of the yellow diamonds and sapphires inside. After cutting his teeth at Van Cleef & Arpels, Tarpin launched his own atelier in 2017 at the age of 25. The extraordinary piece is available for a reasonable $8,000.
The beauty of nature is immortalized as something eternal quite literally with Boucheron. A bold flower-shaped ring from the maison's recent Nature Triomphante collection makes use of 3-D printers and is the only piece in the exhibition that is not for sale. "The ring features real flower petals and a rare padparadscha sapphire, which is a mix between pink and orange—a very rare color," reveals Everett. "Some of the technology is quite secret. We know it features 3-D printing, similar to an MRI scan you would get at the dentist, but they are not too forthcoming about the technology. It's breathtaking."
The cutting-edge British designer Shaun Leane proves that flowers needn't be twee or girly. His Orchid earrings feature spiky petals applied with green and white enamel and pavé thorn stems set with tsavorite garnets graduating to round diamonds. One earring features a 0.89-carat fancy vivid green pear-shaped diamond and the other a 0.82-carat colorless diamond. The pair is priced at $1.1 million.
An abstract interpretation of the theme is found in a cuff bracelet ($34,000) by buzzworthy Brazilian designer Fernando Jorge in which vibrant pear-shaped amethysts, diamonds, and lavender-jade cabochons, accented with round diamonds, loosely resemble petals. Another sculptural version by Christopher Thompson Royds, who devised a pair of dainty matte gold earrings that can either be worn or displayed as a miniature bouquet in a delicate vase made by the London-based Japanese potter Mizuyo Yamashita ($8,000).
The most expensive creation is by Indian jeweler Neha Dani, who is known for her one-of-a-kind jeweled masterpieces born from wax, then hand-sculpted and brought to life with exceptional gemstones. At Sotheby's, she showcases a cuff featuring a dazzling series of pink blossoms on vines that appear to gently move in the wind, each centering a fancy pink to purplish diamond. It is for sale for $3 million. "She paves the entire bloom in pink, even the back. There's not a single white diamond to be found!"
Notable historic pieces include a 1940s bouquet of flowers with cushion-cut blue sapphires and ruby-accented yellow sapphire petals by Mouboussin from the 1940s, and a stunning 1970s gold, onyx, and diamond chain necklace by Cartier.
"It was really such a wonderful collaboration," says Everett. "I think flowers are so accessible, even if you're not a jewelry lover."
"In Bloom" is on view at Sotheby's in New York through May 24. 
Next Post