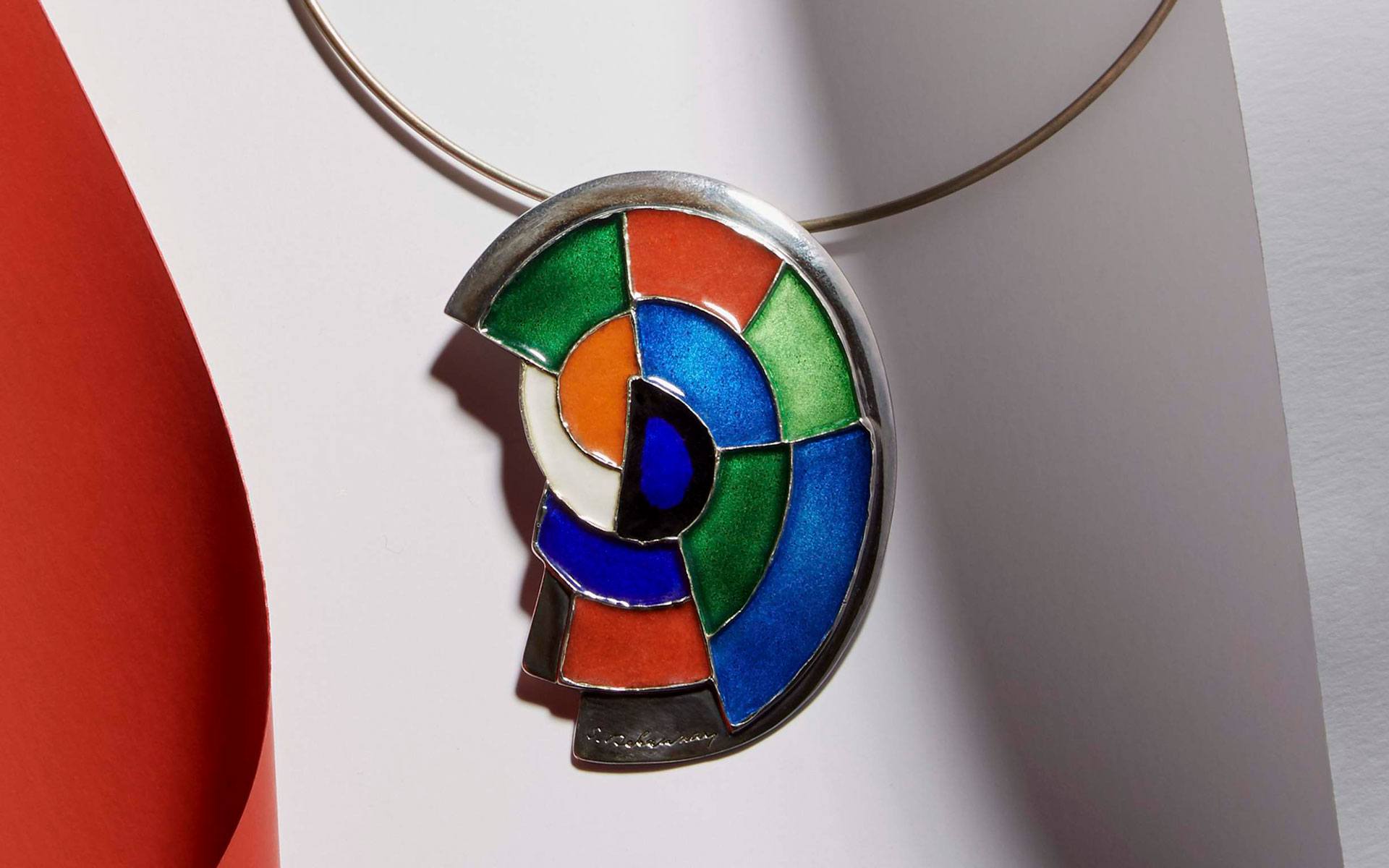 Why Sonia Delaunay's Kaleidoscopic Jewelry Was Ahead of Its Time
Though these striking pieces were not realized until her final years, they reflect her lifelong desire to make art widely accessible and wearable
"In France, there is a spirit of synthesis of the arts," says Karine Lacquemant, a curator at the Musée des Arts Décoratifs who produced the 2018 exhibition, "Artist's Jewelry, from Calder to Koons." "Artists like to experiment with other media, especially the field of applied arts, and Sonia Delaunay is a perfect example."
Ranging from buttons and swimsuits to paintings and cars, Sonia Delaunay's creative oeuvre combined aspects of her Ukrainian-born Russian heritage with the avant-garde sensibility of Paris, where she predominantly worked. One of her last projects—a foray into jewelry—is often, however, overlooked.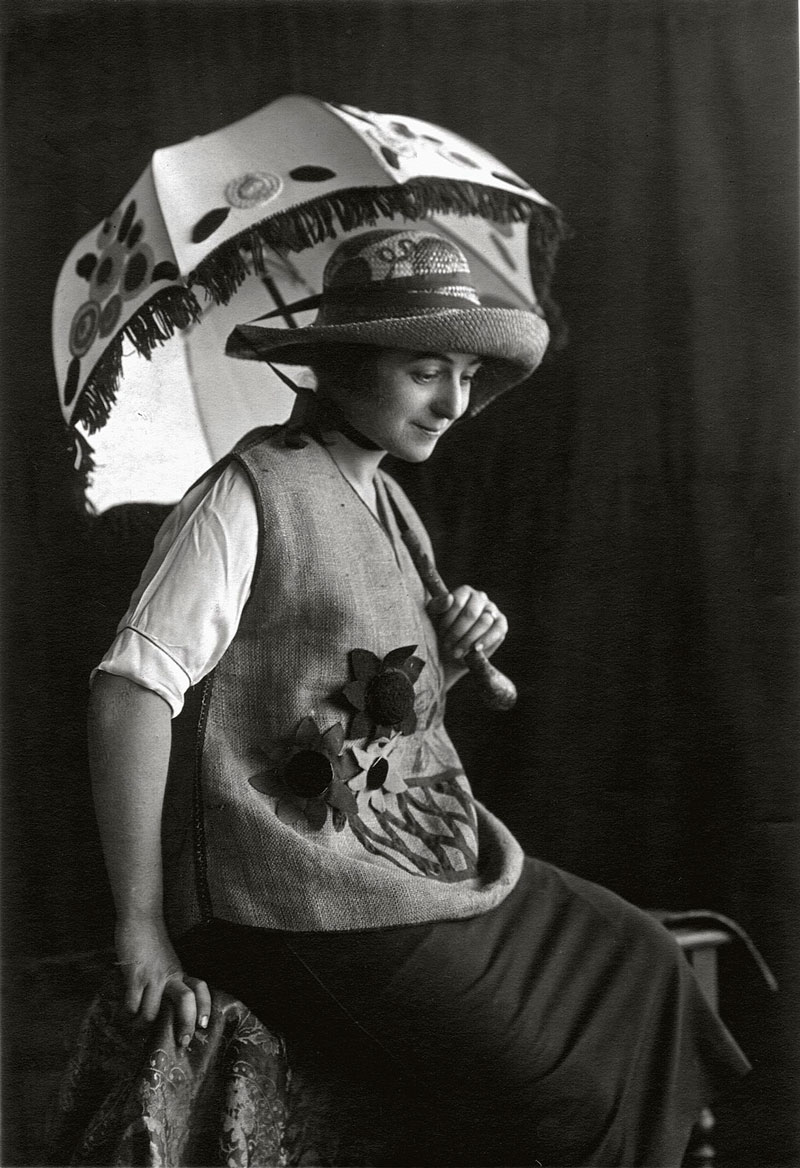 No matter the medium, Delaunay's output followed the visual principles of Orphism, an art movement that she and her husband, French painter Robert Delaunay, helped establish in the early 20th century. The movement, which was key in the transition to abstraction, is characterized by its combination of the geometry of Cubism with the unabashed color of Fauvism. Distinct from her husband was Sonia's involvement in creative disciplines beyond the fine arts, particularly in fashion and textiles.
"Sonia was already a rarity for being a woman artist, but also for not being shy of treading into the decorative sphere"

Didier Haspeslagh
A turning point in Delaunay's practice came in 1911 when she made a quilt, now in the collection of the Musée National d'Art Moderne, Paris, for her son's crib. Inspired by examples frequently displayed in the homes of Ukrainian peasants, it featured the colorful patchwork that would shape the clothing Sonia later made for friends and private clients. The following decade she developed a line of fabrics, opened a fashion studio with Jacques Heim, designed couture textiles for Robert Perrier, and created costumes and sets for film and theater.
Additionally she designed vegetable-dyed, wood marquetry buttons that were inlaid with abstract shapes for many garments—a precursor for the geometric jewelry she began making in the 1920s. Delaunay's jewels found little commercial success until the 1970s when she was invited to collaborate with Artcurial, then a gallery, bookshop, and auction house in Paris founded by the directors of L'Oreal; cosmetics heiress Liliane Bettencourt tapped the finest craftsman to produce rarified artist-designed editions for the gallery. (Today, it's solely an auction house under new ownership.)
"Sonia was already a rarity for being a woman artist, but also for not being shy of treading into the decorative sphere," Didier Haspeslagh, whose gallery Didier Ltd. specializes in artist jewelry, tells Galerie. "Many male artists abhorred and stayed away from the decorative arts, lest it corrupted their purely artistic thoughts!"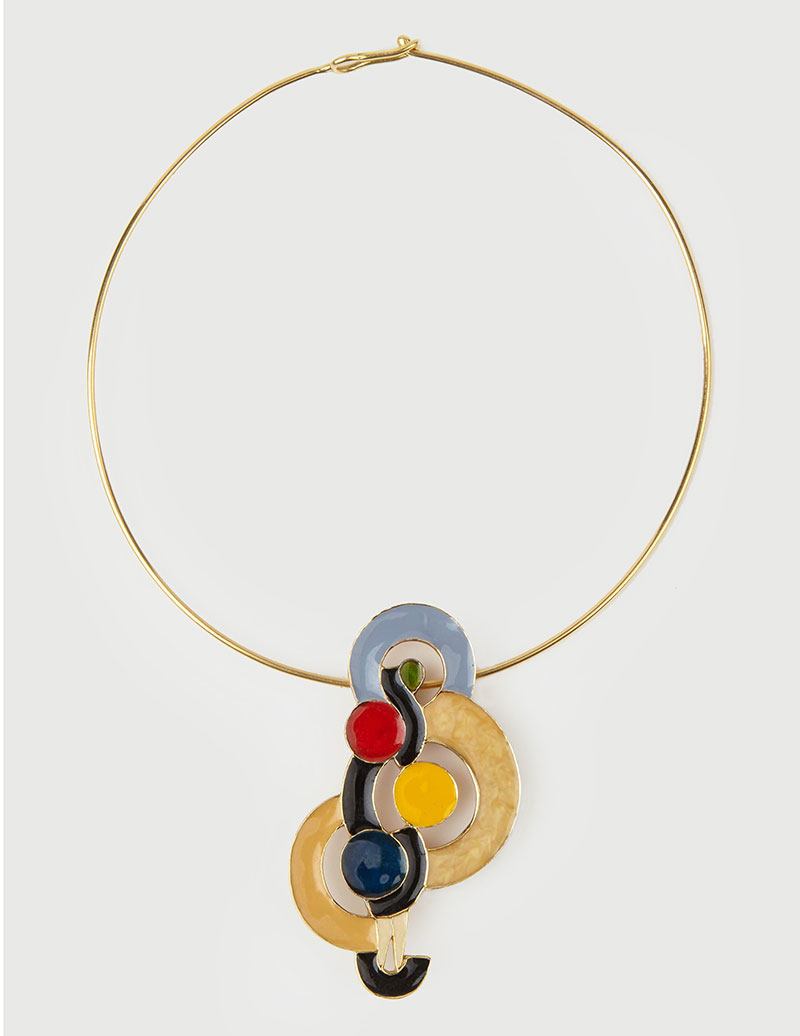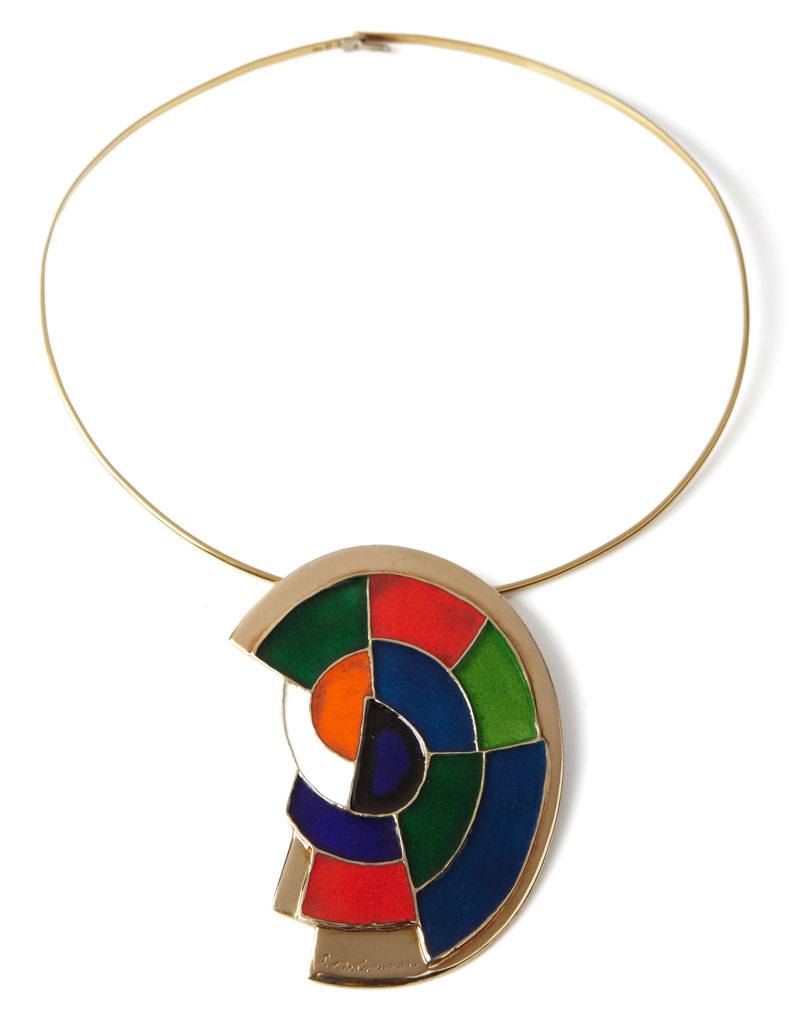 From 1975 to her death in 1979, Delaunay designed textiles, scarves, tableware, rugs, and jewelry, inspired by her earlier two-dimensional work, for Artcurial—and she was the gallery's first artist to do so. "Her entire idea was to create for the house and for the woman inside it. Her work was a way of life, more than only pieces in museums," Pierre-Alain Challier, a former Artcurial director who now runs his namesake gallery, tells Galerie. "Today a lot of people study the [multidisciplinary] way she worked. She wanted to create art for everybody."
Delaunay produced two jewelry designs: both pendant-brooches that capture the Orphism and Simultanism of her flat art. The first stems from a 1977 design she previously made with the recently deceased GianCarlo Montebello of GEM in Milan, who created jewelry for artists including Niki de Saint Phalle and Man Ray. Titled Danse: Rythme sans fin, the piece was based on a 1923 gouache of the same name. When remaking the design for Artcurial, Delaunay called the work Flamenco. The second design created for Artcurial was Abstraction.
"It was just as important for her to do a painting as it was a dress or jewel. For her, it was all art,"

Pierre-Alain Challier
Departing from the bold gold sautoirs and Eastern-inspired jewels that defined the 1970s aesthetic, Delaunay used soft and hard enamel to realize her colorful, geometric abstractions in precious forms. She also incorporated 18-carat gold, silver, silver-gilt, and bronze. At the time, each cost around the modern-day equivalent of 1,000 euros, but considering many editions were unfinished, these pieces (particularly the gold variety) are quite rare, thus raising their current value.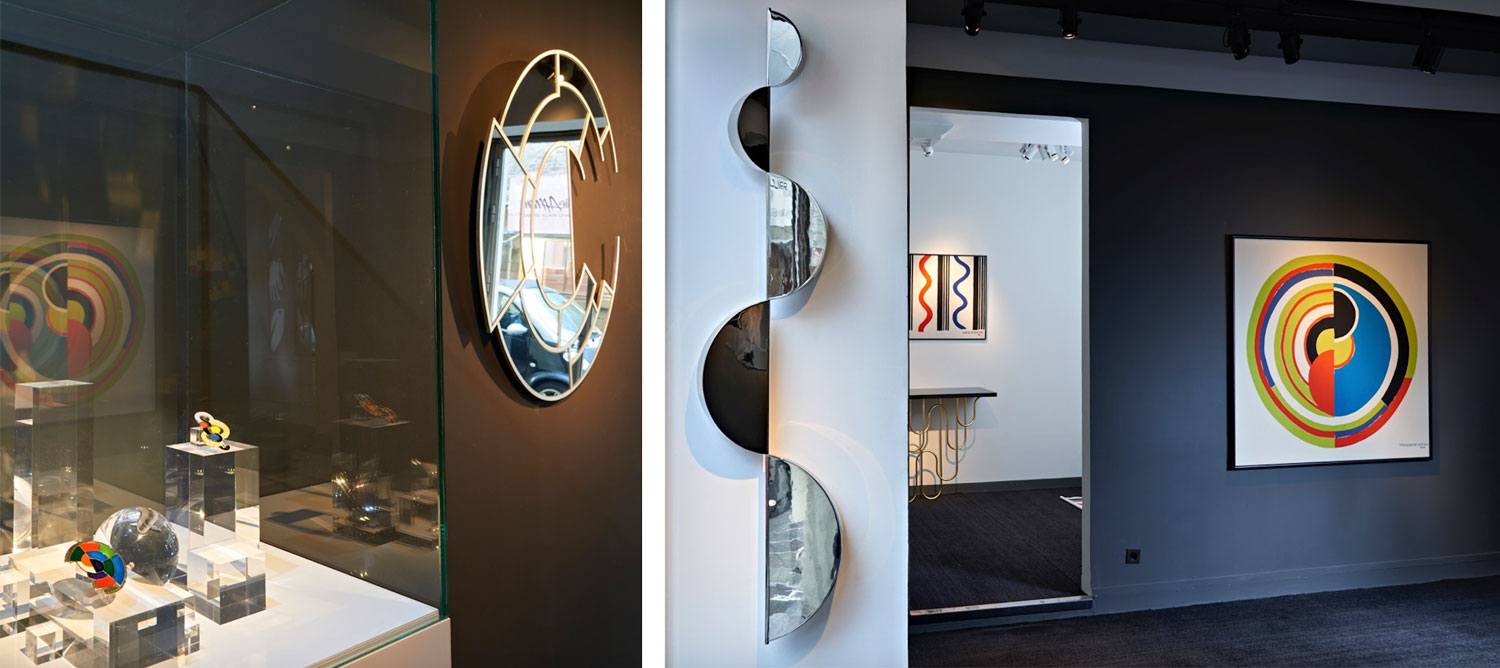 In terms of how Delaunay approached jewelry, Challier explains: "She said that it's not only a question of geometry, but the colors can completely change the way you appreciate the form. We have letters from her in our archives in which she explains how it was just as important for her to do a painting as it was a dress or jewel. For her, it was all art. Her concept of design as functional art did not exist as we understand it now."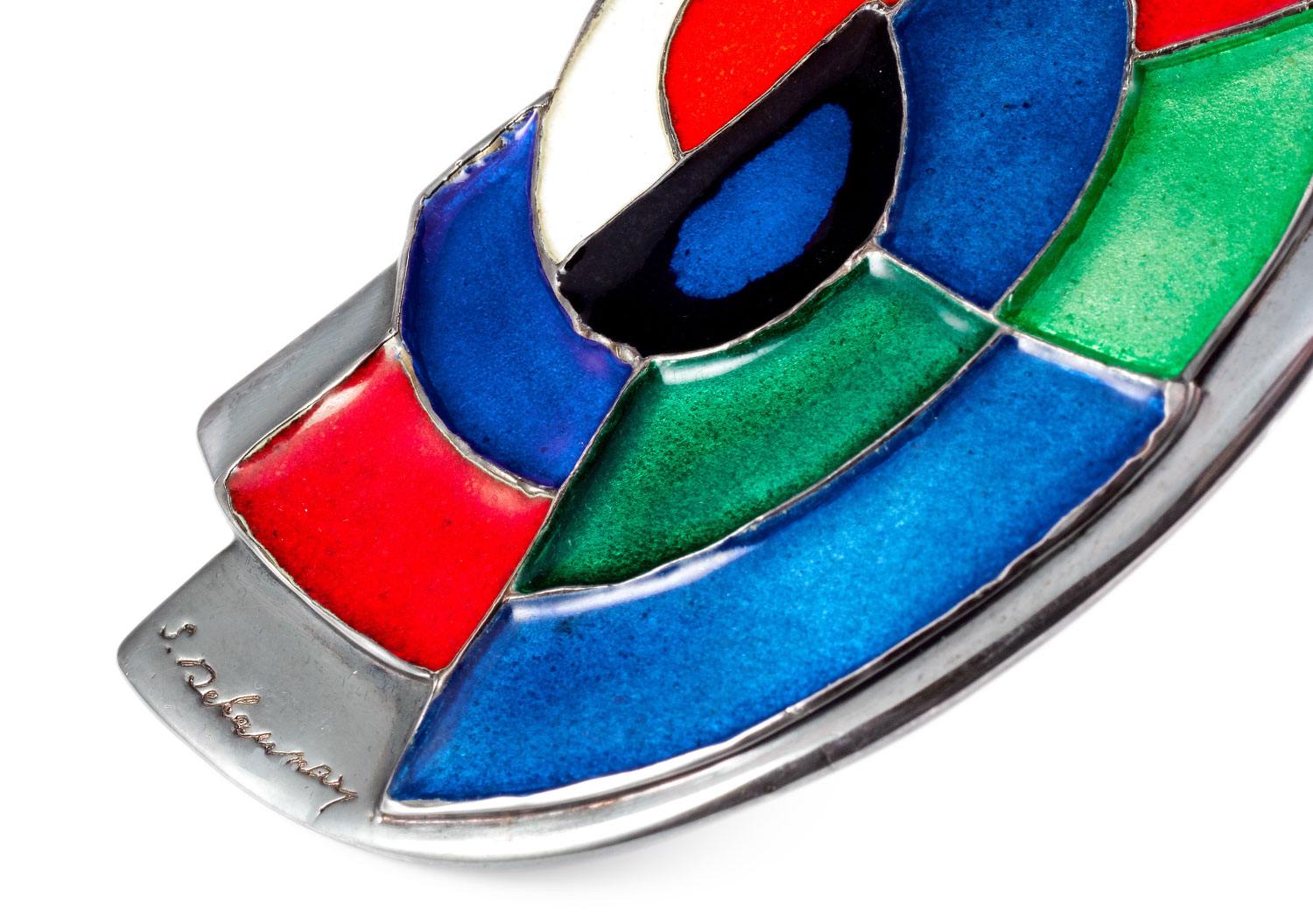 Didier Haspeslagh also speaks to Delaunay's forward-thinking approach and how jewelry was particularly key for democratizing fine art. "Jewelry is seen in places other than art galleries and museums, and as such, it disseminates her art in the street and at parties," he says. "The collectors very often already have her art on the walls, and this is another medium that is portable and can travel widely, to be seen, admired, and discussed with likeminded collectors and curators."
Next Post