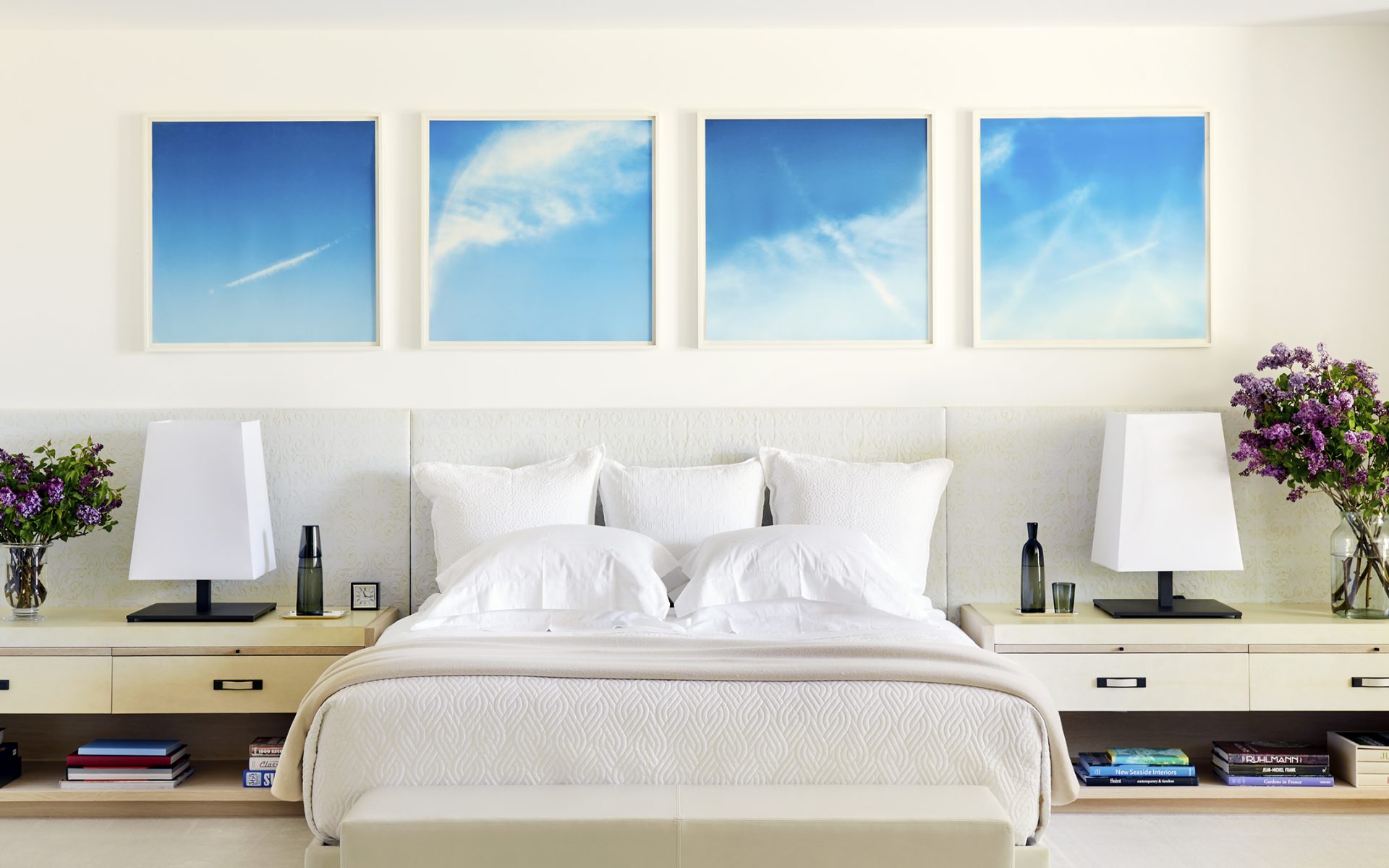 11 Essentials for a Great Night's Sleep
Boost immunity with these design must-haves that create unparalleled comfort at bedtime
One of the best things you can do for your body right now, in addition to countless online workout classes, is get a good night's sleep. Reports show that there's been a significant uptick in sleepless nights and wild dreams since the pandemic shook up our daily existences. Since a restful slumber heightens the immune system, empowers brain function, and improves mood—it's more essential than ever. Well-designed bedding and bedroom furnishings give you the advantage when it comes to engineering your best night's sleep.
Here, Galerie shares some favorites that will enhance your nighttime experience and help you clock the REM cycles needed to conquer the day ahead.
NIGHT AND DAY: Hunter Douglas
Complete darkness is the best way to signal to yourself that it's time to rest. To keep the mind in line with the body's circadian rhythms, Hunter Douglas's Duette Lightlock system blocks out light with its innovative U-shaped side channels, and the Sonnette Cellular roller shades are a double-layer roller shade and honeycomb shade in one. James Andry, M.D., founder and medical director of the Sleep Therapy & Research Center in San Antonio, says, "Even low-level lights can shut off melatonin, a hormone that helps us prepare to fall asleep."
Another stylish solution from Hunter Douglas is the new collection with designer Rebecca Atwood. The textile maven hand-painted a series of dreamy watercolors to create the new patterns, including a dotted stripe. "Creating patterns, textures, and color for the home is all about creating an environment that makes us feel good," she explains.
Recommended: Rebecca Atwood Creates Hunter Douglas's First Artist-Designed Collection
COMFORT AND SUPPORT: Savoir
Without a comfortable bed that provides support, it's almost impossible to get a good night's sleep. Savoir offers customized support fit to unique sleep styles, using all-natural materials, which provide breathability and temperature regulation. For the ideal slumber, Savoir suggests opting for the biggest bed you can fit in a room and choosing its No. 2 mattress and box-spring base, which was originally developed for London's Savoy Hotel over 100 years ago. Of course, style matters when choosing a bed, and Savoir offers an array of designs, including the new Cloud conceived, by British designer Tom Faulkner, who opted for an organic shape sheathed in a Svensson nettle fabric.
CRISP AND COOL: Matouk
The Sleep Foundation says that 65 degrees is the best temperature for sleeping. Dressing the bed in crisp cool cotton percale is a beautiful and effective way to keep things light and airy. Matouk uses long-staple Egyptian cotton for a tightly woven weave, created with a classic one-thread-over-one-under fashion that gives a great deal of breathability as well. Matouk also handcrafts its down collection in Lichtenstein. Made with carefully selected down from Europe's finest farms, the comforters are Downpass Certified, which guarantees the supply chain is traceable to the source and has sustainable, ethical practices.
HYDRATE AND ILLUMINATE:  Valmont
Another benefit of a good night's sleep is radiant skin, which is still important even if seen only via Zoom calls. Since skin loses moisture during the night, Valmont created two skin rituals that restore and hydrate while in bed. For skin in need of repair Sophie Vann Guillon, creator of all products and CEO of Valmont, recommends a targeted moisture and nutritious regimen with Cure Majestueuse by l'Elixir des Glaciers and Prime Regenera II by Valmont.
"Cure Majestueuse is a precious oil whose formula pampers skin with the best benefits borrowed from the beehive: honey, propolis, and royal jelly," she says. "Prime Regenera II preserves skin from dehydration with its incredible rich and well-absorbed texture." For normal skin types, she suggests the Hydra 3 Regenetic Duo. "It involves two products that act in synergy. Infused with hyaluronic acid of different molecular weights and encapsulated Triple DNA, the serum and cream coach cells to relaunch their natural hydration mechanisms." In the morning, she notes, applying the Prime Renewing Pack for five minutes "acts as a cosmetic Photoshop."
BED CHECK: Hästens
Hästens, the Swedish bed manufacturer, has become quite an icon, especially with its widely recognized blue-and-white check. Taking that pattern to creative new heights has been part of the brand's DNA for some time, if not since it was founded in 1852. Down checkered booties are the perfect way to stay cozy until it's time to slip under the sheets. Also, in another stylish twist, the company just introduced a new collaboration with Canadian interior designer Ferris Rafauli called the Grand Vividus, another fabulously decadent take on the pattern.
STYLISH EXTRAS
All in all, if you create a beautiful bedroom you can ensure that you're eager to be tucked in by bedtime, which is essential to achieve seven to nine hours of sleep. Here are some of our favorites: Bunny Williams Home's Ellsworth Bed, Annie Selke's sleep mask, and a Hill House nap dress.
Next Post